President Moustafa: "Egypt 2021 will be the light at the end of a dark tunnel"
13 Jan. 2021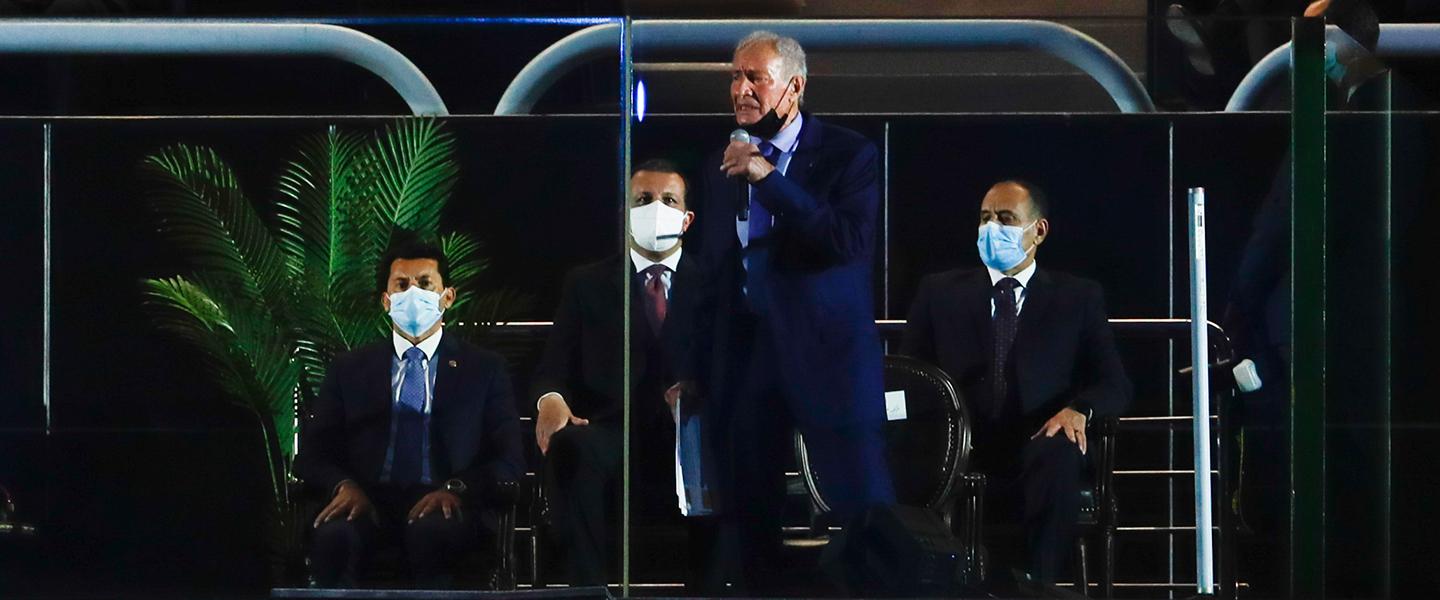 The Cairo Stadium Sports Hall was the setting for a celebration of Egyptian culture and handball as the 27th IHF Men's World Handball Championship – Egypt 2021 – official opening ceremony took place tonight, led by Egypt's Head of State, H.E President Abdel Fatah Al Sisi and IHF President, Dr Hassan Moustafa.
President Al-Sisi arrived at the venue to a series of fireworks outside and was welcomed by dignitaries including Dr Moustafa and Egyptian Minister of Youth and Sports, Dr Ashraf Sobhy.
Following a video show projected on court with all 32 competing nations' flags, Dr Moustafa then paid tribute to all the hard work of stakeholders to ensure the event could be held, while acknowledging the challenging circumstances it was being played in, without spectators.
"I want to thank all of you to accept your participation in this championship," said President Moustafa in the English part of his speech. "But I also want to apologise to our Egyptian family here because we will be playing without spectators – we are very sorry about this.
"Before taking this decision there were a lot of discussions and meetings with our representatives from the IHF as well as the teams, players, doctors and [National Federation] Presidents – we had three main scenarios: either we postpone, cancel or organise.
"We could not postpone because we do not know when we will stop this virus, and the Olympic Games has also been postponed. Cancelling would have had a negative effect on the majority of our handball family because their main income is coming from handball, so we chose the difficult scenario to organise the event, for the players, coaches, officials, referees and handball family.
"Since the beginning of 2020 the world has faced a very difficult situation which has also affected all sporting activities – the IHF has had to cancel three IHF World Championships already, in Romania, Croatia and Italy," he added. "We, as the IHF, have had to adapt ourselves alongside with COVID-19 and have had many meetings with the team medical staff and have already seen the teams taking part in the precaution concepts.
"For all of us, I hope this championship will be the light of the end of the dark tunnel and that the effects and risk of infection (of COVID-19) are minimised, with infections minimised to zero.
"Egypt will be in the worldwide spotlight and I am sure it will give a message of success."
President Moustafa concluded his speech by thanking President Al-Sisi spoke in Arabic before the Egyptian President welcomed everyone who will be part of the 2021 IHF Men's World Championship.
"Allow me to welcome all the distinguished guests here in Egypt, in this major and biggest sports gathering in the world, where we deliver a message that confirms how the world is now capable to adapt to the new reality which the coronavirus pandemic has imposed on us.
"We will overcome this ordeal in solidarity and integration capable of facing any other challenges and become more understandable to the value of life amid a peaceful and safe co-existence among nations. 
"We declare the 27th Men's Handball World Championship open," he concluded.
Following the speeches, a specially-choreographed dance and light show took place, before Tamer Hosny, Marawan Mousa and Houda El-Sherbini performed the Official Egypt 2021 Song, entitled 'Raise Your Hand'.