Brazil do enough to await their fate
14 Mar. 2021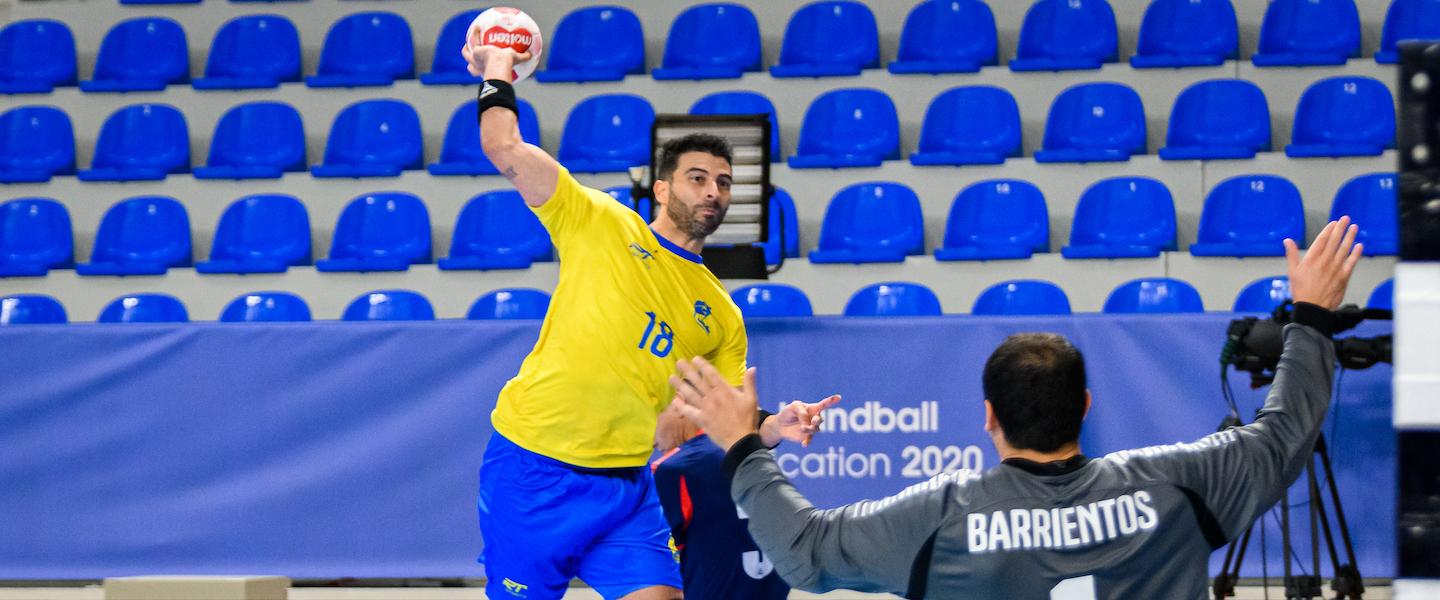 Chile's Olympic Games dream was alive for 41 minutes of this South American clash – the same amount of time it took their opponents Brazil to fully warm up and finally take control to win 26:24.
 
The opening match of the final day of the Tokyo Handball Qualification 2020 – Men's Tournament 1 in Montenegro was dramatic and full of passion.
 
Chilean handball legend Marco Oneto had suffered what appeared to be a serious ankle injury early on, but his teammates rallied and held enough of a first half lead (17:11) to hope that a Norway win over Korea later would book their first-ever Olympic ticket. Oneto would later reveal in the post-match media conference he was retiring again after praising his team.

"20 years ago when I started in the national team we were losing by 20 or 30 to Brazil," he said. "Now we are face-to-face and this is why I am proud of my team. I am proud of how they fight, how they play, it doesn't matter how it (result) was. This is the proudness that I feel as an old player, as an ex-player now."
 
Seven second half goals from the Chilean attack were nowhere near enough to thwart Brazil, who could have afforded to lose by three and still go through, as long as Norway did not lose later.
 
In the end, Brazil only went ahead for the first time in the 54th minute, but they did enough and now wait for a Norwegian favour.
TOURNAMENT 1
Brazil vs Chile 26:24 (11:17)
 
If this game was decided on who sung the national anthem the loudest pre-match, Chile would have won clearly. The passion and what was at stake was clear for all and, despite no fans in attendance, the atmosphere was tense, noisy and full of emotion.
 
Despite suffering an early two-minute suspension for Marco Oneto, Chile powered ahead to go 5:3 up but Oneto would then – unchallenged – stumble in defence and go down in a heap, his right ankle buckling.
 
It was like the air and life had been taken out of the Chilean side as the former FC Barca line player slapped the medical box on the sidelines in anger, knowing he would not be playing any further role in the game. He would later cover his face with a towel, hiding his floods of tears and it was hard to see.
 
You feared the worse for Chile at this point, but this almost knock-out blow galvanised them into fighting for their fallen hero, going 7:3 up and causing a Brazilian time out within 10 minutes.
 
They kept pushing in front against the lacklustre Brazilians, going six up (9:3, 12th minute) and their Olympic dream seemed very much alive. After 15 minutes Chile had scored 10 from 14 attacks and Brazil just five times from 15.
 
It should have been more than a difference of six at the break, after Daniel Ayala missed a wing shot, but Mateo Garralda and his side would have been happy with the 17:11 lead.
 
But you can only describe the second half as a disaster for Chile, with two goals from the 30th to 49th minute telling its own story.
 
Their dream was slowly slipping away, pushed along by an inspirational performance from Brazilian goalkeeper Leonardo Tercariol who ended with 15 saves from 29 shots (52%) and which included a post-end-of-match seven metre from Rodrigo Salinas. He was helped by an aggressive 5-1 defence in front of him, disrupting the Chilean attack.
 
In fact, the Olympic chance for Chile ended exactly in the 41st minute when Brazil's Joao Silva brought his side within three (15:18).
"First of all congratulations to Brazil, I thought during the first 45 minutes the team played really, really good but the last 15-20 minutes we make too many mistakes in clear situations against the goalkeepers. The team had played many minutes really, really good and smart handball, played the ball really fast, really smart and on this point, I am satisfied. Of course I am sad because we don't get the qualification to the Olympic Games. But this is life, sometimes you win, sometimes you lose," said Chile coach Matteo Garralda.
 
Chile were tiring and forcing their attacks. But with that, mistakes were being made and then punished by Brazil. A Haniel Langaro strike in the 54th minute put the Brazilians ahead for the first time in the match (23:22) and a few minutes later, coach Marcus Oliveira rubbed the head of Guilherme Torriani and smiled – he knew their job was done and now they await Norway to do theirs.

"We are so happy and empty," said Tercariol. "We did everything in the game but the second half decided it where we played very well. 
"In the first half we tried to run without intelligence, not so smart, but in the second half we recovered the Brazilian game and played with our minds. It worked well for us and we are so near to Tokyo but it depends on the match between Norway and Korea."
 
Photo: Stefan Ivanovic/RSCG