Sagosen: "I'm just really hyped"
14 Mar. 2021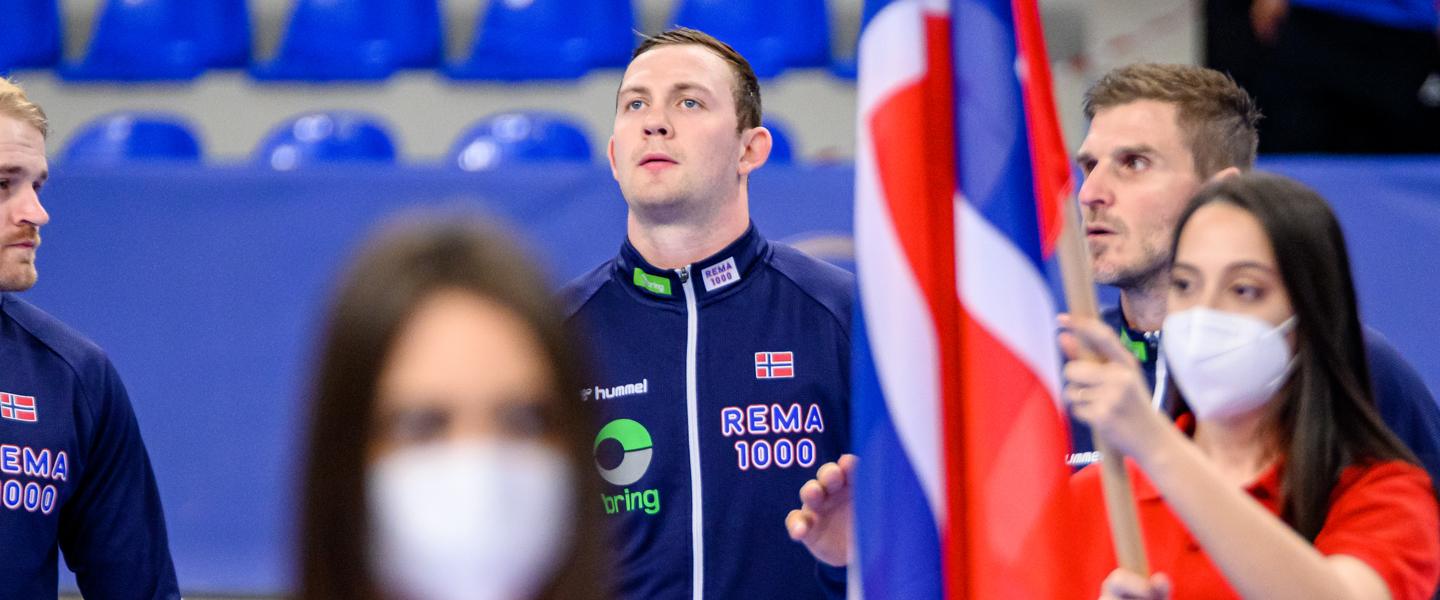 "First of all, it sounds amazing," says Norway's Sander Sagosen to ihf.info with a wide smile. He is responding to the question: 'Norway are going to the Olympic Games – how does it feel?' after just leaving the court following a 44:31 victory over Republic of Korea which confirmed a Tokyo 2020 spot in July and August later this year.
After nearly 50 years of waiting, Norway's men's side will appear at their second Games, finally following in the footsteps of the 1972 Munich squad and making it third time lucky in an Olympic qualification tournament after missing out in both 2008 and 2016.
"It's a childhood dream for everybody who is a professional athlete, it doesn't matter which sport or which nationality, to advance to an Olympic Games is just the biggest thing you can do as an athlete," said the left back.
"So, it's my first time at an Olympic Games and it's our first time in 49 years. I'm just really hyped about the atmosphere going down there [to Tokyo] with this team, with this group.
"The world championship in Egypt wasn't our best [performance]. We have so much anger to put it back [right now] and show the world that we are a good handball team and what we did this weekend was world class – we had no real threats."
Republic of Korea, Chile and Brazil did their best to beat a resurgent Norwegian team led by coach Christian Berge, but they were ultimately no match for Norway at the Tokyo Handball Qualification 2020 – Men's Tournament 1 in Podgorica, Montenegro as they dispatched all three by double-figure wins.
Originally, the tournament was meant to be held in Sagosen's home town of Trondheim, Norway, but the COVID-19 situation in his country meant another host nation had to be found for the behind-closed-doors event and Montenegro, who will welcome the Norway women's team for Tokyo Handball Qualification 2020 – Women's Tournament 3 next week, was the decision.
"First of all, I have to say we are really happy that Montenegro let us play here so we could handle this Olympic qualification," said the THW Kiel player. 
"It's sad how the world is right now with COVID-19, but I'm just really looking forward to it getting back to normal. I miss the fans in the arenas, I miss playing in front of 1,000s of spectators and I miss playing at home in Norway."
Every four years, the Olympic Games presents a unique handball challenge. While the teams may be familiar, the amount of them – 12 – is not, plus it is a different type of competition.
"It's 12 teams and 14-player squads and I think that it will fit us good," said Sagosen about the Tokyo 2020 handball tournament. "We maybe do not have the biggest squad compared to the other teams, but I'm hyped about it, I think it will fit us really good. 
"You have five group games and then go directly to the quarter-finals, so I think the whole tournament structure fits us really good. It's in the summer and it's a new experience for us as we have never been to an Olympic Games before.
"With everything around it – it's not just handball in an Olympics – I'm sure that we will produce a good performance down there. Everybody's so hungry for success with this national team and I'm really looking forward it."
As one Norway national handball team prepare to leave Montenegro, another one arrives as the women's team move into the same hotel in Podgorica as the men's team, ahead of their tournament which starts on Friday (19 March).
"The women need to do the job next week on the same floor in the same arena," he said, "…but we have made it warm for them and I hope they will come here and make a great performance, I'm pretty sure about that" explained the THW Kiel player.
"For us and for the women, for Norwegian handball, it's the best and, hopefully, we will have two squads in the Olympic Games. I'm really looking forward to sharing this journey with the women's national team and I hope that we can go down to the Olympics in Tokyo together with them and both teams perform at a good level."
Despite an historic, career-defining day full of emotion for Sagosen, he was quick to single out those who contributed to putting him in the place to be able to qualify for a Games.
"I would never be here without my family and that's how it is," he said. "My family, my friends and my teammates from a young age, will be really happy for us as a team and for me individually [in qualifying]. 
"I know that everybody wants me to be successful and everybody who helped me on the way wants me to succeed," said Sagosen. "I'm sad that I couldn't share this moment with them back in Trondheim in my city, playing in front of them, but of course that's how it is right now.
"I will make some phone calls and stuff like that to thank them for everything, but that's how the world is right now. You miss everybody you love back in your country."

Photo: Stefan Ivanovic/RSCG