Germany grab first ticket to Tokyo
14 Mar. 2021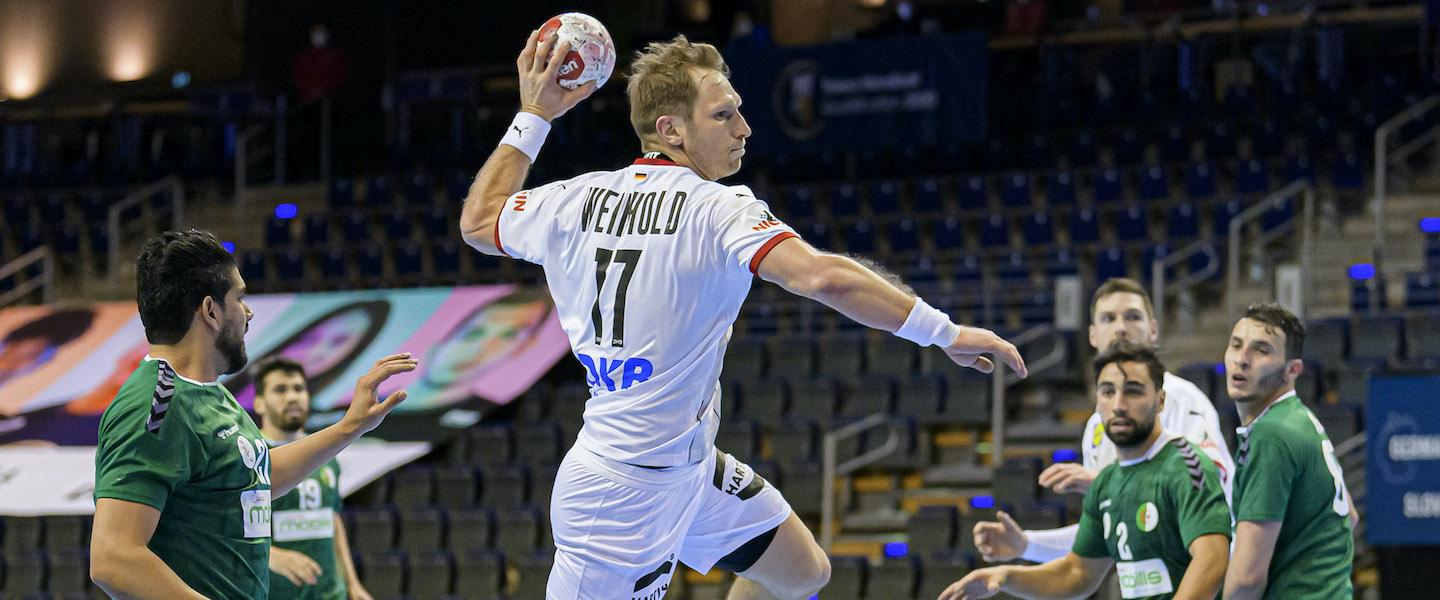 The Rio 2016 bronze-medallists Germany return to the Olympic stage. The hosts were the first team of the Tokyo Handball Qualification 2020 to qualify through to the Olympic Games with a 34:26 victory against Algeria.
The African side were the only team who were already out of contention before the match, but they gave the favourites Germany quite a challenge on their road to Tokyo and showed their best performance of the tournament. 
TOURNAMENT 3
Algeria vs Germany 26:34 (14:17)
In an all-square initial stage, nine different players found their way on the scoresheet. Algeria right back Ayoub Abdi was the first one to score twice to level the match at 5:5. Before, line player Patrick Wiencek, who did not play in the match against Slovenia, scored his 300th international goal. 
German coach Alfred Gislason relied on the same 16 players as in yesterday's commanding win against Slovenia, while Algerian coach Alain Portes replaced the injured Abdenour Hammouche with goalkeeper Abdellah Benmenni, who played the whole match between the posts and rewarded himself with some great saves against the European powerhouse. 
"I think that the match today was really difficult because it was the third one in three days and we played without a lot of players who couldn't come. A match against a great team like Germany was good for us as we played quite well. We missed a lot of goals but it was still good," said Benmenni after the match.
"It was probably our best match here in Berlin and we will leave this tournament with a good feeling because we could play against three big teams and we hope that we can qualify next time for the Olympic Games in Paris 2024."
Ten minutes into the match, Germany pulled away on an unanswered three-goal run and extended this lead up to five goals after a great assist from centre back Philipp Weber to line player Johannes Golla. 
In the same action, Weber tackled down by Berriah Abderahim, who received a direct red card for his action and had to leave the court with twenty minutes on the clock. However, the hosts could not take advantage of a six-minute-span, which saw three Algerian players down from court. 
A gritty Algerian attack led by left back Zohir Naim and right back Ayoub found good solutions to put the ball behind the line, only trailing by three into half-time at 14:17. 
Naim reduced the gap to 15:17 right after the break with a beautiful spin shot after breaking through the German defence, scoring one of his nine goals.
On the other side, left back Julius Kühn scored to make it a six-goal lead in the 36 minute. He became top scorer for his team with eight goals and thereby also finishing as top scorer for Germany throughout the tournament with 16 goals. 
The Rio 2016 bronze-medallists improved in defence with a good performance from Silvio Heinevetter. As time progressed, Germany could score their largest lead at the end of the match which saw Sebastian Heymann netting at 34:26. 
"The most important thing is that we reached our goal to qualify for the Olympic Games. We can leave this tournament with more self-confidence than as we did after the world championship," said a satisfied but also tired Golla after the match. 
"I am extremely happy for all of us that we have managed to qualify. That's very important for us. After two very intense matches against Sweden and Slovenia you could notice that it took a long time to reach the level we needed. We weren't fast enough in defence but in the second half we played better and Heinevetter was good in goal and we played a good attack throughout the game," concluded Gislason.  
Photo: Marco Wolf/DHB