Petrus: "Every time I play for Brazil, I feel my people"
14 Mar. 2021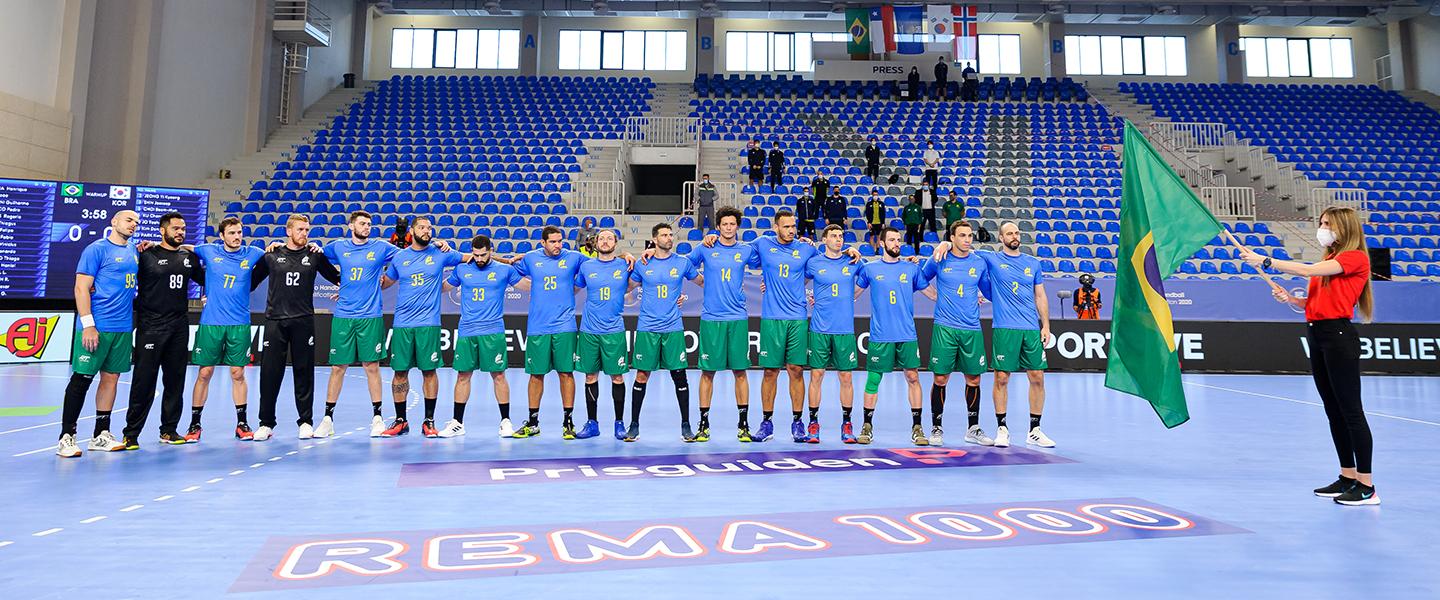 Brazil and FC Barca left back Thiagus Petrus spoke to ihf.info at the Tokyo Handball Qualification 2020 – Men's Tournament 1 in Podgorica, Montenegro ahead of their final, and crucial, clash against South American neighbours Chile today at 17:30 (CET).
 
Petrus recorded his 150th match in a national team shirt when he took to the court against Norway in their opening day 20:32 loss on Friday, but his side made up for that with a 30:24 victory against Republic of Korea yesterday.
 
This now means a win or draw against their continental rivals today, coupled with a Korea loss against Norway, will see them qualify for their second consecutive Olympic Games.
 
ihf.info: After that opening day loss and Korea beating Chile too, how much pressure did you feel against Korea to ensure you got a win to keep your dreams of Tokyo 2020 alive?
 
Thiagus Petrus: For sure it was a big pressure, but we knew it was one game and we lost, we would go home, so it was a big deal [to win]. We were very concentrated, we knew that it was going to be quite a different game [to Norway], because this is tournament is such a special situation where we are playing for qualification through to the biggest championship in the world – the Olympic Games.
 
So everyone plays more than 100%, and we made quite a good job in defence and this was the key: we were so concentrated in defence.
 
ihf.info: Of course you were disappointed to lose to Norway, but was it the way you lost, by 12 goals which disappointed you as well. Maybe you did not show the 'real' Brazil. Is that what you talked about after the game?
 
Thiagus Petrus: Yes, of course. In that game we made many mistakes in attack and we gave them many fast breaks. We knew before the game that we couldn't let that happen and we should be play with a lot of discipline in the game, so we were quite disappointed.
 
But we knew that it was just one game and we had two more games to play to go to the Olympics and we knew the only way was to take the chance against Korea, so we raised our minds and focussed 100%.
 
ihf.info: With no time in between gamedays it must be more mental than physical preparation and training to turn things around?
 
Thiagus Petrus: It's in the head. We speak between us, the players, and we have known each other for a very long time, on the court it can be different but, basically, there are around 10 players who are always with the team so we know how each other plays, we know how to motivate [each other] and how we have to play to achieve our goals.
 
So it was really just a question of the mind and we knew we have three finals here in Montenegro, we have played two and we have another one against Chile and that will be decided after the Norway vs Korea game.
 
ihf.info: Marcus Oliveira has had his first games in charge here in Podgorica as Brazil coach after missing Egypt 2021 due to COVID-19. What's he like as a coach?
 
Thiagus Petrus: He's come from a club in Brazil and I know him. He has been a delegate in the federation, has also been the second coach previously and now he's the first one.
 
It's quite different, that the way that he coaches because he came from Brazil and he has the vision from Brazilian handball. Most of the Brazilian national team players play here in Europe so we think about some things differently but we accept that and try to do the things in the way that he wants, because he is the boss and he has to make the decisions.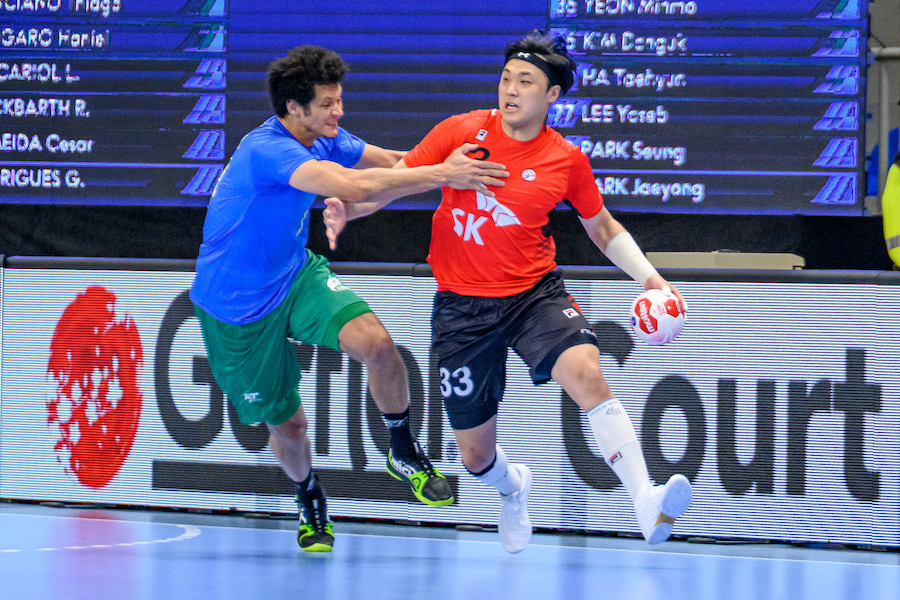 ihf.info: You are a very vocal presence during time outs, from the bench and before and after games with your squad. How does that work with the coach?
 
Thiagus Petrus: Feedback and communication is the most important thing you can have at the high level with international teams because we don't have enough time together in training and in preparation for games and championships.
 
So we have to have really good communication and you have to accept other ideas and have to find a way together where we can find the best solution for the team.
 
ihf.info: You also had COVID-19 and missed Egypt 2021, how are you feeling now?
 
Thiagus Petrus: Yeah, physically I was okay I just had two days that I got a temperature, and I was okay, but I felt so bad I was really deep in the (expletive), you know because to miss a championship and, more than that, not to be with my players, not to represent my country, it was really hard. I really had a few days feeling so bad.
 
But I could go home for a few days and it had been more than a year that I didn't go to Brazil, but that gave me the energy to come back and play the second half of the season [in Europe].
 
ihf.info: How is the situation in Brazil and do you and your team feel like you can maybe offer some small positivity to your fans by playing well here in Montenegro and in doing so, qualify for Tokyo 2020?
 
Thiagus Petrus: In the situation that we have now with this pandemic we hope we can give Brazilians hope, but the most important thing is that everyone has to have the hope that in the future we will be better, everyone will be healthy with no more deaths, and we will win this war against COVID.
 
So we are playing in this way here as we have many, many people in Brazil who are supporting us. They have to be at home and I hope they see us fighting on court and it helps them to fight there to take care about themselves and others.
 
I have been far away from Brazil for nine years now, and every time I play for Brazil, I feel my people, I feel everybody I speak to my friend, my supporters, anyway and against Norway we didn't play our best game but they were still supporting us.
 
The fans just push us and it's the most important thing; we know that we have the support there. And when we are back there, no matter the result we get – and we've had everything that you can get – they are not blaming us, they just support us anyway.
 
ihf.info: Chile are a tough test after they beat you at the Pan American Games in 2019, but you came back to beat them in 2020 in the South and Central America Championship…
 
Thiagus Petrus: We beat them, but they were a really different team which beat us at the 2019 Pan American Games in the semi-finals where we lost the direct chance to go to the Olympics, so we'll be fighting against them to try to be in the top two.
 
I think it will be a very different game to the Pan American Games and to the one last year, they will come with full force and our best players are not injured and have everybody [available].
 
We will have to play quite a good match in defence and if we can do that maybe we can win and maybe we can go to the Olympics.
 
ihf.info: You are one of the very few handball players in the game who have had the privilege of playing in a home Olympic Games, at Rio 2016. What are your memories of that time?
 
Thiagus Petrus: The Olympic Games are more than just about one sport, it's the whole of sport. Most of the sports are there and they are represented by many countries in the world.
 
It's the biggest thing that you can play there, and also if you can get the medal, but just to be there, to feel the atmosphere, to feel everything that is around, and as you say, when you play at home, in Brazil – as most of the players playing play far from home – it was good, good that our families and friends could come to watch us in such a good atmosphere.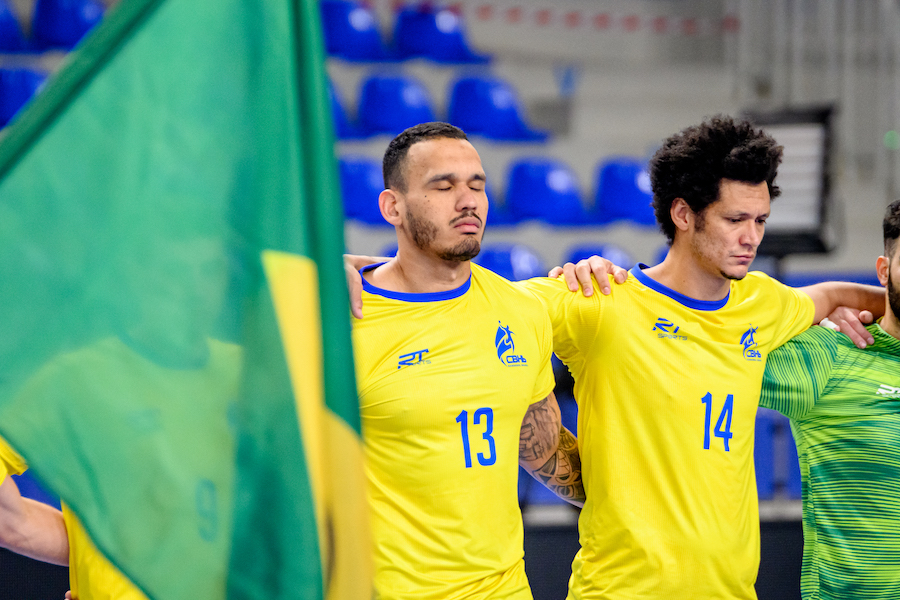 ihf.info: When you think of Rio 2016, do you still feel emotional?
 
Thiagus Petrus: I remember. I remember exactly the game that we lost against France in the quarter-finals. We feel that 15 minutes from the second half we were equal but then we had no more power.
 
In the end, the arena was full and they helped support us in an amazing way but they knew that we did everything we could but France were better.
 
We finished this Olympics with a feeling that we gave it our all, but we didn't go far. That's not complaining, since we gave everything that we could and the other team won, but that's the thing about sports: we gave everything we could and the other team also, and that the way and spirit of the Olympic Games and the spirit of sport.
Photo: Stefan Ivanović/RSCG