Chile coach Garralda: "Believe in us"
14 Mar. 2021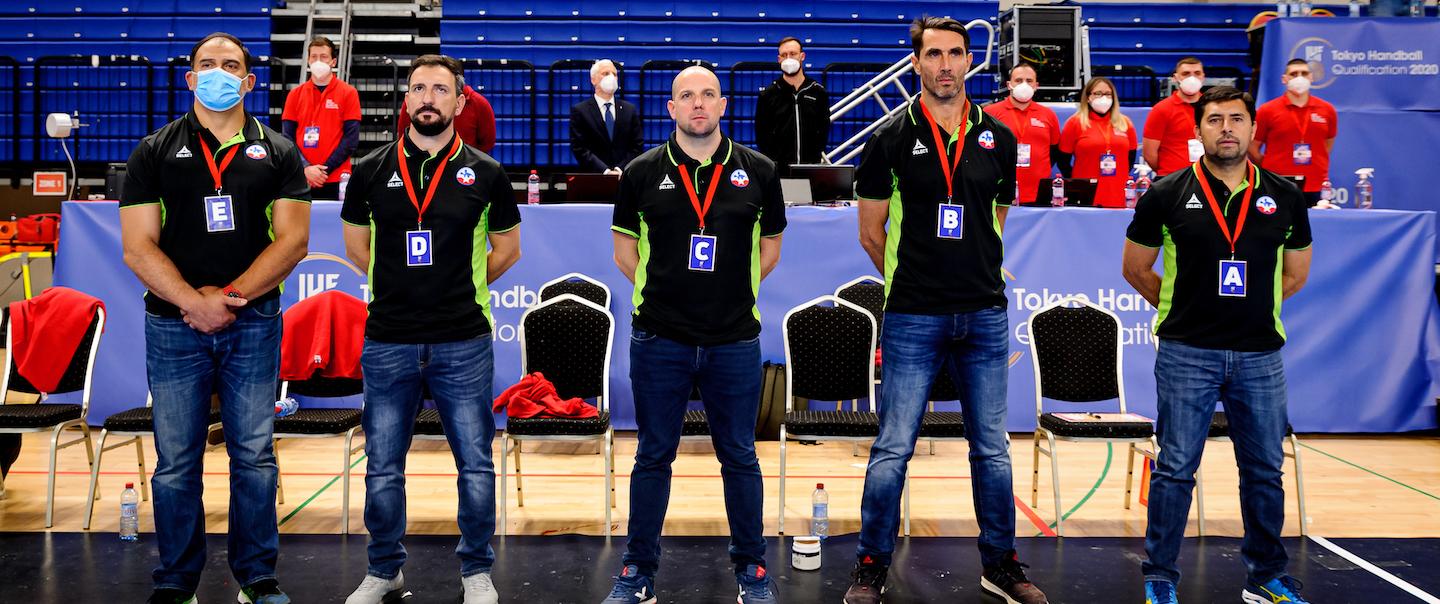 At first, it may seem strange to rest six of your most experienced and skilled players in an Olympic qualification tournament of just three games, but that is exactly what Chile did when Erwin Feuchtmann, Emil Feuchtmann, Marco Oneto, Victor Donoso, Javier Frelijj and Rodrigo Salinas sat out the entirety of their 23:38 loss against Norway yesterday.
The defeat was their second in two days, coming after a 35:36 loss against Republic of Korea on Friday (12 March), a game in which the South Americans were nine goals down in the second half.
Despite these two reverses, Chile can still book an historic ticket to Tokyo 2020 today, hence the resting of those key individuals last night. 
Matteo Garralda and his Chilean players need to beat Brazil by four or more goals in the early game today and then hope Norway beat Korea in the second game. If this pair of results happens then Chile will be in their first-ever Olympic Games.
"We trust Norway," said a smiling Garralda to ihf.info at the Verde Complex in Podgorica, where the Tokyo Handball Qualification 2020 – Men's Tournament 1 is taking place. 
"If Norway win against Korea, we have that chance, but we have to play really, really good. We have to be better in defence and faster and smarter in offence. We all know now that we have this chance to get to the Olympic Games, but it's going to be really, really difficult because Brazil have really good players, but why not?"
That question is split down the middle if you look at recent championship results between the two sides, but Garralda and his squad have reason to believe in a victory today despite losing to the Brazilians most recently, 20:32 in January 2020 at the South and Central America Handball Confederation (SCAHC) Championship.
However, an impressive semi-final defeat of Brazil at the Pan American Games, 32:29 (18:15) in August 2019 means there is knowledge and confidence to do the same again in Montenegro, something which Garralda is carefully managing.
"Physically, both teams are tired. We had the IHF Men's World Championship and five weeks later we have this tournament so the players are tired and [this means] the game against Brazil is a mental game," said the coach, who won the EHF Champions League six times as a player.
"But too much emotion and intensity will make you lose focus. Our focus is to play handball, how to play handball, and when to take the best situation in defence and offence. To focus on just illusion and emotion is just a really bad idea."
With the senior players keeping the bench warm against Norway, Garralda used the opportunity to give minutes to the rest of his squad, including 21-year-old line player Benjamin Illesca, who played the full 60 minutes after not featuring against Korea and coming into the tournament with just four senior team appearances to his name.
And Garralda revealed that the tactic of saving the players for the South American derby was something which was a squad decision.
"Of course, sometimes, the perception from the players is 'I want to play, I need to play, I want to play every minute in every championship, in every tournament'," he said. "But with me, for the past five years, the best players have understood that we have to choose which option is our best option to make the best results, and all the players accept the situation, like a normal situation.

"For me, it's really difficult to have the right learning, because we need more tournaments, more situations with lots of stress and emotions against good teams because the players have to learn," added Garralda about the opportunity afforded to Illesca and others against Norway.
"The players only learn more when they suffer against the big teams, the smarter teams, and in these situations you see which players are learning every time – every game they are growing up, but, unfortunately, we don't have too many opportunities like we did against Norway."
So what's the secret to beating Brazil?
"Of course, it's a secret," exclaims Garralda with a deep and gruff, but endearing laugh, before giving his serious answer. "Play handball. Obviously, play smart, fast and start strong, but start with a good balance in both defence and offence, making good situations. 
"The players have to feel safe in every moment," he added. "They have to feel they are driving the game and not Brazil: we drive the game and lead the game in every moment.
"That doesn't mean to go up by two, three goals. The players have to feel that in defence they are one step in front, and in offence they need to feel they are building situations and being smart in those situations to decide which one is the best option: shoot, play with the wing, play with the line player, one-against-one on the line for the first line.
"If we feel during those 60 minutes against Brazil a good feeling in what is happening in every moment, then I think we will have an option to qualify."
With unprecedented interest back in Chile in what would prove to be an ultimately disappointing 2021 IHF Men's World Championship, thanks to national TV broadcasting all the games, Garralda feels the support of the Chilean fans and wants to give them something to celebrate in 2021.
 
"I understand the emotion from the people, from the supporters in Chile," he says. "One-and-a-half years ago, they saw how we beat Brazil by three goals, so why not?
"Emotionally it's a really equal game, but tactically and technically is going to be difficult and a different game, but for our supporters, the supporters of Chile, of course they should feel that we are going to have options [to win]. Why not?"
"My message to the fans of Chile handball is believe in us, believe in handball Chile, because we are going to have an option to go to an Olympic Games. It's going to be really difficult, but I think we have the options. Believe in us."
Photo: Stefan Ivanovic/RSCG