Tournament 3: German-Swedish showdown opens Tokyo Handball Qualification 2020
12 Mar. 2021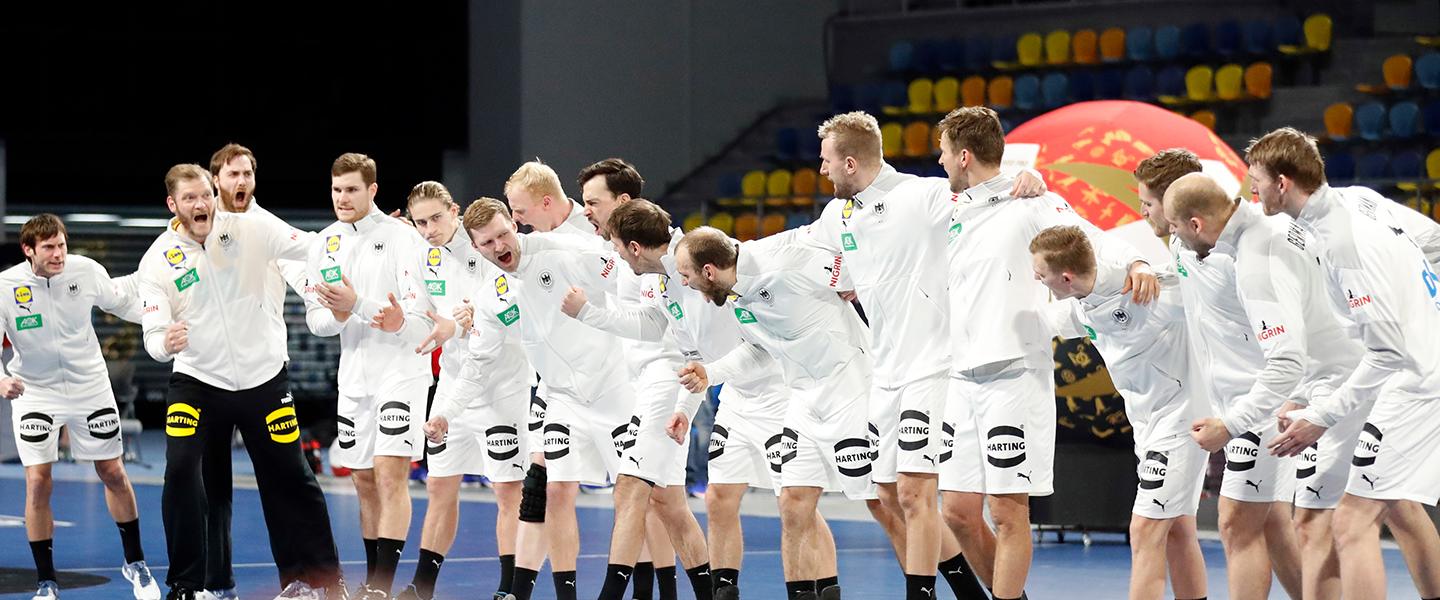 This Friday afternoon, 2021 IHF Men's World Championship silver medallists Sweden will meet hosts and 2016 Olympic bronze medallists Germany in the opening match of Tournament 3, a match both teams will throw everything into to grab the first two points on the road to Tokyo 2020 – and Slovenia and Algeria will follow this example in the second math of the day. 
Germany vs Sweden 15:15 CET
Germany and Sweden face off in a highly anticipated match in the Max-Schmeling-Halle in Berlin. The two European powerhouses know each other very well as the majority of the German and Swedish players ply their trade in the German Bundesliga. Some of them also play in the same club, such as Swedish goalkeeper Andreas Palicka and German left wing Uwe Gensheimer.
It is hard to say who can turn the tide for their team as Gensheimer knows, "we know each other very well, it's going to be an interesting challenge."
The Swedes, led by head coach Glenn Solberg, played an outstanding IHF Men's World Championship and delighted handball fans around the globe by winning the silver medal. On Tuesday evening, they faced Montenegro in an EHF EURO2022 qualification match and although it was harder than expected, Solberg could rotate the squad, taking a solid 27:24 win and right wing Niclas Ekberg celebrated his return with eight goals. 
The Nordic side will play the Tokyo Handball Qualification 2020 tournament without right back Lukas Sandell, who tested positive for COVID-19 last week. Line player Max Darj, who was replaced for the Montenegro match by Oscar Bergendahl, has joined the team in Berlin.
While five players will return to the German squad, such as the line players Hendrik Pekeler and Patrick Wiencek, they will miss out on left back Paul Drux, who was injured during a match on Sunday and was already operated on Wednesday. 
Since Sunday afternoon, Alfred Gislason's side have been preparing for the qualification matches. 
"We had a lot of time to prepare for this match and I am very satisfied with the performance of the team. Sweden has a good goalkeeper, a very strong defence and a brilliant counterattack. We have to play a very good attack to minimise their easy goals," said Gislason ahead of the match.  
In recent years, the two teams have not met during an international tournament. In 2017, they played two friendly matches against each other, where Sweden won on home ground 27:25 and drew 25:25 in Germany one day later. However, Germany won against Sweden at Rio 2016, when they took the bronze medal.
Slovenia vs Algeria 17:45 CET
The second match of the day will see Slovenia face Algeria, the only non-European team in this group. Like Sweden, Slovenia played an EHF EURO 2022 qualification match on Tuesday evening – in the end, Slovenia took a hard-fought 32:29 victory against Poland.
Ahead of the tournament, Slovenia faced some injury problems. Both Pick Szeged players Borut Mackovsek and Nik Henigman are out because of ankle problems. Left wing Darko Cingesar missed the match against Poland due to problems with his left thigh muscle and Tilen Kodrin, another left wing, will not be able to help his team after an examination on Wednesday that has shown an injury in his right leg. Therefore, 22-year-old Tadej Mazej celebrated his debut against Poland on the left wing, scoring three goals in his first international match. 
"Algeria has a very good team that plays diverse in attack. They have good shooters and they play fast, while their tall players play a solid defence. They also have some weaknesses that we will try to take advantage of and most importantly, we will not underestimate them," said Slovenia coach Ljubomir Vranjes. 
While Slovenia and Algeria have not met each other in a long time, the two Slovenian players Jure Dolenec and Blaz Janc, who play for Barça, recently battled out the Copa del Rey final against Algeria goalkeeper Khalifa Ghedbane, who plays for Spanish club Ademar Leon. Barça won the Spanish Cup Competition 35:27, securing their eighth consecutive title.
For the 2020 African Championship bronze medallists Algeria, it will be really difficult to overcome the European teams. Head coach Alain Portes said on lagazettedufennec.com: "The goal is the same as at the World Championship, we will try to show our best and if we can upset them, we'll do."