Looking back: The 2019 ANOC World Beach Games
13 Oct. 2020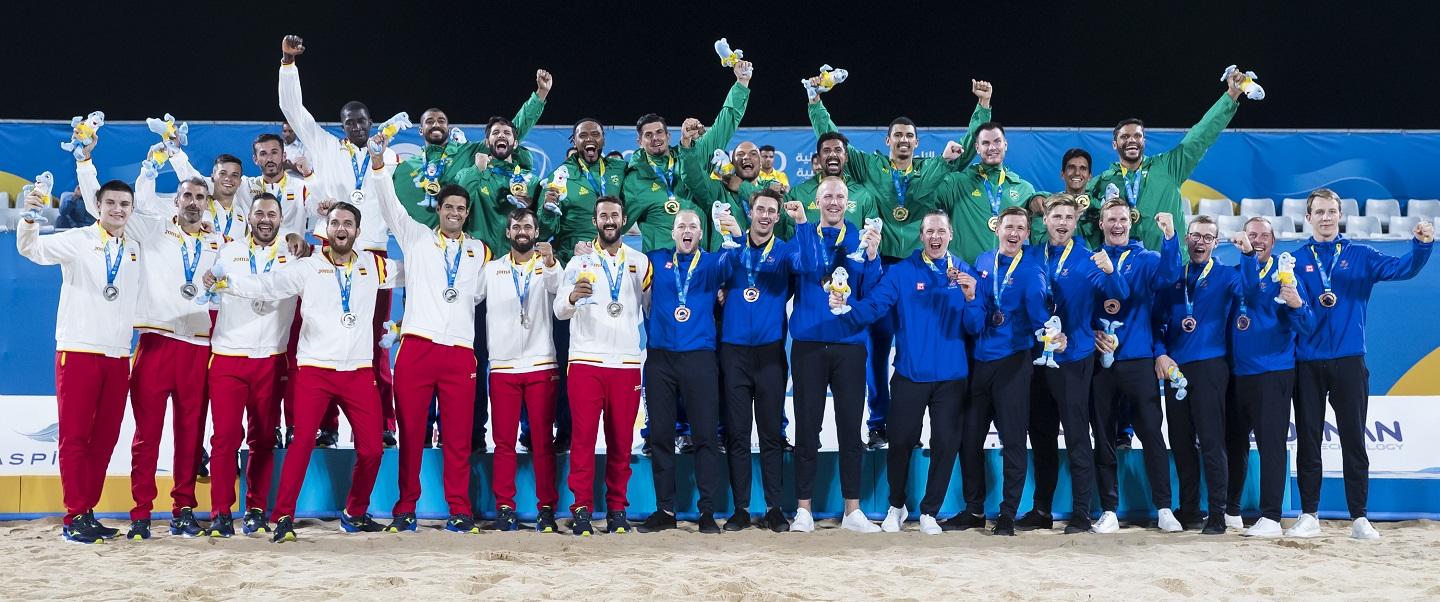 One year ago this week, the first-ever edition of the ANOC World Beach Games took place in Doha, Qatar.
More than 1,200 athletes from 97 National Olympic Committees (NOCs) competed in 13 beach, water and action sports with beach handball – taking place at the Al Gharafa Beach Handball Venue and Katara Beach – one of the most popular events.
#OnThisDay in 2019, @DIFidraet men's #beachhandball team caused a major upset by beating world champions @timebrasil 2-0!@timebrasil women's team beat @Hungarian_NOC. Watch it here: https://t.co/NIxWZmTL31@qatar_olympic stretched their winning streak to 4 wins!@ihf_info pic.twitter.com/XUFPMcXaDv

— ANOC World Beach Games (@AWBG2019) October 12, 2020
Men's Competition
Denmark's Joachim Trend Hansen wrote his name into beach handball history when his two-point strike opened the scoring against the USA in their opening Group A game. The two points were the first-ever at an ANOC World Beach Games.
Eventually, Hansen's European championship-winning side won all five of their games in preliminary group A, including a 2-0 win over 2018 IHF Men's Beach Handball World Championship title-holders Brazil, who won four of their five clashes to finish second. The two teams were joined in the quarter-finals by Sweden and Australia, who squeezed past the USA via a shoot-out to take the last spot. Host nation Qatar won all five of their group B games to delight the home fans and they were followed by European side Hungary, Croatia and Spain into the last eight.
The quarter-finals saw Spain hand Denmark their first defeat as the continental champions crashed out, while Brazil took on their long-time rivals Croatia, winning via shoot-out, the same way that Sweden dumped out Hungary. Qatar made it six from six, defeating Oceania champions Australia.
Both semi-finals were won via shoot-out as Qatar lost to Brazil and Spain defeated Sweden – the second time in a matter of months in a major competition, after the Spanish side dispatched the Swedes in the 9/10 placement match at the EHF Men's European Championship in July.
Qatar, watched by His Excellency Sheikh Joan bin Hamad Al Thani, suffered a second day of heartbreak, losing via a shoot-out to Sweden in the bronze-medal match as beach handball moved to the larger main site of Katara Beach, and, as expected by many, the heavyweight final clash between Brazil and Spain went down to a shoot-out in an extremely tense match which had seen Spain take the first period comfortably, but then Brazil came back from the dead to score a golden goal in the second.
And in the shoot-out, it was Bruno de Oliveira who sunk home the solitary point to grab yet another global gold for Brazil.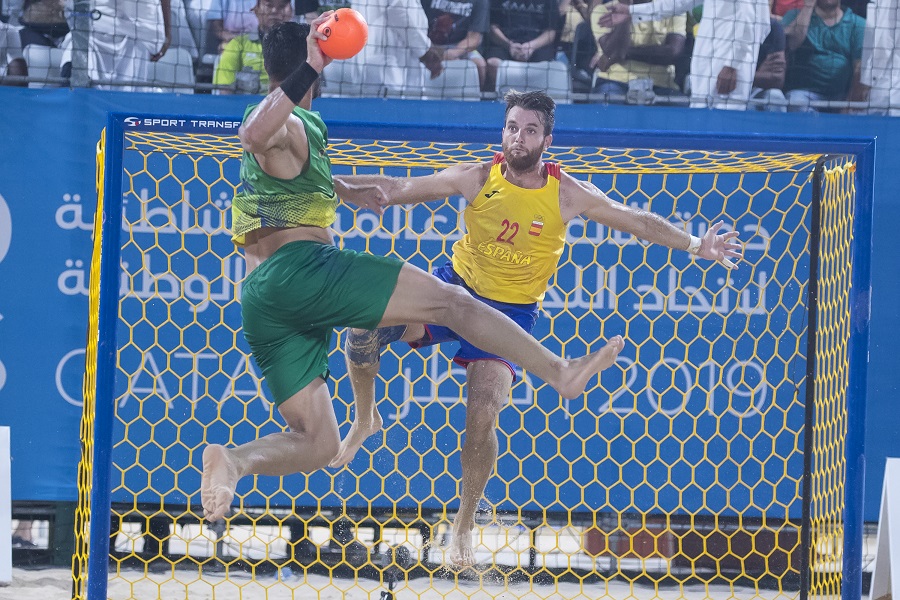 Women's Competition
World championship bronze medallists Brazil comfortably won group A, claiming victory in all five of their matches, but it was their South American rivals Argentina and Asian runners-up Vietnam who everyone was talking about after the preliminary round.
Featuring a number of players who had won gold at the 2018 Youth Olympic Games one year previously, Argentina – despite losing to Brazil in their opening game – defeated European champions Denmark to win their four remaining games and finish second, with the Danes in third and Hungary in fourth.
In group B, Vietnam, in the championship as a replacement nation for Qatar, nearly caused an upset in their first game, eventually losing 2-1 to 2016 world champions Spain, but then turned it around to win via the same way against Poland and did enough against China and Australia to book their quarter-final ticket.
Their group was topped by the 2018 world champions Greece, after they beat 2016 world champions Spain in a shoot-out to ensure a perfect record of five wins from five. Spain finished second, Vietnam ranked third and Poland came in fourth of the group.
In the quarter-finals, Brazil continued in their perfect way, defeating Poland 2-0, Vietnam won the duel of the up-and-coming teams against Argentina 2-1, Denmark dispatched Spain 2-0, while Hungary overcame Greece 2-0.
Denmark women then repeated their men's victory over Brazil in Qatar, winning 7:4 in a semi-final shoot-out while Hungary ended the Vietnamese fairy-tale, easily winning 2-0, to set up a gold-medal clash between the two finalists of the Women's EHF EURO beach handball championship which Denmark had won a few months earlier.
Brazil added another bronze to their collection, defeating Vietnam 2-0, while Denmark defeated Hungary again in a final.
With just a few seconds left of the second period, the scores all-equal at 14:14, and Denmark one period up, they pushed for the winner, and squeezed the ball in to become the first-ever women's gold medallists at an ANOC World Beach Games.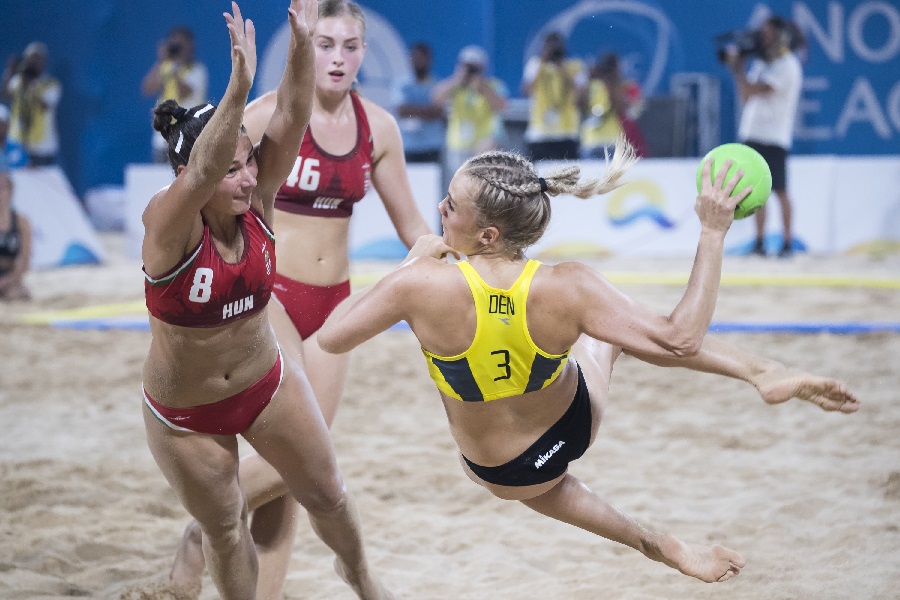 For more on last year's competition, including photos and match details visit the IHF's competition page. For more about ANOC World Beach Games, visit their website. You can also relive some of the action on the ANOC World Beach Games YouTube page.