Qatar 2019 – Referee Al-Hail's pride at whistling on home sand
16 Oct. 2019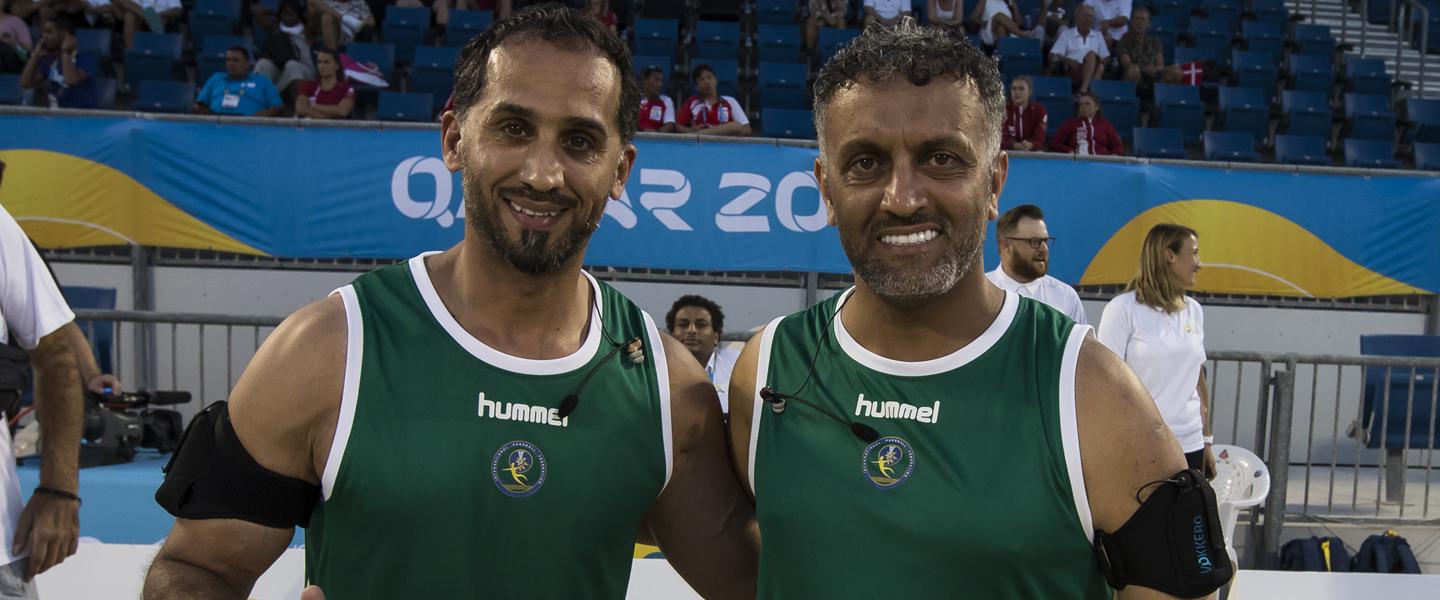 As the ANOC World Beach Games – Qatar 2019 enters its last day of competition, the final medals of the 14 sports will be presented on the sand in Doha, creating memories that will last a lifetime for the athletes involved.
However, it is not just those playing the sports at Qatar 2019 who will have these unforgettable moments as for two referees in the beach handball competition, the past week has been, maybe, a once-in-a-lifetime experience.
Qatar referees Khalid Al-Hail and Ali Al-Yazeedi are both natives of the nation with the two beach handball referees both living in Doha where Al-Hail works at Hamad International Airport in Doha, while Al-Yazeedi is a member of the police force.
IHF.info spoke with Al-Hail ahead of the final day at the global sporting event which had opened with Al-Yazeedi taking the officials' oath at the opening ceremony.
IHF.info: How did you discover beach handball?
Khalid Al-Hail: I was an indoor handball player before and after I stopped playing I became a referee. I started in indoor handball when I was at junior school, and then played club handball. I was a playmaker for Al Ahly in Doha, and we won many competitions in Qatar and outside as well including the Gulf Cup of Champions (GCC) in Dubai. After that, I followed indoor refereeing and step-by-step I discovered beach handball.
IHF.info: What interested you about becoming a referee?
Khalid Al-Hail: My older brother, Yusuf, was actually a handball referee so I followed him. He is now the team manager of the Qatar men's team. My other older brother was also a referee, but in football – so you could say we are a family of referees.
IHF.info: When did you change to beach handball whistling?
Khalid Al-Hail: When I was whistling indoor games in the Qatar league but when I started following beach handball I found it better for me.
IHF.info: How did you find out about becoming a beach handball referee?
Khalid Al-Hail: The Qatar Handball Association had already formed the national team before I was a referee, but soon after the Asian Handball Federation (AHF) started a course for beach handball referees, in Oman, back in 2010.
Panos (Antoniou, Member of IHF Beach Handball Working Group – Responsible for Referees and Delegates) discovered me there and taught me, and everyone there, a lot about beach handball. So, really, from this time I found myself in beach handball. If I say thanks to Panos it is not enough, I really, really cannot thank him enough. 
IHF.info: How did you and Ali become referees together?
Khalid Al-Hail: Even though we had whistled together a few times indoor in Qatar, it was not all the time and I didn't know him too well. So, really, I met him properly for the first in Oman in 2010 and I said to him we should whistle together, and he said, 'OK, good idea'.
IHF.info: What was your first IHF nomination?
Khalid Al-Hail: It was the 2013 World Games in Cali, Colombia. It was a very nice feeling and amazing to whistle for the first for the IHF. We ended the competition with a bronze medal match.
IHF.info: Originally, the first edition of the World Beach Games was meant to be held in San Diego, USA, but it got moved to Qatar, how did you feel when you heard that?
Khalid Al-Hail: I was really happy that it moved to Qatar of course as I never had imagined I would ever whistle here in Qatar for the first time in beach handball. 
IHF.info: What does it feel like to whistle on home sand?
Khalid Al-Hail: It's the first time I have whistled in my home country in beach handball and it feels very, very good. It's very hard to remember the feeling though as when you're whistling I forget everything outside of the court, really.
When I am whistling I just focus myself on the court, not out of the courts. However, I am always feeling happy. You have to be happy on court, and you have to be smiling; don't be angry, don't be sad. Don't make sad faces – you have to be smiling as it's good for both teams.
IHF.info: Have you had a lot of friends and family coming to watch you, is it a bit strange to see them at beach handball?
Khalid Al-Hail: I have a lot of friends and family coming to see us and it is strange when I see them. You see them for a few seconds, but you have to focus on the court. However, it's absolutely nice to know they are here supporting you; friends are coming to see you, family coming to see you.
Many people here have not heard about beach handball and suddenly they find it in Qatar at home. They come to see it and they want to try it, and I want to show them it and to come and watch it.
IHF.info: What did work say when you had to take a break for the event?
Khalid Al-Hail: I actually work in the airport and all my colleagues said; 'what's that?, what are you doing?' so I just explained about it and they are interested. I told them; 'beach handball is my life'. 
I work, then after work, it's only beach handball.
IHF.info: His Excellency Sheikh Joaan Bin Hamad Bin Khalifa Al-Thani has been in attendance at beach handball and there are lots of fans supporting Qatar, waving flag and music playing. How proud does that make you feel?
Khalid Al-Hail: I can't believe it. It's fantastic. I have whistled at many tournaments in many countries and seen many different people around the world but it's different when you whistle in your own country and people you know see you on court. It's very different and I'm happy for that.
IHF.info: Have you noticed a lot of interest in beach handball now in Qatar, since the World Beach Games started?
Khalid Al-Hail: Of course. I am trying to do my best on the court as a referee, but off court so many people are asking me about beach handball. I am trying to help them learn about our sport and to come to watch the games. Really, so many people are asking about the sport, they are coming to games, seeing them, showing us they're happy and they want to try it.