Barça's sentimental journey through the 2021 Super Globe
08 Oct. 2021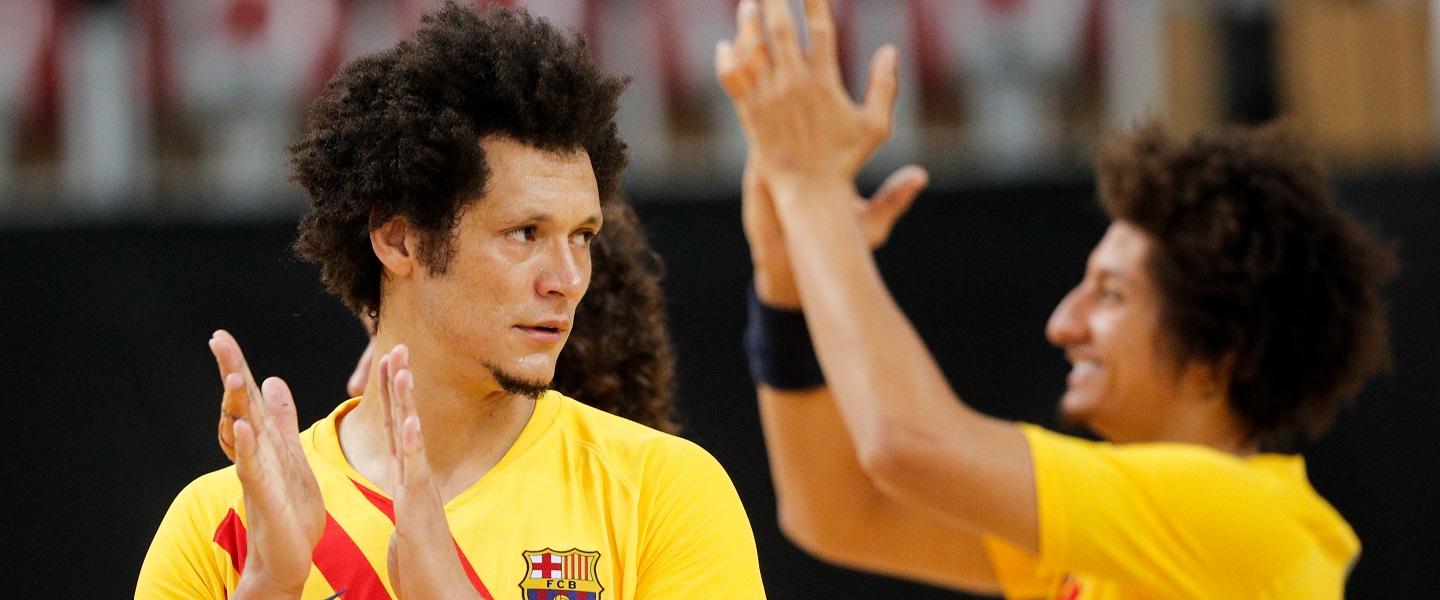 Barça have only one obstacle remaining in the fight to retain their IHF Men's Super Globe title and clinch their sixth trophy in the event overall – Saturday's final against SC Magdeburg. The 2021 edition has been a particularly special one for three of their players: Ali Zein, Thiagus Petrus and Haniel Langaro. 
The road to the final has taken Barça past clubs from the three players' home countries: first Egyptian side Zamalek in the quarter-final, then Brazilian club EC Pinheiros in the semi-final. While Zein never played for Zamalek, but their top rivals Al Ahly, both Petrus and Langaro started their careers at Pinheiros. Langaro's younger brother Davi plays for Pinheiros currently. 
Petrus: From Pinheiros' first Super Globe to the other side
"Without any doubt it's special for me. I played for Pinheiros since 2007 until 2011, from the youth category until the senior team. It was the team where I developed, grew up. I have spent great years there. I met people who are now my friends – even some of them against whom I played today, also the coaches," said Petrus following the semi-final, which Barça won 39:24. 
"I'm really happy to have played against them today. Precisely 10 years ago, in 2011, I played at the club's first Super Globe. I was there and 10 years later I'm on the other side. Afterwards the team played other Super Globe editions, but it's the first time that I played against them. Marcos [Santos, aged 45], who is already a grandfather, was already there and we have known each other for a very long time and we have a close relationship. It's awesome to have played against them at the Super Globe."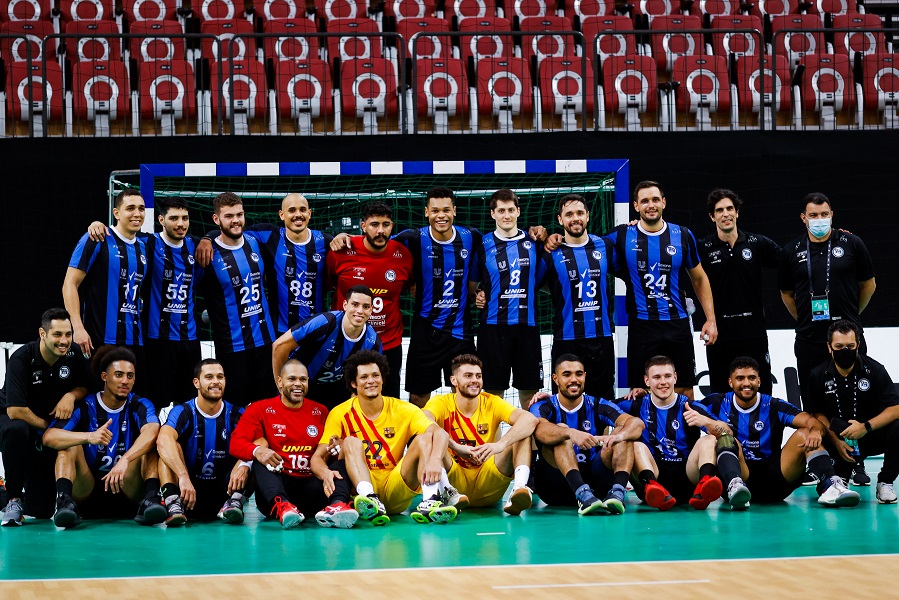 Petrus transferred to Barça from Hungarian team Pick Szeged in 2018, Langaro followed his compatriot in 2019 from Spanish club Logroño, and Zein is one of Barça's newest arrivals, having joined for this season fresh from reaching the Olympic semi-finals with Egypt – their nation's and continent's best result in Games history. 
Zein: I'm proud that the team from Africa is from Egypt
Since leaving Al Ahly in 2013, Zein has played in Tunisia, the United Arab Emirates and France, before receiving the call from Barça – record title winners in numerous competitions, including the EHF Champions League, the Spanish League and Cup, and the Super Globe. Although he never played for Zamalek, Zein certainly faced them – and their vocal fans who created an outstanding atmosphere in Jeddah for the quarter-final – and he also came up against several of his national teammates in the clash on Wednesday. 
النجم المصري #علي_زين لاعب النادي #الأهلي السابق ..وروح جميلة مع لاعبي #الزمالك قبل مباراة #برشلونة_الزمالك في بطولة كأس العالم للأندية #سوبر_جلوب المقامة بالسعودية ??❤️?‍♂️@AliZein #سوبر_جلوب_السعودية #SuperGlobeKsa2021 pic.twitter.com/9zkmbw9RhF

— محمد الجزار ? (@mohamedelgazar4) October 6, 2021
"It's not easy to play against them. It's my first time to play against them since I went out of the country — almost 10 years now — so it was a little bit of stress for me. But the match yesterday was very good. They played very well," said Zein following the semi-final. In the quarter-final, Zamalek had the lead early on, but Barça ultimately secured a 36:32 victory. 
"I'm proud that the team from Africa is from Egypt. I'm proud of them. Yesterday they played very well, in the beginning of the match and in all the match. But of course I'm happy because we won. I wish for them the best of luck in what they will do after, in the matches."
Zein laughs recollecting how his Brazilian teammates were cheering for Pinheiros in their quarter-final, before facing them in the semi. 
"Yesterday our players from Brazil were supporting them [Pinheiros] to win. Today it was special for them." 
From Egypt, only Al Ahly and Zamalek have played the Super Globe. In 2019, it was Zamalek who ended a four-year wait for an Egyptian side to contest the competition, after Al Ahly's last appearance in 2015. Brazil's representation at the Super Globe has been more prominent, with a club from the South American nation playing every edition of the event. Pinheiros are in their third participation and are the first South American club to reach the Super Globe medal round since Metodista did so in 2007.  
South American representation growing at the top level
Petrus underlined how both Pinheiros' success at the Super Globe as well as the individual representation of his continent in the form of himself, Langaro and Argentinian Leonel Maciel at Barça is very important for handball in the Americas. 
"For Brazilian handball and also for handball in America, to have myself but also Haniel Langaro and Leonel Maciel, this is very special. Pinheiros have never reached this position. They have this opportunity, and now they have to take benefits from it," said the defensive specialist. 
"The club kept playing at a high level since I was there. This is really good for Brazil. Yesterday, it marked 10 years since I left the club. The biggest change is my hair. I published a picture today, on Instagram, of the 2011 Super Globe, and I compared myself to that one.
"Pinheiros have lots of players who are born after the 2000s, and this gives me a lot of vision for the future. They have a very strong base of players and they keep demonstrating, they keep developing players, and they play at the Americas' highest level and now they made it at the Super Globe." 
On Saturday, Barça will meet SC Magdeburg in the trophy match – the first game in Jeddah where no player from the current Champions League title holders will meet a club from their own country. Barça's squad includes players of nine different nationalities, but none are German. There will therefore be no sentimentality surrounding the clash – only a firm eye on the big prize.