Al-Wehda set up crunch clash in quarter-finals with solid win against CalHeat
05 Oct. 2021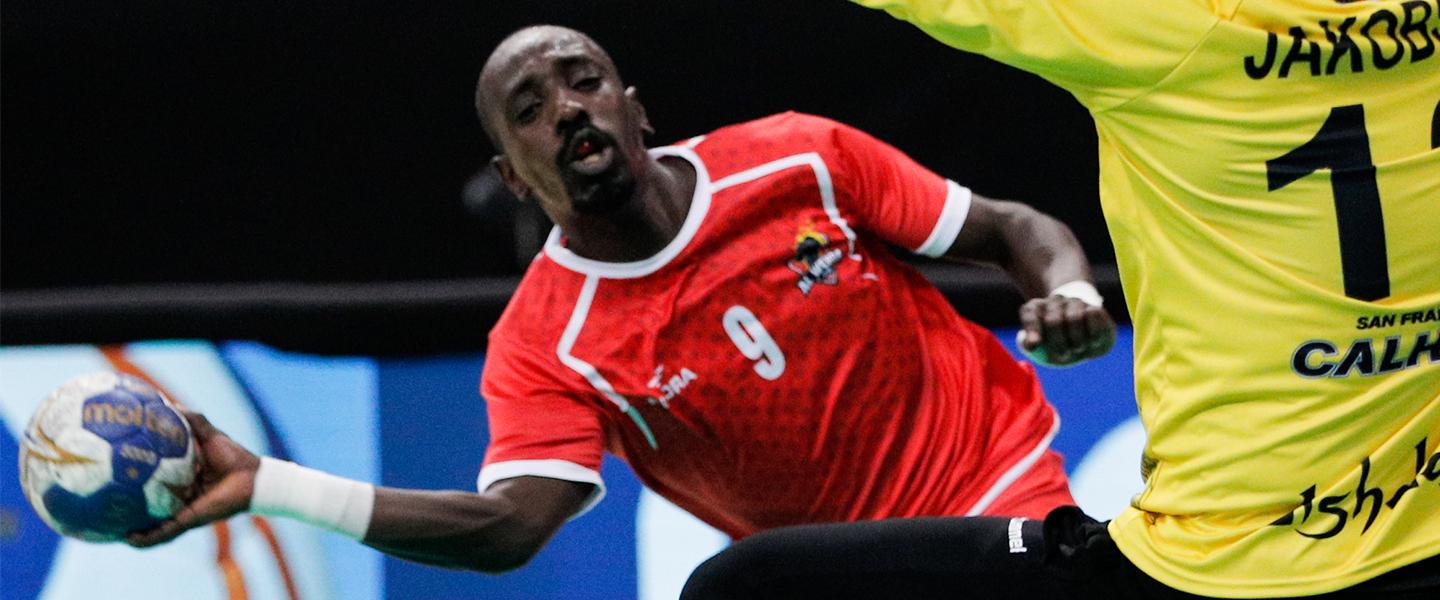 The Saudi side, who take part in their second IHF Men's Super Globe edition, enjoyed their clearest win up-to-date, 29:20 against the San Francisco CalHeat.
 
The American rookies were left empty-handed, after the hosts enjoyed a strong start in Jeddah and never looked back to set up a crunch clash against Danish champions Aalborg Håndbold in the quarter-finals on Wednesday.
 
 
QUARTER-FINALS QUALIFICATION
Al-Wehda Club (KSA) vs San Francisco CalHeat (USA) 29:20 (13:6)
 
The provisional roster sent by Saudi club Al-Wehda Club immediately propelled them to a dark-horse role in the IHF Men's Super Globe 2021. Signing backs Frankis Carol Marzo, the top scorer of the IHF Men's World Championship in January, and Angel Hernandez was a huge coup for the Saudi side, who are dreaming big.
 
Tying the fourth-place finish from two years ago was probably an objective, yet a crunch match with Danish powerhouse Aalborg Håndbold was looming if the hosts were to win against San Francisco CalHeat in the quarter-finals qualification.
 
Heavy favourites, Al-Wehda enjoyed a bright start, jumping to an early 5:1 lead, as goalkeepers Amro Mohammed and Nawaf Daifallah Almutairi registered save after save, with the American rookies failing to break through the opposing defence.
 
Yet, it was Al-Wehda's defence who really stole the show, limiting CalHeat to a meagre 31% attacking efficiency. However, the gap did not balloon in the first half, but was rising steadily, as Marzo and Hernandez combined for only four goals from 10 shots. With another experienced back, Alexander Tioumentsev Barabash, failing to score a goal, Al-Wehda were in control, but looked like they were already thinking about tomorrow's clash against Aalborg.
As the second half got into gear, CalHeat had little to offer, especially as Severin Ramseier and Theodor Skogsholm each saw a red card.
 
Angel Hernandez slowly got into groove, finishing the match with a six-goal outing, the best scorer of the game, as Al-Wehda started to pull further ahead from their opponents. 
 
Despite the difference in experience, depth and tactical nous, CalHeat stayed as close as they could, as the gap never grew bigger than 11 goals. Spanish back Eloy Rubio was once again in superb form for his side, scoring six times, after helping his team win the North America and Caribbean Senior Club Championship.
 
Eventually, Al-Wehda secured a clear 29:20 win, while also handing some rest to their key players before the crunch game against Aalborg Håndbold in the quarter-finals.
 
On the other hand, San Francisco CalHeat really outdid themselves, limiting the difference to the best of their extent. They will now head to the placement round 5-10, as the steep learning curve will get some much-needed experience. 
 
However, the CalHeat scored more goals in this phase of the competition than the only other American side to take part in the IHF Men's Super Globe, New York Team Handball. Two years ago, in Dammam, New York scored 13 goals against Saudi side Moudar, losing 13:33.
 
They also finished the game in style, as line player Martin Vilstrup Andersen scored an in-flight goal, much to the delight of the entire American side.
 
Whether this will be a signal for raising the bar in American handball – the debate is still on. Yet, the CalHeat really outdid themselves in a game against a much more experienced side.