Flawless Germany celebrate title at Germany/Greece 2023 in sold-out Max-Schmeling-Halle
02 Jul. 2023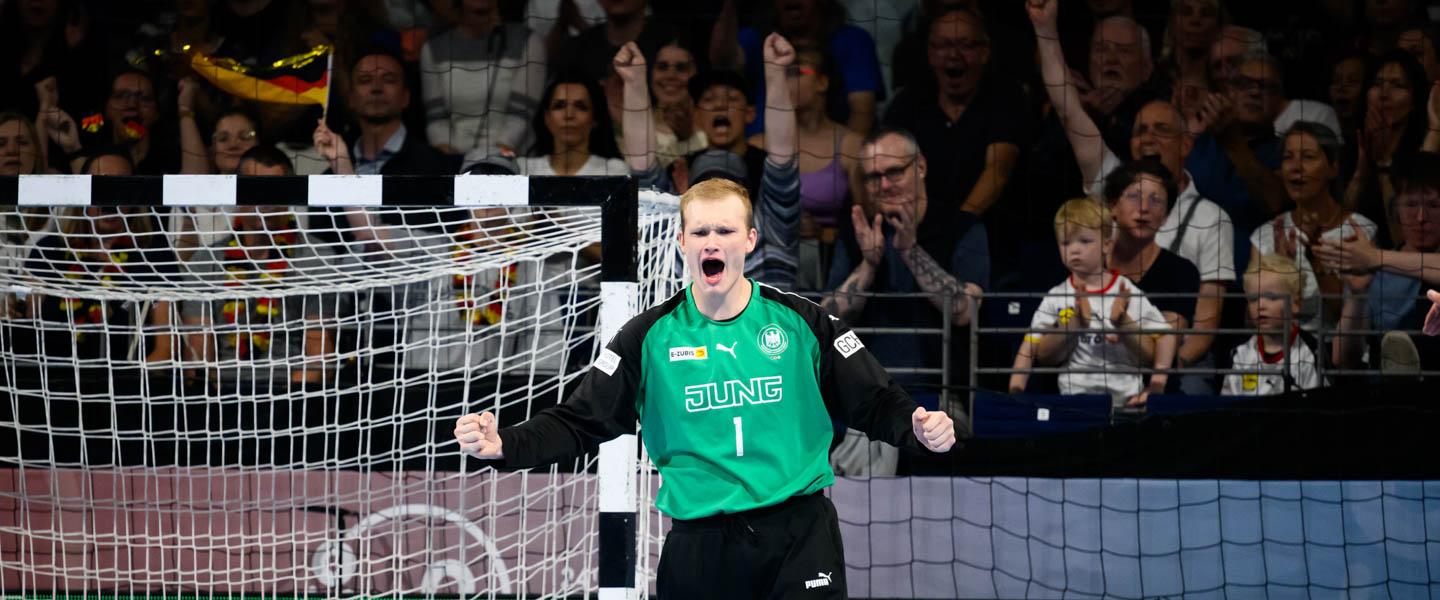 Germany won their third title at the IHF Men's Junior World Championship in emphatic style, securing their eighth win in eight matches in a sold-out Max-Schmeling-Halle in Berlin (30:23) against Hungary.
It was a game controlled by the co-hosts, whose coach, Martin Heuberger, was on the bench for all three titles, at Egypt 2009, Greece 2011 and now Germany/Greece 2023, with Germany confirming their status as a true powerhouse in the younger age categories in men's handball.
Hungary could only match Germany for the first 20 minutes, dropping their level in the second half. However, they still secured their third medal at the IHF Men's Junior World Championship, after the silver at Sweden 1977 and the bronze at Hungary 2005.
Final
Germany vs Hungary 30:23 (14:11)
Two teams with a seven-game winning streak, two teams that impressed at Germany/Greece 2023, two teams that displayed an excellent defence and had the best depth in the competition on their way to the final.
The scene was set in a sold-out Max-Schmeling-Halle in Berlin, where 8.235 fans came to support their favourites, either co-hosts Germany, who were gunning for their third title, or Hungary, who had their eyes set on their first-ever title at the IHF Men's Junior World Championship.
But who was the better team? Just glancing at the numbers, it was going to be a coin toss until the end of the match and this is exactly what happened in the first 30 minutes, as Germany and Hungary traded blows, with a well-balanced game keeping everybody's eyes glued to the court.
Mostly, Germany were in the driver's seat, as the co-hosts got off to a good start, thanks to some excellent saves from David Späth, who stopped Hungary's first three shots, boasting a 75% saving efficiency at the beginning of the game. But on the other side of the ball, Hungary's 5-1 aggressive defence stopped Germany's free-flowing attack.
In fact, Germany, who were the fourth-best attack coming into the game, with an average of 34.8 goals per game scored so far in the competition, could only muster nine goals in the first 19 minutes. Yet Hungary could only lead once (5:4) in the 14th minute, failing to deliver their best game in attack.
It was not until late in the first half when Germany finally created a good margin, three goals, with Elias Scholtes' last-second goal opening a three-goal lead (14:11), something that Germany failed to achieve in three different moments due to turnovers and easy mistakes in their attack.
Led by an excellent centre back in Nils Lichtlein, with some input from another left-handed player in right back Scholtes, who was unstoppable, Germany picked up exactly where they left off in the second half and opened a five-goal gap (18:13), which prompted Hungary to take an early timeout to weather the storm.
That timeout worked to an extent, as Hungary came back to cut the gap to only three goals (19:16), but that comeback attempt was once again short-lived. Some more magic from Späth, who finished the game with 16 saves for a 42% saving efficiency, half of those saves being in one-on-one situations, helped usher in another excellent Germany stint, helping the co-hosts seal the title, this time for good.
Scholtes had some more magic in his hand, replacing Germany's captain Renars Uscins with extraordinary results; the defence spearheaded by Justus Fischer worked wonders, as Germany created an unassailable seven-goal gap (25:18) with 13 minutes to go.
There was no room for a comeback, as Germany learnt something from their past issues and controlled the game, much to the delight of their own fans, who celebrated another title for a side with a lot of potential when they will transition to the senior national team.
The 30:23 win brought another world title in the junior category for Germany, after the ones sealed at Egypt 2009 and Greece 2011, with the common denominator being coach Martin Heuberger, with players like Patrick Groetzki and Christian Dissinger leading those two sides.
It is also the fifth medal secured by Germany at the IHF Men's Junior World Championship, with only five sides having won at least three gold medals – the Soviet Union, Denmark, Sweden and Yugoslavia – in the history of the competition.
For Hungary, Germany/Greece 2023 ended in tears, but they still tied for the best result in the competition, the second place sealed at Sweden in 1977, 46 years ago.