"The greatest goalkeeping talent in Europe": Späth lives up to expectations at Germany/Greece 2023
01 Jul. 2023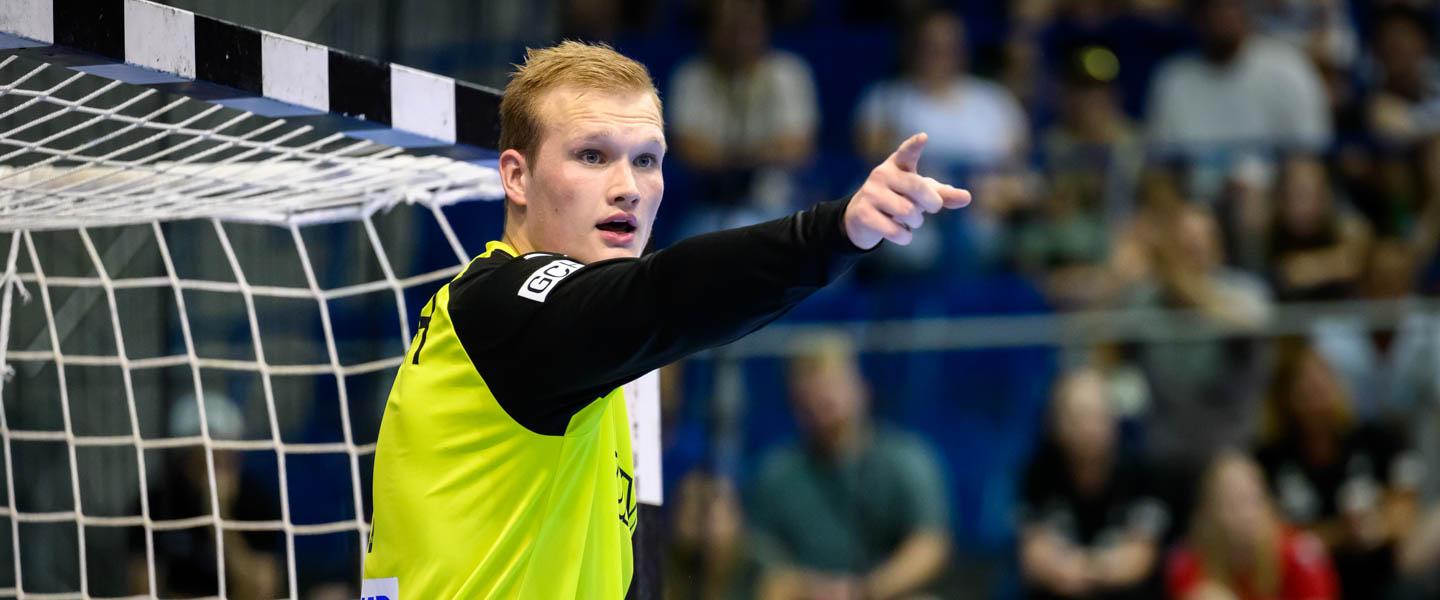 Over the past week, Germany goalkeeper David Späth could be usually seen pumping his fists, energising the crowds and getting rapturous claps from the fans in Hanover, Magdeburg and Berlin as he helped the co-hosts at Germany/Greece 2023 secure a place in the semi-finals of the competition.
This has now been the case for Späth over the last months, in fact, after delivering some excellent performances at club level for Rhein-Neckar Löwen, where he had an average saving efficiency of 36.1% in 12 matches in the German Bundesliga, while also delivering a masterstroke in the German Cup final against SC Magdeburg.
When the game went on penalties, Späth ensured that his team would win the trophy, saving three of the penalties he faced and lifting Rhein-Neckar Löwen to the win.
Of course, Späth aims to do more of the same at Germany/Greece 2023, where he has been an integral part of Germany's success so far in the competition, with the co-hosts delivering a six-game winning streak on their way to the semi-finals. The towering goalkeeper, who stands at 1.97m tall, has saved 41 shots so far for a 33.3% saving efficiency, but he proved to be an X-factor whenever Germany needed it.
"I am obviously happy for securing the wins and helping my team get so far in the competition, but there are still two more games to be played in Berlin, and, of course, like everybody else, I want to win the trophy and become world champion," says Späth.
The goalkeeping position is usually the hardest in handball, as the mixture needed for a good game is always difficult to get. But, all in all, Späth has been superb in crunch time for Germany, especially in one-on-one situations, making 18 saves of this type throughout the tournament.
Three came on penalties, which basically means that Späth has saved one in three at the 2023 IHF Men's Junior World Championship, including two penalties stopped in the quarter-final against Denmark, where the fans immediately started chanting his name and pumping up the goalkeeper.
"I mean, it is amazing to feel this kind of support, to feed on the public's chants and applauses. It is something excellent; it just makes me feel even better on the court. To sum it up, this is why we play handball, to give our fans something to cheer and make them happy," adds Germany's goalkeeper.
Germany will now aim to finish the competition on a high and deliver two more wins, first in the semi-final against Serbia and in a potential final, where they are due to meet either Iceland or Hungary.
Until now, Germany had their highs, but also their lows, enabling France and Croatia to erase big deficits in the main round to put the co-hosts under pressure, but every time, Germany managed to secure the wins with some ice-cold performances in the last minutes.
One crucial plus for Germany will definitely be the time that the players have spent on the court so far, with coach Martin Heuberger constantly changing his players to hand them copious amounts of rest compared to their opponents.
While Germany have the fifth-best average number of goals scorer per game so far, 34.3 per match, their best scorer, left wing Tim Freihöfer, is only 34th in the top goal scorer list.
Same can be said for the goalkeeping department, where Späth shared duties with teammate Lasse Ludwig but is surely the top choice due to his experience and excellent penchant for delivering momentum-changing saves at the right time, like in the game against France, when he stopped a one-on-one shot in the last two seconds to lift Germany to the win.
"The team has been amazing, we are all playing for each other, and I think it has really been an excellent tournament for us. Right now, we need to focus because we are close to securing a title, which would be really amazing, but from what we feel and what we saw so far, we have a very good form," says Späth.
The goalkeeper will need to bring another good game to the table against Serbia, needing only to confirm what his teammate from Rhein-Neckar Löwen, Juri Knorr, said about him.
The All-Star Young Player at the 2023 IHF Men's World Championship, Knorr praised Späth, saying that Germany's shot stopper is "the greatest goalkeeping talent in Europe, an excellent guy," adding that "he will go a very long way in handball."
"I have heard what Juri said about me, and I am happy about it, surely, because it is coming from a big, big talent, a great player in our senior national team and in my club. Hopefully, I will confirm what he said and continue playing better and better," concluded Späth.