23 Jun. 2022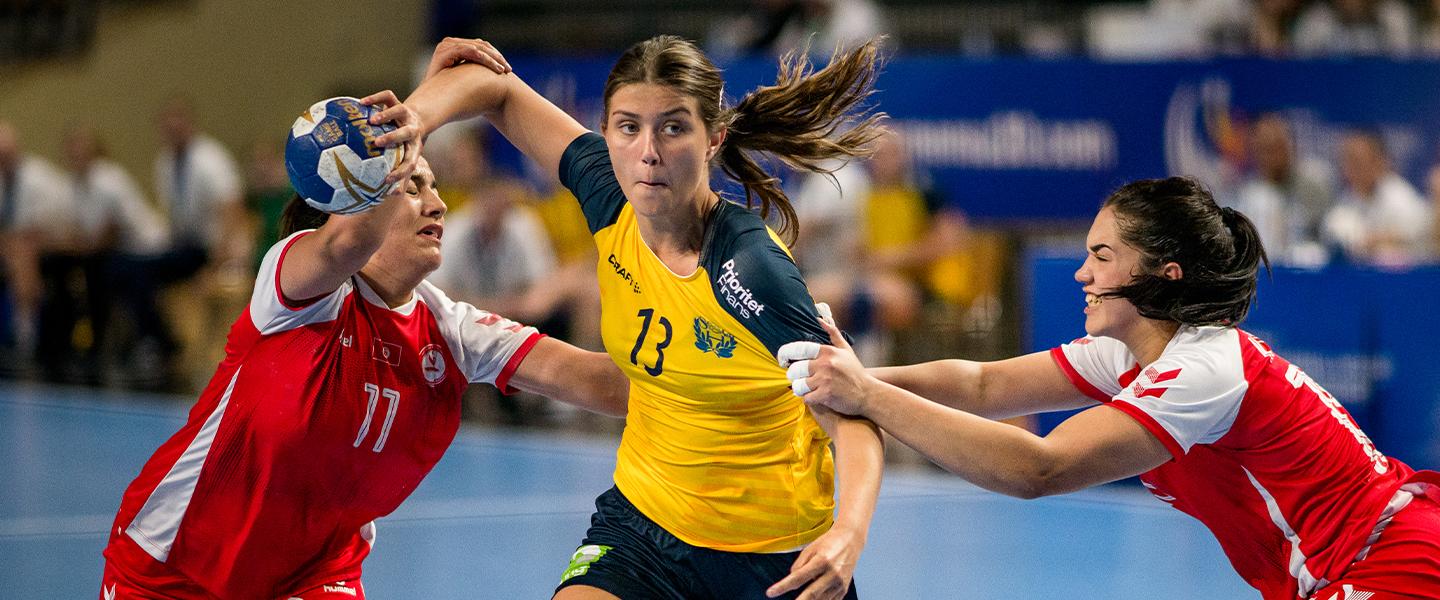 Live blog: 16 teams will be taking the court in Celje in a pivotal day for the 23rd IHF Women's Junior World Championship, as the first main round berths are likely to be delivered today, with several teams eyeing progression with their second win in a row.
After two days, the first decisions have been made. Japan, Norway, France and Sweden have booked their tickets for the main round. For debutant India the journey are over as well as for Brazil, Italy and Ruplic of Korea. For the latter, this is the end of a series. In the past 19 participations, they have always placed in the top 10. 
Today's matches:
14:30 CEST Islamic Republic of Iran vs Tunisia (24:29) / Argentina vs Montenegro (20:31)
16:30 CEST Guinea vs Sweden (14:43) / Norway vs Brazil (32:24)
18:30 CEST Slovakia vs Netherlands (27:27) / Italy vs Denmark (26:31)
20:30 CEST Japan vs India (42:22) / Korea vs France (21:34)
21:54 CEST Full-time: Japan vs India 42:22 (17:12)
The Asian derby was a game of two halves. Before the break, India fought hard and did not let Japan pull clear for a long time. But in the second half, the Japanese were entirely dominant and tore the Indian defence apart. They could have won even bigger but hit the posts and the crossbar many times. Still, their shot efficiency of 69 % was in the end better than India's 62 %, and they scored many goals from fast breaks.

With two wins in as many games, Japan are already through to the main round, while the debutants India lost a chance to progress. Netherlands also have a good chance to reach the main round as their goal difference is much better than Slovakia's. On Saturday, Slovakia will face India, while Netherlands will play Japan.

Group A standings: 1. Japan 4p (2g, +32 goal difference). 2. Netherlands 3p (2g, + 28 goal difference). 3. Slovakia 1p (2g, -12 goal difference). 4. India 0p (2g, -48 goal difference)
21:52 CEST Full-time: Korea vs France 21:34 (7:18)
The final game of the card in the Golovec Arena in Celje is now over and France have qualified for the main round at Slovenia 2022, after another superb win, 34:21, against the Republic of Korea. This result also enables Norway to go through to the next phase of the competition, after securing two wins in the two games they played, while Korea and Brazil are eliminated, after losing both matches.
It was a superb display by France, who dominated the match from start to finish, proving they are definitely one of the teams to beat at the 2022 IHF Women's Junior World Championship. Bringing plenty of experience to the table from players who are already crucial to their teams in the domestic league, or have already played in the European club competitions, France impressed both in attack and in defence but also proved to have great skills in managing the matches.
On the other hand, after 19 consecutive tournaments, the Republic of Korea's streak of top 10 finishes is officially over, as the Asian side is certain of finishing outside of the best 16 teams at Slovenia 2022. Despite showing their trademark fast-paced game, Korea simply did not have the strength to challenge the two European teams they faced, Norway and France, and are eliminated after only two games. They also conceded their worst-ever loss in the history of the competition, but this is a lesson learnt the hard way.
In the last matches of the group, France face Norway in what will be a superb battle for the first place in the standings, while Korea and Brazil face each other in the search for the first win.
Group D standings: 1. France* 4p (+32 goal difference), 2. Norway* 4p (+12), 3. Republic of Korea 0p (-17), 4. Brazil 0p (-27)


*France and Norway have qualified for the main round, where they will face the top two teams in Group C
21:37 CEST Japan close to secure main round spot
Japan look more focused after the break, and they are quickly increasing the gap. They capitalize on their rivals' mistake and often score from fast breaks. Midway through the second half, the Japanese are already in front by 13 goals, 29:16. There is no doubt that they will win the Asian derby and secure a main round spot with one group match to go. India continue to fight, but Japan have more skills and experience at this level.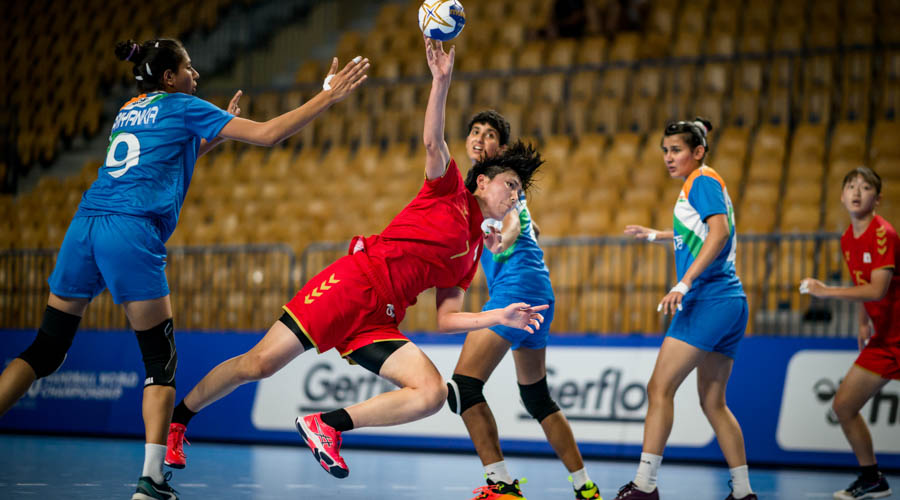 21:33 CEST Broken records for Korea?
This was the first time since North Macedonia 2008 when the Republic of Korea scored less than ten goals in the first half of a match at the IHF Women's Junior World Championship. Back then, the Asian side scored nine times against Spain, in what turned out to be a 23:28 loss in the main round of the competition. Yet this time around, Korea are heading to one of the worst losses, if not the worst one in history in the competition. The previous record, a 12-goal loss, 14:26, was set four years ago against Russia at Hungary 2018.
After 45 minutes, France are cruising to another dominating win, leading 27:14, after yesterday's one against Brazil, 37:18. Only a single outfield player did not score a single goal in this match for France up until this moment, as coach Eric Baradat is rotating his players to maintain the fitness level. Just 15 minutes and France and Norway will be joining Sweden as the teams qualified for the main round at Slovenia 2022.
21:05 CEST Half-time: Japan vs India 17:12
It is hardly surprising that Japan, who are playing their 19th IHF Women's Junior World Championship, lead against rookies India at half-time. Still, the Indians should be credited for their performance, as the margin between the rivals was quite small for most of the first half. While Japan have more speed and are better prepared tactically, the Indians were trying to make up for it with their fighting spirit, determination and individual skills of certain players. India even have a better shot efficiency, 67%, while Japan has 65%. However, the Japanese improved before the break, which allowed them to increase the gap to five goals.
21:04 CEST Half-time: Republic of Korea vs France 7:18
The Republic of Korea have finished in the top ten at the IHF Women's Junior World Championship in each and every of the 19 editions they played in, but that streak might just be over. With a loss tonight against France in the Golovec Arena in Celje, Korea will be eliminated, after taking another loss yesterday, against Norway. This might look increasingly possible after the first half against France, which the European side has dominated, leading 18:7 after 30 minutes.
It has been a remarkable game for Metz Handball's line player Sarah Bouktit, who has scored three goals, while also anchoring France's defence, being instrumental in her side's success in the first half. But France are really looking like a top team at Slovenia 2022, boasting a comprehensive and well-oiled attack and a sharp defence. On the other side, Korea lost back Hansol Choi, who received a red card, after a foul on Lena Grandveau, adding to the Asian side's woes. This may well turn out to be one of the worst losses in the history of the competition for the Republic of Korea, which has already lost by a 12-goal margin against Russia at Hungary 2018, only to recover and seal the bronze medal.
20:48 CEST A tale of two goalkeeper in Republic of Korea vs France 
Goalkeeper Gaeun Lee had an outstanding start of the match against France, saving five shots in the first ten minutes. Were it not for her superb form, the Republic of Korea would have surely been in some amount of trouble, as their attack could simply not cope with France's intensity in defence. It is an interesting matchup because the Asian side does have the speed and creativity, but their solutions to finish the attacks were passing to the wings and the line player, as the back line is simply not able to shoot due to France's physical prowess.
France's goalkeeper, Jemima Kabeya Tshisola, has also started the match with great efficiency, 66%, guessing nearly every shot from Korea, as the two teams are trying to settle in the game, after a hard effort yesterday on the first day of the 2022 IHF Women's Junior World Championship. Still, France are up 6:2 after the first 12 minutes, so Korea really need to improve to avoid elimination.
20:47 CEST Japan lead, but India fight hard 
While Slovakia vs Netherlands in the same Group A was a European derby, the match between Japan and India is a clash of two Asian teams. Seen as favourites, Japan took early control of the game, as their fast and agile players made a lot of problems for the Indian defence. However, India are fighting hard, and they managed to close the gap from 4:9 to 7:9 by minute 15. 
20:05 CEST Full-time: Slovakia vs Netherlands 27:27 (13:14)
Both teams went through ups and downs in this hard-fought match, so a draw looks like a fair result. Slovakia were closer to winning, yet Lois van Vliet salvaged a draw for Netherlands 15 seconds from full-time.
Kim Molenaar, who was elected Player of the Match, finished the game with 12 goals, while Olivia Scipova was Slovakia's top scorer, netting seven times.

The Dutch seemed to be the happier side after the break, as three points in two games give them a good chance to reach the main round. And later today, in the same Group A, Japan will secure their progression if they beat India.

Group A standings: 1. Netherlands 3p (2g, + 28 goal difference). 2. Japan 2p (1g, +12 goal difference). 3. Slovakia 1p (2g, -12 goal difference). 4. India 0p (1g, -28 goal difference)
19:55 CEST Full-time: Italy vs Denmark 26:31 (16:19)
Just a little under 24 hours ago, Italy lost against Argentina, 20:25, therefore they were seen as huge underdogs against a star-studded team like Denmark, with plenty of history behind them and some renowned players, whoever played in European club competitions. But Italy can really be proud of themselves, despite having been virtually eliminated from contention for a main round spot, after their second loss in a row at Slovenia 2022, 31:26, against Denmark.
It was not just a fluke, Italy really did push Denmark until the dying minutes, as the gap was cut to a single goal, 25:24, with 11 minutes to go. Eventually, Denmark's superior experience and depth were worth their weight in gold, as the Scandinavian side sealed the win and are virtually through to the main round. And the problem of depth is definitely one that affected Italy, as four players – Giulia Fabbo, Ramona Manojlovic, Aurora Gislimberti and Bevelyn Osarosemwen Eghianruwa – scored 22 of Italy's 26 goals in the game or a huge 84%.
Now the question still remains: how can a team that did not impress when facing lower-ranked European opponents challenge for a medal? How can Denmark improve before facing powerhouses like France or Norway in the main round? There are still a good few days before those matches, so only time will tell.
In the last round of Group C, Italy face Montenegro in another 100% European match, while Denmark face Argentina, as no team is assured to progress to the main round yet.
Group C standings: 1. Denmark 4p (+9 goal difference), 2. Montenegro 2p (+7), 3. Argentina 2p (-6), 4. Italy 0p (-10)
19:37 CEST Slovakia seized the initiative 
Soon after the restart, Slovakia not only drew level but also pulled in front, and they are leading 20:18 in minute 45. They need a victory to stay in contention for a main round spot and do their best to grab two points. Netherlands missed too many chances, and they need to improve their shot efficiency, which now dropped to 51%, if they want to avoid a defeat.
19:36 CEST Can Italy keep the rhythm until the final whistle? 
Efficiency on fast breaks and a flurry of goals scored via these actions has been the staple of Danish handball over the last decades and their women's junior team makes no exception at Slovenia 2022. Denmark have changed their wings in the second half, but they are still overly efficient on the fast breaks, a big reason why the Scandinavian side entered on a 3:0 unanswered run that helped Denmark open a five-goal lead, 23:18, after 39 minutes in the game.
Fabbo and Eghianruwa, Italy's main scorers in the game, were rested in the last minutes, but Denmark still have not taken full advantage of the changes made by Italy, who welcomed back the two backs and is now only two goals behind Denmark, 22:24, with 18 minutes to go in the game. There is the distinct possibility that Italy could snatch a point from Denmark, which would be a massive surprise, the biggest at Slovenia 2022 until now.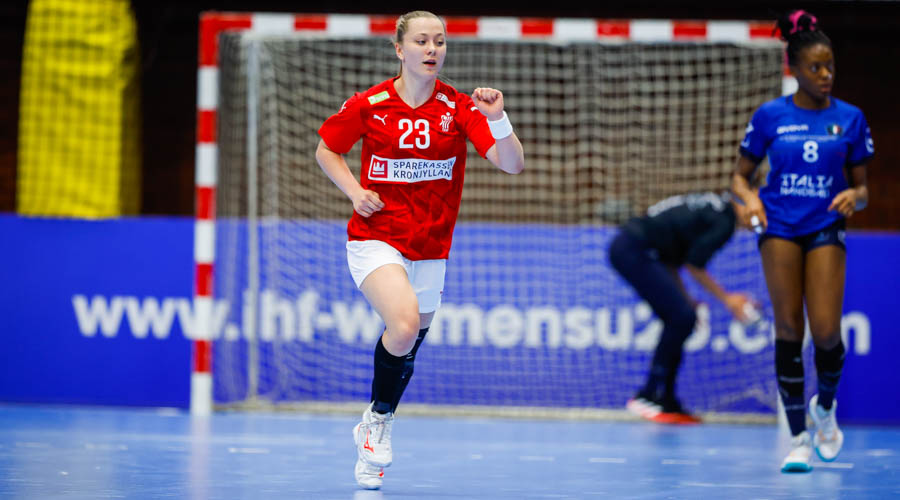 19:10 CEST Half-time: Slovakia vs Netherlands 13:14
Much of the first half saw the same scenario: Netherlands led by one or two goals, but Slovakia drew level time after time. Even after the Dutch pulled clear at 12:9, their rivals used a 3:0 run to restore parity.

Both teams missed a lot of chances, but Netherlands have a player who stands out: left back Kim Molenaar scored nine of her team's 14 goals so far. Her effort helped the Dutch to take a one-goal lead by half-time, yet Slovakia look very determined to keep fighting, so the second half should be exciting.
19:04 CEST Half-time: Italy vs Denmark 16:19
Italy are not going down swinging in this match and they are trying everything to keep close to Denmark. Of course, it is a difficult challenge, especially due to the experience of the Scandinavian side, with players who have even taken the court in European club competitions. But with backs Bevelyn Osarosemwen Eghianruwa and Giulia Fabbo each scoring four goals, Italy have really proven that they could be competitive for at least one half against Denmark.
Of course, the Scandinavian side is ahead at the break, 19:16, proving strong both from the back line, but also on fast breaks, with right wing Thilde Harregaard Frandsen leading the charge, with five goals. Frandsen is one of the most experienced players on Denmark's roster, having scored 24 goals for Viborg HK in this season of the EHF European League Women, where the Danish club lost the final against SG BBM Bietigheim.
18:50 CEST Tight battle between Slovakia and Netherlands
After scoring 46 goals against India yesterday, now Netherlands face a tougher opposition. Slovakia are fighting hard, and the match at Zlatorog has been tight so far. Although the Dutch boast a 67% shot efficiency compared to Slovakia's 53%, the teams are level at 8:8 in minute 17. Kim Molenaar stands out in Netherlands' attack, with five goals from as many attempts.
18:45 CEST Italy frustrate Denmark in the begin of the game
For the first nine minutes of the game, Italy really put up a fight and looked excellent, especially in defence, frustrating Denmark's attack. An interesting twist is Italy's bench clapping and tapping their feet in rhythm to help their teammates while trying to stop the Scandinavian side, which really proves how tight the group is. However, success in handball is measured in goals and this is exactly where Italy suffered over a run of a few minutes when Denmark jumped to the occasion and took the lead.
But are the Scandinavian side really up to the task at this edition of the IHF Women's Junior World Championship? They still look like a work in progress now, after winning against Montenegro by four goals and not delivering in the first part of the game against Italy. After 15 minutes, they are slowly getting to grips with the game and leading 9:6.
18:25 CEST All-European clash in group A
Two Group A matches will be played this evening at Zlatorog Arena, and the first of them will feature a duel of European teams, Netherlands and Slovakia.

The Dutch team showed their fire power yesterday against India, winning 46:18, and another victory will secure them a main round spot, unless India beat Japan later today. In turn, Slovakia badly need points after an opening defeat against Japanese (17:29), so they hope to improve and fight hard.
18:20 CEST Denmark want second win in two days
Ten minutes until the start of the last game of Group C, between Denmark and Italy. The Scandinavian side could earn their second win of the 2022 IHF Women's Junior World Championship, but after Montenegro beat Argentina earlier, they will not be sure of progressing to the main round, until the last round, when they face Argentina.
Denmark's start has not been dominating – they won against Montenegro by only four goals yesterday – but the match against Italy should prove an easier task. Italy lost clearly against Argentina, 20:25, after cutting the gap in the dying minutes of the game, so the team that received a wild card for Slovenia 2022 should be big underdogs this evening.
17:58 CEST Full-time: Guinea vs Sweden 14:43 (7:17)
Sweden score the victory with the biggest goal difference so far at this IHF +29 goals are one more than the difference between the Netherlands and India yesterday. 
Guinea will have to digest this defeat quickly as they face Tunisia on Saturday. A game that will be more of an eye-to-eye match. Sweden, on the other hand, can start preparing for the main round. Because with +36 goals compared to Tunisia's -2, they can no longer be denied the group victory, which would require more than a miracle. 
Thanks to their scoring spree, there are now 5 Swedes in the top 12 scorers' list. The best is Charité Mumbongo in 5th place with 12 goals. 

Group B standings: 1. Sweden 4p (2g, +36 goal difference), 2. Tunisia 2p (2g, -2 goal difference), 3. Islamic Republic of Iran 1p (2g, -5 goal difference), 4. Guinea 1p (2g, -29 goal difference)
17:49 CEST Full-time: Norway vs Brazil 32:24 (17:13)
The second game of the day in the Golovec Arena in Celje is now over and the foregone conclusion is confirmed, Norway have extended their winning streak at the IHF Women's Junior World Championship to two games, after a comprehensive and dominating performance against Brazil, 32:24. The Scandinavian side was just too much for their opponents in attack, especially on fast breaks, where the trademark Norwegian style was duly present once again, as the pacy wings dominated, after finding it more difficult against the Republic of Korea in the first match.
On the other hand, Brazil are virtually out of contention for a main round spot after conceding their second loss in as many games. Their defence is simply not up to par throughout the whole match, as they conceded 69 goals in two games, while the lack of depth is seriously hurting Margarida Conte's side during matches, as some players cannot simply keep up with the level displayed by better opponents.
In the last round of Group D, Brazil face the Republic of Korea, while Norway aim to extend their winning streak to three games against France.

Group D standings: 1. Norway 4p (2g, +12 goal difference), 2. France 2p (1g, +19), 3. Republic of Korea 0p (1g, -4 goal difference), 4. Brazil 0p (2g, -27 goal difference)
17:38 CEST Sweden no longer gives Guinea a chance
Now, as expected before the start of the game, the Swedes have everything under control. In the first 15 minutes of the second half, they dismantled Guinea. Sweden added 14 goals. Guinea, on the other hand, could only put the ball in the opponent's goal three times. 
The resounding defeat can only be prevented if Sweden shows mercy or suffers a total collapse. Otherwise, they will qualify for the main round today and finish first in the group thanks to their better goal difference. That was already +13 before this match. 
17:33 CEST Norway's 6:0 run cancel Brazil's hope
So much for Brazil keeping the game in check. With several changes from the first seven they started the game with, the South American side collapsed entirely at the start of the second half, enabling Norway to go on a 6:0 unanswered run that opened a 10-goal gap, 23:13, after only 37 minutes. This is the game done and dusted, as Brazil's mistakes in the attacks were immediately punished by Norway on fast breaks, with left wing Sussane Amundsen now leading the scoring chart with four goals.
With four points in two games, Norway will lead Group D, the hardest in the competition so far, and will qualify for the main round if the Republic of Korea do not beat France later this evening. But the Scandinavian side mettle will surely be tested in the last game of the group, on Saturday against France, which will be one of the most interesting to watch in this phase of the competition.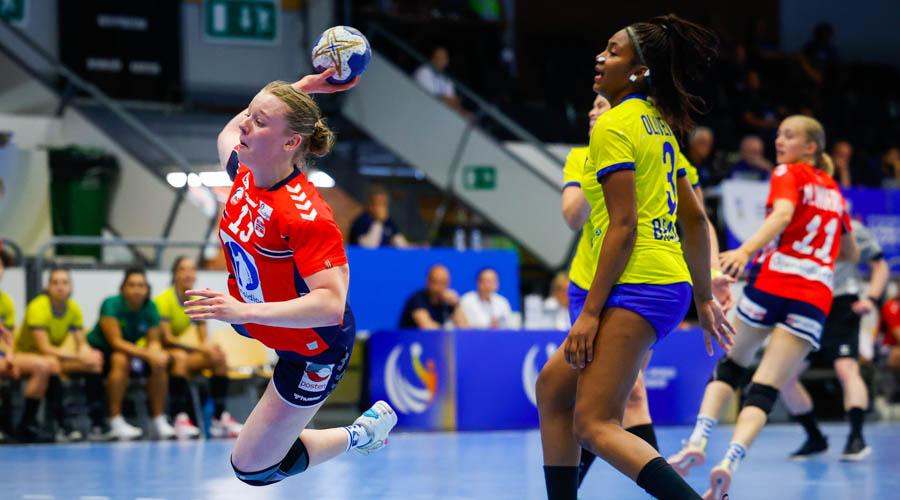 17:07 CEST Half-time Guinea vs Sweden 7:17
In the second half of the first half, the game took its expected course. Sweden played out their expected dominance and overran the brave Guinea. The lead is now 10 goals. This was also due to the fact that Guinea hit the one or other post and can now only boast a goal efficiency of 39%. Sweden are almost twice as efficient with 77%. Ofelia Shoai Hallberg and Charité Mumbongo are the most successful Toshcützen so far with four goals each. 
17:04 CEST Half-time Norway vs Brazil 17:13
Brazil are hanging in there, they are just doing everything they can to limit the gap to Norway. A 3:0 unanswered run from the South American side prompted a quick timeout from Norway's coach, Tore Johanessen, who reset his team, which went on their own 3:0 run. But, eventually, it is still Norway who are leading, with a well-balanced attack, which turned the ball over only four times. Yet the real hero of the first half was definitely Norway's goalkeeper, June Cecilie Krogh, who saved 11 shots for a 45% saving efficiency, totally frustrating Brazil at times.
After yesterday's game against France, which turned into a rout, Brazil's coach, Margarida Conte, gathered the players into a circle and they all together prayed after a painful loss. The decision really worked, as this is a totally different team from yesterday, who is reborn, at least in spirit. While the gap might still be quite big in Norway's favour, 17:13, Brazil are definitely in with a shot to spring a surprise, if they just manage to stop the Scandinavian side in the second half.
16:48 CEST Guinea holds its ground
At first, it looked as if Sweden would live up to their role as favourites and dominate the match. After 5 minutes they were 5:1 ahead. But then Guinea got better and better into the game and gave Sweden a headache. After 15 minutes they are still in it. The score is 6:8, even though Sweden scores more than 70% of the time and Guinea only 55%. 
If the Africans can keep up the pace and withstand the pressure, the Swedes will definitely have to step it up a notch if they don't want to jeopardise their group victory.
16:46 CEST Norway dictate the rhythm against Brazil
The two teams have been trading blows in a fast-paced game, which yielded 17 goals in the first 15 minutes. With some changes in the squad from yesterday's first seven for the match against the Republic of Korea, Norway have struggled in the first three minutes, but reverted to their usual selves, with an exciting attack, and fast rhythm, that totally saw Brazil surrender some easy goals.
The South American side is still finding the needed form, but after conceding a 19-goal loss against France yesterday, they will probably lose once again today, which means that they are virtually out of contention. A bright spot has been their centre back, Mariana de Oliveira, who reminds of another Brazilian centre back, Ana Paula Rodrigues Belo with her playmaking skills. Still, Norway are scoring at free will here and are now 11:6 up after 15 minutes.
16:25 CEST Setback for Guinea ahead of match against Sweden
Guinea must do without their captain. The Federation announced yesterday that Bintou Oulare will be replaced by left wing Aissatou Ditinn Barry. Sweden have nominated goalkeeper Agnes Åseskog.
With a win, the Swedes will definitely enter the main round. The European powerhouse is the clear favourite against the debutants from Africa. But of course, they want to present themselves as well as possible after they managed to win a point the day before. 
15:59 CEST Full-time: Argentina vs Montenegro 20:31 (10:11)
It would definitely not have looked like it after the first ten minutes of the match when Argentina jumped to an early 5:0 lead, but Montenegro mounted a superb comeback to clinch their first win at the 2022 IHF Women's Junior World Championship, 31:20, after yesterday's loss against Denmark. With two points and holding the tiebreaker against Argentina, who will now have to play against Denmark in the last round, Montenegro look like a serious contender for the main round berth, despite their shortcomings proven over the last two games.
With a strong defence, which pushed the rules to the limit and yielded no less than seven suspensions plus a direct red card, Montenegro remain true to their self and left everything on the court to clinch this win. The MVP of the game, left wing Nada Kadovic, was a crucial part of that defence and scored nine goals to help lift Montenegro past Argentina. Moreover, this was also Montenegro's largest win at the IHF Women's Junior World Championship since 2010, when they secured a 41:11 win against Hong Kong, which still is the record for the European side.In the last round in Group C, Montenegro face Italy, while Argentina face a huge challenge against group favourites Denmark.
Group C standings: 1. Montenegro 2p (2g, +7 goal difference), 2. Denmark 2p (1g, +4), 3. Argentina 2p (2g, -6), 4. Italy 0p (1g, -5)
15:58 CEST Full-time: Islamic Republic of Iran vs Tunisia 24:29 (11:15)
After Iran achieved something historic yesterday when they picked up a point in their first World Cup appearance, there was nothing like an even bigger sensation today. In the end, they had to admit defeat to Tunisia at 24:29. In all likelihood, they will not make it to the main round. A victory against the highly favoured Swedes would be tantamount to a miracle. 
After the first minutes of the second half without a goal, both teams got back into the rhythm. But while Tunisia increased their efficiency to 62% and managed their lead well. Iran's goal-scoring efficiency remained stagnant at 51%. Tunisia thus take a big step towards the main round, but must at least draw against Guinea on Saturday. 
Nihed Limem was the top scorer with a total of 10 goals, which also gives her a jump in the scoring charts. She is currently in third place with 14 goals.
Group B standings: 1. Sweden 2p (1g, +13 goal difference), 2. Tunisia 2p (2g, -2 goal difference), 3. Guinea 1p (1g, +/-0 goal difference), 4. Islamic Republic of Iran 1p (2g, -5 goal difference)
15:37 CEST Montenegro have to make to do without top scorer Marsenic
Montenegro enjoyed a better start in the second half and even took their first two-goal lead, 13:11, after 35 minutes of the game. But a hard foul made by Gordana Marsenic saw the influential left back receive a red card, as Montenegro will now have to cope without their top scorer in the game, who put four goals past the Argentinian goalkeepers in the first half. Will that have an impact on the match? It surely looks like so in the long term, but Montenegro have constantly found ways to exploit the vulnerabilities in the South American side's defence now.
On the other hand, Argentina are surely missing a back like Martina Lang, their top player, who injured her knee in a friendly match against Slovenia prior to the start of the IHF Women's Junior World Championship. Lang is on the bench, supporting her teammates, but will definitely not play due to her ruptured ACL. And it is a costly miss, as Argentina only converted 46% of their shots until the 43rd minute and have scored only four times in the last 18 minutes. Right now, Montenegro have a 17:13 lead, which they are aiming to protect until the final whistle.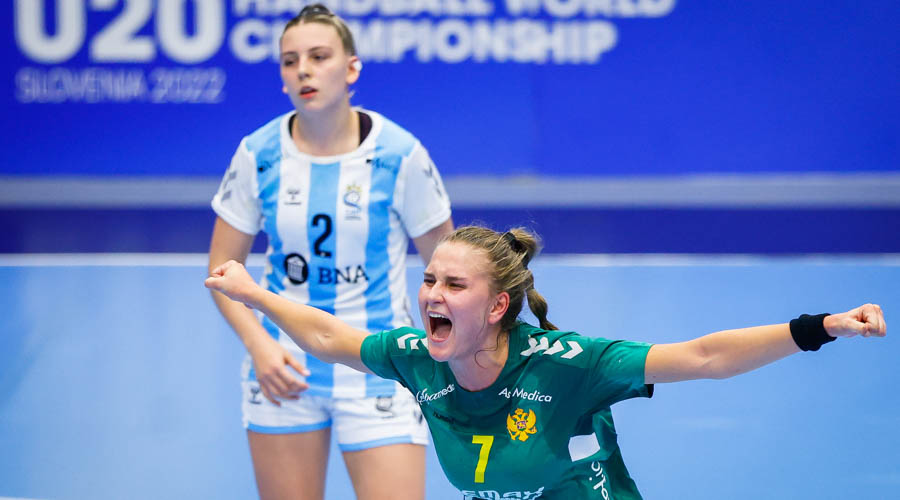 15:12 CEST Half-time: Islamic Republic of Iran vs Tunisia 11:15
Tunisia go into the break with a four-goal lead. This is partly because they are a little better at converting shots. Their goal-scoring efficiency is 57%, while Iran only hit the target on every second attempt. Tunisia's Nihed Limem is the best scorer so far with six goals.
A win would be a relief for Tunisia, who so far are bottom of Group B after losing to Sweden. But nothing is in the bag yet, because Iran are fighting and don't want to be shaken off. Let's see if they manage to claw their way back in the second half.  
15:10 CEST Half-time: Argentina vs Montenegro 10:11
Down five goals at one point in the game, Montenegro deployed an aggressive seven-on-six attack, which immediately paid dividends, as Argentina could not adapt, despite a time-out called by coach Hernan Carlos Siso. This is why the European side came back with a 5:1 run and even took the lead, 8:7, scoring eight goals in seven minutes, after failing to put even one in Argentina's net in the first ten minutes. It was a superb display from left back Gordana Marsenic, who scored four goals in the first half to help her side mount this exciting comeback and a 43% saving efficiency from goalkeeper Jovana Kadovic.
Still, the game is far from over. The two teams have been going back and forth and, eventually, Argentina duly adapted to what Montenegro brought to the table. In fact, nine of Montenegro's goals were scored between the 11th and the 21st minutes, so that really asks a question or two from the European side's coach, Igor Markovic. And the answer to that question will probably decide the game. Can Montenegro sustain that good form over a longer period time in the second half? At least Markovic made the adjustments needed: a seven-on-six in every attack and a 5-1 defence that man-marked Argentina's centre back for a copious amount of time.
14:45 CEST Superb start for Argentina, as Montenegro go 10 minutes without a goal
That has been a whirlwind of a start for a match where Montenegro looked to have the edge before the throw-off, but have just found themselves backed into a corner and facing a difficult situation. The European side made too many mistakes in attack, scoring their first goal after nine minutes and 54 seconds. By that time, Argentina were already 5:0 up, thanks to three goals from Delfina Ojea Cristiano, one of the players to watch in this tournament.
Argentina are playing with soul, grit and determination, exactly the ingredients needed for yesterday's win against Italy, 25:20. Whether fatigue will kick in at some point or Montenegro's superior experience in tough matches will be a factor, it is still there to be seen. However, Argentina's start has just been amazing and it deserves to be highlighted.
14:40 CEST Islamic Republic of Iran and Tunisia – equal opponents?
In the first match of the day at the Zlatorog Arena, the silver (Islamic Republic of Iran) and bronze (Tunisia) medallists of their continental championships will meet. 

Even though Tunisia already have more World Cup experience, a duel on equal terms is to be expected. After all, Iran played Guinea to a draw yesterday. Guinea lost to Tunisia in the third-place match at the CAHB Women's Junior African Championship. At the moment, Tunisia have a 6-3 lead after 10 minutes, but it is still an even game. 
14:20 CEST Crucial clash to determine Montenegro's and Argentina's fate
Welcome to the second day of the IHF Women's Junior World Championship! There are eight games scheduled for today, four each in the Golovec Arena and the Zlatorog Arena in Celje. And we throw off with a clash between Montenegro and Argentina, the two teams that had different fates yesterday in Group C, which means the match today will be paramount for their future. On one hand, Montenegro need to win to stay alive, while the South and Central American make a huge step to qualify for the main round with a win.
It will be a clash between two different schools of handball, but from the top of it, defences will be key, as both Montenegro and Argentina rely heavily on them. Will Argentina seal their second win in a row against an European opposition or will it be Montenegro's first win at Slovenia 2022?
14:05 CEST How to watch
Want to follow the action live in the halls in Celje and Lasko? Then you can do so via livestream or partly also on TV. 
Viaplay, for example, today broadcasts several matches like those of Sweden, Norway, Denmark and the Netherlands. Enjoy the great sport.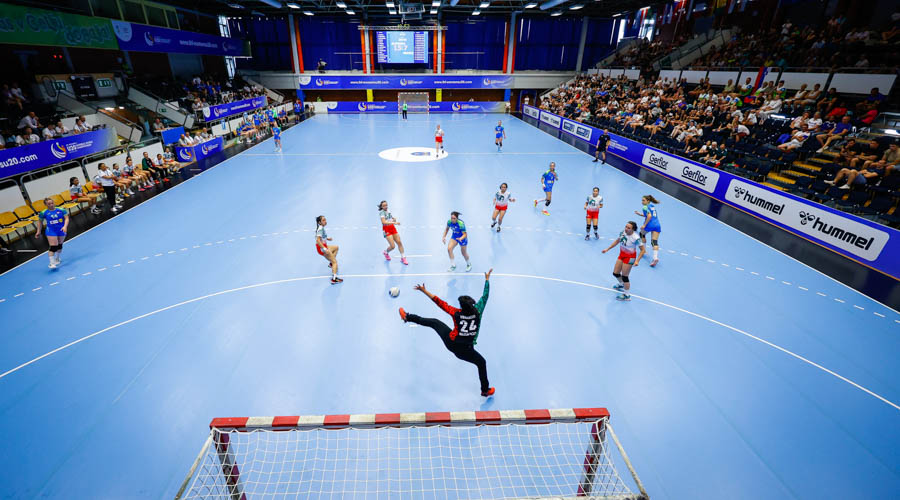 13:50 CEST A closer stats inspection
Taking a look at the stats, we have already a leader in the top goal scorer standings, with Austria's Kristina Dramac topping the charts after a 14-goal outing against Switzerland. Dramac holds a four-goal advantage over Germany's Lucy Joergens and Slovenia's Erin Novak, but none of them will take the court on Thursday. India's Bhawana is placed fourth, with nine goals, and will feature against Japan and would write history for the rookies if she scores at least five goals, jumping to the first place.
In the top goalkeeper standings, Poland's Alexandra Hypka boasts the top saving efficiency, 72.2%, but the largest number of saves was made by Guinea's Anne Cecile Tubanza, with 16 saves, one more than Sweden's Hanna Popaja and two more than Montenegro's Jovana Kadovic. All three will be featuring on Thursday in Celje.
Korea's Yeonsong Lee, who has been dazzling against Norway with her dribbles and creativity, will be hoping to help her side win the first match at Slovenia 2022, after delivering 11 assists – the largest number in the first round – and scoring five goals, in what could prove to be a crucial match for the Asian side.
13:20 CEST Maths time already
The first batch of 16 matches in the preliminary round at Slovenia 2022 is done, as all the 32 teams took the court on Wednesday, with favourites taking their share, as no surprises were recorded on the courts in Celje and Lasko. As 16 teams are now resting and due to play tomorrow, 16 others will be once again put in the highlight, as several main round berths could be handed today.
Without further ado, the maths are quite simple for all groups: wins for Japan and the Netherlands would see both teams through from Group A, as they have already won their inaugural matches. The same applies to Sweden, which would progress to the next phase if they win against Guinea. Argentina and Denmark are due to qualify if they secure wins on Thursday in Group C, while European powerhouses Norway and France can follow suit from Group D with wins over Brazil and the Republic of Korea.
12:50 CEST Don't miss a match
The first match of the day starts at 14.30 CEST. Here you will find an overview of all the matches so that you are always up to date. 
12:00 CEST Second day throw-off
Welcome to the second live blog for the 2022 IHF Women's Junior World Championship, the place you will find everything you need for the competition that hosts the best junior players in women's handball.
As usual, you will find everything you need on our website and the mini website of the competition, including the schedule, the results and the freshest stats to see who's hot and who's not at Slovenia 2022.