Final day full of emotions as Greece 2022 concludes
19 Jun. 2022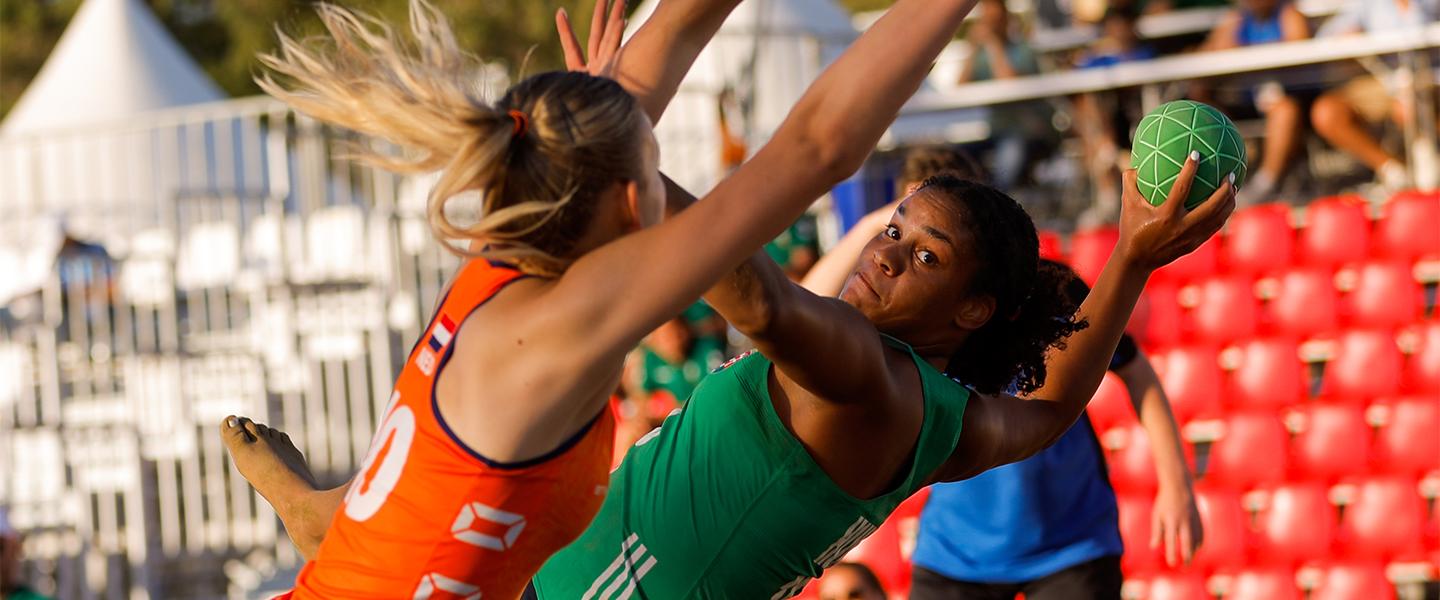 Live blog: Spain are 2022 IHF Women's Youth Beach Handball World Championship winners.
Spain win shoot-out final 2-1 with single point shot
Netherlands take silver
Poland defeat Hungary in shoot-out 2-1 for bronze
2017 title-holders Hungary finish in fourth
All-star Team awarded
Today's matches:
10:20 EEST 7/8 Brazil vs Germany (1-2) / 11/12 Greece vs Thailand (1-2) / 15/16 Puerto Rico vs Hong Kong (2-0)
12:00 EEST 5/6 France vs Argentina (1-2) / 9/10 Romania vs Ukraine (2-1) / 13/14 India vs Uruguay (0-2)
16:00 EEST Bronze-medal match: Hungary vs Poland (1-2)
18:00 EEST Gold-medal match: Netherlands vs Spain (1-2)
Ranking tracker:

1 Spain, 2 Netherlands, 3 Poland, 4 Hungary, 5 Argentina, 6 France, 7 Germany, 8 Brazil, 9 Romania, 10 Ukraine, 11 Thailand, 12 Greece, 13 Uruguay, 14 India, 15 Puerto Rico, 16 Hong Kong
20:43 EEST Goodbye from the IHF Women's Youth Beach Handball World Championship
72 games have been played and Spain have won it. See you in 2024.
20:38 EEST Women's MVP, top-scorer and best left wing Eva Heuten
"Actually, I knew to be top scorer I needed to score 20 in the last game and I made it," she said. "I'm really, really happy, I am very proud of my team. We fought back in the second half (of the final). The team spirit is really good.
"We are really close together, we are all friends with each other," she added about her teammates, "Next year we go to the senior teams, we'll train and maybe play some tournaments."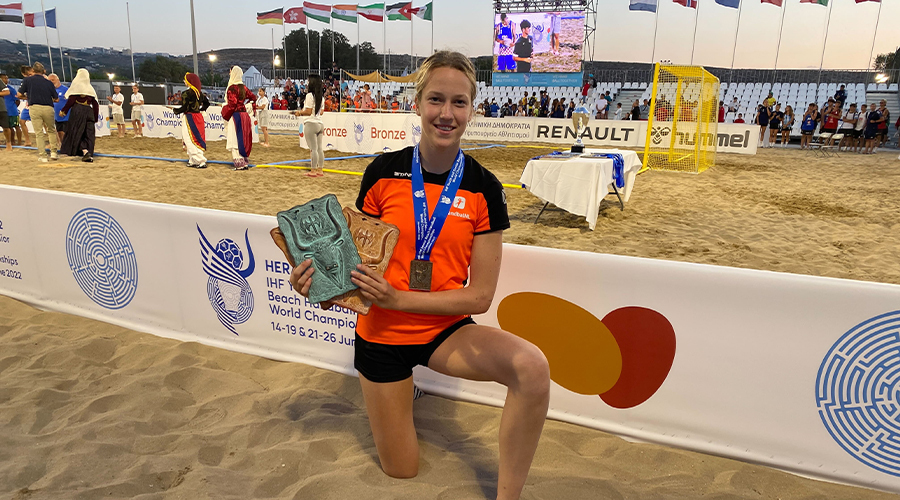 20:30 EEST All-star Team awarded
On the final day of the 2022 IHF Women's Youth Beach Handball World Championship, the Greece 2022 Women's Youth All-star Team has been selected by the IHF Beach Handball Working Group. The selection is based on performance throughout the tournament.
Five national teams are represented among the individual positions, plus a sixth team that has received the Fair Play Award.    
MVP: Eva Heuten, Netherlands
Best goalkeeper: Paula Quiles Vera, Spain
Best left wing: Eva Heuten, Netherlands
Best right wing: Cayetana Martin Lopez, Spain
Best specialist: Margit Zentai, Hungary
Best pivot: Carolin Hübner, Germany
Best defender: Paulina Kozminska, Poland
Top scorer: Eva Heuten, Netherlands – 147 points
Fair Play Award: Greece
18:52 EEST Spain world champion Contreras

"We don't have words to define it," said Spain's Maria Laguna Contreras, who scored the championship-winning point.
"I was sure that their defender was going to leave the goal. She was trying this movement a lot of times. I had confidence my shot would go in."
"We make a perfect championship," she said. "We lost just one game, against Hungary and now I feel very very happy and want to enjoy the time."
And what about those 30 points scored by Spain in the first period and Netherlands in the second, the first-time ever in a world championship final this number has been reached.
"The style of play of Spain and Netherlands is to push the attack before the defence."

 
18:43 EEST Spain are world champions, Netherlands take silver
All it needed was a single point in the end. After the shoot-out entered the sixth round following two misses by both teams - including a technical fault from Spain with their very first shot - it was down to Maria Laguna Contreras who saw the opportunity of an open goal and shot full-court into an empty net to secure gold.
18:30 EEST Netherlands equal Spain history
Now Netherlands have scored 30 points, wow. They won the second period 30:22 and really want this gold.
It's a shoot-out.
18:25 EEST Spain making history here in Heraklion
Since the senior IHF Beach Handball World Championships started in 2004 and the youth editions in 2017, 30 points have never-ever been scored in a final.
That's a total of 18 finals - 16 senior and two youth.
The closest a team came before? Well, it was Spain's youth men when they scored 27 in the first period against Italy in the 2017 IHF Men's Youth Beach Handball Championship final.
In the senior events, Croatia scored 26 points in their second period win against Brazil in the men's senior final back in 2014.
So Spain have recorded the highest-ever individual period score in an IHF Beach Handball World Championship final.
18:14 EEST Spain commanding
Spain have just scored 30 points in a world championship final period. They are completely in control against Netherlands who don't know what's hit them. Can they come back?
18:00 EEST The final throws-off
Spain and Netherlands are ready, let's go for gold!
16:55 EEST Poland's Celka: "Relief, happiness and stress"
Poland have just won bronze at the 2022 IHF Women's Youth Beach Handball World Championship and Marta Celka scored the winning point against Hungary in a shoot-out win (7:2).
"I have no words to describe this situation but this is incredible. I feel relief, happiness and, stress of course, but I'm very happy," she said.
"It was our second game against Hungary (they played in the preliminary round and Hungary won 2:0) and that's why we know exactly what the girls from Hungary are playing," explained Celka. "We were prepared for that and our game showed that Hungary could be beaten."
Yesterday, Poland lost their semi-final clash against Spain via a shoot-out too, something which Celka said they had worked on overnight.
"Our player who blocks everyone (Paulina Kuzminska) got a red card so we had to come out with a different solution," she said. "But she was with us today and she did the best she can do.
"It's amazing (to come away with a medal)," she added. "Our families will be very proud of us and the whole country too."
 
16:44 EEST Poland win bronze
Poland have beaten Hungary 7:2 in a shoot-out. They raced to a 6:0 lead after blocking two Hungary attempts.
With the score at 6:2 and just two shots left each, Poland's Marta Celka knew if she scored her side would be taking a medal home.
She got the single point needed and they were a bit happy to say the least.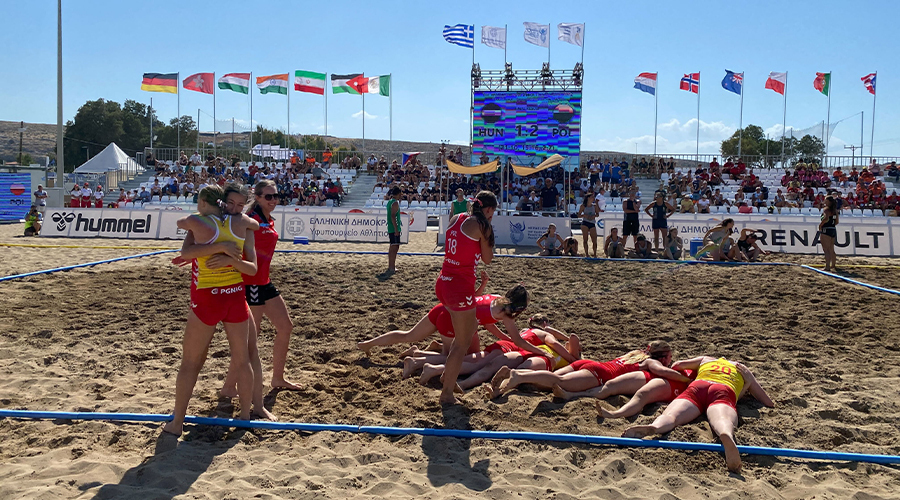 Hungary were the 2017 IHF Women's Youth Beach Handball World Championship winners, won bronze at the 2018 Youth Olympic Games and are current European champions.
Before the bronze medal match today they had lost just once in Greece, in the semi-finals against Netherlands.
16:31 EEST It's going to a shoot-out
The second period has finished 16:15 to Poland, they squeezed past Hungary after their opponents ran out of time to launch a last-second attack.
After winning the ball at the start of the match, Poland led the entire period, going 10:4 up at one point, but Hungary are strong and came back, but could not quite catch up.
16:11 EEST Half-time in the bronze medal match, Hungary 1-0 up (21:10)
Watched by nearly all remaining teams here in Heraklion, Hungary and Poland have just ended the first period. 
After five minutes, Hungary were 8:4 up, but a number of misplaced passes and turnovers from Poland meant the Hungarians raced to a nine-point lead (15:6) prompting a Polish time out with just under three minutes remaining.
This did little to address the slide for them as Hungary ended the opening 10 minutes in style, with a double in-flight set of passes before the ball was slapped in, literally, by Amina Daniella Kazeem for the single point.
Can Poland come back?
15:57 EEST You know it's serious when you hear your national anthem
Medal matches mean teams get to hear their national anthems before games and see their flags at close quarters, with volunteers holding them on the sand.
All week they have just started games without the anthems, now they have them.
A nicely, timely, reminder (not that either team needed it) that this match is important.
15:54 EEST Hungary and Poland on court
The bronze medal match is six minutes away - you can watch it live on the IHF Competitions YouTube channel now.
15:39 EEST Ever wondered what a beach handball court looks like all nicely brushed and smoothed over?
Did you? Wonder no more.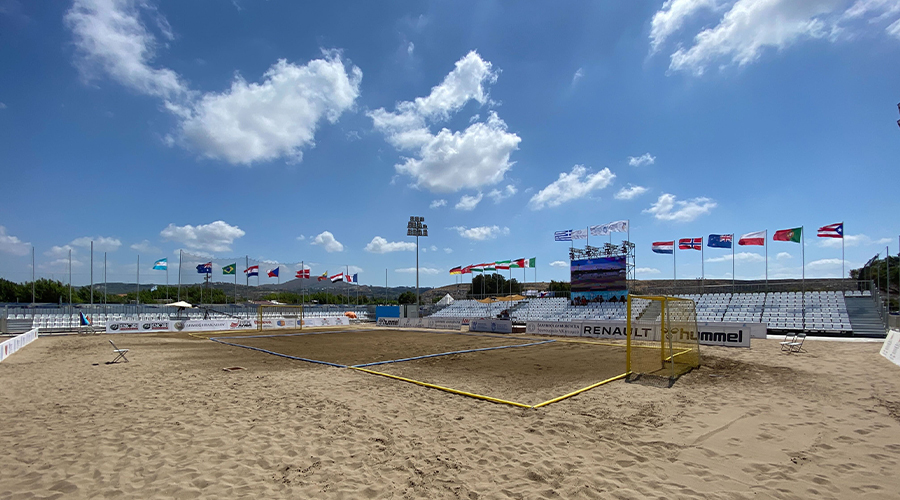 12:55 EEST Next up, in three hours - the medal matches
Just two games left and they both feature medals. See you in three hours.
12:48 EEST Just two games left as Argentina confirm top five finish, Romania top 10 and Uruguay seal 13th spot
The South and Central America champions Argentina have finished fifth thanks to a shoot-out win against France.
France missed two shots in a row, including one goalkeeper overthrow as the South Americans win by this format again.
Romania coach Florin Ciupitu told us earlier this week he wanted to win the 9-16 placement round and they did - their 2-1, 10:8 shoot-out win over Ukraine coming after the Ukrainians had agonisingly hit the crossbar with their fifth and last shot.
Fellow South Americans Uruguay wrapped up their campaign with a 2-0 win over India to finish 13th.
11:02 EEST Thailand defeat hosts to finish 11th, Germany overcome Brazil for seventh
Two shoot-outs have just concluded on adjoining courts. On court 2 Thailand beat their first European opponents of Greece 2022, defeating the hosts 9:8 in the shoot-off.
Panwasa Changtom was the key again, the Thai goalkeeper blocking Greece's third attempt after scoring her country's third herself.
Germany saved Brazil's fourth attempt and at 8:6 ahead with one shot remaining for the South Americans, Germany's Laila Ihlefeldt got the single-pointer, ending in some discomfort following an innocent clash with the Brazilian goalkeeper.
10:55 EEST Two shoot-outs, Puerto Rico do double over Hong Kong
Brazil vs Germany and Greece vs Thailand are going to shoot-outs, while Puerto Rico in the very last seconds, take the second period against Hong Kong for the double.
They had beaten them in their preliminary group match earlier this week.
10:18 EEST Hong Kong looking for revenge as places 7/8, 11/12 and 15/16 decided
We have three big games now with Brazil and Germany going head-to-head for 7/8 place, the host nation ending their campaign against Thailand (11/12) and Hong Kong looking to turn around their preliminary group loss against Puerto Rico (15/16).
09:15 EEST Last day of 2022 IHF Women's Youth Beach Handball World Championship begins
Five days of action are behind us, which can only mean: it's time for the medals! 
It will be all-European clashes later in the day for the medals with Hungary vs Poland playing for bronze and Netherlands vs Spain facing each other for gold, while the places 5 to 16 are decided in the morning at 10:20 EEST and 12:00 EEST. 
Let the games begin as there's only thing that is sure for today: we will have a brand new world champion. 
For more info on the matches today, read our preview.