Knock-out phase will determine Greece 2022 finalists
18 Jun. 2022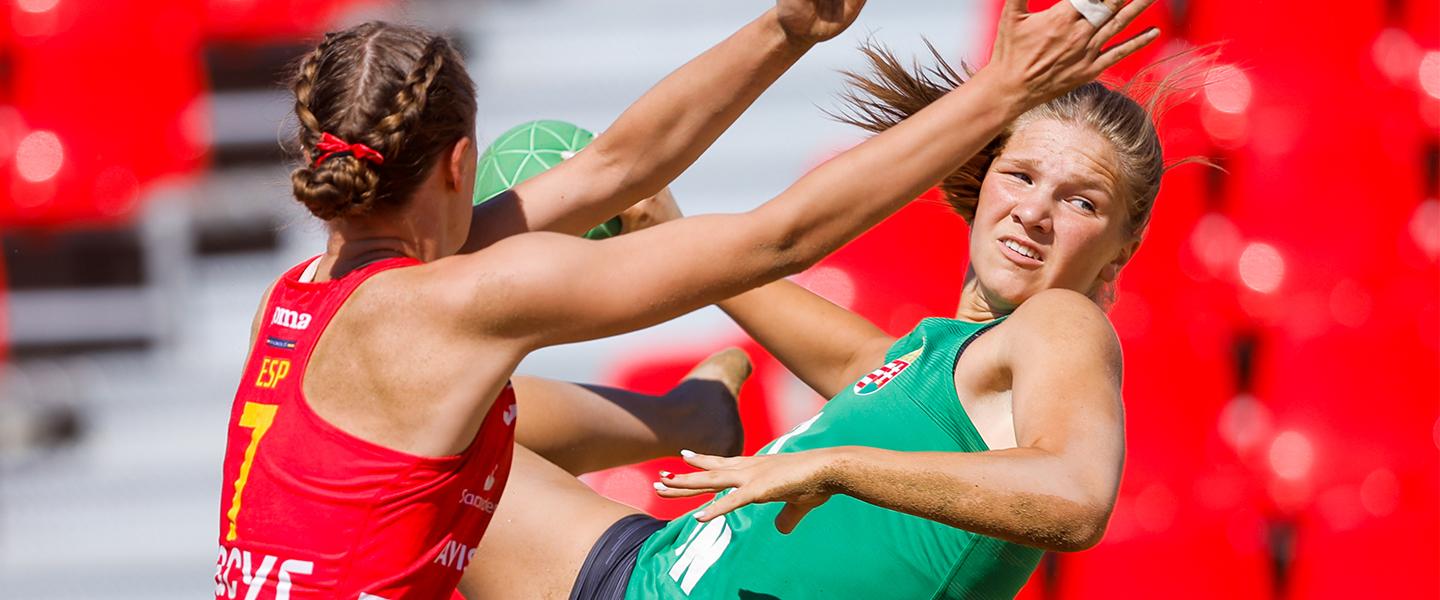 Live blog: It's all over for today and what a day it was.
Spain will take on Netherlands for gold
Hungary play Poland for bronze
The Hungarians lost their first match at Greece 2022 with a semi-final defeat against Netherlands
India win their first-ever IHF Beach Handball World Championship game in either gender at any level
Today's matches:
09:30 EEST 9.-16. Greece vs India (2-1)
10:20 EEST QF Hungary vs France (2-0) / 9.-16. Puerto Rico vs Romania (0-2)
11:10 EEST QF Brazil vs Netherlands (0-2)
12:50 EEST QF Poland vs Germany (2-1) / QF Spain vs Argentina (2-0)
15:10 EEST 9.-16. Thailand vs Hong Kong (2-0) / 9.-16. Ukraine vs Uruguay (2-1)
16:00 EEST 5.-8. France vs Brazil (2-1) / 9.-12. Greece vs Romania (0-2) / 13.-16. India vs Puerto Rico (2-0)
17:40 EEST 5.-8. Germany vs Argentina (1-2)
19:20 EEST SF Hungary vs Netherlands (0-2), 9. - 12. Thailand vs Ukraine (0-2), 13. - 16. Hong Kong vs Uruguay (0-2)
21:00 EEST SF Poland vs Spain (1-2)
22:10 EEST A day of emotions comes to a close
Join us tomorrow for the medal matches and placement games.
21:45 EEST Three blocks = one world final for Spain
After powering back, Poland took a 17:16 second period win and so the women's second semi-final today went to a shoot-out.
Poland started, their attempt blocked by Maria Trujillo Arteaga in the Spanish goal and Spain then took a 2:0 lead, swiftly equalled by Poland.
With their second attempt, Spain's Malena Diaz Coppens hit the crossbar but Maria Pentek in the Poland goal did not relax, she ensured the ball, which was dropping towards goal, was batted away with the evening exhaling a big "oooooooh" in acknowledgement of how close the goal could have been.
Poland then went ahead, but Spain equalised (4:4). 
Then Trujillo Arteaga took over. She blocked a reverse spin shot attempt from Poland and then the next shot was blocked again, Spain had scored in the middle of this and they moved into the final with emotion, 6:4.
"I am very happy, it's the best feeling of my career so far," said Trujillo Arteaga to ihf.info after the match. "There are no words to describe the feelings I have now. It gives me a lot of energy of a good job. My father is here and enjoying the success of our tournament here.
"We are fighting very, very hard for this purpose."
But it is not just fighting, it is lots of sweat, practising for many hours, unseen by most but with some of the biggest pay-offs.
"I have been training hard a lot of time as a goalkeeper and specialist and now all of this work has a result," she adds, before turning her thoughts to a guaranteed medal tomorrow.
"It's sensational, I will remember it forever."
 
21:16 EEST Spain are nearly there
It's being played under the floodlights with a pitch black Aegean Sea in the background and the crescendo of aeroplanes taking off and landing.
This is a memorable evening for Spain so far - they are 1-0 up against Poland in the last match of today thanks to a 22:14 first period win.
20:46 EEST Netherlands vs Hungary is a long story in youth beach handball
In 2017, Netherlands were the only team to beat Hungary at the debut edition of the IHF Women's Youth Beach Handball World Championship when they won their main round clash.
But Hungary got their revenge, beating them in the final for gold. They then beat them in the bronze medal match at the 2018 Youth Olympic Games and in the final of the European championships last year, via a shoot-out.
They were becoming a team which appeared to be a problem for the Dutch. 
However, their coach Ronald Thijssen had a practical way of approaching it: planning and preparation.
"We worked so hard for this win," he told ihf.info just moments after coming off the sand in Heraklion. "We knew if we got far in¬ the tournament we would meet Hungary, I don't know where, [maybe] in the semi-final or final. 
"There are many good teams here of course, but [for us] it's always Hungary and it's always tight matches. With the team they have, they have some extremely good players.
"We specifically trained for them and knew we had to do something special, especially in defence. We really had to train on how we got their weapons out of the match. We tried to expose a bit their weaknesses.
"It's so good to finally beat them. It's really nice to see that [the hard work] pays off; both in attack and defence. All this work has paid off, that's the best feeling to have and I'm extremely happy and extremely proud of them (the team)."
Now, the players can relax, but not for long.
"This evening they can sort of celebrate," said a smiling coach. "But they have to go to bed early, take the rest. in the meantime, we as coaches will come up with a game plan for the final."
19:57 EEST Netherlands finally beat Hungary, in the final
After losing in the world championship final in 2017, the Youth Olympic Games bronze medal match in 2018 and European championship final last year, the Netherlands have finally beaten Hungary, taking a 2-0 win after a 22:21 second period.
With just over a minute remaining of the second period, Netherlands took a time out and exited it by going 21:16 ahead. This steadied their nerves, or so they thought.
Netherlands then scored two quick two-pointers with a save in-between to come within one, 20:21. Hungary went on the attack but Veerle Meerstad denied them.
Another time out, this time from Netherlands, with four seconds remaining and they promptly went down the other end and scored through specialist Eva Heuten.
It's the first loss for Hungary here and a big one.
19:48 EEST Five minutes left of the second period, Hungary 10:8 up
Nail-biting tension here for the Hungarians.
19:35 EEST Netherlands 1-0 ahead, just
Hungary have not lost a game here at Greece 2022, yet. Today is not a good day to lose one.
After Hungary had equalised at 20:20, Netherlands took a time out with four seconds left on the clock in the first period. They attacked and the ball was in the net, but the buzzer had already sounded.
So it went to a golden goal. Netherlands won the jump ball and down the right wing Kyra Stege ran with purpose and smashed home. They take it 21:20.
18:50 EEST The semi-finals are coming soon....
18:25 EEST Argentina win another shoot-out today
In the 5-8 placement round, Argentina's win has sparked wild celebrations with their considerable amount of fans here, plus the men's team looking on.
Water is being splashed about and an almost football-esque atmosphere is being created.
Love it.
Germany had won the first period 23:20, but Argentina came back to win the second, 19:17. In the shoot-out Argentina ensured another third period win, just like their men earlier against Spain, winning 9:6.
17:20 EEST India's Gulshan Sharma: 'This shows nothing is impossible'
"The message this win sends is that nothing is impossible," said India pivot Gulshan Sharma to ihf.info after their win. "They must be rejoicing in India."
Coach Anand Bajirao Mane was also rather happy:
"It's the first time for us to qualify for a world championship. Whatever they've faced this week, they've handled it.
Read more in our feature on ihf.info.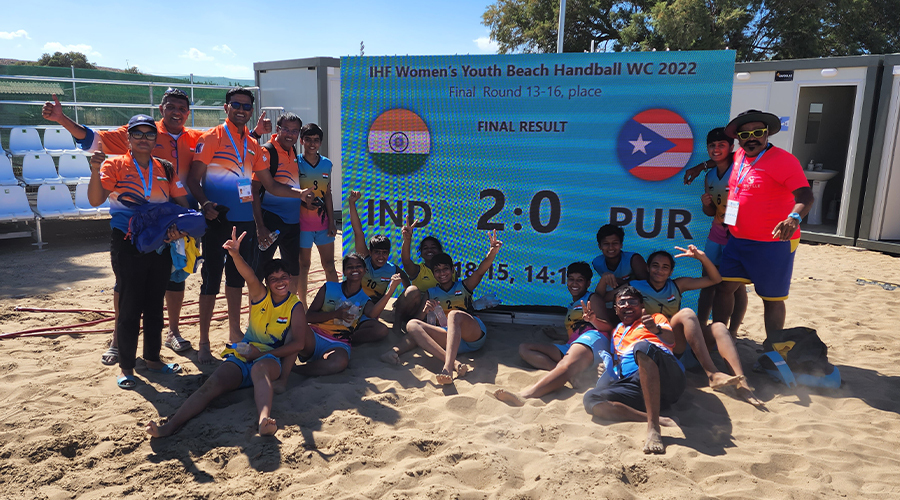 16:40 EEST INDIA HAVE JUST WON THEIR FIRST-EVER BEACH HANDBALL WORLD CHAMPIONSHIP GAME!
More to come...
France beat Brazil via shoot-out and Romania down Greece 2-0.
16:00 EEST Three games throw-off, could India win their first-ever world championship game?
France and Brazil have to put their disappointment behind them on missing out on a semi-final place earlier as they look to finish as high as possible in their clash.
Greece take on a strong Romania side, while India and Puerto Rico could see some history made. Earlier today India took their first set, off Greece. Could they win their first game as a nation in a beach handball world championship?
15:46 EEST Wins for Thailand and Ukraine
Ukraine win via shoot-out 7:6 against Uruguay and Thailand win the Asian continental clash, against Hong Kong 2-0.
14:25 EEST 10 games this afternoon and evening, here they are:
15:10 9-16. place Thailand vs Hong Kong
15:10 9-16. place Ukraine vs Uruguay

16:00 5-8. place France vs Brazil
16:00 9-12. place Greece vs Romania
16:00 13-16. place India vs Puerto Rico

17:40 5-8. place Germany vs Argentina

19:20 9-12. place W 9-16 W 9-16
19:20 13-16. place L 9-16 L 9-16
19:20 Semi-Final: Hungary vs Netherlands
21:00 Semi-Final: Poland vs Spain
See all the results, statistics and schedules on the women's mini-site.
13:48 EEST We hear from Poland's goalkeeping hero
Poland's Maria Pentek had to make the save. If Germany had scored her side would have been out. It was the sixth round of shots in their quarter-final shoot-out and sudden death.
"I knew that their goal was everything," she said. "Concentration right up until the last second is the most important thing for me.
"I'm very satisfied and very happy. We want gold."
13:42 EEST Poland hand Germany their second quarter-final shoot-out loss today
How many times have we used 'wow' in this blog this week? Not enough? OK. Here's another one.
Wow.
This wow is for Poland's goalkeeper Maria Pentek. After Germany drew level on sets, winning the second 17:16, it went to a shoot-out.
The momentum swung between the two teams. Germany saw their first shot blocked, Poland had their second one blocked. Poland hit the post with their fourth and Germany were then in control, leading.
When it came to the fifth round of shots, Germany had their final one to take at 6:6 and it all seemed over, but Pentek had other ideas coming out to the edge of her area and star jumping to get the block and the ball deflected well off court.
And just like their men's team earlier, Germany made a technical error with their final shot (the sixth) as they overthrew the pass between players, allowing Marta Celka to score the single point for a win after the onrushing Kristina Krecken very nearly intercepted.
It's not been a good day for fans of Germany, both of their teams went out of medal contention after losing shoot-outs. But that should not take away from some fantastic skills and matches they have shown throughout the competition so far. They  will now both concentrate on the 5-8 placement round.
13:25 EEST Spain in semi-finals, Germany and Poland go to a shoot-out!
Spain are through. We will find out who is joining them soon.
13:07 EEST Half-time, Poland and Spain can touch the last four
Poland lead Germany 1-0 and Spain are ahead of Argentina by the same. That means if the results stay the same it will be an all-European last four, unlike the men's championship which features a team from Asia, South America and two from Europe.
12:50 EEST Last games of first session throw-off and two semi-final places at stake
None of the four teams featuring in the two remaining quarter-finals of the women's competition now have a men's team in the last four, so whoever wins will be carrying their flag through to a potential medal.
12:10 EEST Meerstad "We are mentally very strong"
Netherlands' goalkeeper Veerle Meerstad saved that last shot to ensure the 2-0 win for the Netherlands and she talked us through it - including an extra-long wait after a technical issue was resolved with the scoreboard.
"It was really tense but I think the player was more nervous than me because I already knew where she was going to shoot because the other two penalties were also on that side," she said.
"I knew what I was going to do so I  just waited, a little bit laughing. I was having fun."
"It feels really good," she added about making saves. "Whether it's a shoot-out or not, whether we win or not, it feels really good."
And on what changed since last year when the finished as runners-up to Hungary in the European final?
"We are mentally very strong because in the last European Championship we lost the shoot-out in the final," she explained.
"We've got mentally very strong and tactically, our coaches, in the timeout before (we won today) we thought what we we're going to do and everyone just did their task."
"It feels a really long time ago we played Hong Kong to start our tournament and now it's really intense. It just feels so long ago, like we were back in the Netherlands during our training and preparation."
11:46 EEST Netherlands through as eventful last second, again, but this time they saved it
Drama, drama and a little bit more drama. 19:20 down at the end of the second set, Brazil needed a win to take it to a shoot-out. But Dutch goalkeeper Veerle Meerstad had other ideas, stopping the shot to ensure a 2-0 victory. They will play Hungary in the semi-finals later.
11:20 EEST Netherlands in the last second
Out on court 3 the second quarter-final of the day is being played and Netherlands have just won the first set.
16:17 behind with a few seconds left, they took a pause and then in the last attack squeezed the ball in for two, they win 18:17!
10:59 EEST Semi-finals for the Hungarians - can anyone stop them?
2017 title-holders Hungary are in the semi-finals after beating France, 2-0.
"We always prepare for the matches, we take time analysing opponents," said Hungary's Dorottya Margit Zentai about what the secret is to their success.
"Every team is strong, but we will prepare the same way as before," she said about the semi-finals coming up. "I hope we can do it."
And we cannot finish the interview without asking about the nail designs all the Hungarians have.
"Everybody does it, all of us," she says. "It connects the team together."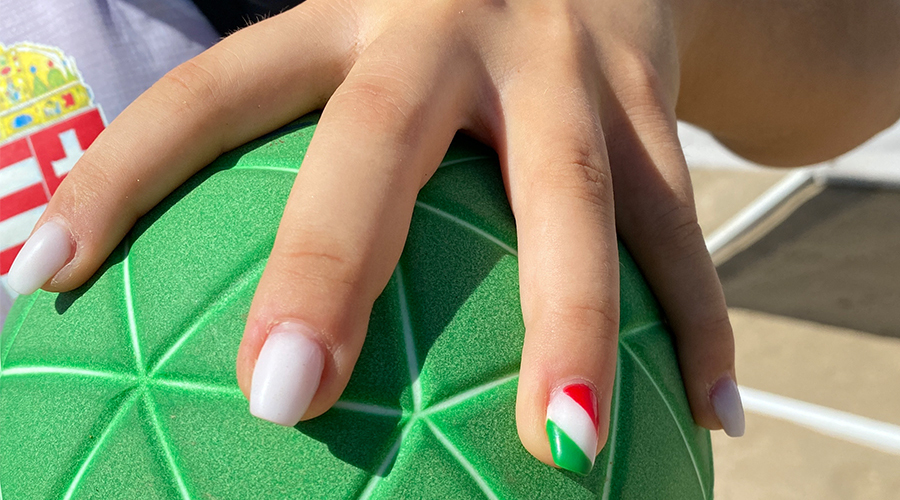 10:36 EEST Hungary ahead as usual
The Hungarians are winning at the break, nothing new there at Greece 2022. However, this is a quarter-final and anything can happen, so let's see what France can do in the second.
10:18 EEST India history but Greece with the win, last eight underway
Greece hand India another defeat, winning 2-1. However, India made history with their first-ever period won in an IHF Beach Handball World Championship, when they took the second 13:12 thanks to a point from Kritika Thakur, the scorer of their first-ever world championship point, earlier this week.
But on the central court right now we are looking forward to the first quarter-final.
Hungary are now playing France in the first one. It will be a tough test for the French - Hungary are the only unbeaten team here in Greece.
Puerto Rico vs Romania will be slightly delayed due to the shoot-out following the men's Germany vs France match on the court previously.
09:40 EEST Hosts up
Greece have taken the first set, against India on court 3.
09:20 EEST Day 5 is about to begin in Heraklion
Are you ready to know the finalists of this year's IHF Women's Youth Beach Handball World Championship? We have to wait until the end of the day to know that but, before, a lot of thrilling beach handball action is ahead of us. 
Today will see four quarter-finals played in the opening session, with Hungary playing France in the morning (10:20 EEST). This will be followed by Brazil vs Netherlands (11:10), Poland against Germany (12:50) and Spain playing Argentina (12:50).
Greece and India will start off the day, though, in the 9-16 placement round. 
Read more about today in our preview.