Main round campaigns are starting as Heraklion enters third match day
16 Jun. 2022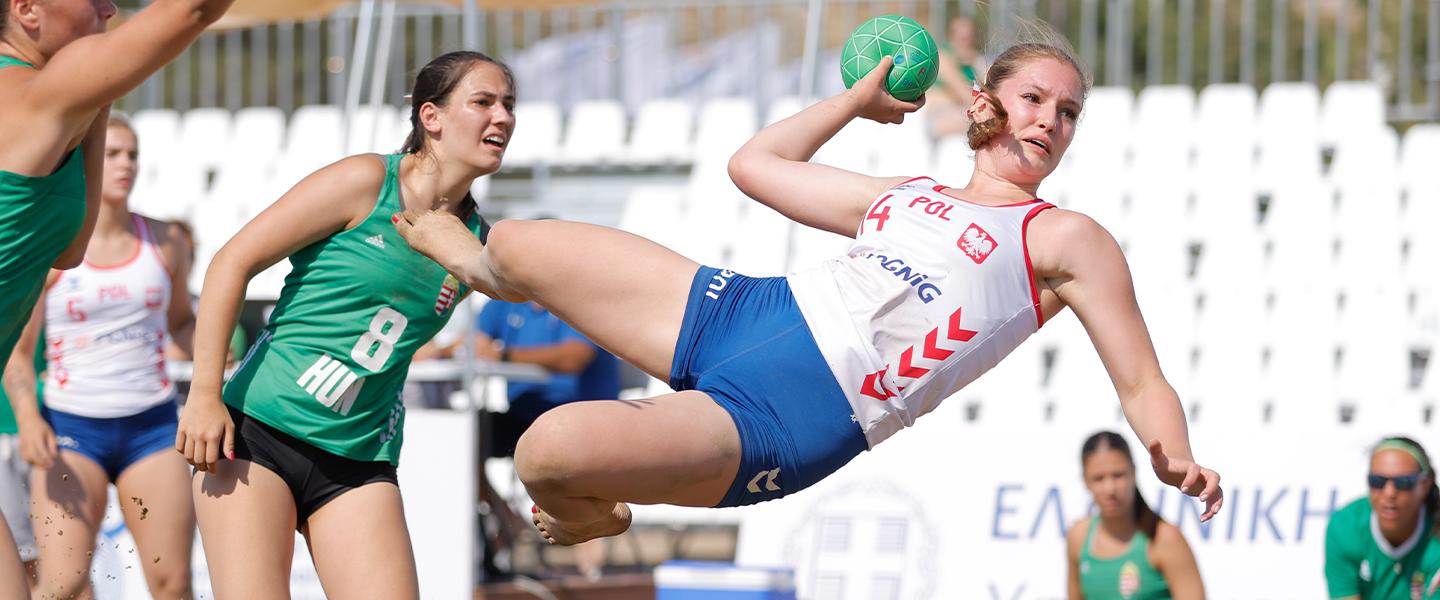 Live blog: Today, the next stage at the IHF Women's Youth Beach Handball World Championship started as the teams threw off their main round campaigns. The competition is heating up – join us tomorrow again, when the last quarter-final places are decided. 
Today's matches:
09:30 EEST Consolation round: Uruguay vs Romania (1-2)
11:10 EEST Main round I: Hungary vs Ukraine (2-0) / Poland vs Brazil (1-2) / Thailand vs Spain (0-2)
12:50 EEST Main round II: Argentina vs Puerto Rico (2-0) / Germany vs Greece (2-0) / France vs Netherlands (0-2)
15:10 EEST Consolation round: India vs Hong Kong (0-2)
17:40 EEST Main round I: Poland vs Spain (0-2) / Hungary vs Brazil (2-1) / Thailand vs Ukraine (2-1)  
18:30 EEST Consolation round: Hong Kong vs Uruguay (0-2)
19:20 EEST Main round II: Germany vs Netherlands (2-0) / France vs Puerto Rico (2-0) // Consolation round: Romania vs India (2-0)
21:00 EEST Main round II: Argentina vs Greece (2-0)
21:45 EEST Argentina's Alfredi: "We want a medal"
The South and Central America champions Argentina have now won five games in a row in Greece, one of just three unbeaten teams here, along with Hungary and Spain.
The captain is clear about why she and her teammates are here.
"We want to win here, we want a medal and we want to be in first place," she said. "We want to have a medal and cheer with all our families who are here."
Even though they have already made the quarter-finals clearly, they have won game left, tomorrow against Netherlands and Alfredi and her teammates will not let up.
"We have to keep doing what we are doing, but we know that other teams are very hard," she said. "We have to continue winning. We want to win every game and keep on winning here."
21:34 EEST Argentina make it five wins in a row in Greece, host nation face winner-takes-all clash against France tomorrow
The South Americans did what champions do, just enough to stay in front. Greece came close, but it was not enough as they lost the second period in front of a passionate home support 21:22 and the game, 0-2.
Seven teams in total across both the men's and women's championships were unbeaten this morning. Now, there are just three and they are all women's teams: Spain, Hungary and Argentina.
All three have played five and won five. That will change tomorrow, though, as Hungary play Spain their final main round game.
21:17 EEST Greece down by one at the break
The host nation would love to win the second period against Argentina to take it to a shoot-out and possible win. With two minutes gone in the second period, they are 10:8 ahead.
20:29 EEST Romania coach Florin Ciupitu: "This day is historical"
This morning, around 10am, Romania's youth women recorded the first-ever beach handball world championship victory for their country, defeating Uruguay 2-1. It was a big bit of beach history for such an historic handball nation.
"I feel very comfortable in this moment because we wanted to win our first game so here it is," said Florin Ciupitu, the Romania coach told us just now on his way out of the arena after his side beat India 2-0 to register their second victory, around 10 hours after their first.
"This day is historical, for sure. I feel that the team is making very good progress from game to a game, it's very good for us."
"Last night we were very, very, very close to the main round," he added about the shoot-out loss to France which they could have won and if they did, would have meant a main round ticket.
"We did a very good game against France. For me, it was very important to speak with them, we made a meeting. I let the players speak because it is very important to hear their impression about this moment.
"They are the first actors in the middle of the piece. It's very important to hear them. I listen to them and then I take some decision in these two games today, because they were very hard to play after the physical and mental game against France.
"The situation for us now is that this 9-16 placement tournament we propose to win, even if it's the second tournament. For us, it will be like a tournament for medals. It's the same format, it's like 1-8 place, but 9-16."
19:55 EEST Netherlands drop their first game
The German women beat neighbours Netherlands to join them on six points at the top of the group. Argentina are also there, but they have a game in hand, playing in one hour against the hosts.
Should Greece lose that one, they will be equal on two points with France and tied for the last qualification place through – and who plays each other tomorrow? Yes, you've guessed it (hint: it's France vs Greece).
Puerto Rico are bottom and even though they can still get two points, they have lost their head-to-head matches against France and Greece so cannot progress. Their final game is against Argentina. 
19:38 EEST Half-time in the EEST 19:20 throw-offs
Germany, Romania and France all lead at the break. Romania are on course for their second-ever beach handball world championship win, while India are still searching for their.
Netherlands are not used to being behind in Greece – it's the first time in this tournament. 
18:35 EEST Are Hungary unstoppable? 
Another day another win for the 2017 title-holders. Hungary defeat Brazil via a shoot-out.
That's five-in-a-row in Greece and eight-in-a-row if you take into account their wins from last time out five years ago.
It's the first set the Europeans have lost here in Greece though.
Spain are winners again, 2-0 against Poland.
18:20 EEST Thailand win
The Asian champions take a 6:4 shoot-out win to put them back into contention again.

Panwasa scored and saved one too. We told you!
18:11 EEST It's going to a shoot-out
We said just now that Thailand have a lot to do, but they did do it.
With 39 seconds left of the second period, Thailand took a time out as Ukraine had looked like coming back into it, even though the Asian champions were 13:10 up.
After the pause,  both sides turned the ball over so it stayed 13:10.
Panwasa Changtom in the Thai goal has made a number of key saves in the second 10 minutes – could she play a key role next out here on court 3?
17:54 EEST Ukraine in charge
Spain, Ukraine and Hungary are all 1-0 up at the break. Thailand have a lot to do if they want to come back into this game and the championship itself. They lost the first set heavily, 6:19. Hungary continue their winning run meanwhile – can anyone stop the title-holders?
17:37 EEST The teams are on the sand
Ukraine and Thailand need a win. They play each other right now. Spain and Hungary are already in the quarter-finals and with no points being carried over into the next stage, they could be focussed on other things. Could that prove to be a bonus for Poland and Brazil, who they are playing and also need to confirm their quarter-finals places still? Let's see.
16:12 EEST "It's a game we have to enjoy and feel excited," says Hong Kong coach after historic win
"We are so excited, I feel so different from yesterday," said Hong Kong captain Hoi Yan Cheung in relation to losing a shoot-out against Puerto Rico. "This is our first-ever beach handball world championship win."
"We were well-prepared for India and we hoped to beat them," added Hong Kong Coach Chiu Chit Kwan. "We actually lost two matches against them at the Asian championships in April but were missing two of our best shooters due to exams."
At half time coach Chit Kwan, who played for Hong Kong at the debut edition of the 2004 IHF Women's World Championship, made sure her team were all smiles and laughing, despite them being on the brink of history, having taken the first set.
"It's a game we have to enjoy and feel excited," she said. "If they don't feel like they're enjoying it, they don't play their game.
"Going home with one win at least will help give us more support to promote beach handball (in Hong Kong)."
15:31 EEST Hong Kong take first-ever Beach Handball World Championship win
It was a win which will be written in the history books for Hong Kong handball. They did it in style, defeating India 2-0 (16:15, 15:12) on the central court here in Heraklion.
The victory overturned two 0-2 losses in the Asian championship in April against the same team. India will be heartbroken with the result but a team has to win.
Whatever the result though, this is beach handball and the two teams posed together for photos in the goal afterwards.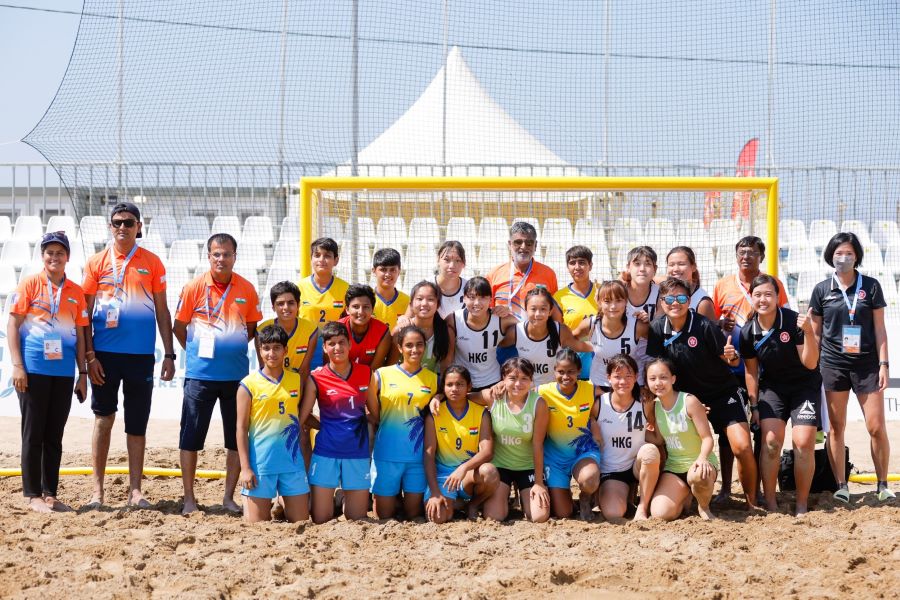 Then, there was the obligatory scoreboard photo too.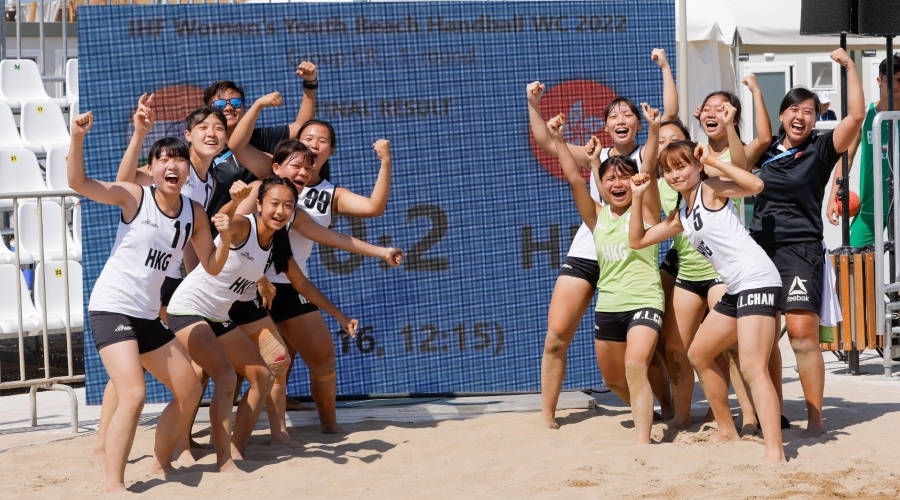 15:31 EEST Coaching in the shadows
Right below the media seats, Hong Kong are having their half-time team talk. There are cheers and also a bit of fun when we popped down to take this photo.
They will need to concentrate now if they want their first-ever win.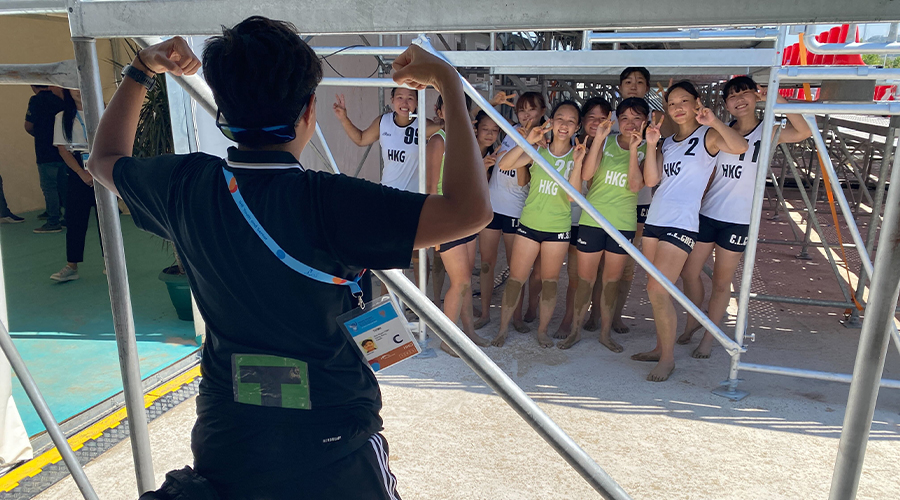 15:30 EEST Jubilant celebrations… but Hong Kong are only 1-0 ahead
They start their last attack of the first set with 14 seconds remaining and 14:15 down.

They ended the first set 16:14 ahead after specialist Wing Lam Chen sunk home.
15:17 EEST India asserting continental authority
They were behind early on but India are now 9:4 up in the first set against Hong Kong. It's halfway through and Hong Kong have taken a time out – they don't want to go behind any further.
15:05 EEST Asia continental clash will mean history – but for India or Hong Kong?
They are on the sand, just five minutes away from starting a game which will end in the first-ever IHF Beach Handball World Championship win for their nations at any level in either gender.
14:00 EEST Afternoon break, back at 15:10
History will be made with our next game after the pause in proceedings. India play Hong Kong in their consolation round continental clash.
The winner will make history – and there has to be a winner in beach handball if you didn't know that already. 
Both of these sides are representing their nations in their first-ever IHF Beach Handball World Championships at any level in either gender so a win this afternoon will see the record books added to.
In April, India beat Hong Kong twice 2-0 (15:9, 14:12 and 11:7, 11:10) at the Asian Beach Handball Youth Championships in Thailand.
13:30 EEST Germany complete double over Greece, move on to quarter-finals with Argentina
The second round of women's main round games were all one-sided this afternoon.
After their men won via an epic shoot-out in the match immediately before, Germany's women took down the hosts 2-0 on the central court.
Watched by members of the 2018 IHF Women's Beach Handball World Championship-winning side, the Greek women could not overcome their European rivals.
Earlier, Argentina had won the Pan American derby against Puerto Rico and Netherlands won their fourth, straight match, against France.
The series of results mean that both Germany and Argentina are confirmed into the quarter-finals with six points each – they cannot finish lower than fourth in Main Round Group II now.
11:51 EEST Main round underway, Spain and Hungary progress already
What just happened? Poland must be thinking that. A crazy game against Brazil just ended.
First set 21:6 to the Europeans. Second set 26:15 to the South Americans.
So it was a shoot-out and Brazil took the win.
In the other early games, Hungary keep up their winning ways, defeating Ukraine 2-0, while Spain eased to the same result against Thailand.
This all means Spain and Hungary top Main Round Group I with six points each and are confirmed in the quarter-finals already as they cannot finish lower than fourth.
Brazil (4 points), Poland (2), Ukraine and Thailand (0) are in contention for the last eight still.
10:16 EEST Handball history for Romania
The great handball nation of Romania can now add a Beach Handball World Championship win to their record books. Their women's youth team have just defeated Uruguay 8:2 in a shoot-out after coming from one set down. They win 2-1 and start their consolation round campaign off in the best possible way.
The South Americans overthrew and missed with their last two shots to ensure the Europeans could make an addition to their list of successes on the global stage.
Every journey starts with a step and Romania have started theirs. They play India tonight.
10:04 EEST Romania turn the tables
15:12 for Romania. The European side managed to turn the second set around. Is the first shoot-out of the day coming? 
09:57 EEST Uruguay with narrow advantage
Uruguay are in the lead 1-0 after claiming the first set 20:17. The second period started off neck-to-neck but Uruguay are pulling away, currently leading 7:2. 
09:15 EEST The next stage is about to start ... 
It's already day three of women's competition at the 2022 IHF Women's Youth Beach Handball World Championship – doesn't time fly when you're having fun?
Four nations in the consolation round and 12 in the main round are in action today with every single one playing two games each.
First up is Uruguay vs Romania in the consolation round. If the Europeans win, it will be the first-ever Beach Handball World Championship win in either gender at any level. Not a bad thing to brag about if you're in that team from such a historic – indoor, seven-a-side – handball country.