Late arrivals Brazil and India start campaigns as women's preliminary round enters final day
15 Jun. 2022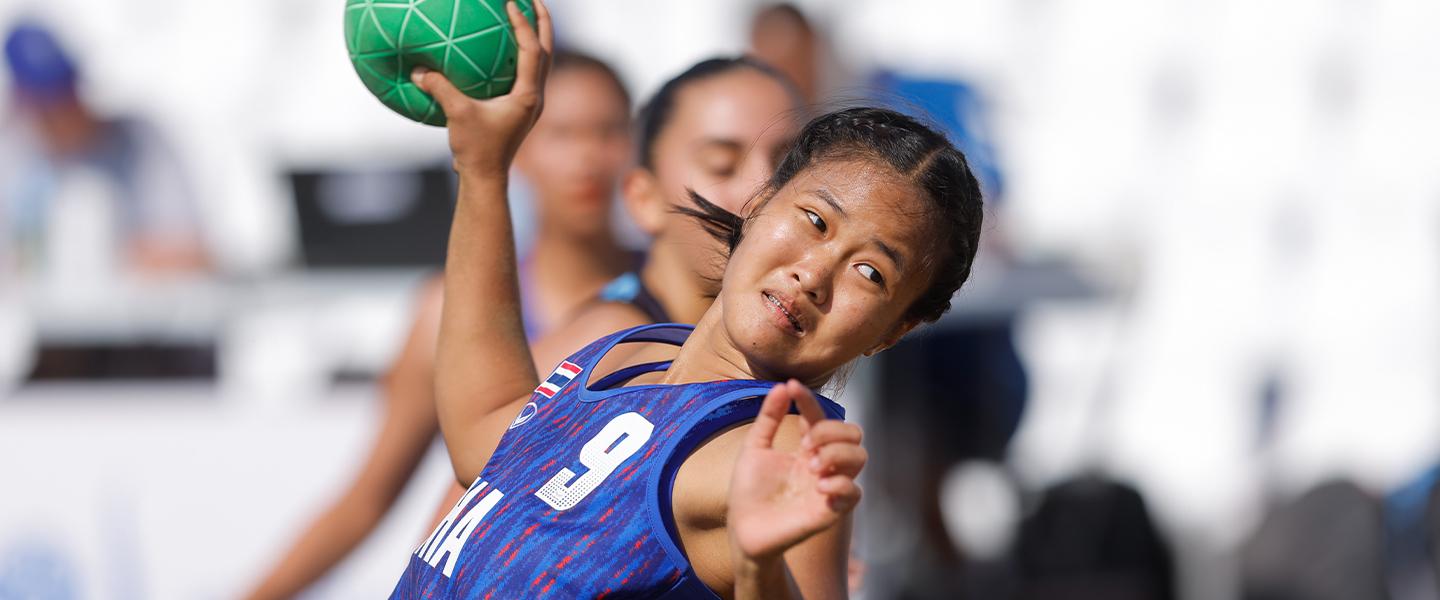 Live blog: Day 2 and the preliminary round are done dusted. We look forward to the next stage, starting tomorrow, and hope you will join us again.  
Today's matches:
09:40 EEST India vs Ukraine (0-2) / Spain vs Brazil (2-0)
10:30 EEST Poland vs Uruguay (2-0) / Hungary vs Thailand (2-0)
12:10 EEST Hong Kong vs Puerto Rico (1-2) / Netherlands vs Greece (2-0)
13:00 EEST Brazil vs India (2-0)
15:50 EEST France vs Romania (2-1) / Argentina vs Germany (2-1)
18:20 EEST Brazil vs Ukraine (2-1) / Spain vs India (2-0)
19:15 EEST 48 games down at Greece 2022, 96 to go!
That's it for today! We are one-third through the total of 144 games which make up the IHF Men's and Women's Youth Beach Handball World Championships in Heraklion.
The main and consolation rounds start tomorrow, it's time for a reset and refresh for all 32 teams.
Many stories have been written already and more are to come.
19:03 EEST Brazilian goalkeeping performance ensures shoot-out win
Brazil were leading Ukraine 6:4 after the three shots each and sealed the victory with two saves in a row, scoring another two points to win 8:4.
On court 2, Spain claimed a 2-0 win versus India. 
18:55 EEST World champions warm up
They're here and they're preparing. The title-holders are about to face Netherlands in a warm-up.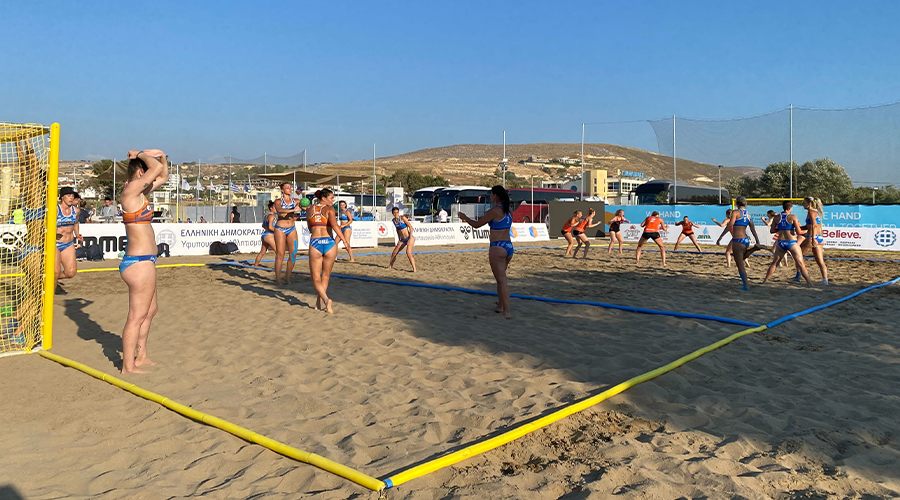 18:20 EEST All main round teams known, two games left
Hungary, Argentina, Netherlands and Spain are the only – currently – unbeaten teams in the women's championship.
Ukraine are taking on Brazil for second place and Spain will face India, with the European team looking to make it 100%.
17:50 EEST Mézuela Servier: From captaining France indoor, to coaching France on the sand
A former captain of the French women's indoor team in the 1990s, Mézuela Servier is now coach of the women's youth beach handball team and she has just guided them to the main round of the 2022 IHF Women's Youth Beach Handball World Championship in Greece thanks to a shoot-out win against Romania today.
"Finally, a victory, " she said after her side won their third game after losses to both Argentina and Germany earlier in Heraklion.
"We entered this competition in a very strong way but we have a little bit less experience than the other teams, but it's a good victory and now, the rest is very important."
Servier is also mother to Elohim Prandi, winner of both the IHF junior and youth (indoor) handball championships, and HBC Nantes left wing, Mattéo Fadhuile and is following in the footsteps of fellow national team player Valerie Nicolas, who coached the French senior women's team at the 2018 IHF Women's Beach Handball World Championship in Kazan, Russia.
"I played on court in France, but now I'm in beach handball," she said. "I like the spirit, atmosphere and mood of beach handball. I like the fact that we have to be technically in a very good way to play and always technique is the most important in beach handball."
Any coach is never happy, no matter if they win, and Servier is no different as she looks ahead to the main round.
"Our first set (against Romania) was very great with very good goals, but the second set was very difficult," she said. "We have to correct these things and be more powerful for the next games. We have to create the technique and the experience."
17:40 EEST France's Viogne: "It was a very big pressure, but we were confident"
France secured their spot in the main round thanks to a shoot-out win over Romania earlier and Emma Viogne who scored the winning shot is very happy indeed.
"It feels very good to have a win. We are really, really waiting for that. It's been a long time that we've been waiting for it. We did a very great effort and it's good to win the last game. It was a very big pressure, but we were confident about this game."
That pressure was knowing a loss against Romania would see them go into the consolation and not main round. At the end, once victory was confirmed, the court was invaded by the watching men's youth team, themselves already qualified through.
"It was very important to celebrate together. We were waiting for it, but it was a good thing to wait for," said a very tired, but happy Viogne.
17:20 EEST France break Romanian hearts
In the end, the third and final preliminary group game for both France and Romania was a play-off for the main round. Whoever won would go into the last 12 and the losers, into the consolation round.
Both had been close before, but after a dominant first set (32:16), France let the second slip (14:16).The shoot-out was tense, of course. At 4:4, France missed. The dream was over? No. Alicia Estachy in the French goal saved from Romania's Laura Adriana Moga. Estachy then blocked the next shot and when Emma Viogne struck home to make it 8:4 it was over and France were through.
16:15 EEST Germany suffer first set loss at Greece, France one foot in main round
Argentina, who have won both their games via shoot-out so far, have handed Germany their first lost set of these championships. 
In the winner-takes-all match between France and Romania, the French side are almost there too, a 32:16 first-set win suggests they will go into the final 12.
One of Germany's joint coaches Fernanda Scovenna was born and lived most of her life in Argentina. She represented the Argentina women's side at Beach Handball World Championships too, in 2014, under her family name, Roveta.
15:00 EEST The final chance for a main round spot
It is 15:00 in Heraklion and we have just 11 games left in the preliminary group stage – four in the women's competition and seven in the men's.
Those who don't go through to the main round will stay in Greece, but play in the consolation round.
In the men's competition Qatar play the USA, with the winners going through to the main round behind Iran and Sweden and there is also an equivalent play-off in the women's competition, with the winners of France vs Romania booking their last 12 ticket.
14:00 EEST The end of the women's competition for now
We're back at 15:50 EEST with the remaining four games of the 24 in total in the preliminary round. One of the standout ones is the clash between France and Romania – whoever wins that one progresses through to the main round.
13:58 EEST Puerto Rico take "special" win
A 3:2 shoot-out win brought tears from the coach, but Puerto Rico have done it – they have won their first-ever beach handball world championship game.
The defeated Hong Kong in their final preliminary group match with both teams winning their first-ever sets previously.
"I am feeling emotion," said Puerto Rico's Natasha Valle Martinez who opened the scoring for her side in the shoot-out.
"It's something very special, I can't describe it. We have been training so many years. To finally come here and win a game...I can't describe what I am feeling right now.
"I was nervous, we were all nervous," she said about the shoot-out which put her team in the main round along with 11 other teams.
"We wanted to win and didn't give up. I knew we could win," she added. "It's very special to be in the top 12. All these countries here are very big, we are a small island and we're coming here and are already in the top 12 in the world, it's special."
13:38 EEST Brazil exploit attacking India
31:17 was the second period final score, but India were in contention for the first half of that.
As the period wore on, the side from Asia left gaps at the back and were slow in their goalkeeper changes, allowing the South Americans a number of easy opportunities and open goals to score in.
13:30 EEST India going toe-to-toe with Brazil
With just under four minutes gone in the second period, India are just one point behind the Brazilians, 7:8. Even though they lost the first period, they have shown great spirit and dug deep to keep up with one of the global beach behemoths. It is India's second game today already.
13:05 EEST Puerto Rico made it
In a low-scoring shoot-out, Puerto Rico emerge victorious, 3:2, and claim their first-ever Beach Handball World Championship win. 
12:46 EEST It's a shoot-out!
Both Hong Kong and Puerto Rico have won their first-ever sets at an IHF Beach Handball World Championship and now both have a chance to win a second and their first-ever game. Plus a main round spot too.
12:27 EEST Netherlands show Greece their quality
Both teams had won their two games yesterday, against Puerto Rico and Hong Kong, but today was the big test for the host nation, facing the European Championship runners-up Netherlands.
They quickly learnt what that means in the first period, which finished 25:15 to the Dutch.
11:20 EEST Hungary 100%
The Hungarians took the second set against Thailand 27:25 to win 2-0 and secure their third win out of three in the preliminary round, they now have a whole day off before the main round starts tomorrow.
Hungary are the 2017 champions and have now played 11 games in IHF Women's Youth Beach Handball World Championships history, losing just once.
Their sole defeat came in the main round at Mauritius 2017, against Netherlands via a shoot-out. However, the Hungarians got revenge, turning around the loss in a final shoot-out win for gold.
They now have a winning streak of six games, having dropped just five periods in women's youth world championship history
10:55 EEST India's Kritika Thakur "proud" to score first-ever Beach Handball World Championship point for country
After a delayed arrival in Heraklion, India finally made their bow at Greece 2022, going 0-2 (5:22, 10:29) against Ukraine this morning.
This meant history was made for the Asian nation who are appearing at a global beach event for the first time.
"I am very proud that I scored the first goal for India in a Beach Handball World Championships," said right back Kritika Thakur. "It was easy to play against Ukraine, but we did not play our match," she said. "What we had talked about before the game we didn't do, secondly we missed a lot of passes and even we didn't use our spin shots to get two points.
"I am really enjoying it here, we are playing for the first time after qualifying for a World Championship. We are excited to play Brazil and Spain next. We will do what we did not do in this game in those games."
10:47 EEST Hungary for success?
The title-holders lead Thailand 1-0 at the break and are easing towards their third victory in a row, wrapping up their preliminary group campaign early today and then having a nice long break before their main round challenge starts tomorrow.
On court 2, Poland claimed the first set 19:16 against Uruguay.
10:15 EEST Beach handball world championship family grows by one more
India can now say they are a Beach Handball World Championship nation after their women's youth team made their debut today in Heraklion.
Despite their 0-2 loss (5:22, 10:29) against Ukraine on court two this morning, the young team would have learnt a lot in their 20 minutes on the global stage.
They have two more games to play today and will need to win to make it to the main round. However, it will not be easy – they are against Spain and Brazil, who have just faced each other, with Spain claiming a 2-0 win. 
10:00 EEST Ukraine and Spain ahead take first set
After losing the first set, India lead now very early on in the second, against Ukraine 1:0. 
On the central court, Spain claimed the first set against Brazil, 20:17.
09:45 EEST History for India
Kritika Thakur scores the first-ever Beach Handball World Championship point for the country.
09:40 EEST Opening matches throw off
A massive day for Indian handball as their women's youth team have arrived in Crete and are facing Ukraine in their opening match. They play all three of their preliminary group games today in Heraklion.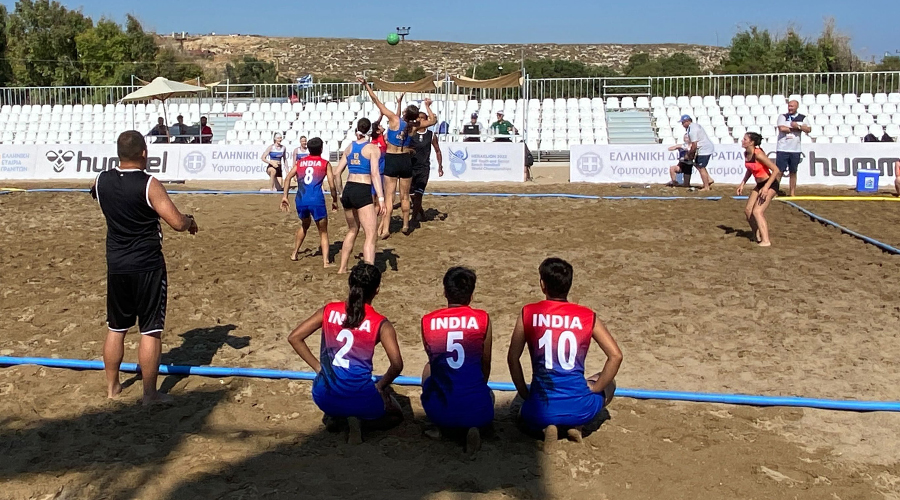 09:15 EEST Are you ready?
We're back again here in Heraklion, with another action-packed day ahead of us. And what a day it is!
Hungary, Argentina, Germany, Greece, the Netherlands are already through to the main round, which leaves seven places still to play for. 
After arriving late in Heraklion, Brazil and India saw their match schedule change from two games on Tuesday to all three on Wednesday. That in itself will be a challenge, but they both face immediate threats with European opponents in their opening game, the games that start the overall day in Heraklion.
India will play Ukraine and Brazil take on Spain, with the clash between the two European teams – won by Spain – the sole game played so far in the group, meaning all three main round qualification places from the group are still up for grabs.
If you want to know more about what's up today, read our preview.