Who will enter the Greece 2022 men's youth finals?
18 Jun. 2022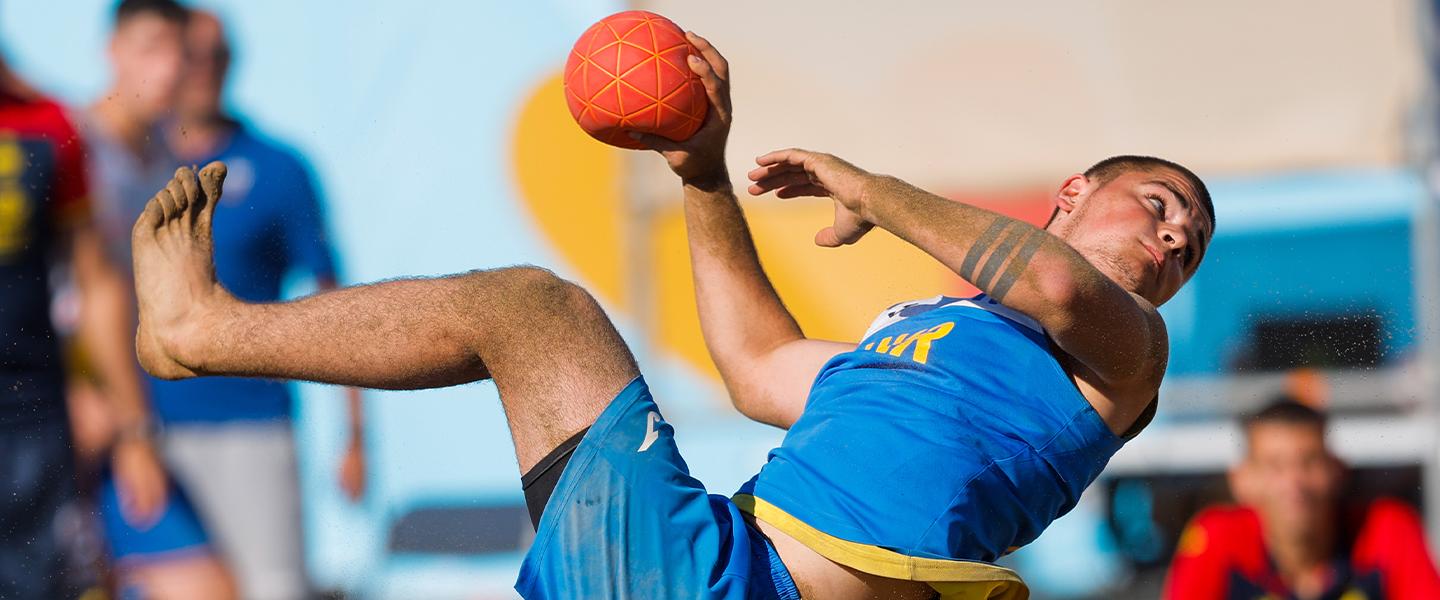 Live blog: Decisions, decisions, decisions. They have been made and the medal matches are known.
Croatia will play Brazil in final
France will play Iran for bronze
Iran had beaten Brazil earlier in the main round, with France defeating Croatia too
2017 title-holders Spain are out
Ukraine, Spain, Argentina and Germany in the 5-8 placement round
Today's matches:
09:30 EEST QF Croatia vs Ukraine (2-0) / QF France vs Germany (2-1)
10:20 EEST 9.-16. Sweden vs Togo (0-2)
11:10 EEST QF Brazil vs Spain (2-0) / 9.-16. Greece vs Czech Republic (0-2)
12:00 EEST QF Islamic Republic of Iran vs Argentina (2-1) / 9.-16. Jordan vs United States of America (2-0) / 9.-16. Qatar vs Uruguay (2-1)
15:10 EEST 5.-8. Ukraine vs Germany (2-0)
16:50 EEST 5.-8. Spain vs Argentina (1-2), Sweden vs Czech Republic (2-0), Togo vs Greece (0-2)
18:30 EEST SF Croatia vs France (2-1), 9-12. Jordan vs Qatar (1-2), 13-16. USA vs Uruguay (0-2)
20:10 EEST SF Brazil vs Iran (2-1)
21:23 That's a wrap
No more matches today in the men's championship - see you tomorrow morning.
21:05 EEST Brazil in final, looking to past for future legacy
Brazil come from behind to take a 2-1 victory over Iran after an 8:4 shoot-out win.
"It's amazing, a really good feeling," said Brazil defender Pedro Santana Raposo to ihf.info who blocked the first shot from Iran.
"We worked hard to be here and to be in a final of a world championship is a feeling we will remember forever."
Another beach handball world championship, another medal for Brazil, the men's youth team have now confirmed either a silver or gold and have already written their entry into the Brazilian handball history books.
"It's a motivation to us," revealed Raposo. "We have idols in our country that have a lot of world championships and we want to keep going with this legacy."
This motivation was tested to the extreme after a disappointing first period which saw the South and Central America champions lose 12:18, before turning it around to win the second 21:14.
"At half-time the coach said words to us which were motivation, he talked about a lot of things that it's not necessarily to talk about here, about our families, a lot of things and it motivated us," he said.
"It's not just a game, a lot of things we have done to get here and we're now in the finals and we're playing to win."
20:45 Resurgent Brazil force a shoot-out
A 21:14 second period win was also a clear result. This game is certainly interesting. It's 1-1 and now a shoot-out, a second one to find a place in the men's final.
20:25 EEST Easy for Iran
The Asian team have beaten the South Americans 18:12 in the first period, there is a lot of work to do in the second for the Brazilians.
19:38 EEST Croatia's captain "in shock"
"It's an incredible feeling. We are in shock," said the Croatia captain Vigo Konforta to ihf.info after the shoot-out win.
"This was what we were working for. We are in finals of the World Championship. It's unbelievable. We can't wait to play the final."
He now has a guaranteed medal, so what does that sound like?
"It sounds incredible. I'm speechless. [I want] gold of course."
And his thoughts on shoot-outs in general, commonplace at this stage of competition?
"We practise shoot-outs in every training and they're very stressful, especially in the game, and especially in the game like this, in a semi-final.
"It's just concentration and strong heads, that's it. Now, we need to rest, cool down and be prepared for the final."
19:12 EEST Some famous faces looking on
Everyone seemed to be watching Croatia vs France. Iran, who are coming up in the next semi-final, plus Hungary's women, who are about to take the court against Netherlands.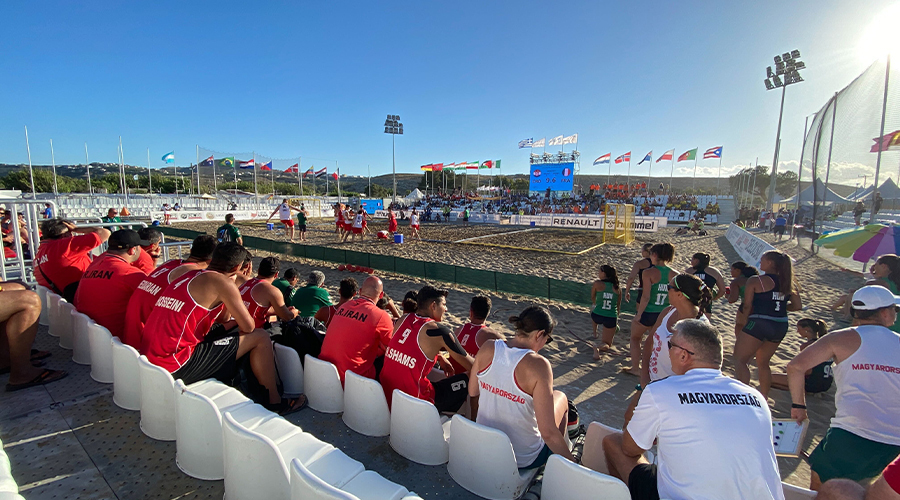 Also watching was Davor Rokavec, who won the 2008 IHF Men's Beach Handball World Championship in Cadiz, Spain as a player with Croatia, later coaching the men's national side to gold at the 2016 IHF Men's Beach Handball World Championship in Budapest, Hungary.
Rokavec is here working on all those lovely statistics and scouting information you are looking at.
19:10: EEST Croatia are the first finalists of Greece 2022
Croatia went first in the shoot-out and were never behind. At 4:2 up, Baptiste Dubois was whistled for travelling and Croatia kept scoring, a single point putting them 9:7 ahead with France only having one shot left.
18:59: EEST Semi-final shoot-out is coming....
France have won the second period, it's 1-1 and a shoot-out.
It was all-square at 14:14 with just under three minutes remaining and after reaching his fouling limit, Gabriel Botic was disqualified.
France went ahead eventually, going 20:18, then 22:20 ahead, with 10 seconds left. A time out was quickly taken and then scored a single point to secure a 23:20 win.
18:41 EEST A pause in proceedings
Croatia take the first period 21:18 with Josip Tomic leading the scoring on 10 points. Can France come back in the second? In five minutes it all starts again.
It's hot on court, it's hot off court but there is a big wind blowing off the Aegean Sea here in Heraklion. If you're watching on our YouTube channel, you can maybe see the flags in the background?
If you're not watching, then watch on our YouTube IHF Competitions channel.
18:28 EEST The semi-finals are here!
With the sound of quite possibly the biggest jet engine so far this week, the teams of Croatia and France are lining up on the central court here in Heraklion.
There are two other games being played too, featuring three continents – the all-Asian Jordan vs Qatar match and the USA vs Uruguay.
17:30 EEST Wins for Argentina, Sweden and Greece
Three more men's games down. This time Argentina win via a shoot-out (7:4) against Spain and Sweden and Greece ease to 2-0 wins against Czech Republic and Togo, respectively.
15:38 EEST Ukraine beat Germany
2-0 to Ukraine.
14:35 EEST The afternoon schedule is confirmed
We have eight games left today in the men's championship:
15:10 5-8. Ukraine vs Germany 
16:50 5-8. Spain vs Argentina
16:50 9-12. Sweden vs Czech Republic
16:50 13-16. Togo vs Greece

18:30 9-12. Jordan vs Qatar
18:30 13-16. USA vs Uruguay
18:30 Semi-final: Croatia vs France
20:10 Semi-final: Brazil vs Iran
For more statistics, schedules and a lot more, visit the championship mini-site.
13:15 EEST Men's games are over until 15:10, awaiting confirmation of match schedule
There are no more games until the 5-8 placement round starts at 15:10 EEST. We will post the updated match schedule here when it is officially confirmed.
13:02 EEST Iran's Ghashghaeirad: "We are here for gold"

Iran coach Mehdi Ghashghaeirad spoke to us after their quarter-final shoot-out win over Argentina.
"I must say congratulations to the Iranian people and Iranian guys here because we have worked hard for the last two years and put all our concentration into this tournament," he said.
"They played with heart," he added. "Now, we must prepare for the next match, we must go back to hotel, take a rest and concentrate."
Earlier in the championship, Ghashghaeirad joked with us about doing the "cooking and washing" for Iran's technical director Antonio Guerra Peixe, the Brazilian coaching legend now with the team, but he also said to watch out for his side in Greece.
"Previously I said to you that the Iran team deserve to go into the last four," he explained. "We played and beat Brazil in the main round but this evening's match is so different and separate.
"We must concentrate this afternoon and we must play with heart tonight. We are here for gold."
12:56 EEST "A big game. It's not emotional, it's just professional"
We just bumped into Antonio Guerra Peixe, the legendary beach coach from Brazil who is now Iran's men's senior coach and technical advisor for the youth team.
In our broken Portuguese we got some basic quotes.
"It's a big game," he said. "It's not emotional (for me), it's just professional."
12:48 EEST Iran see off Argentina in dramatic style
Argentina missed their first, shooting over. The two teams then scored the next five. It was 6-4 to Iran and the South Americans needed to score.
As Giovanni Vicente Brunetta shot past the onrushing goalkeeper the ball looked like it was going in, but it took a massive deflected bounce on the sand and went wide. 
Tiny margins again.
Arad Hosseini Gohari then smashed home Iran's fourth shot to make it 8:4 and we did not need to go to the fifth round.
12:36 EEST Argentina and Iran are going to a shoot-out to decide the semi-final place
It's all going to be shoot-outs now isn't it? The margins are so fine in this sport, like the sand it is played on.
12:21 EEST Brazil's Nicolas De Souza Xavier: "We only want to win, that's our mentality"
"I just want to really, really, really thank our families and our confederation so we could be here, make history and continue making history," said the player who scored the golden goal in the first period.
"I love this," he added. "We are going to the semi-finals and we want only to win, that's our mentally."
"Spain are good team, a big team with lots of history, but Brazil has history too."
After his golden winner he simply turned away and stood still in a basic pose, no running, no shouting (well, not too much).
"My celebration is for my family," he added. "It's for what we do for me to come here, it was very difficult to come here. I have a cold mind and cold body, so I score and just go silent."
11:49 EEST Brazil's men defeat title-holders and Youth Olympic Games champions
Spain are out after going down 0-2 against Brazil, who took the second set 22:17,
11:28 EEST Brazil lead against Spain in third quarter-final
Beach handball is drama anyway, but knock-out, world championship beach handball is a little bit more drama.
That is clear as the title-holders and 2018 Youth Olympic Games champions Spain, take on Brazil.
And Brazil have shown their long history of success on the sand has trickled down to the young generation. Despite being 16:18 down late on in the first set, Brazil were awarded a six-metre and Nicolas De Souza Xavier sunk it home.
18:18, golden goal time. Spain had the ball, but turned it over – and who went direct into the Spanish goal to score? Nicolas De Souza Xavier.
10:50 EEST Opening 9-16 placement win for the European champions
It's absolutely not where they want to be, but the European title-holders have got to work straight away, dispatching Togo 2-0.
10:34 EEST Sweden take first set
It was expected, but it's not been brutal. Sweden win 32:12 in the first set against Togo, the sole African team here in Greece.
10:27 EEST David vs Goliath now on court 3
The European champions Sweden, who crashed out of medal contention yesterday on a head-to-head record are now playing Togo. 
Togo are playing with just six players in the squad and have not been able to play competitively for a number of years due to covid restrictions.
10:25 EEST France assistant coach Mourioux: "We progress and progress, so we will see"
"We win against them in the first part of the tournament but now it's a new tournament," said France assistant coach Paul Mourioux on playing Croatia in the semi-finals. "We progress and progress, so we will see."
And what changed since they lost to Germany last year in the European Championships?
"We have built our confidence, game by game. It's a big emotion and for us, it's fantastic. For me, I love shoot-outs. It's a special time, but it we win 2-0 it's good too."
10:19 EEST European championship results overturned - France and Croatia through
It went to a shoot-out in the end, but France overturned their 2021 continental defeat against Germany to squeeze through in the quarter-finals via a shoot-out win, 8:6. Croatia secure a 2-0 victory.
09:46 EEST France and Croatia with one sandy foot in the semi-finals
It's half-time in our two early morning quarter-finals.
Both 2021 European Youth Men's Beach Handball Championship results from last year have been turned around: France lead Germany 1-0 (19:18) and Croatia are up 1-0 against Ukraine (17:14).
France and Germany had taken a time-out at 18:18 and Croatia and Ukraine had taken one with the Croatians 17:12 ahead.
While the Croatians kept ahead, France sprinted down towards the German goal and shot a single point thanks to Baptiste Perchicot, but there was still a second or two left and the Germans took a time out.
It would have needed something spectacular, but the direct throw from the goalkeeper did not have enough power over the full court to trouble the French.
Exciting.
09:10 EEST Let the quarter-finals begin!
A total of 48 games have been played and another 16 will be added today, featuring four quarter-finals played in the early morning with Croatia vs Ukraine and France vs Germany coming up first (both 09:30 EEST). Brazil against Spain will be just under two hours later (11:10) and Iran versus Argentina will complete the quartet at midday.
It's knock-out time in Heraklion and we can't wait to know who will be in the semi-finals to be played this evening and who will enter the finals tomorrow. 
Read more about today in our preview.