Second stage of Greece 2022 underway as main round sets route to podium
16 Jun. 2022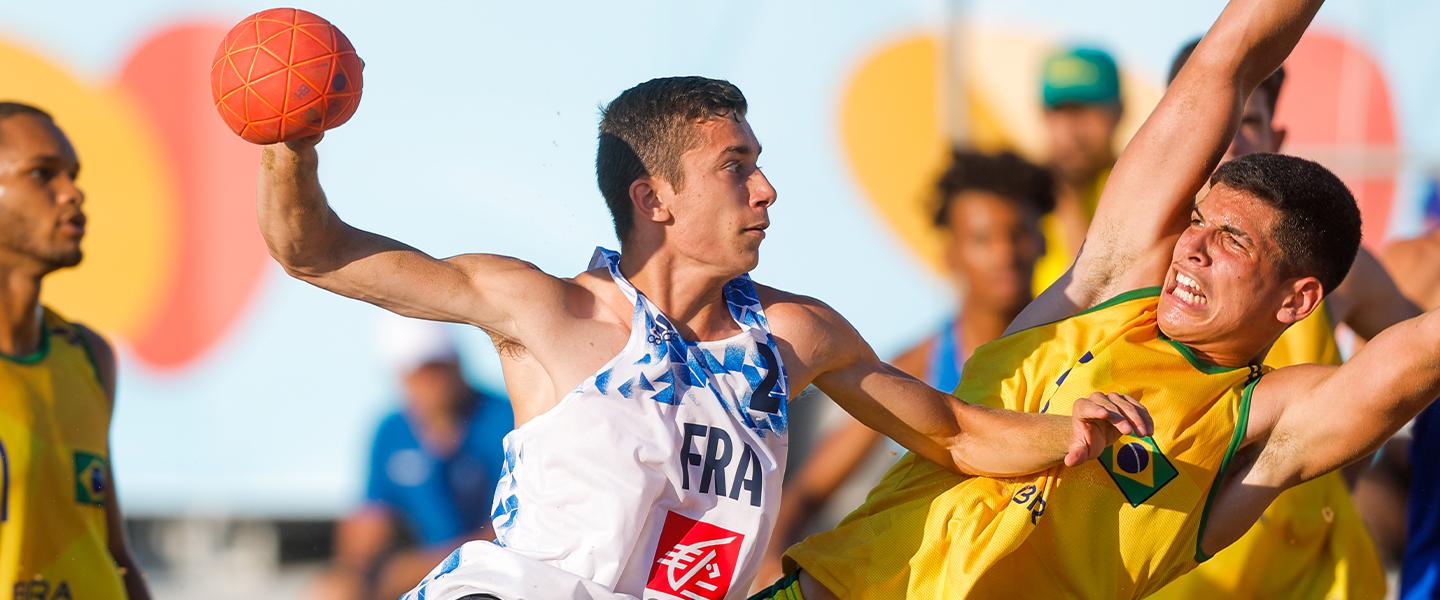 Live blog: The first day of main round action at the IHF Men's Youth Beach Handball World Championship has completed - read about some of the talking points below.
Today's matches:
09:30 EEST Consolation round: United States of America vs Czech Republic (0-2) / Togo vs Uruguay (0-2)
10:20 EEST Main round I: Sweden vs Brazil (1-2) / Islamic Republic of Iran vs Croatia (1-2) / Qatar vs France (2-0)
12:00 EEST Main round II: Jordan vs Ukraine (1-2) / Spain vs Argentina (2-0) / Greece vs Germany (1-2)
16:00 EEST Consolation round: Uruguay vs United States of America (2-0) / Czech Republic vs Togo (2-0)
16:50 EEST Main round I:  Islamic Republic of Iran vs France (2-0) / Sweden vs Croatia (0-2) / Qatar vs Brazil (0-2)
18:30 EEST Main round II: Greece vs Ukraine (0-2) / Spain vs Germany (2-1)
20:10 EEST Main round II: Jordan vs Argentina (0-2)
20:43 EEST Argentina beat Jordan 2-0 to wrap up the men's competition for the day
Main round group II is so tight right now. Argentina go above Jordan, into fourth place. Those two, plus Ukraine all have four points each with Germany and Spain in one and two on six points each. 
Decisions will be made tomorrow with each team having one game left to play.
Greece play Argentina, Spain take on Uruguay and Germany play Jordan.
Should be an interesting 30 minutes or so when they all take to the sand at 17:40 EEST.
20:10 EEST The last men's main round game of the day has just thrown off, Brunati will be busy
Argentina's men start a double evening presentation of their beach handball teams, going up against Jordan.
Leticia Brunati, who coaches the men of Argentina will not need to move once this game finishes. She's also coach of the women, who play Greece at 21:00.
19:05 EEST Wow
Who would have thought that? A main round match on court 2, behind the show court, the central court and it's like being a football match.
That game was between Spain and Germany and it went to a shoot-out. Fans of both sides exchanged chants and watching players and teams from the youth side, plus the Qatar senior men's team were also there, enthralled. 
They saw 98 points scored in the two sets and then another 14 in the shoot-out, eight of which went to Spain, who handed the Germans their first defeat of Greece 2022 to join them on top of main round group II.
For the host nation it's bad news. They are now not able to qualify through to the quarter-finals, losing 0-2 to Ukraine to sit bottom of the group on zero points and unable to catch fourth place (four points) with only one game left to play.
The final game in the group tonight is Jordan against Argentina. 
17:30 EEST Iran are happy, anyone wanting to work out the maths in group I is not
Main round I is a fascinating prospect with nearly all six teams winning once today.
The two teams out of the six who didn't win were France and Sweden. 
What a difference a day makes. Yesterday, European champions Sweden, along with France, ended their preliminary group campaign with three wins from three, now, in the main round, they have lost both of their games. On other hand, Brazil have now doubled their entire amount of games won here so far - taking two wins today.
The group sees Croatia top on six points, followed by four teams all on four points each - Sweden, France, Iran and Brazil. Qatar are bottom on two points.
All of them have one game left each to play, tomorrow.
17:05 EEST Half-time in Group I
Iran lead France, Brazil are in front against Qatar and Croatia lead Sweden 1-0. It's all happening here.
16:50 EEST It's hot here, obviously
You have to wear flip-flops on the beautiful sand here in Heraklion as it is a little bit hot, but the players are looked after – the sand is hosed down with cold water for all the games.
Talking of games, there three Main Round Group I games throwing off right now and same classic ties (see above).
16:45 EEST The USA and Togo are still without wins at Greece 2022
Two further consolation matches have taken place and the USA and Togo have both lost 0-2 each again. This time, the Czech Republic and Uruguay took the points, but both the losing teams showed great spirit and fight which will stand them in good stead for their remaining time in Greece.
13:39 EEST That's it until 16:00
The men's competition takes a break, we return at 16:00 EEST with the consolation round games featuring Uruguay vs USA and Czech Republic vs Togo.
13:12 EEST Greece hanging on by a thread
A gargantuan shoot-out between the host nation and Germany ended in a 16:14 victory for the visiting team.
The result means Germany are sitting pretty at the top of Main Round Group II on six points. For the home side, they are without points at the bottom but still have a chance to go through to the last eight with games to come against Ukraine later and Argentina tomorrow. Those two teams sit just above them on two points each.
12:48 EEST Ukraine see off Jordan and Spain win again
With their win against Jordan combined with Spain's defeat of Argentina, Ukraine have now edged above their South American rivals for the fourth – and last – quarter-final qualification spot.
The both sit on two points each with two games left to play in the Main Round Group II.
12:18 EEST Half-time in Group II main round openers, hosts happy
Greece are causing Germany problems and just took a 1-0 half-time lead, scoring more of the 50 points in the first period, winning 26:24.
Ukraine are 1-0 up against Jordan, who could lose their second, successive game, while 2017 title-holders Spain are the same score ahead against Argentina.
11:25 EEST Crucial win for Croatia
Asian champions Iran had been looking good at Greece 2022 so far, only losing to European champions Sweden previously.
That changed earlier as the Croatians came back from a one-point, first set loss, to absolutely hammer the Iranian side 25:12 in the second. They then took the shoot-out 7:6 after the Croatian goalkeeper made two key saves.
Both teams had entered the main round with two points each, Croatia now have four.
11:15 EEST Upset – has the tide in Heraklion turned from Europe to South America?
Brazil showed why they are one of the best-ever nations to have played this sport, coming from a set down to take the European champions to a shoot-out and then defeat them.
Up until this point, Sweden had won all of their games 2-0 and Brazil had scraped through late last night with a win against Togo after losing their first two against France and Croatia.
11:10 EEST Qatar beat so far unbeaten France
And they did it! Qatar beat France, who won all three of their preliminary round matches, only dropping a single set against Brazil.
After a close first period, finishing on 18:17, the Asian side won the second period 27:22, claiming a 2-0 win. 
10:34 EEST European champions beat South and Central America champions
Brazil came within two points just a few seconds before the end of the first period but Sweden coach Jesper Knutsson used their possession to take a time-out with four seconds remaining.
Nerves were calmed and they secured the set. The European champions have beaten the South and Central America champions in this first period 18:16.
9:59 EEST Czech Republic and Uruguay claim first consolation round wins
Czech Republic proved their status in the consolation round already in their first match against USA, dominating the game and claiming a 2-0 win, after two clear periods: 26:12 and 29:19. 
Uruguay also emerged victorious with a 2-0 win. 
09:52 EEST Uruguay in front
After securing the first period 24:12, Uruguay continue their solid performance against Togo as they lead 10:4. 
09:10 EEST The next stage is about to start ... 
Welcome to the third day of the men's competition at the 2022 IHF Men's Youth Beach Handball World Championship.
All teams – 12 in the main round, four in the consolation round – will play twice today.
First up is the consolation round with USA versus Czech Republic and Togo versus Uruguay.