Denmark add to medal record with second bronze
18 Aug. 2019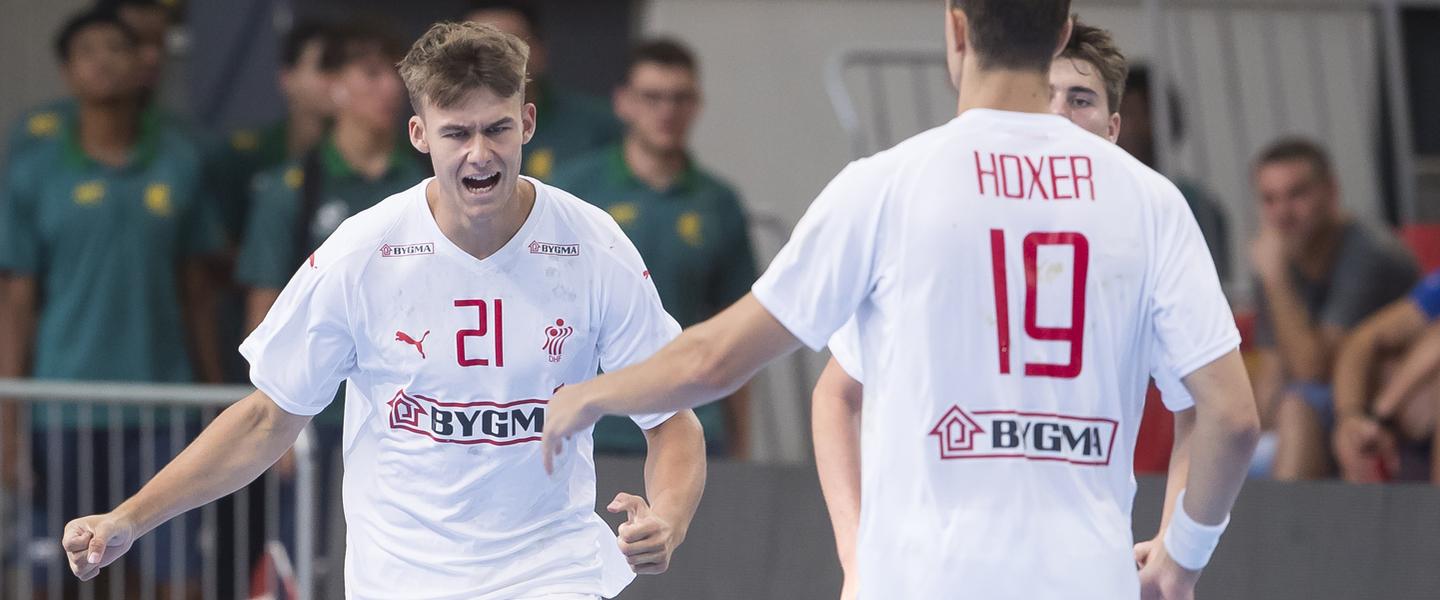 Denmark were already the most successful nation at the IHF Men's Youth World Championship, but they added to that record when they claimed the bronze medal with a strong victory over Portugal on Sunday afternoon in Skopje. It is Denmark's second bronze, adding to their three trophies and thereby taking their medal haul to a total of five in the competition. 
Portugal were left disappointed, but they have nevertheless recorded their best result in the history of the competition, in what is their second campaign. At Georgia 2017, they placed seventh, and at North Macedonia 2019, they climbed to fourth. 
BRONZE-MEDAL MATCH
Portugal vs Denmark 27:35 (11:15) 
It was a close opening 25 minutes before Denmark created the decisive lead in the final five minutes of the half and held on to the advantage with a strong second period that earned them the bronze medal. Defence was key to Denmark's win, as they kept Portugal's usually dangerous duo of Martim Costa and Salvador Salvador very quiet – the two had scored 16 goals between them in the semi-final, but in the 3/4 play-off, managed only two and four, respectively. 
Though their defence worked well, Denmark keeper Svend Bro Rughave did not have his strongest game, and was replaced by Oliver Larsen after two saves off 10 shots. Larsen rose to the occasional spectacularly, coming off the bench to register eight saves by the time the last quarter began. 
After 10 minutes, Denmark had pulled ahead by two goals, 4:6, and Portugal were left chasing to close the gap – but they could never level the game again. From 8:9 at the 20-minute mark, with the help of Larsen's saves, the Scandinavian side turned the distance into four goals by the break. With two unanswered goals to resume the match, Denmark had Portugal at an ominous deficit of 11:17. 
Denmark maintained their commanding advantage at 15:21 with 20 minutes on the clock when Larsen made an impressive double save off a penalty shot then the rebound attempt from Costa. In an effort to turn the momentum, Portugal changed their keeper from Francisco Oliveira to Alexandre Magalhaes. However, Magalhaes came off again for Oliveira to return when Denmark stayed in front as the clock ticked towards the buzzer. 
Denmark entered the final 10 minutes with an eight-goal advantage at 28:20, and when they stayed in front 30:23 in the 55th, there was no doubt the medal was won. 
Denmark were led by a great effort in attack from Mads Hoxer Hangaard, who tallied 10 goals in total. 
Player of the match: Mads Hoxer Hangaard, Denmark