Spain defeat depleted Iceland to take seventh spot
18 Aug. 2019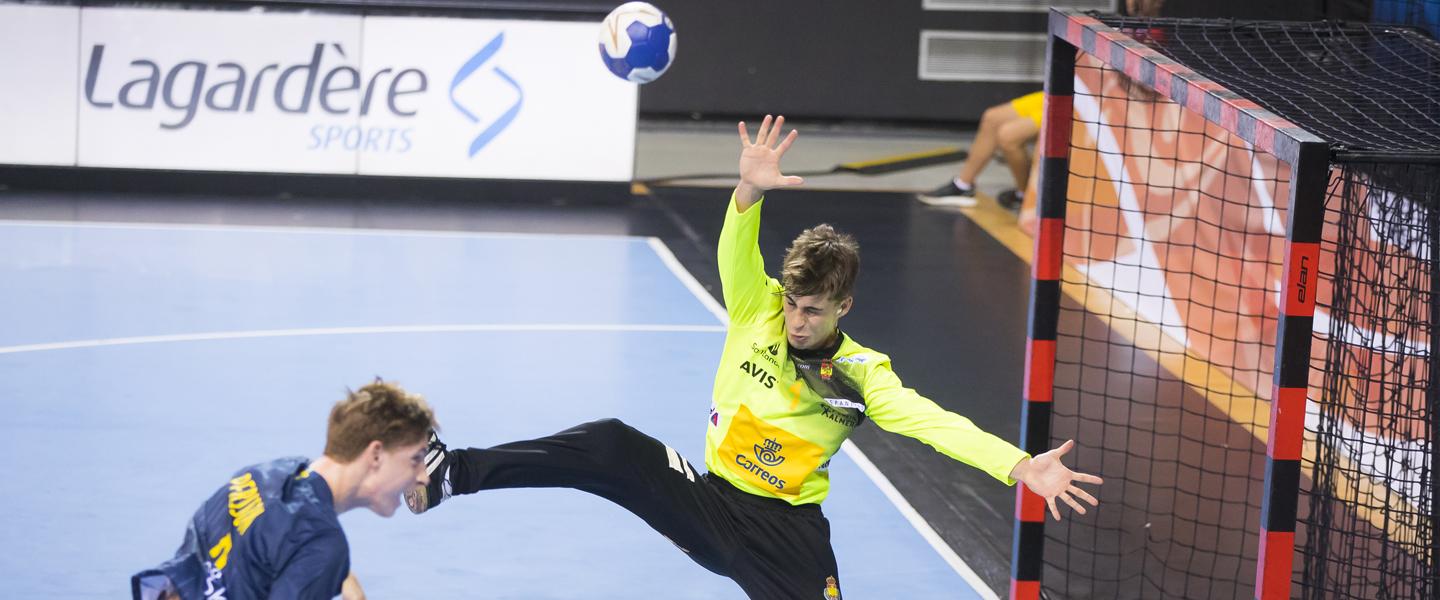 2017 runners-up Spain avoided their lowest-ever ranking in an IHF Men's Youth World Championship defeating Iceland in the 7/8 placement match this morning at the Boris Trajkovski Arena in Skopje, North Macedonia.
PLACEMENT MATCH 7/8
Iceland vs Spain 26:30 (8:12)
Boris Trajkovski Arena, Skopje
When Spain's goalkeeper Roberto Rodriguez Lario spotted an unguarded goal after saving from Iceland's Dagur Gautason, like a bullet he threw the ball down court and into the net to make it 5:5 and from that point on, in the 11th minute, Iceland were never in front again.
With history maybe playing on Spain's mind – the lowest they have finished in this competition was seventh – and Iceland fielding just 13 players with just Stiven Tobar Valencia recovering from missing yesterday's game, the odds were stacked heavily in favour of Alberto Suarez's side.
In fact, goalkeeper Lario had been effective at both ends, making seven first half saves from 15 shots faced (47%), while Iceland's sole goalkeeper in the squad, Svavar Sigmundsson, was also doing his best, without a break throughout the whole 60 minutes, saving six out of 17 shots (35%).
Early on though, it was Iceland in control as they led 4:1 in the eighth-minute, but a 4:0 run from Spain, including that equaliser from their goalkeeper, put them 6:5 up and a 6:0 run later on saw them six clear (12:6) in the 24th minute.
At half-time it was 12:8 to Spain and the second half was played out more evenly (18:18) as both teams looked to make some more memories in their final 30 minutes of handball in North Macedonia.
"For me it's just helping the team for sure," said Lario to IHF.info about his saves in the match. "It means nothing by myself if I don't have the teamwork and defence - it's impossible for me to save."
The final match also gave time for Lario to reflect on the tournament and how important it was to acknowledge their missing captain, Alex Pascual, with Lario taking over the role following Pascual's return home due to injury.
"He's the captain so it's important he's here," said Lario about the Spanish team laying his jersey on their bench and in the stands during all their matches since he left the squad. "Having the jersey here means he's here with us, he's part of the team - we are a family, they are my brothers and we have spent the whole summer together.
"After the Sweden game (eighth-final) we were busted, we were destroyed because we won it in the last seconds," he added. "It would have been nice to have had a rest day between that and the quarter-final against Denmark, but it was important to come here today and end the tournament with a win - we woke up wanting to win."
Best player of the match: Roberto Rodriguez Lario (ESP)