Germany coach Wudtke: "There is a good chance to take something home"
17 Aug. 2019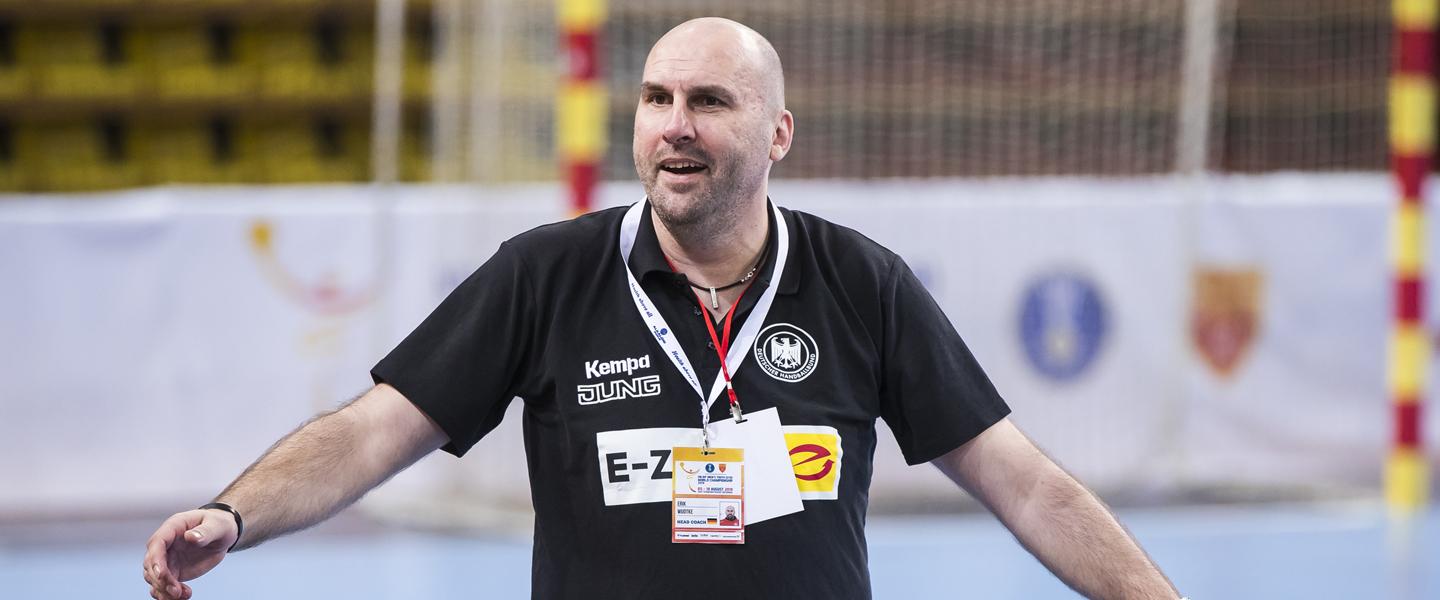 Germany head coach Erik Wudtke spoke to IHF.info ahead of their semi-final against Denmark tonight.
IHF.info: There is a famous sporting phrase which says, 'attack wins games, defence wins championships,' – you restricted Hungary to just seven goals in the first half of your quarter-final…
Erik Wudtke: For the Hungary match it is OK, but we take it step-by-step. Defence was the reason why we got the victory as in the first half there we had a very good cooperation between the goalkeeper and the defensive line, and that was the base of the victory.
I once heard from a very old coach there is always a chance for a comeback, and against Hungary there was a chance in the second half for one, but in this moment we stayed really cool. We came back to our own thoughts and our own programme and that was the reason why we got the victory.

Now we're very happy about this performance but we are not at the end, this is only a step.
IHF.info: Even though your goalkeeper Johannes Jepsen had a fantastic game in goal defensively, he missed three attempts at scoring, does that matter?
Erik Wudtke: Believe it or not, we have trained on this. But this is a reason why he is a goalkeeper and not a player on the line, this was the proof and evidence.
IHF.info: How much joy do you get from watching your team conceding just seven first-half goals?
Erik Wudtke: A lot. I prefer this way of playing handball and the team believed in this moment. It was nice to see from the outside how they got a lot fun from playing defence, nevertheless we got seven two-minute punishments and there were a lot of minutes where we had to play five against six, but we played very strong in six against seven, so it was only another step to play five against six.
IHF.info: At one point near the end of the match, a swivel turn and assist from Ian Weber saw your whole squad smiling, how important is that for you to see?
Erik Wudtke: Well, the hardest match in our tournament so far was against Tunisia because we lost our first match against Portugal, and that was a hard stress for the team, but against Hungary there was no stress for the team because it is now only possible to win in this championship not to lose, so we had to focus on the victory and not our losses, they keep smiling all the time.
IHF.info: How important is it to have a rest day before the semi-final?
Erik Wudtke: For the rest day we are training as you play the match like you train. We have no wishes who we play in this championship because this is not Christmas. It is a world championship and there is a good chance to take something to Germany because there are now three places for a medal and only one is a black box, so we hope we are one of the three teams who are able to get something.
IHF.info: You are now one step away from equalling your best-ever ranking, a bronze medal in 2013, is it important to you to equal or beat this or just continuing the development of your players?
Erik Wudtke: At this age, development is the most important part, but if you have a chance to take something, well, we see the goal, but we have to make things to reach the goal and that is our job as a coach, and I have to do this. Now we are on a high level and I have to calm the boys because really good teams await.
I also want to say thank you to the parents and supporters because at this age the players have no company or club who are covering them to come here. The parents are the reason they are here, they are important supporters and we are very glad that we can give something back to them and I hope there is more than a semi-final, but we will see.