Draw creates balanced groups for the 2023 IHF Men's Youth World Championship in Croatia
03 Mar. 2023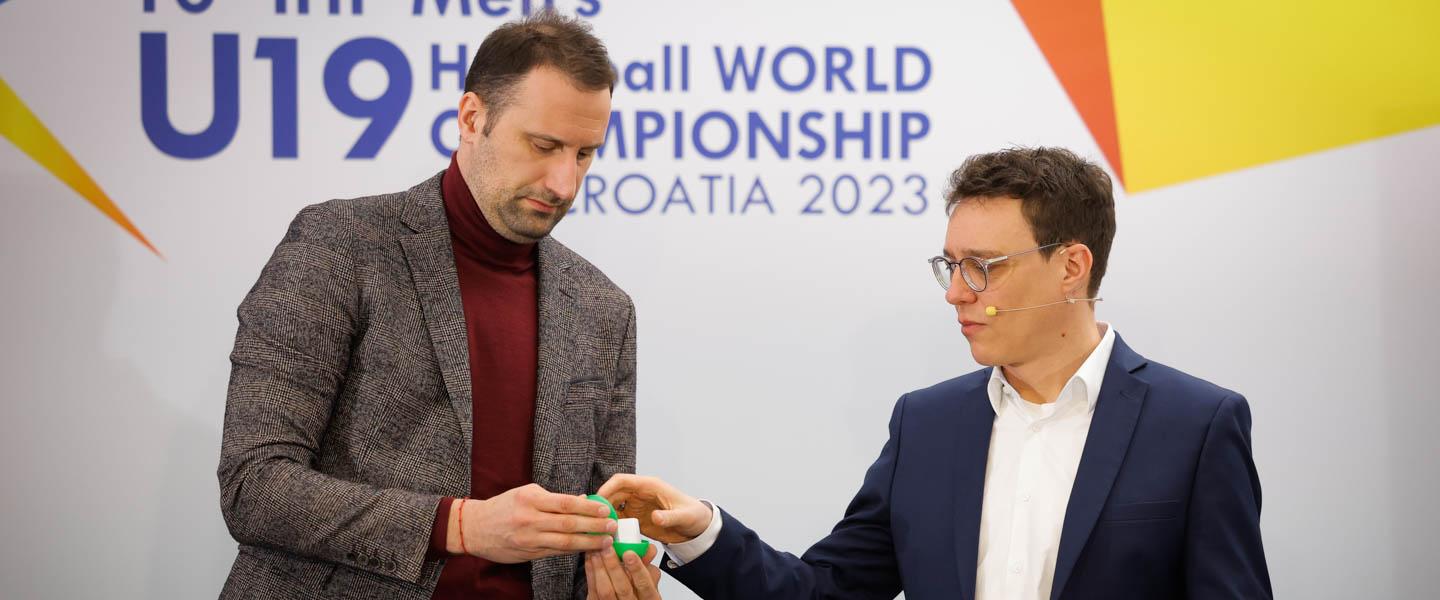 The draw for the 2023 IHF Men's Youth World Championship, which will be held in Croatia between 2 and 13 August, took place on Friday 3 March in Zagreb, Croatia.
31 teams who are already qualified entered the draw, with an additional side – the IHF Inter-Continental Trophy Winner – still to be decided.
The event will be the first edition of the IHF Men's Youth World Championship with 32 teams at the start and also the first to be hosted by Croatia. This will also be the first edition of the competition since 2019, as the one scheduled in 2021 was cancelled due to the COVID-19 pandemic.
Eight groups of four teams each were announced after the draw. The host nation Croatia had the prerogative to assign one team (including the organiser's team) per group, which had previously been assigned to a city, as per the Regulations of IHF Competitions.
After the draw was concluded with the help of former Croatia star Igor Vori, several groups promised to create a lot of interesting matches, with high-profile clashes highlighting the 2023 IHF Men's Junior World Championship schedule.
The hosts Croatia will be favoured to proceed to the main round, as they face Portugal, Rwanda and Algeria in Group A in their quest to secure the second gold medal in the competition's history.
Reigning champions Egypt face a daunting task in Group C, which will be played in Koprivnica, facing two European sides – Iceland and the Czech Republic – and a plucky Japan team.
Germany, the runners-up at North Macedonia 2019, will not face a European team in the preliminary round, as they face Argentina, Saudi Arabia and the United States of America.
Denmark, the most decorated team in history with three gold medals have been drawn to Group E where they are facing Austria, Chile and Mexico in what could prove to be a good draw for the Scandinavian side, who are favoured to win the group.
Six teams will make their debut in the competition – Burundi, the Czech Republic, the Faroe Islands, Montenegro, Rwanda and the USA. Two of them will face off in Group H, where Faroe meet Burundi, as the European side tries to make the cut for the main round.
Four venues will host the matches at the 2023 IHF Men's Youth World Championship – Varaždin, Koprivnica, Opatija and Rijeka – with the final round scheduled in Varaždin.
Group A: Portugal, Croatia, Rwanda, Algeria
Group B: Hungary, Slovenia, Morocco, New Zealand
Group C: Egypt, Iceland, Japan, Czech Republic
Group D: Spain, Republic of Korea, Brazil, Bahrain
Group E: Denmark, Austria, Chile, Mexico
Group F: Norway, Montenegro, North Macedonia, IHF Inter Continental Trophy Winner
Group G: Germany, Argentina, Saudi Arabia, United States of America
Group H: Sweden, Faroe Islands, Islamic Republic of Iran, Burundi

Photo: Jozo Cabraja / Kolektiff Images