Japan

Coach: Ulrik Kirkely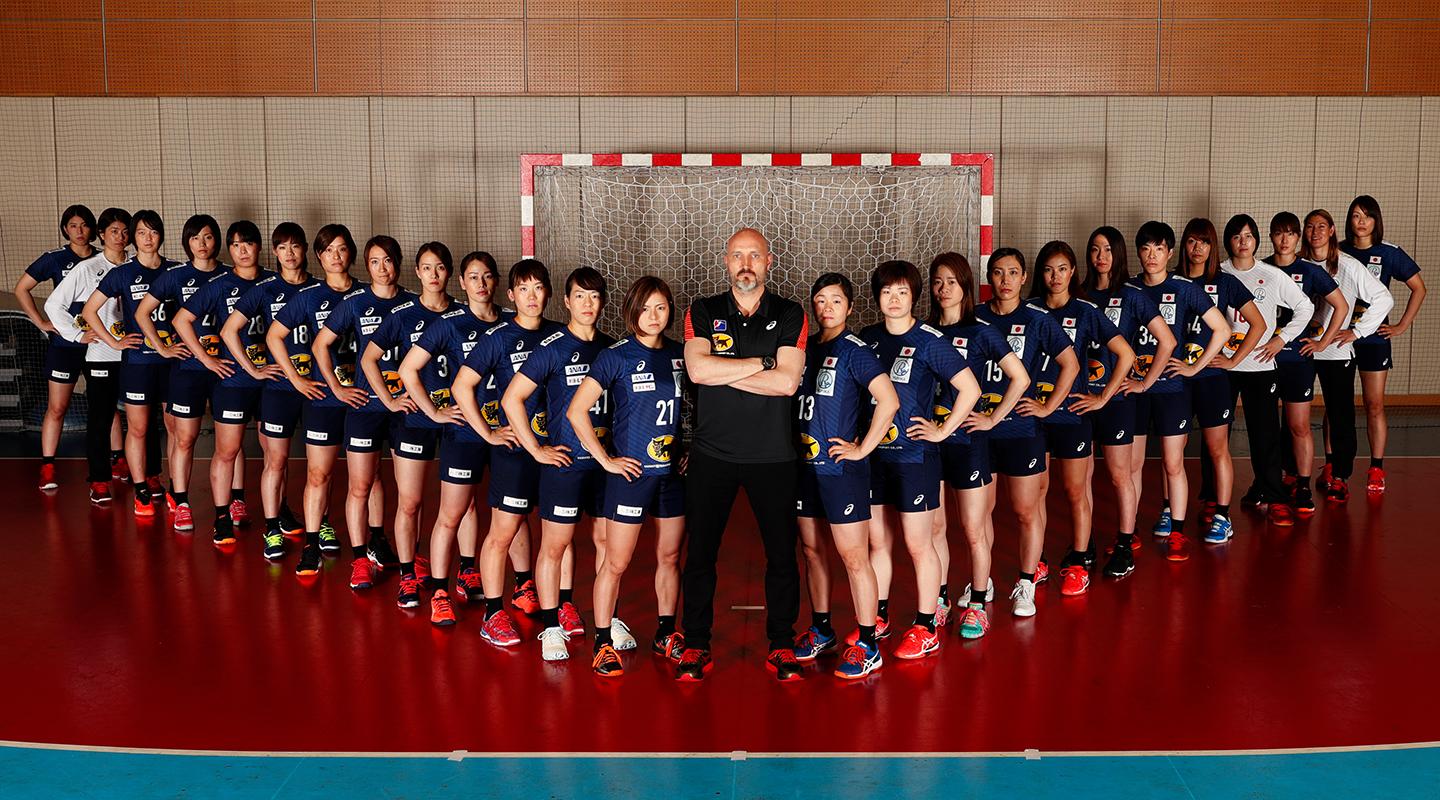 Japan
Japan
Team Players
Team Info
They made their Olympic debut when the women's game made its Olympic debut – at Montreal 1976 – but since then, for 45 long years, Japan's women have failed to taste the Games again.
However, as hosts, they get a free pass to Tokyo 2020 and will be looking to inspire a generation at home as the squad gets the chance to perform at the highest level once again.
And they get off to the toughest possible start – an opening morning (9:00) match against world champions the Netherlands, who won the title in Japan at the 2019 IHF Women's World Championship held in Kumamoto.
That national team match-up has many links at club level through Danish side Odense Håndbold. 
The 2020/21 Danish league and cup champions are coached by Ulrik Kirkely, also the head coach of Japan, and also feature Japanese right winger Ayaka Ikehara, who scored 23 goals in the DELO EHF Champions League this season where Odense were knocked out in the play-offs by eventual winners Vipers Kristiansand. The team also features a trio of Dutch superstars in Tess Wester, Lois Abbingh and Nycke Groot, so Kirkely will have some tactical insight into their opening day opponents.
Odense has also been the base for an intense Japanese Tokyo 2020 preparation camp which has seen the national team and club side train and play together across a long period in May and June.
Since taking the role in June 2016, and with a one-year extension until 2021 due to the postponement of the Games, Dane Kirkely has overseen a transformation of the side as they look to at least equal, if not overtake their great rivals and Republic of Korea in the region.
In fact, they will be able to see how far they have progressed almost immediately as they test themselves against the Koreans in just their third game at Tokyo 2020, reigniting the rivalry which was last tasted in the 2018 AHF Women's Asian Championship final.
Since 2018, a 10th place out of 24 teams on home soil at Japan 2019 was gained, representing their best-ever finish relatively-speaking, despite higher rankings gained in earlier championships (7th, 9th) when there were just eight or nine teams involved.
In Kumamoto, group wins against Argentina, DR Congo and PR of China were coupled with losses against Sweden and Russia, despite drawing at half-time (16:16) against the eventual Russian bronze medallists.
Main round losses followed, against Tokyo 2020 opponents Montenegro (26:30) and Japan 2019 runners-up Spain (31:33), highlighting that European teams were not so far away from being caught; however, Japan saved their best until last, easily beating Romania 37:30 in a match where they led by 10 at the break (18:8).
The Odense training camp, the first time that the Japan squad could come together since Japan 2019 due to the COVID-19 pandemic, took place from 17 May to 7 June and saw Kirkely call up 23 players as he looks to choose his 15 for the final tournament.
The year postponement of Tokyo 2020 has been kind to his team as he was able to welcome back previously-injured players who missed Japan 2019, including captain Nozomi Hara (left back), Aya Yokoshima (centre back) and Minami Itano (goalkeeper).
Alongside Ikehara, Asuka Fujita also plays her club handball in Europe, at CS Minaur Baia Mare in Romania, as the squad embraces a global influence. With the majority of the squad playing in the Japan Handball League (JHL), the European training camp provided the opportunity for the players to regain the feeling of playing with the physically bigger European players and different playing style.
The Denmark camp was also the continuation of near-constant contact training with the squad since the JHL finished in March, mainly at the Ajinomoto National Training Center, and following their return to Japan six weeks before the Games, Kirkely and his squad will hope for some further friendly matches as they finish their final preparations. The split between Japan and Europe has been a common theme since Kirkely took over. 
"For our fans it will be amazing to see the best players with a group including Norway, and their players who have won a lot of medals, [plus] it will also be interesting to play against Korea in Japan," said Kirkely.
"Everything will be tough, but we are looking forward to playing these Olympic matches in Tokyo. We have two very good World Championships behind us, in 2017 and 2019. The last one in Kumamoto, in 2019, is very close to our hearts because it was also home soil and we had a good feeling about that and we have had good results.
"The Angola match will be key," he added. "Then hopefully we can find at least one or even two more victories in our group so we qualify for the quarter-finals. With the Netherlands, Montenegro and Korea, we have had many close and intense matches over the past few years, so if this can happen again it will be fantastic.
"When Norway plays in the biggest tournaments, they are on a very upper level, and that will be our last match in the group. So let's see. We are all very proud to be part of national team of Japan, and we are prepared and will be ready for the Olympics in our own country, hopefully playing in front of our Japanese fans.
"There is no easy match for Japan in the Olympic Games but one of our strengths is that when we play against the best, we create our best handball.
"It is important that we keep to our own playing style and our own playbook because they are created against our opponent teams who are not used to how we play. We have good possibilities."
Ikehara was injured for most of Japan 2019 and will be joined by captain Nozomi Hara, who did not feature at all, in making up for lost time at Tokyo 2020.
"As the host nation team, we have all made tremendous efforts and looked forward to Tokyo 2020 with Ulrik for the past five years so we are more determined than anyone else," said Hara to ihf.info.
"We want to enjoy playing on the big stage of the Olympic Games and at the same time, we hope our games will transmit our 'Brave Heart' to the people in Japan and in the world amid this pandemic.
"Our first goal is to go through to the quarter-finals, so we want to make a good start from the first match by playing handball in our style. Our strength is our high mobility and organisation."
Along with Hara, who plays her club handball in Japan with Mie Violet Iris, Fujita and Ikehara, left back Haruno Sasaki is one to watch, having finished as Japan's top scorer at Japan 2019, with 40 goals and Norwegian-Japanese goalkeeper Sakura Hauge Kametani who was Kirkely's number one choice at Japan 2019, going on to save 30% of all shots faced. She plays her club handball in France, with ESBG Besancon. 
Japan can also count on the experienced centre back Mayuko Ishitate, who had a spell in Hungary before returning to Japan, where she now plays for Mie Violet Iris.
 
Key players: Nozomi Hara (left back), Asuka Fujita (right wing), Sakura Kametani (goalkeeper), Ayaka Ikehara (right wing), Mayuko Ishitate (centre back), Haruno Sasaki (left back)
Qualification for Tokyo 2020: Hosts
History in Olympic Games: 1976: 5th
Group at Tokyo 2020: Group A (Angola, Republic of Korea, Norway, Montenegro, Netherlands, Japan)