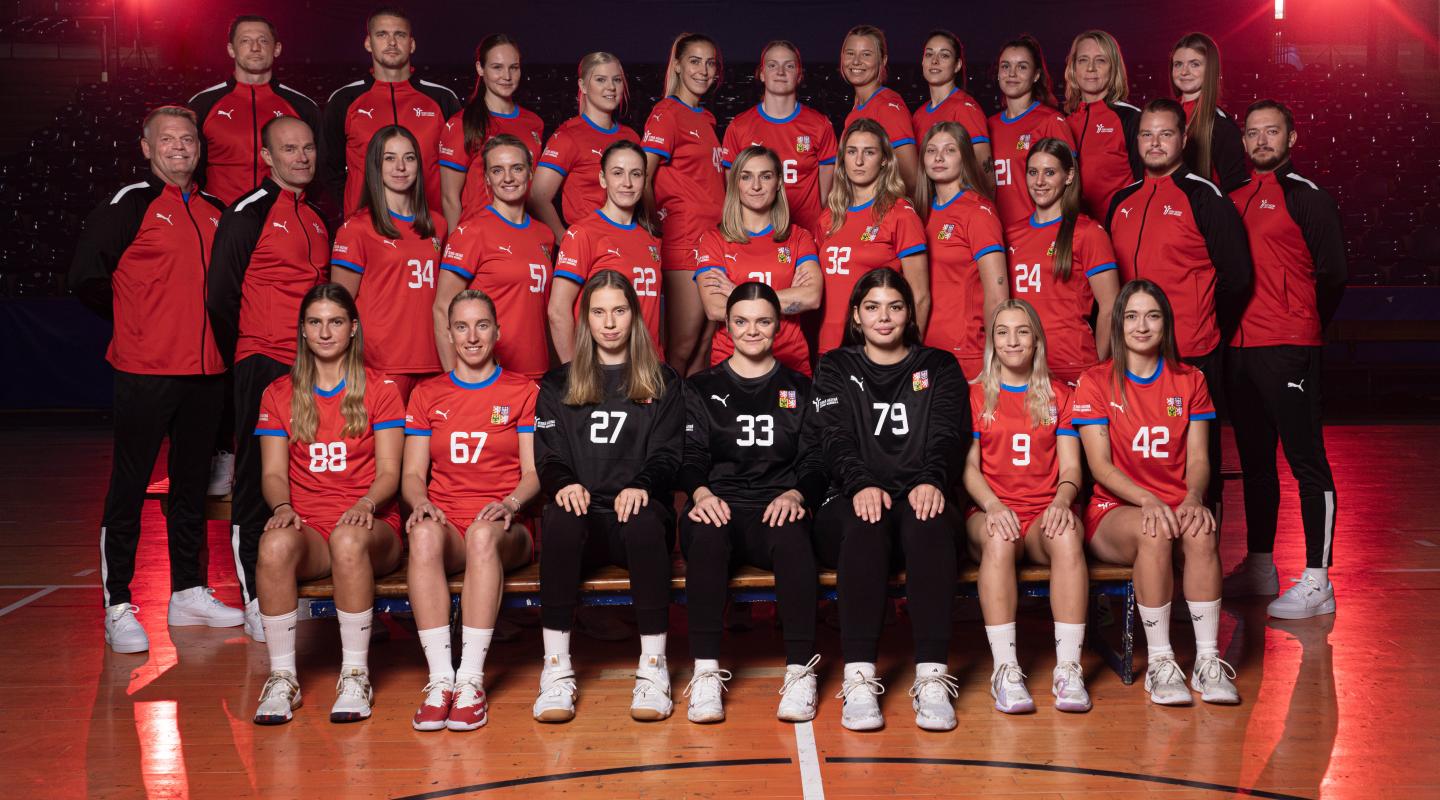 Czechia
Czechia
Team Players
Team Info
The Czech Republic has a rich handball history, as Czechoslovakia won a title in 1957 and had several top-10 finishes up until 1993. Since, Czechia's best outcome was at the Women's IHF Handball Championship 2017 in Germany, when they reached the quarter-finals and finished eighth.
After missing out on the World Championship 2019 and EHF EURO 2022, with a 19th place at Spain 2021 in between, the Czech Federation decided to take a new turn and parted ways with head coach Jan Basny. In June 2022 Norwegian coach Bent Dahl took over the team, with high ambitions for Czechia.
Winning against Switzerland in the battle to secure a place at the Denmark/Norway/Sweden 2023 was Dahl's first test and he passed it with flying colours. Ahead of the Denmark/Norway/Sweden 2023 Dahl's staff welcomed assistant coach Daniel Čudi to the team to give an additional new view, especially in individual approach in attack and defence.
Compared to Spain 2021, Czechia will miss right wing Jana Knedlikova. The experienced player, who won five titles on the trot in the EHF Champions League Women with Gyor and Vipers, bid farewell to the national team in the IHF Women's Handball Championship 2023 qualifications and had a chance to say goodbye to the fans on the home ground in Brno.
However, the Czech Republic have a strong back court line with star Markéta Jeřábková leading the pack. An EHF Champions League winner and the MVP of the EHF FINAL4 in Budapest two seasons ago is shining in Ikast Håndbold this season and will make a great duo with Charlotte Cholevová in the back line. The duo scored 25 out of 61 Czech goals in the EHF EURO 2024 qualifiers held in October 2023.
The Czech Republic have a good mixture of youth and experience and have a good chance of getting a good result at Denmark/Norway/Sweden 2023 from Group H. Their greatest rival will be the Netherlands, the second European team of the group with whom they already played two times at the World Championships. In 1999 the Netherlands won 25:21. Dutch players were also the winning side in the 2017 quarter-final clash, winning 30:26 but still, Czechia reached their best finish in 20 years.
The 2017 edition was also the first and last time so far the Czech Republic clashed with Argentina, beating the South American team 28:22. The same was at Spain 2021 with Congo when Czechia won 24:21.
Key players: Markéta Jeřábková (left back), Veronika Malá (left wing), Charlotte Cholevová (right back)
Qualification for Denmark/Norway/Sweden 2023: Qualification Europe Phase 2 - Winners versus Switzerland (68:58 on aggregate)
History in tournament: 1957: 1st, 1962: 3rd, 1965: 4th, 1973: 6th, 1975: 6th, 1978: 4th, 1982: 5th, 1986: 2nd, 1993: 9th (as Czechoslovakia), 1995: 13th, 1997: 13th, 1999: 19th, 2003: 15th, 2013: 15th, 2017: 8th, 2021: 19th
Group at Denmark/Norway/Sweden 2023: Group H (Netherlands, Czech Republic, Argentina, Congo)