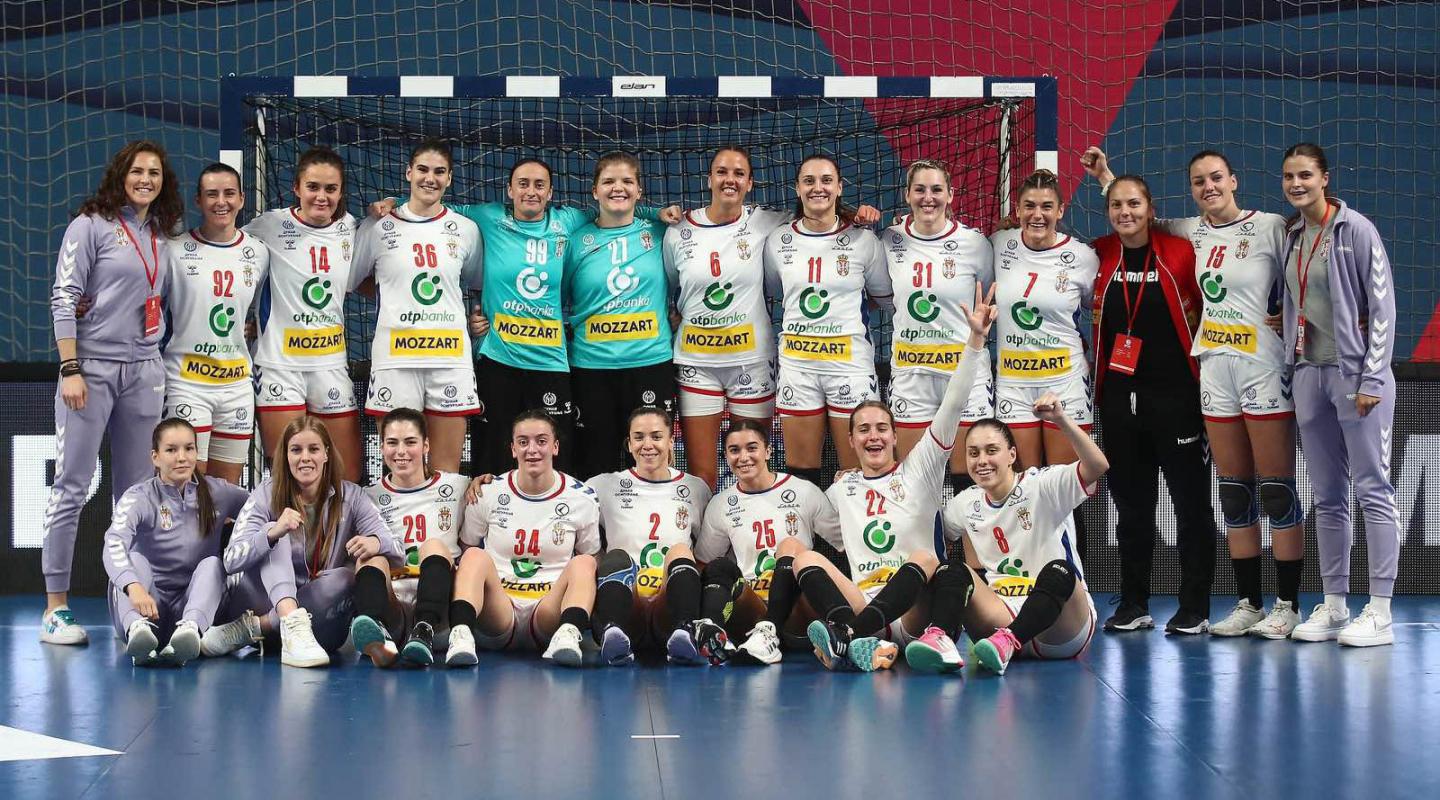 Serbia
Serbia
Team Players
Team Info
When Uros Bregar took over in April 2021 just in time for the 2021 IHF Women's World Championship, Serbia were hoping it would bring long-awaited results. But the newly-appointed head coach had a huge challenge on his hands: to deal with the absence of key players such as Andrea Lekic, Katarina Krpez-Slezak and Dragana Cvijic, who have all retired from the national team
Two years later, Bregar has a somewhat similar situation. The qualification round 2 doubleheader against Türkiye saw the farewell of five players that have marked one era of the Serbian team, who said goodbye in style, with a 65:49 aggregate win. Jovana Stoiljkovic, Jelena Lavko, Kristina Liscevic, Tamara Radojevic and Kristina Graovac played their last national team match in front of their fans in Belgrade. Stoiljkovic, Liscevic and Lavko were the trio that won the silver medal at the World Championship 2013.
Serbia is turning the page and will see young talents join the side to make a perfect mixture with the rest of the experienced individuals. The plan was to integrate them since September 2023, easing the players into the squad, with plenty of those being able to make their debut in a major international competition at Denmark/Norway/Sweden 2023. Building a team for the future was always one of Bregar's main goals.
Serbia gave been drawn in group E with Denmark, Romania, Serbia and Chile. Denmark and Serbia have a rich history between them, meeting ten times in the last 13 years. Serbia managed to beat Denmark three times and also drew at the 2019 IHF Women's World Championship.
The last time they went head-to-head against Romania was in the qualifications for the World Championship 2015 when both sides ended with a win. Chile is a new opponent for the Serbian team and they could be their decisive clash in the group.
"We got a host, honestly I like it the most because we will be watched by a large number of fans. Denmark played in the final of the last EHF EURO and is the absolute favourite in the group. They have been playing really well for the last few years. At the previous European Championship, Romania played very well and was close to getting to the semi-finals."
"Just ilke us, they, started rejuvenating the team. I have to say that we were lucky to draw Chile and avoid teams like Iceland and Austria. Thanks to this draw, we are favourites to progress to the main round. The primary thing is to get through the group with the new national team and to play at least six games," said head coach Uros Bregar.
Key players: Sanja Radosavljevic (left wing), Andjela Janjusevic (right back), Marija Colic (goalkeeper)
Qualification for Denmark/Norway/Sweden 2023: Qualification Europe Phase 2 - Winners versus Türkiye (65:49 on aggregate)
History in tournament: 1957-1990: part of Yugoslavia, 1993-2005: part of Serbia and Montenegro, 2013: 2nd, 2015: 15th, 2017: 9th, 2019: 6th, 2021: 12th
Group at Denmark/Norway/Sweden 2023: Group E (Denmark, Romania, Serbia, Chile)