Brazil aim for another good outing at Denmark/Norway/Sweden 2023
16 Nov. 2023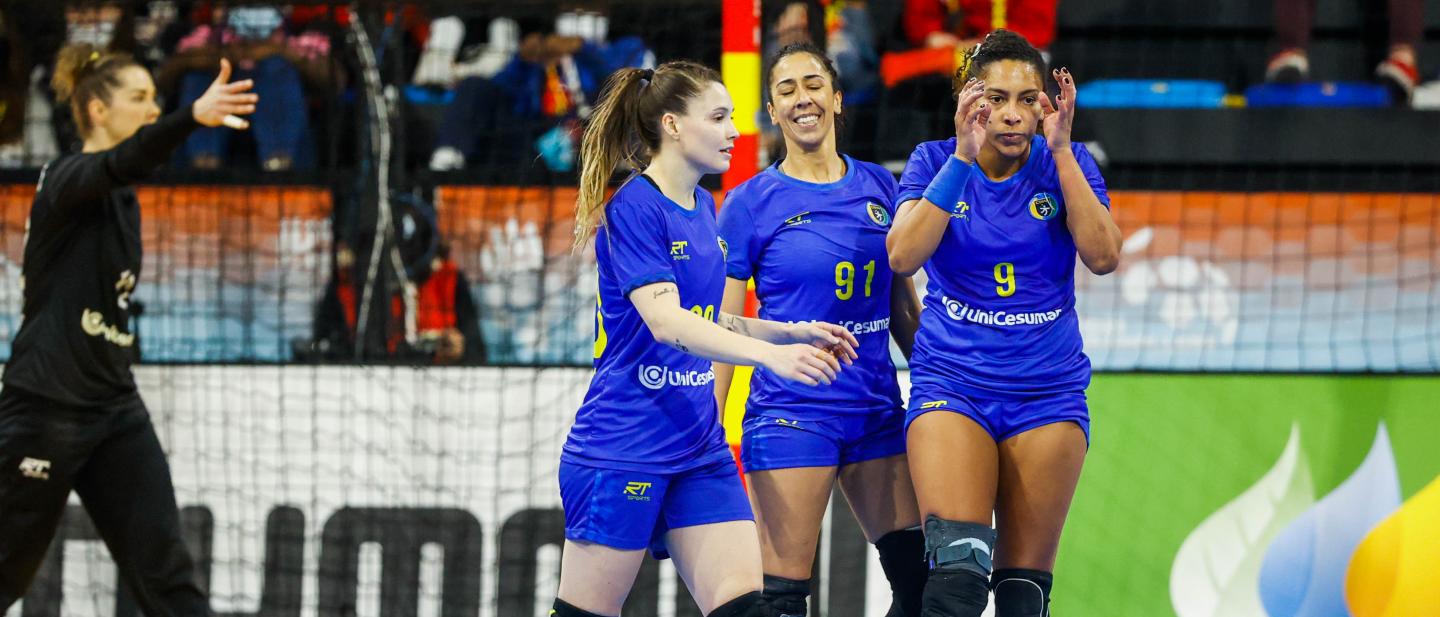 Brazil's golden generation, which has delivered one of the biggest upsets in the history of the IHF Women's World Championship, winning the title at Serbia 2013, has been slowly heading to retirement, as several crucial players from that title-winning squad, like Eduarda Amorim, are no longer part of the South American team's setup.
Since that huge surprise, Brazil have made the top 10 at the world handball flagship competition twice, at Denmark 2015, when they ended up in tenth place, and at Spain 2021, where they finished sixth, making the quarter-finals after some excellent results.
This time around, Brazil come with big ambitions, especially after the draw lent a helping hand, with the South American powerhouse heading into Group G, where they face Spain, Ukraine and Kazakhstan, being favoured to finish between the top two sides in the group.
Talent has never been a problem for Brazil, as several players stepped up after the change of generations, with centre back Bruna de Paula Almeida taking over the mantle as the leader of the squad. The 27-year-old star has shined in the past years for Metz Handball and now moved to Győri Audi ETO KC, after being the top scorer of the 2022 South and Central American Women's Handball Championship.
The 2022 South and Central American Women's Handball Championship was also the pathway for Brazil to secure a place at the IHF Women's World Championship, with the powerhouse clinching their 14th consecutive berth at the world handball flagship competition, by winning the continental competition.
Brazil won their third consecutive continental title by sweeping their opponents, with the 26:19 win against Argentina being the pivotal moment of the competition, as Cristiano Silva's side secured their fourth win in a row to lift the title.
With plenty of players based in Europe, like Bárbara Arenhart, Tamires Morena or Francielle Da Rocha, Brazil have both the experience and firepower to be back between the top sides at Denmark/Norway/Sweden 2023, aiming as high as possible, with a return between the top 10 teams in the competition on the cards.
Key players: Bruna de Paula Almeida (centre back), Bárbara Arenhart (goalkeeper), Tamires Morena (line player)
Qualification for DEN/NOR/SWE 2023: 2022 South and Central American Women's Handball Championship: Winners
History in tournament: 1995: 17th, 1997: 23rd, 2001: 12th, 2003: 20th, 2005: 7th, 2007: 14th, 2009: 15th, 2011: 5th, 2013: Winners, 2015: 10th, 2017: 18th, 2019: 17th, 2021: 6th 
Group at DEN/NOR/SWE 2023: Group G (Brazil, Spain, Ukraine, Kazakhstan)