Republic of Korea

Coach: Kang Jae Won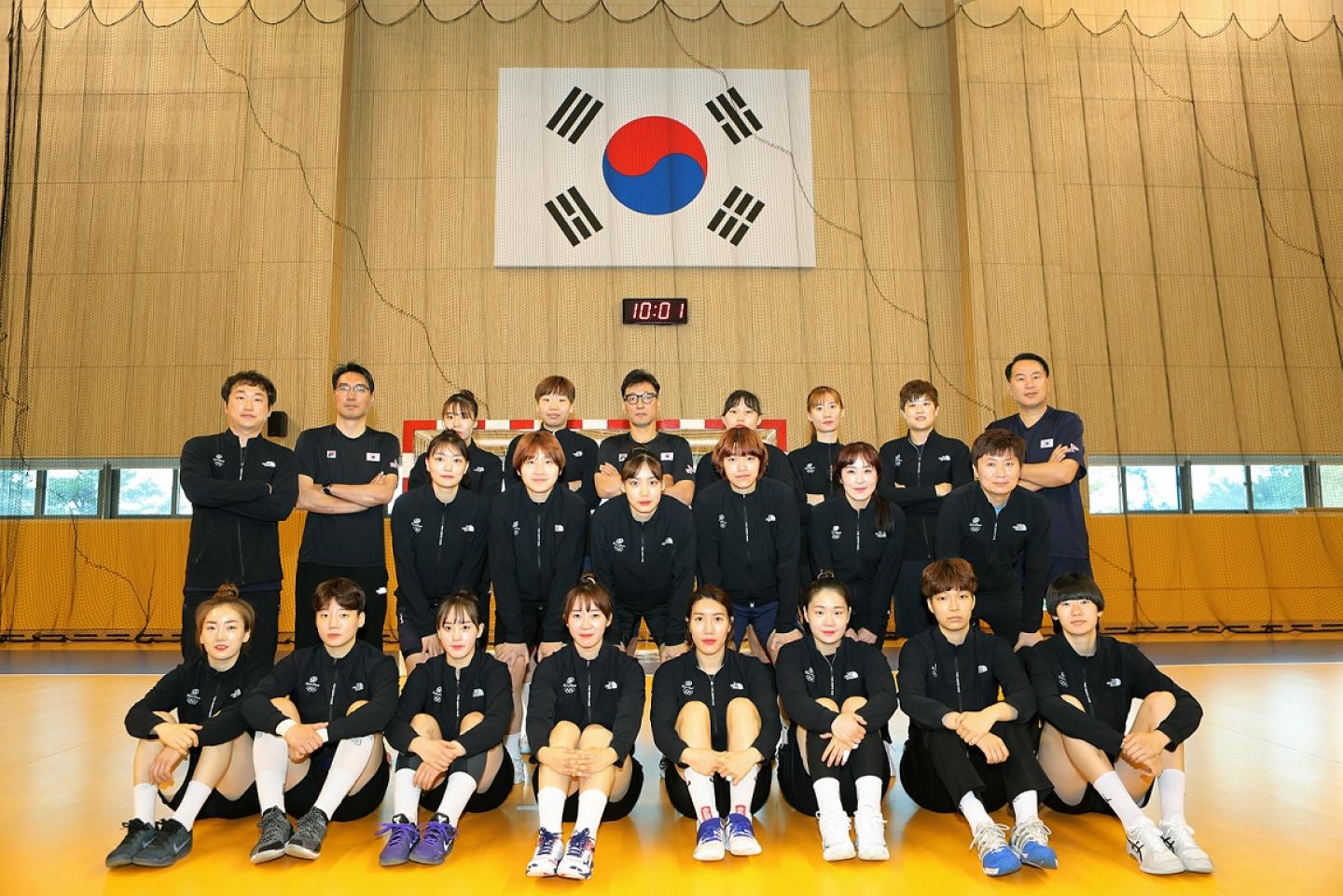 Republic of Korea
Republic of Korea
Team Players
Team Info
Having been champions in 14 of the 17 Asian Women's Championships editions to date, it is business as usual for Republic of Korea to qualify for IHF Women's World Championships.
Korea won the 17th Asian Women's Championship in Kumamoto, Japan last December, going undefeated in their preliminary group then overcoming an eight-goal deficit against Kazakhstan in the semi-final 31:23. They then went on to defeat Japan 30:25 thanks to 11 goals from Ryu Eun Hee.
Earlier in 2018, Korea also had won the 18th Asian Games defeating China 29:23 in the final after remaining undefeated in the preliminary group as well.
Most recently, Korea won the 2019 AHF Women's Asian Olympic Qualification Tournament in Chuzhou, China, defeating all five of their opponents in the round-robin tournament: versus China (32:20), People's Republic of Korea (39:21), Kazakhstan (29:25), Hong Kong (41:13) and Thailand (40:14). Korea's Jo Ha Rang ended as the joint top scorer with 29 goals.
The tournament win secured their record of qualifying for every single women's Olympic Games handball competition since the Los Angeles 1984 Olympic Games. 
Coach Kang Jae Won has coached Korea before but will be celebrating 12 months in the job when Japan 2019 starts. He brings a wealth of experience and success as both a player and coach. As a player, the right back won silver at the 1988 Olympic Games, alongside numerous Asian Games and Asian Championships as well as winning the 1989 IHF Men's World Handball Player of the Year award.
After finishing his playing career in Switzerland he took up coaching in the European nation at club level and with the USA women's national team before returning to Asian to oversee club teams in Japan and then the China national team and Korea's women's team in 2010, the first of a number of spells with his nation. 
Right back Ryu Eun Hee is the golden child of Korean women's handball, winning the Most Valuable Player (MVP) awards in the Korean regular league and championship.
As part of a concerted efforts to get their best talents exposed to European handball, the player recently moved to Paris 92 in France and will use all her defensive and attacking skills, plus experience at the 2012 and 2016 Olympic Games to make a name for herself in France.
Eun Hee signed a two-year deal with the ambitious club in April, where she plays alongside 2009 IHF Women's World Handball Player of the Year, Allison Pineau. She is the first female player from the Asian nation to play for a European club since Oh Sung-ok did for Hypobank in Austria in 2011.  
"Ryu has got a chance to grow even further and her experience in Europe will not only have positive impacts on her but also on the national team," said Jae Won, who coached Eun Hee at his club, Busan Infrastructure Corporation, and who helped facilitate the move to France.
Finishing up the trio of key players is goalkeeper Park Sae Young. She made the most saves last season in the Korean league and ended up as the best goalkeeper in the Olympic Qualification Tournament with 43 saves and a 42.2 percent save rate – the highest number of saves and highest save ratio percentage.
"We expect it be difficult because there are many strong teams in Europe and South America," said Kang Jae Won about their Japan 2019 group. "The defending champions France are still strong especially, so it is expected to be our most difficult match, but the goal in Japan is to improve our performance against our recent world championship results and will make every effort to prepare for the Olympic Games.
"Korea has fast speed and Korean-specific tactics, plus we have good teamwork and the combination of veteran back lines and young players," he added. "It seems to be difficult to predict who will win every world championship, but Korea, for sure, will do our best in every game."
In July, Korea completed a training camp in Hungary and played friendly matches against the Hungarians. At the end of November they participate in the Seoul Cup against Hungary, Serbia and Russia.
"We think our training camp has been very productive," said Jae Won. "We've gotten a lot of work done."

Key players: Ryu Eun Hee (right back), Park Sae Young (goalkeeper)
Qualification for Japan 2019: 2019 AHF Women's Asian Championship – Winners
History in tournament: 1957-1975: DNP, 1978: 10th-12th, 1982: 6th, 1986: 11th, 1990: 11th, 1993: 11th, 1995: Gold (1st), 1997: 5th, 1999: 9th, 2001: 15th, 2003: Bronze (3rd), 2005: 8th, 2007: 6th, 2009: 6th, 2011: 11th, 2013: 12th, 2015: 14th, 2017: 13th
Group at Japan 2019: Group B (France, Denmark, Germany, Republic of Korea, Brazil, Australia)