Russia

Coach: Ambros Martin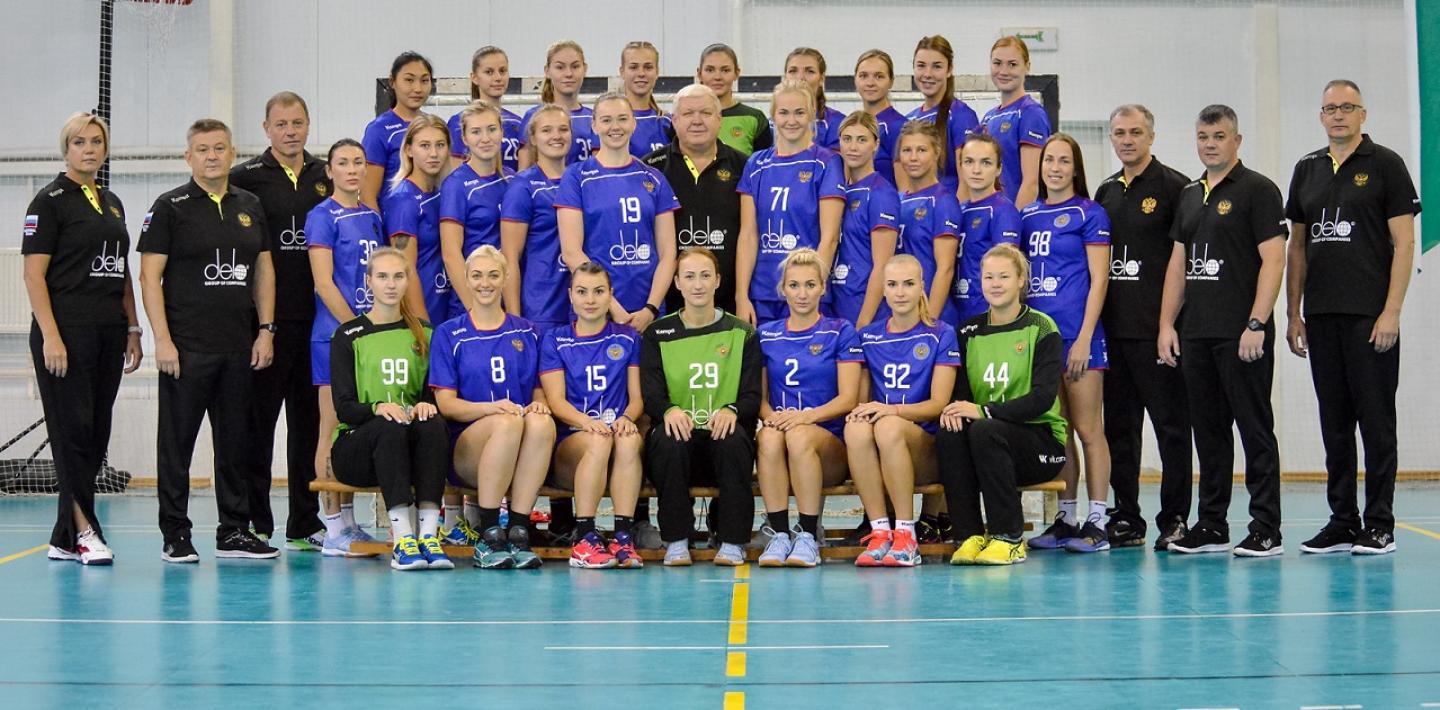 Russia
Russia
Team Players
Team Info
Japan 2019 is a watershed moment for the 2016 Olympic Games Champions.
As part of the Soviet Union, they won six medals from 1973 to 1990 – including gold in 1982, 1986 and 1990. As the Russian Federation, they dominated women's handball throughout the 2000s, winning four world titles from 2001 to 2009, but have not made it to the podium since, finishing fifth or sixth and not even qualifying in 2013.
In August, the Handball Federation of Russia (HFR) announced that 2016 Olympic Games gold-medal winning coach Evgeny Trefilov would step down as head coach of both the Russian women's national team and his club, Kuban to take up two new positions due to health problems, Vice-President of the HFR and Honorary President of Kuban.
Trefilov headed the women's Russian national team from 1999 to 2012, as well as from 2013 to 2019 which saw an unpreceded period of success at the IHF Women's World Championship with four gold medals (2001, 2005, 2007, 2009), plus another Olympic medal – silver at Beijing 2008.
His successor, Ambros Martin, guided his club to a silver medal at the Women's EHF FINAL4 last season and was also recently head coach of the Romanian women's national team, where, missing the injured Cristina Neagu, they narrowly lost to the Netherlands in the bronze medal match at the 2018 EHF EURO in France.
Martin hopes he can reignite the spirit of Rio 2016, where Daria Dmitrieva and Polina Kuznetsova were elected to the All-star team and Anna Vyakhireva was named MVP, as well as from the second place finish at the Women's EHF EURO 2018.
Right Back Anna Vyakhireva, who can also play right wing, is considered one of the most skilled and gifted players in Russian handball. She won the 2011 W17 European Championship and 2013 W19 European Championship where she was named MVP. Her MVP at Rio 2016 was in recognition of her 36 goals and 26 assists which she bettered with yet another MVP award at the 2018 EHF EURO with 43 goals and 41 assists. 
Polina Kuznetsova, who has played under Martin at Rostov-Don has also had a lot of success with the national teams, winning the W17 European Championship and later the W19 European Championship. At senior level she won the 2005 and 2007 World Championships and silver at the 2006 EHF EURO. 
At Rio 2016 she was named the best left wing and she was also a member of the All-star Team at the 2007 World Championship and 2006 EHF EURO.
Finally, goalkeeper Anna Sedoykina is one of the most experienced players on the Russian team. The 35-year-old is an eight-time Russian champion, winner of the EHF Cup, Rio 2016 Olympic Games champion, 2009 world champion 2009 and silver (2018) and bronze (2008) EHF EURO medallist.
"We take every opponent in the group very seriously," said Russia's left wing Polina Kuznetsova about their preliminary group. "This is the top tournament and there are no weak teams at this stage. We have one simple goal; to win the World Championship and qualify directly for the 2020 Olympic Games in Tokyo.
"I think that the major contenders are Norway, France and ourselves," she added. "There are strong players for every position in our team. Furthermore, we have strong players on the bench as well who are eager to get the chance and show what they are capable of on the court. We have a nice team spirit and a nice head coach in Ambros."
Martin and his team participate in three training camps, including the EHF EURO 2020 qualifiers against Slovakia and Switzerland in September as well as further camps in October and mid-November. They take part in the Seoul Cup against Hungary, Serbia and hosts Korea at the end of November.

Key players: Anna Vyakhireva (right back), Polina Kuznetsova (left wing), Anna Sedoykina (goalkeeper)
Qualification for Japan 2019: EHF EURO 2018 – Second place
History in tournament: 1957: DNQ, 1962: 6th, 1965-1971: DNQ, 1973: 3rd, 1975: 2nd, 1978: 2nd, 1982: 1st, 1986: 1st, 1990: 1st (all previous as Soviet Union), 1993: 5th, 1995: 6th, 1997: 4th, 1999: 12th, 2001: 1st, 2003: 7th, 2005: 1st, 2007: 1st, 2009: 1st, 2011: 6th, 2013: DNQ; 2015: 5th, 2017: 5th
Group at Japan 2019: Group D (Russia, Sweden, Japan, PR of China, Argentina, DR Congo)