Germany

Coach: Alexander Novakovic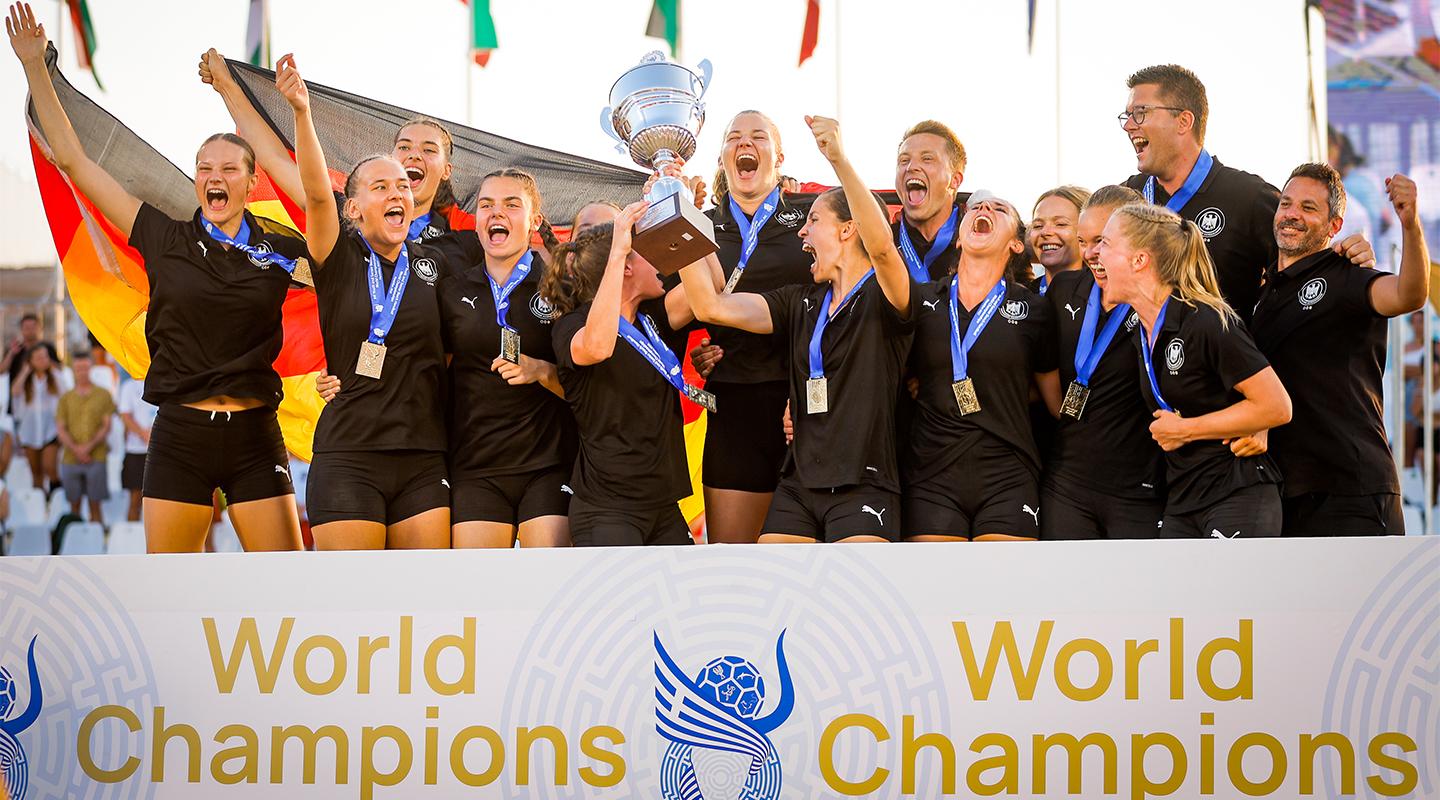 Germany
Germany
Team Players
Team Info
Unbeaten in two championships, 18 games won in less than a year. European and world champions.
It is not simply a question of who can beat Germany, it is a question of who can win a period off of them as they took gold at the 2022 IHF Women's Beach Handball World Championship in Greece last month without losing one. When they won the European championship last year, they only lost two.
Because of this, they come to Alabama as the best in-form team out of all 13 in both the men's and women's competitions.
It is 13 because both Denmark teams' flights were cancelled and they were unable to secure a replacement flight in time, plus Vietnam unable to secure their visas in time, the women's preliminary group stage at The World Games 2022 has been adjusted.
This means now that the women's preliminary stage will consist of a round-robin group of six teams instead of the two planned groups of four teams each. Argentina, United States of America, Australia, Norway, Germany and Mexico will all play each other once and the top four teams will go straight through to the semi-finals.
That 2022 World Championship was the first return to the event for Germany since 2006 when they made their debut and finished second. It had followed a silver at the beach handball The World Games debut in 2001 and the fifth place in 2005.
However, at that point, beach handball quickly went down the agenda in Germany and the programme ended. However, since the late 2010s, the German federation took a second look and now it is reaping its rewards.
Coach Alexander Novakovic is even supplying players to the indoor German women's side, such as goalkeeper Katharina Filter, plus a legendary German handball name in Lucie-Marie Kretzschmar, daughter of Stefan, as she is making her own name on the sand.
In Greece, Germany beat Birmingham rivals Norway 19:14, 27:20 and Argentina 18:16, 19:15 – Novakovic even squeezed in a completely-different squad of 10 in between the World Championship and The World Games, to play on the first stage of the Beach Handball Global Tour.
Of course, his side in Alabama has changed back to the Greece gold medallists, the most impressive of whom can arguably be Amelie Möllmann, who was named the best right wing in the All-star Team. 
Can anybody stop them?
 
Key Players: Katharina Filter (goalkeeper), Isabel Kattner (pivot)
Qualification for Birmingham 2022: Women's EHF Beach Handball EURO 2021 – 1st place
History in tournament: 2001: 2nd, 2005: 5th, 2009-2017: DNQ