Look Back: The World Games Wroclaw 2017 – Women's competition
07 Jul. 2022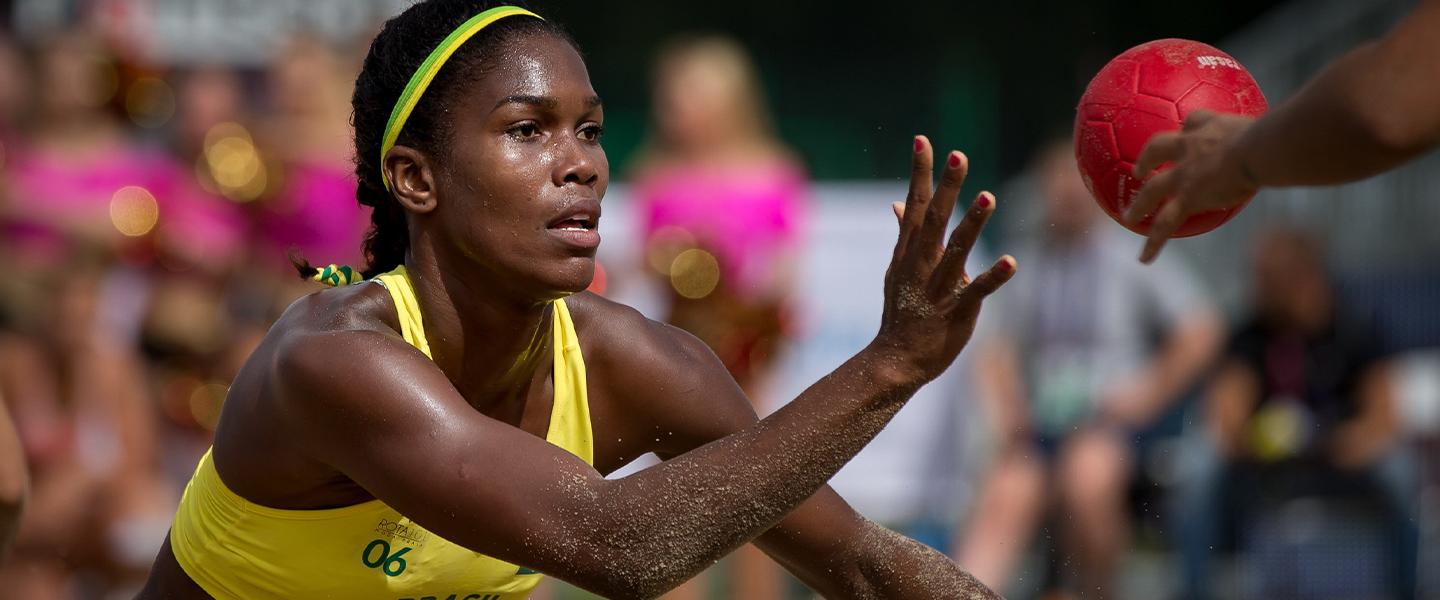 With the 2022 edition of The World Games in Alabama, United States of America, starting today and the beach handball competition throwing off on Monday, ihf.info takes a look at the last event, held in Poland five years ago.
 
Wroclaw, Poland was awarded hosting rights for the 10th edition of The World Games in January 2012 at the Executive Committee meeting of the International World Games Association in Lausanne, Switzerland.
It was the second time beach handball would appear at the multi-sport event as an official sport, after its full debut at The World Games 2013 in Cali, Colombia.
Beach handball had been part of The World Games since it was introduced as a demonstration/invitational sport back in Japan in 2001, with Germany (2005) and Chinese Taipei (2009) following.
The event: The second official appearance of beach handball at The World Games featured eight teams competing in Marsowe Fields in Wroclaw, Poland, from 26 to 29 July 2017.
What was new: The first time The World Games had followed an IHF Men's and Women's Youth Beach Handball World Championship after the debut event had completed in Mauritius earlier in July.
The competition: Two preliminary groups (Groups A and B) of four teams each. Each group featured six games, with each team playing each other once. 
Following the conclusion of the preliminary group stage all eight teams went directly into quarter-final ties depending on their final group position. 
Then it was a straight knock-out with quarter-finals, semi-finals and medal matches played, plus a 5-8 placement round.
Who won: Brazil.
You can view the mini-site on the IHF Archive here. 
Review: After winning the 2016 IHF Women's Beach Handball World Championship in a dramatic final against Brazil, Spain came to Wroclaw full of confidence and looking to win their first-ever The World Games title.
They knew at some point it was likely that then title-holders and best-ever women's beach handball team historically, Brazil, would block their way to the top of the podium, but they would also have to be wary of the threat from any number of other nations.
One of those nations could be Norway, who came to Wroclaw as 2017 European champions. This had followed on from their 2016 World Championship bronze – the same colour of medal they won at the The World Games 2013. 
The Norwegians travelled to Poland with a then 23-year-old left back Maren Aardahl, who was awarded Most Valuable Player at the continental championship and a player who those in the 'indoor' world would get to know in 2021, when she was named in the Norway squad for the 2021 IHF Women's World Championship in Spain.
Argentina were in their last championship before hosting the Youth Olympic Games Buenos Aires 2018 but chose an experienced team ahead of what would prove to be a legacy event for the sport in their country the following year. Their assistant coach in Poland was none other than Leticia Brunati. She would later lead the women's youth team to Olympic gold.
Brazil had entered Wroclaw 2017 with financial issues relating to the Brazilian Handball Confederation – a situation not experienced before by the team. They had to set up a crowdfunding campaign to secure their participation in the event – not unknown to many other teams in beach handball.
"We only practiced for eight days, two times a day. But our girls are really experienced," said Brazil coach Marcio Magliano who was coaching in his debut The World Games.
"Each one of them was playing at the last World championship so they are used to the pressure. I tried to implement some innovations according to how I believe the game should be played. I'm really curious about the implementation of these changes and I hope it will go well."
 
The Most Valuable Player (MVP) of Cali 2013, Camila Ramos, came to Wroclaw with the highest expectations: "All the teams are really good, we have to work hard if we want to beat all of them. I consider Spain, Poland and Norway – the three medallists from this year's European Championships – our biggest rivals."
She was not proved wrong. Spain, Poland and Norway all ended the first day of preliminary action with two wins each – but it was not all plain sailing.
World champions Spain opened the beach handball programme at Wroclaw 2017 against Argentina, and in a sign of things to come, the South Americans pushed the Europeans hard, with the game going to a shoot-out after Argentina's strong defence had restricted Spain to just nine second-period points. Spain's Raquel Cano Dominguez scored the winning point which won them the shoot-out 5:4. Spain would later beat Tunisia 2-0.
Norway also saw off Tunisia by the same score, but went one better against Argentina than Spain did, defeating them 2-0. 
Brazil ended the opening day with a double 2-0 series, untroubled in their games against Australia and Poland, while Chinese Taipei lost both of theirs 0-2, against Poland and Australia.
On the second day, Spain continued their losing streak against Norway in championship group matches, going down 0-2 in wet and cold weather conditions, reflected by the alternate kits worn by the players. Spain had lost in the last two previous World Championship main rounds against the Norwegians before seeing them off when it counted, in the 2016 World Championship semi-final.
Brazil secured their third successive 2-0 win, against Chinese Taipei, Argentina got their first win, and Australia impressed, getting their second, via a 5:2 shoot-out win against the hosts.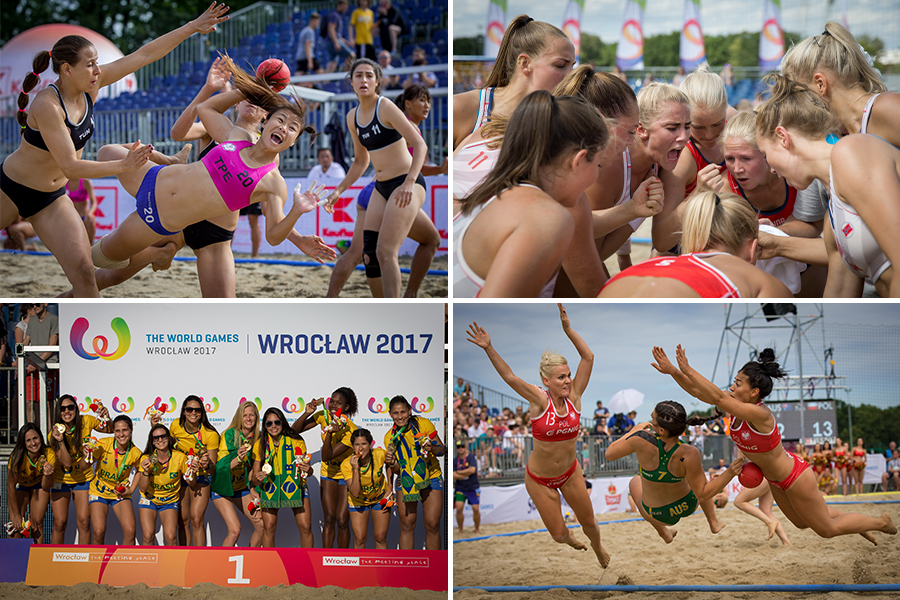 The results from the preliminary round set up quarter-finals of Norway vs Chinese Taipei, Poland vs Spain, Argentina vs Australia and Brazil vs Tunisia which took place in the morning of the third match day.
While there were no surprises in the three of the four matches – Norway, Spain and Brazil all comfortably won 2-0 – there was drama between Argentina and Australia.
The Oceania side had fought back in the second period to grab a six-point victory (18:12) and take the match to a shoot-out after Argentina had won the first period 16:13. Argentina got a second breath and unlike Australia, who netted only two times, the South Americans turned four of their attempts into goals and won the shoot-out 8:4.
"Winning is like a dream," said Argentina's Carolina Ross to ihf.info at the time. "We have been preparing ourselves for a lot of years. We keep on playing our game, catching every opportunity we have."
The hectic schedule then saw the semi-finals of Norway vs Argentina and Brazil vs Spain played later that afternoon.
Argentina secured their first-ever global beach handball medal when another tough, defensive performance was enough to see off European champions Norway in a shock 2-1 victory.
The first four minutes of their encounter saw no goals scored, such was the defensive brilliance – and lack of cutting edge in front of goal – on show.
Finally, goals did start going in and the Europeans went ahead for the first time just after six minutes. They kept their lead to the break, winning 12:9, providing the South Americans with a taste of their own mean defence.
But Argentina proved even harder to break down in the second, Norway only managing to score eight points, but in the lead until the very last moment. It was at this point that Argentina grabbed a 9:8 lead and pushed the game to a shoot-out. The shoot-out started with Norway in the lead, but Argentina levelled and then took a 7:6 victory.
"It's work, work and a hard training," said Rossi. "I could have only dreamt about getting this far and I know it's all because of the team. Our team is fantastic, we support each other inside and outside the field and we wanted to show that to the world."
The other semi-final was more straightforward, with Brazil winning 2-0 (17:13, 15:14) against Spain in a clash between the 2016 world champions and The World Games 2013 champions. The second period was won by a Brazilian golden goal, but Spain were left kicking themselves after winning the throw-off and missing their chance to score first.
Ahead of the Brazil vs Argentina final, the placement matches were sorted with Chinese Taipei beating Tunisia 6:5 via a shoot-out to finish seventh and Poland giving the home fans something to cheer about, taking fifth place with a 2-0 victory over Australia.
"We played great, but we felt a lot of pressure because of the audience," said Poland's Sylwia Bartowiak to ihf.info. "We played for our people and we didn't want to let them down. We are really satisfied with the result as these are our first World Games."
The huge crowd at Marsowe Fields for the final day of beach handball action got their money's worth.
Following those placement games, the bronze-medal match was a classic on paper and in person, too – it was reigning world champions Spain against reigning European champions Norway.
Two almost similar periods with opposite results ensured a shoot-out. First, Spain took the opening period 13:10, but then they threw away a lead in the second, which finished 11:11 and went to a golden goal, warmly taken by Norway (13:11). Norway had some bad luck with their shots, only scoring two points with Spain scoring six to grab the podium spot.
An unlikely South American derby between Argentina and Brazil was the final and it was not surprising that Brazil won it 2-0 (22:10, 15:12) to successfully defend their title. 
The Argentina defence could not cope with Brazil's in-air magic but the silver for the team in blue and white was more than they ever expected and quite literally, drew a line in the sand which would see them eventually overtake their rivals on the continental stage, five years later.
 
"I cannot explain how I feel right now, it's amazing," said Brazil's Juliana Olivera. "We got to play against a country from the same continent which I found really great."
Final Ranking:
1. Brazil
2. Argentina
3. Spain
4. Norway
5. Poland
6. Australia
7. Chinese Taipei
8. Tunisia
What happened next: The 2018 IHF Women's Beach Handball World Championships in Kazan, Russia.