Montenegro

Coach: Kim Rasmussen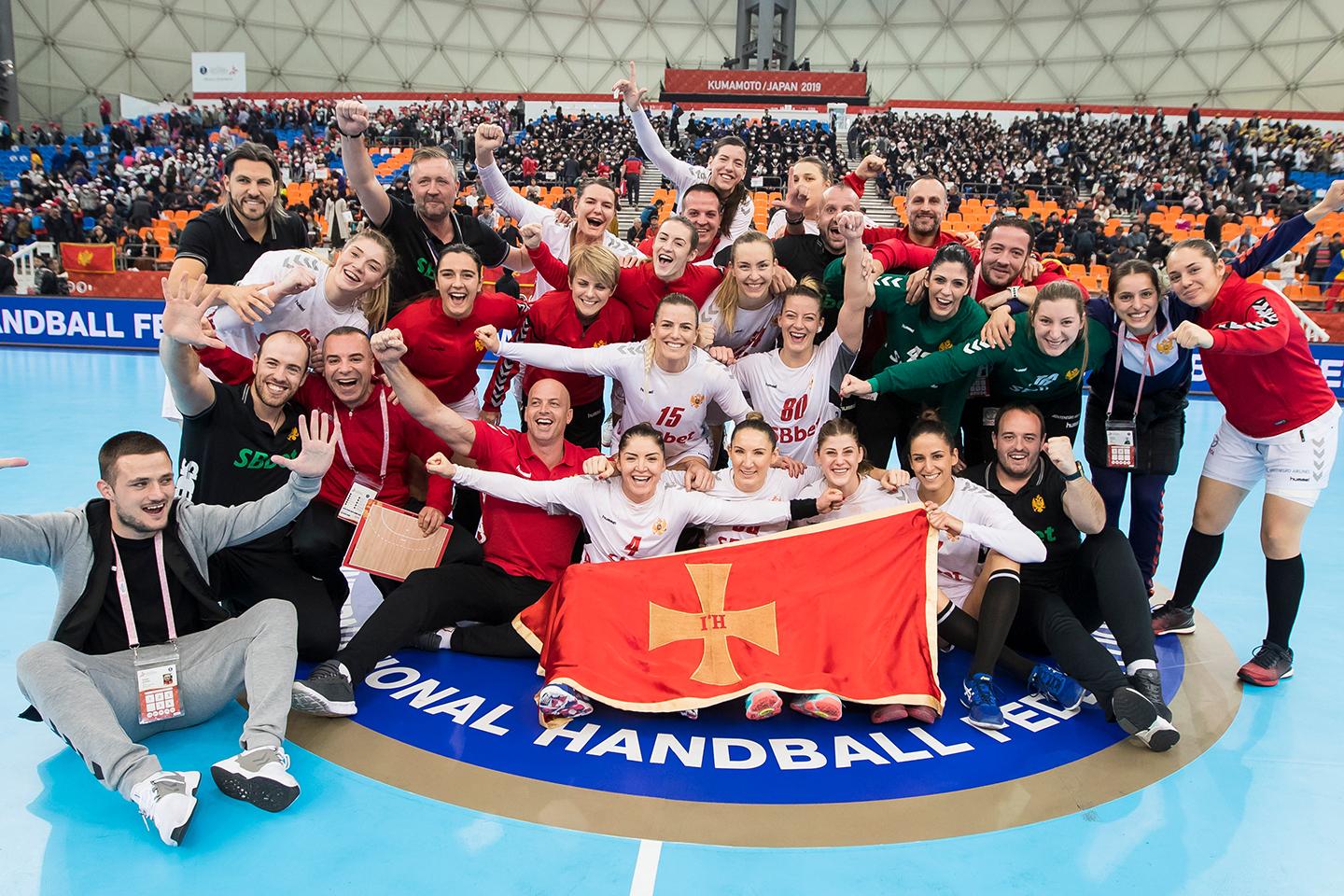 Montenegro
Montenegro
Team Players
Team Info
While Montenegro may have only been standing on the global handball stage since 2006 and the country is in the bottom 10 countries by population in the European continent, with just over 620,000 people, they more than punch above their stature, winning silver at their first Olympic Games, in London in 2012, where they met qualification opponents Norway in the final, and then gold in the European championship a few months later, gaining revenge on the Norwegians.
Even though Montenegro have gone nearly 10 years without a medal now, their fifth place at the 2019 IHF Women's World Championship in Japan was their best ranking since they first qualified for it back in 2011, and they have steadily increased their ranking at every edition since 2013. That ranking was enough to secure their place in the Tokyo Handball Qualification 2020.
Olympic qualification has been good for Montenegro historically as they have never lost a game in two editions, resulting in two qualifications. Back in 2012 they qualified through from the tournament held in Lyon, France, winning all three games, against the host nation, Romania and Japan, while in 2016 they met Romania again, drawing 23:23, but beat home side Denmark as well as Uruguay to book their Rio 2016 spot.
Unfortunately for Montenegro in 2021, games in Tournament 3 will be played behind closed doors, without fans, meaning they cannot rely on their traditionally passionate and noisy support at home in Podgorica, where they will host Norway and Romania.
Montenegro coach Kim Rasmussen only took over 'The Lionesses' late last year, after previous coach Per Johansson and his assistant Adrian Vasile left unexpectedly just before the Women's EHF EURO 2020 in Denmark. Dane Rasmussen was thrown in at the deep end, taking the role just 10 days before the start of the competition and then helping guide the side to an eighth-place finish.
For the Olympic qualification tournament, Rasmussen trimmed down an initial 29-name squad to 20 with Montenegrin powerhouse club Buducnost supplying the most players (seven), although a further six players are based in Romania and will have inside knowledge of their main competitors for a Tokyo 2020 place with Rasmussen admitting Norway are the strongest of the trio of teams in Podgorica.
"Our opponents are tough but Norway speak for themselves – they are champions of Europe right now; always solid, always stable with no panic and so are the clear favourites," said Rasmussen to ihf.info.
"Romania have the strongest line-up they can have," he added. "It's always going to be about (Cristina) Neagu and (Crina) Pintea and their co-operation, but they have so much other quality next to them so it's going to be a battle; it's three extremely good and physical teams and I'm very much looking forward to these games."
Rasmussen has kept his entire Denmark 2020 squad, and added four names for the Podgorica challenge, with Andrijana Popovic, Durdina Malovic, Ivona Pavicevic and Nina Bulatovic brought in.
Leader of the Montenegrin team is the enigmatic right wing Jovanka Radicevic, who was named in the Denmark 2020 All-star Team and who has an Olympic Games silver medal to her name, just like fellow influential player, left wing Majda Mehmedovic and Rasmussen's assistant, Bojana Popovic.
"For all countries, big or small, the Olympic Games mean a lot," explained Rasmussen, who left his job with Polish club side MKS Perla Lublin in February. "All of the players will be ready and they will give everything they have to be there at the Olympic Games and my job will be to make sure we have the right balance mentally because that can be the key.
"The preparation for this tournament is not optimal and has not been good so far, but that is the same for everybody," he warned.
"The last time I saw the team was in December, and before the tournament we will have a few days together but, luckily, many of the players in Montenegro play in the same club and the players from outside (Montenegro) know the systems and how we do it, so I think we have a little advantage in this respect.
"We will have a good four days together the week before the first game and we will be ready. It is going to be amazing."
Key players: Durdina Jaukovic (left back), Jovanka Radicevic (right wing), Marta Batinovic (goalkeeper), Majda Mehmedovic (left wing), Jelena Despotovic (left back)
Qualification for Tokyo Handball Qualification 2020: 2019 IHF Women's World Championship – 5th place
 
History in Olympic Games: 2012: 2nd, 2016: 11th
  
Tokyo Handball Qualification 2020 – Tournament 3: Romania (ROU), Montenegro (MNE), Norway (NOR)