Republic of Korea

Coach: In Ik Jang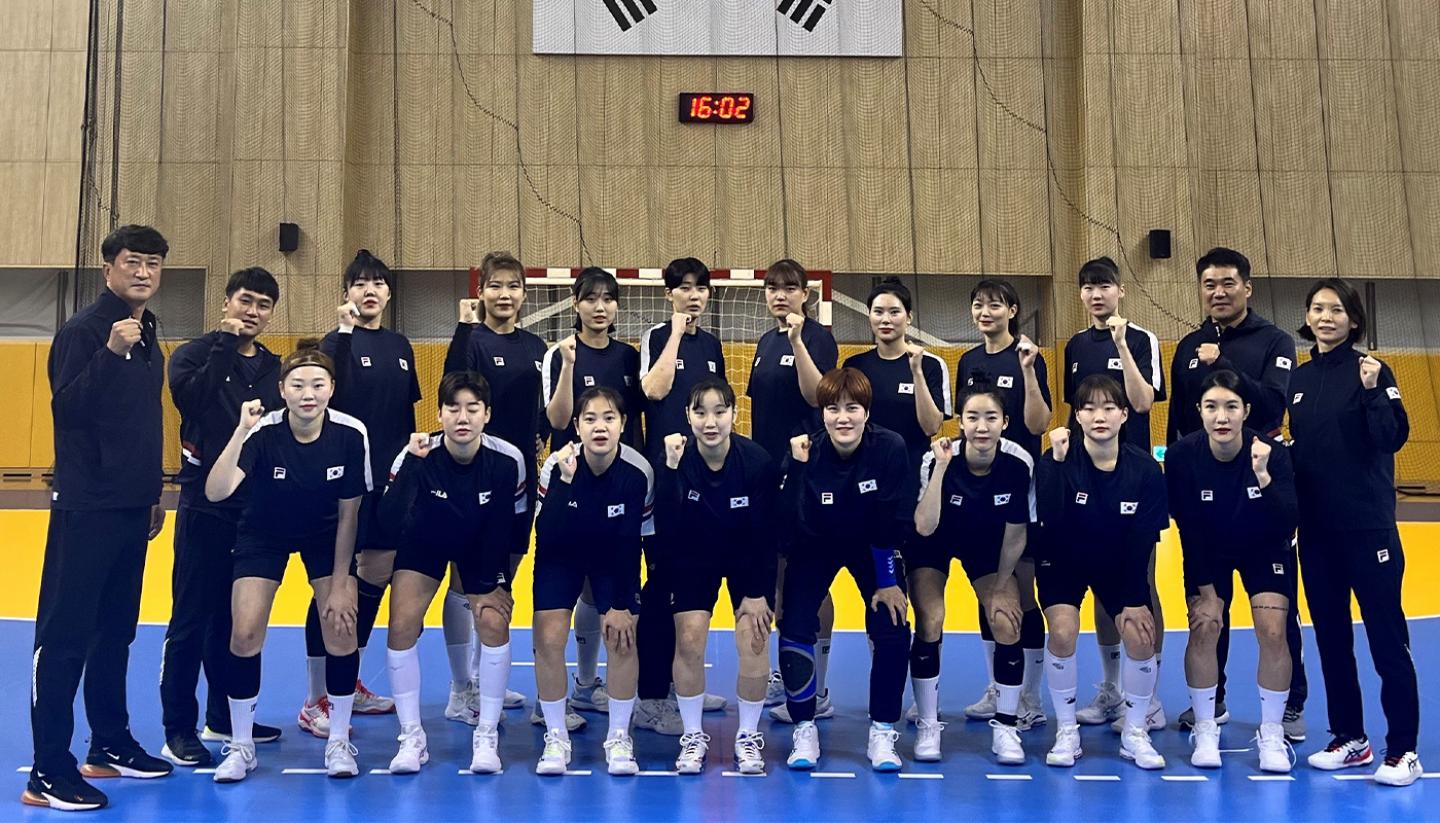 Republic of Korea
Republic of Korea
Team Players
Team Info
The 2019 IHF Women's World Championship in Japan brought back strong memories for fans of Korean women's handball – their preliminary group campaign saw them finish top and unbeaten for the first time since Germany 1997, a championship where they eventually ranked fifth.
That top-five finish followed on from the same preliminary group result in the previous edition – Austria/Hungary 1995 – where they became the first non-European champions of the competition.
Two years ago in Japan, Republic of Korea beat France in their opening match – the then Olympic runners-up, European and World champions – followed by further wins against Brazil and Australia and draws against Denmark and Germany.
That strong early performance in Kumamoto echoed those Korean World Championship glories of past years – which also included bronze in 2003 – but any high hopes were quickly dispelled as they went on to lose all three of their main round matches, against Serbia, Norway and eventual champions the Netherlands, to finish in 11th – their equal best since 2009, when they finished sixth.
In July and August, Korea participated in the Olympic Games Tokyo 2020, ending up in eighth spot, their second-worst finish historically, following their lowly 10th at Rio 2016. After squeezing through with a draw against Angola following a win against the hosts, Korea were well beaten by Sweden (39:30) in the quarter-finals.
For a team that had won medals in all but two of their eight Olympic appearances up to 2016 and never finished out of the top four, recent years are clear evidence that their global standing has deteriorated.
This is not surprising considering their lack of competition in Asia, a continent they have almost completely dominated at all levels in the women's game, winning 15 out of the 18 editions of the AHF Women's Asian Championship, including the last four and 23 of the combined 23 editions of the continental youth and junior championships. 
Their most recent senior continental title was won in Jordan in September and with their rank, they secured their ticket to Spain 2021. 
However, the Korean Handball Federation (KHF) are well aware of the difference between continental and global competition and in mid-November they announced that Jang In-ik, their coach in Jordan – who replaced Tokyo 2020 coach Kang Jae-won – will stay on, acting as interim coach at Spain 2021, so they have more time to prepare for the Olympic Games Paris 2024 cycle by bringing in new coaches.
"For the first time in the history of Korean handball we have decided to hire a foreign coach to the men's and women's national teams to pursue change," said a statement on the KHF website.
Likely to be a coach from Europe, just one player in Jang's squad of 18 for Spain plays in Europe and what a player she is – Ryu Eun-hee.
The 31-year-old right back Ryu is the golden child of Korean women's handball, winning numerous Most Valuable Player (MVP) awards in the Korean regular league and championship before moving to Europe in 2019 to play for Paris 92 and in doing so, becoming the first female player from the Asian nation to play for a European club since Oh Sung-ok did for Hypobank in Austria in 2011.  
While COVID-19 saw her return home to Korea pre-Tokyo 2020 due to the strict conditions in the country, it was announced in early 2021 that the Korean captain would be moving to Hungary to join Győri Audi ETO KC this season.
And the move has been a complete success with the affectionally-nicknamed 'The Queen' scoring 25 times in her first six DELO EHF Champions League matches, to put her side top of their group. Her schedule in Europe saw her stay in Europe for the whole of the Asian Championship in September, despite initially agreeing to play in the knockout stages onwards.
Ryu's move to Hungary, like the one to Paris 92, was facilitated by the KHF to help develop and expose their players to European handball culture, but with Ryu only joined by centre back Lee Mi-kyung in the 18 who play outside of Korea, having joined Japanese side Omron in March, there is work to be done.
And here lies the dilemma for Korea with Ryu: she top-scored in all but one of their eight matches at Japan 2019 – and it would have been all eight had she not been rested for part of their clash against Australia – won three best player awards and played the most minutes (just under seven hours in eight games), but handball is a team sport and the reliance on her abilities needs to be diversified if Korea want to progress with their opponents looking to limit the impact of the player.
However, the future does look bright for the Koreans once the day comes for Ryu to hang up her playing shoes. They have impressed on the global level in the younger age categories in recent years, taking bronze at both the 2018 IHF Women's Youth and Junior World Championships in Poland and Hungary, respectively – the most recent editions of the events.
Coach Jang has included a number of those 2018 IHF Women's Junior World Championship medallists in his Spain 2021 squad: goalkeeper Jeong Jin-hui, exciting right back Jung Ji-in, who was just 17 in Hungary, left back Bitna Woo and centre back Song Hye-soo, who won the championship MVP Award at Hungary 2018 amongst other players including centre back Kang Kyung-min, who plays for Gwangju City Corporation, and who has won league MVP titles and top scorer awards in the Korean league.
Six of the squad of 16 in Jordan were 23 years old or under, with only six players from the Tokyo 2020 squad of 15 making it in – goalkeeper Jin-hui, left wing Jo Harang, centre back Lee Mig-yeong, right back Jung Yura – who scored 11 in the continental final against Japan – left back Kim Jinyi and right wing Jung Ji-in.
Korea face Congo, Denmark and Tunisia at Spain 2021 and while they have not yet faced Tunisia at a World Championship, they have played Congo once before, back at Norway 1999, when they won 36:19 in their preliminary group match in Hamar.
Denmark are well-known to Korea in the World Championship. In 1993, they lost 25:29 to them in the preliminary round, but two years later, in 1995, they beat them 33:31 in the semi-finals on their way to gold. That scoreline would be the same in Suzhou, PR of China in 2009 but in Denmark's favour in the 5/6 placement match, while Japan 2019 saw that 26:26 draw.
Jang started a two-week preparation with his team at the Jincheon Athletes' Village around the same time as the announcement. 
This preparation includes a 23 November departure for Norway where the squad will participate in the 'Intersport Cup' (24-29 November) against the Netherlands, Russia and the hosts, Norway with Ryu travelling there directly from Hungary. 
 
Key players: Ryu Eun-hee (right back), Lee Mi-kyung (centre back), Jeong Jin-hui (goalkeeper), Kang Kyung-min (centre back), Song Hye-soo (centre back)
Qualification for Spain 2021: 2021 AHF Women's Asian Championship – Winners
History in tournament: 1978: 10th-12th, 1982: 6th, 1986: 11th, 1990: 11th, 1993: 11th, 1995: 1st, 1997: 5th, 1999: 9th, 2001: 15th, 2003: 3rd, 2005: 8th, 2007: 6th, 2009: 6th, 2011: 11th, 2013: 12th, 2015: 14th, 2017: 13th, 2019: 11th
Group at Spain 2021: Group F (Denmark, Republic of Korea, Congo, Tunisia)