France

Coach: Olivier Krumbholz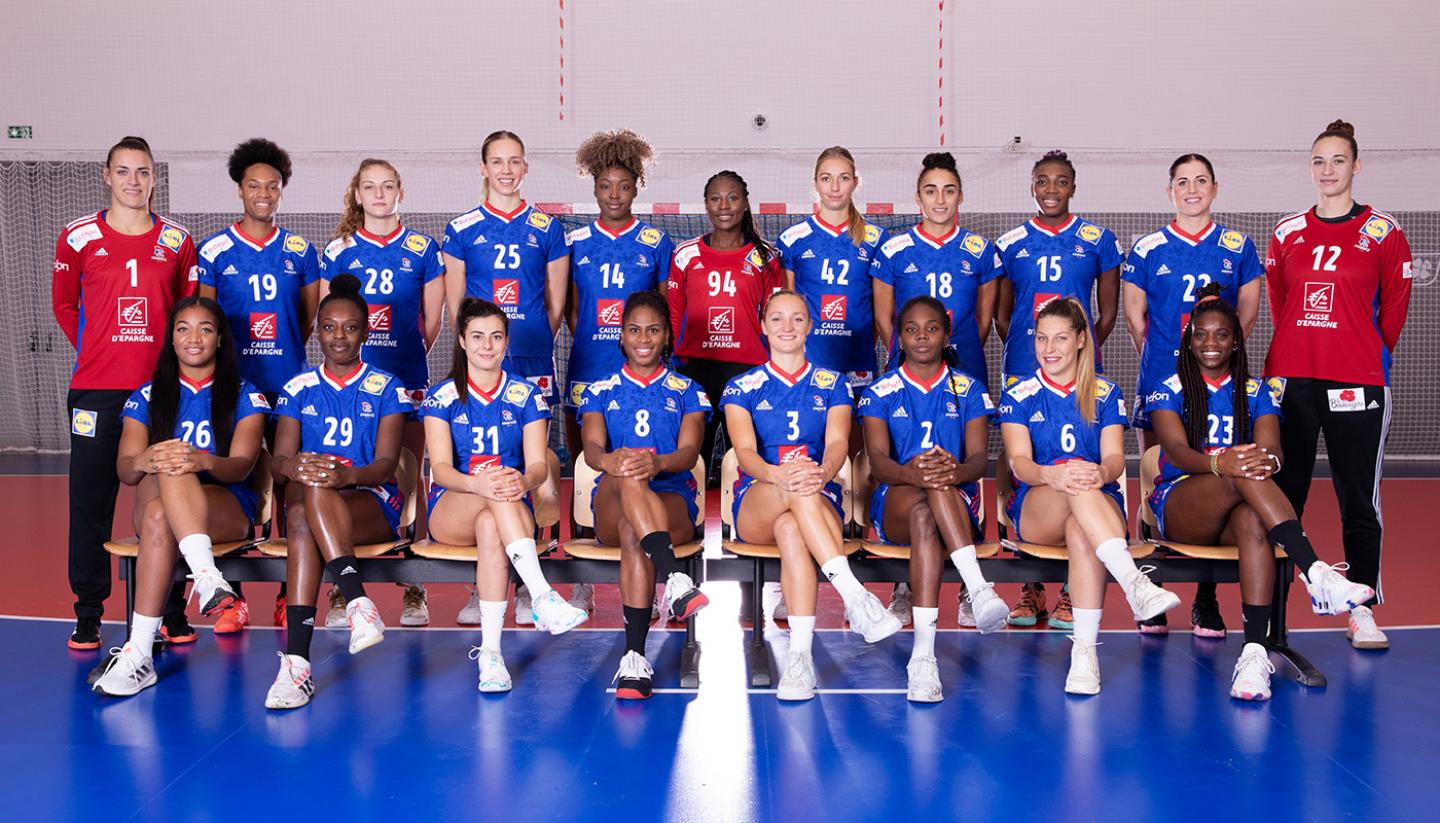 France
France
Team Players
Team Info
With their Olympic Games Tokyo 2020 gold medal still sparkling following their August win in Japan, Olivier Krumbholz's France come to Spain as one of the strong favourites for not just a podium place, but another gold.
The 2017 IHF Women's World Championship winners have a wide range of talent across the court, but their last outing in the competition could not have been more in contrast – a 13th place finish at Japan 2019, their lowest rank in nearly 30 years.
That rank was an anomaly for the French as recent years have seen their most successful period ever, with a third gold – at their home Women's EHF EURO 2018. Silver medals were also secured, at both the Olympic Games Rio 2016 and the most recent edition of the European Championship, EURO 2020 in Denmark, which secured their ticket to Spain 2021.
Their 30:25 win over the ROC team in the Tokyo 2020 final was the culmination of a classic championship for the French, who got stronger as the competition went on. Having only won once in their first four games and knowing they had to win against Brazil in their fifth and final preliminary match to go through, they went through the gears to the top of the podium.
A 29:22 win over their South American opponents was swiftly followed by a 10-goal win over Japan 2019 champions the Netherlands in the quarter-finals and then a 29:27 victory against Sweden in the last four to set up the final against the ROC.
Pressure was simply not an issue for Krumbholz's side as they ensured a second France handball gold in 24 hours, following the men's success the previous day, and with it, became only the third side in women's handball history to complete the Olympic Games, IHF Women's World Championship and Women's EHF EURO treble, after Denmark and Norway.
Krumbholz has had the luxury of a never-ending conveyor belt of talent and continues to blend a mixture of youth and experience with his legendary coaching skills. This can best be highlighted by the 12-year difference between his 32-year-old centre back Allison Pineau and line player Pauletta Foppa who will turn 21 three days after the Spain 2021 final. Both are key components of his side, known for a strong defence and lightning-quick fast-breaks, led by fellow Tokyo 2020 All-star Team player, right wing Laura Flippes.
France know both their fellow European Group A opponents Montenegro and Slovenia well, most recently meeting them in the preliminary round at EURO 2020, coming from behind at the break to beat the Montenegrins 24:23 and dispatching the Slovenians by 10 (27:17). Angola were defeated by 11 (28:17) in the 13-16 Placement Round at Japan 2019.
Recent form has been good too, with the French enjoying a successful EURO 2022 qualification campaign so far, opening their campaign with two wins including just six players who won gold in Tokyo – Meline Nocandy, Pauletta Foppa, Coralie Lassource, Chloe Valentini, Oceane Sercien-Ugolin and Kalidiatou Niakate – and seven newcomers, the first time that amount had entered the French national team.
Those newcomers in the squad have already been bedded in as France look ahead to a home Olympic Games – Paris 2024 – but their influx was also caused by the national team retirement of the experienced and influential goalkeeper Amandine Leynaud after Tokyo, plus injuries to the MVP of the EHF EURO 2020 Estelle Nze Minko, new captain Pauline Coatanea and Flippes which prevented them from appearing. Mainstay of the French squad for many years, right back Alexandra Lacrabere, is also expected not to be in the final squad.
Flippes has now recovered from appendicitis following Tokyo 2020, making her return to French league action in October with Nze Minko back on court too.
"I've always said we'll go to Spain with the best possible team to achieve the best possible result," said Krumbholz to the French Handball Federation after those EURO qualifiers.
"But it will depend on the form and injuries of the players. I think we will have a list close to the Olympics."
Krumbholz will confirm his Spain 2021 squad by the end of October, with the week before the championship (21-28 November) used for training at the Maison du Handball in Creteil.
Two friendly games with Hungary (26 and 28 November) will be played at Stade Pierre de Coubertin in Paris, ahead of their arrival in Granollers, scheduled for 1 December.
 
Key players: Grace Zaadi Duena (centre back), Laura Flippes (right wing), Pauletta Foppa (line player)
Qualification for Spain 2021: Women's EHF EURO 2020 – 2nd place
History in tournament: 1986: 15th, 1990: 14th, 1997: 10th, 1999: 2nd, 2001: 5th, 2003: 1st, 2005: 12th, 2007: 5th, 2009: 2nd, 2011: 2nd, 2013: 6th, 2015: 7th, 2017: 1st, 2019: 13th
Group at Spain 2021: Group A (France, Montenegro, Angola, Slovenia)