Four mouth-watering quarter-finals await at Tokyo 2020
03 Aug. 2021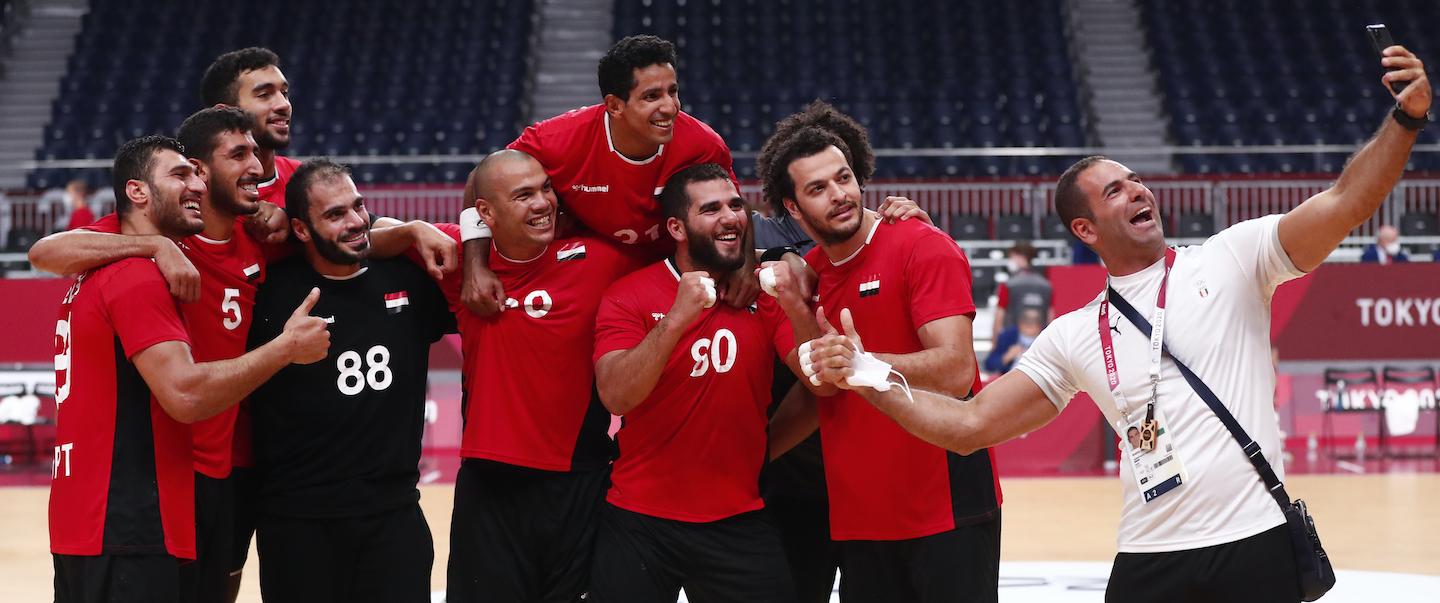 Running updates of the Tokyo 2020 men's quarter-finals – follow the action of the Olympic handball tournament live and stay always up-to-date. France, Spain, Denmark and now Egypt are on to the semi-finals. 

We have arrived in the knock-out phase of the Tokyo 2020 men's handball tournament, with eight teams vying for the four semi-final places. Who will continue their Olympic dream and whose Tokyo 2020 campaigns will end today?
Today's matches:
09:30 JST: France vs Bahrain (42:28)
13:15 JST: Sweden vs Spain (33:34)
17:00 JST: Denmark vs Norway (31:25)
20:45 JST: Germany vs Egypt (26:31)

22:15 JST FINAL WHISTLE Germany vs Egypt 26:31

HISTORIC! Egypt write one of the happiest pages in their handball history as they go through to the Olympic Games semi-finals for the first time! A remarkable performance for the African title holders, who outplay Germany and will fight for the medals at Tokyo 2020.
Egypt were 78% effective, with Yahia Omar and Ali Zein as their highest scorers with five contributions each. 33-year-old goalkeeper Karim Hendawy had an incredible night — he made 18 saves at an average of 41%.
On Thursday, Roberto Parrondo's boys will meet the Rio 2016 silver medallists France in the semi-finals.
 


21:55 JST Four-goal lead for Egypt

The African champions look solid, compact, unbreakable as they lead 24:20 into the 48th minute. Germany keep going, but it's not enough. They need some quick goals and that's what Julius Kuhn is providing with his 9-metre powerful shots — a six-goal tally for him.
Back Ali Zein has scored five goals for Egypt, apart from delivering two assists and playing a good game in defence. He's their brain on the field and one of the reasons why Germany's comeback isn't happening.

21:20 JST HALF-TIME Germany vs Egypt 12:16

Egypt hold the upper hand at the break after an imposing performance in all lines. Their attack is at full capacity — three goals each for backs Ahmed Hesham, Ali Zein and Yehia Elderaa.
Karim Hendawy made seven saves at a 37% rate — five out of seven from six metres, with some spectacular moves.
As for Germany, the fighting spirit is there but they surely haven't found their form yet. Only three saves from sixteen throws for Andy Wolff, zero from two for Johannes Bitter. In offence, their efficiency is at a low 55%. They have some talking to do before jumping on court again in search of a Tokyo 2020 semi-final berth.

21:05 JST Egypt start on the right foot

After the first quarter of the game, Egypt are up 8:6. The European team struggled in defence versus a very effective African side — their effectiveness was always superior to 80%.
Karim Hendawy stopped two of the first three German attempts, who had a very slow start in attack. In the 10th minute, when they were trailing 1:6, Julius Kuhn pulled one back and put an end to a lapse of eight minutes without scoring. Pushed by his merciless arm, they cut a five goal deficit to two.

20:30 JST Germany and Egypt face off in the quarter-finals

Egypt have not beaten Germany in an official match since the 2000 Olympic Games. In 11 matches against their quarter-final opponents, Egypt have won twice. At Rio 2016, the European side took the points 31:25 in the preliminary round.
The Tokyo 2020 cumulative statistics say that the best shooters for Germany at Tokyo 2020 are right wing Timo Kastening and right back Steffen Weinhold, both on 24 goals. As for Egypt, the main scorers with 22 goals are the 21-year-old back Ahmed Hesham and right back Yahia Omar.
In goal, the numbers for both sides are also very similar. German keepers Johannes Bitter and Andreas Wolff keep a 33% save rate while Karim Hendawy and Mohamed Eltayar together have saved at a rate of 31%.
Ready for an epic clash?
WIR. GEBEN. ALLES. ⚡ Holt euch das Ticket für das Halbfinale, Jungs! 💪 #GEREGY #wirfuerD #WIRIHRALLE #aufgehtsDHB #handball
--
Die Partie gegen Ägypten 🇪🇬 live ab 13.45 Uhr (MESZ) im @sportstudio, auf @Eurosport_DE und im Livestream von ZDF, Eurosport und der @sportschau pic.twitter.com/S6lh1e8vyY

— DHB_Nationalteams (@DHB_Teams) August 3, 2021
19:10 JST Fifth major semi-final between Spain and Denmark

Denmark and Sweden will meet in the semi-final of a major tournament for the fifth time in history, with Denmark winning three of them. Spain won the EHF EURO 2006 semi-final 34:31, with a superb 10-goal outing from Iker Romero. Denmark won the two IHF Men's World Championship semi-finals, 28:24 (2011) and 35:33 (2021) and the EHF EURO 2012 semi-final, 25:24. Will history repeat itself at Tokyo 2020?
 
18:53 JST Myrhol calls it quits with all-time record for Norway

Unfortunately, Bjarte Myrhol's career for Norway has finished with a loss against Denmark. But it was just enough for Myrhol to become the player with the most caps for the Norwegian side, 263, leapfrogging Steinar Age in the all-time rankings by only one match. Myrhol just fell short to come second in the all-time scorer list for Norway, with Havard Tvedten remaining on that position with 809 goals, three more than Myrhol's tally during his 20-year career for the Norwegian side.

18:32 JST FINAL WHISTLE Denmark vs Norway 31:25

For the second time in history, Denmark are through to the semi-finals of the Olympic Games, after securing the win in their quarter-final against Norway (31:25). The Danish side will now meet Spain, in a rematch of the 2021 IHF Men's World Championship semi-final, which they won 35:33.
It was not easy for the Danish side, who were nip and tuck with Norway in the first half, but Norway's bench is by no means as resourceful as the Danish one. Moreover, Christian O'Sullivan and Magnus Abelvik Rod, two backs who were nursing injuries before the game, combined for only two goals from five shots, leaving it all in the hands of Sagosen. He might be one hell of a player, but he cannot singlehandedly beat a powerhouse like Denmark, the reigning Olympic and world champions. And his nerves clearly got to him as he was sent off for a foul against Mathias Gidsel, with seven minutes to go.
As for Denmark, they just waited for their chance and duly pounced when they felt Norway were not ready for the challenge. It took a masterclass from Mikkel Hansen, who delivered eight goals and led Denmark to the win and to their second consecutive semi-final at the Olympic Games. In their 50th game in the competition, Denmark secured their 28th win, taking their tally to 11 wins in the last 14 games.
Norway's players are reduced to tears, it is another tournament they are exiting without winning the gold medal, but Denmark were favourites after winning the group. Sagosen is left staring into nothingness, while the Danes are celebrating.
 


18:25 JST Sagosen is sent off

And now Sagosen is out! Berge was risking it all with him in defence and a block against Gidsel, who was attacking the space like Jacobsen told him to, brings the third suspension and the red card. Gidsel heads to the bench and is clearly shaken, he will probably not enter the court again. It was bound to happen and it happened, with Norway clearly feeling the game was slipping through their hands. It's 27:21 for Denmark with five and a half minutes and Denmark are sailing to the semi-finals.
 
18:16 JST Landin dominates Sagosen to lift Denmark

Sagosen steals a ball, commits to a fast break, but in a one-on-one with Landin, the Danish goalkeeper saves the shot. This could be a pivotal moment in the game, as Norway could have cut the gap to three goals, with 15 minutes to go. It's basically Hansen (seven goals) versus Sagosen (six goals now), but with some help from players like Denmark's Mads Mensah Larsen or Norway's Harald Reinkind, who are also contributing with superb shots.
And, of course, there is Landin. He is just getting into the groove, saving only seven shots, but all three in the second half have been crucial, including another one against Sagosen that could have cut the gap to only three goals. Instead, Sagosen tried to launch another fast break, only to be denied by Hansen, who leaped and stole the ball mid-air. The Dane is winning the battle of the titans right now, with his team leading 24:20, with 11 minutes to go.
 
18:01 JST Hansen and Landin take over the game and Norway have a mountain to climb

During the Danish time-out in the first half, Nikolaj Jacobsen instructed Gidsel to attack the space between Sagosen and Jondal and this was surely repeated in the team talk at half-time. Sagosen is already on two suspensions and the risk is huge for Berge in this moment. But Berge substitutes Sagosen in defence in the start of the second half and Denmark are starting to pull away. Courtesy of Mikkel Hansen, of course.
The Danish back has scored twice in the second half now to put Denmark ahead, 18:14, and Norway seem to find no answer for their opponents in defence. This is already looking like a totally different game and when Niklas Landin just tips a Gulliksen lob and the shot hits the post, the Danish bench erupts. Norway call a time-out and they need to be looking for solutions. Fast!
 
17:42 JST HALF-TIME Denmark vs Norway 13:12

Coach Nikolaj Jacobsen is really unhappy with his team's performance in attack and has deployed the seven-on-six attack, substituting Landin for the offensive phase. It backfires and Jacobsen is happy to become more conservative. The lead changed four times in the first half and Denmark's superior experience in this area bears fruit, with the Danish side taking a 13:12 lead through another goal from Holm, the team's top scorer with four goals.
Sagosen's form dipped a bit after the second suspension, albeit he continued to play in defence, a calculated risk from Christian Berge, with other key pieces of the squad still hobbling and not being physically at 100%. How much will it count when the game reaches its climax? This will be the key question and could probably tilt the balance in one way or another.
Until then, Norway still stand a chance and play well against the powerhouse. Denmark, however, proved once again they do not relish playing against Scandinavian sides, who have the same features and style they have. Two days ago, they conceded a loss against Sweden, 30:33, and they probably would not have wanted to play against Norway. Yet here they are, 30 minutes apart from another semi-final in a major tournament.
Hansen has already scored three goals, Landin added another save, but they will be key in the next 30 minutes. Game on!
 
17:24 JST Denmark need more from Hansen and Landin

Up until this point, Hansen – one goal from one shot – and Niklas Landin – who did not save a ball until the 17th minute – Denmark's top two players have been non-factors. Yet, Denmark are still in the lead 9:8, despite this caveat, having other key players contributing strong. Gidsel, especially, is looking like a top prospect and, after setting the IHF Men's World Championship alight in January, he is still going strong at Tokyo 2020. It's also a good game for back Jacob Holm, who scored three times, being the X-factor, exactly like he was in the final of Egypt 2021 against Sweden, when he changed the game. What's going to happen if Hansen and Landin deliver the goods? Denmark look to have the upper hand, but Norway are no pushovers. But they will be in big trouble now.
After 16 minutes, Sagosen has conceded two suspensions, which means that he will probably not play anymore on defence. Therefore, Norway will make a change when the ball changes possession, becoming susceptible to Denmark's fast throw-ins. It's a big, big problem for Christian Berge and the way he answers it will be key for this game. Definitely, Norway will not be happy with this and Berge is shown a yellow card for protesting.

17:20 JST Quotes after Spain's win

Gonzalo Perez de Vargas, Spain goalkeeper
On the match: "It was great for us, fighting and winning at the end. We weren't good in the defence and we were so bad back in the goal. I think we had one save in the first half, which isn't enough to win that kind of game. But we were good in the attack, which kept us in the game.
"What was remarkable for us was the team spirit, the fight. It really looked bad for us at some points in the game, but we still believed in ourselves and at the end that paid off."
On Spain's ability to win close matches: "That has been the main character of the team in the last five years. After being eliminated from the Olympics in Rio, that was a really hard shock for us. That made us a totally different team. We had the quality, but that united us. Since then we've been the best group. I wouldn't say the best team in terms of quality, physicality, age, but for sure we are the best group. And in the end, when the things really look bad, that's when the team shows and that's what we're most proud of."
On his thoughts as he made vital saves at the end of the match: "In my head I said, 'finally', because it was hard to get goals in every attack. Once we got two, three saves to recover and scored, so that it got closer on the scoreboard, I think that boosted our team to believe until the end."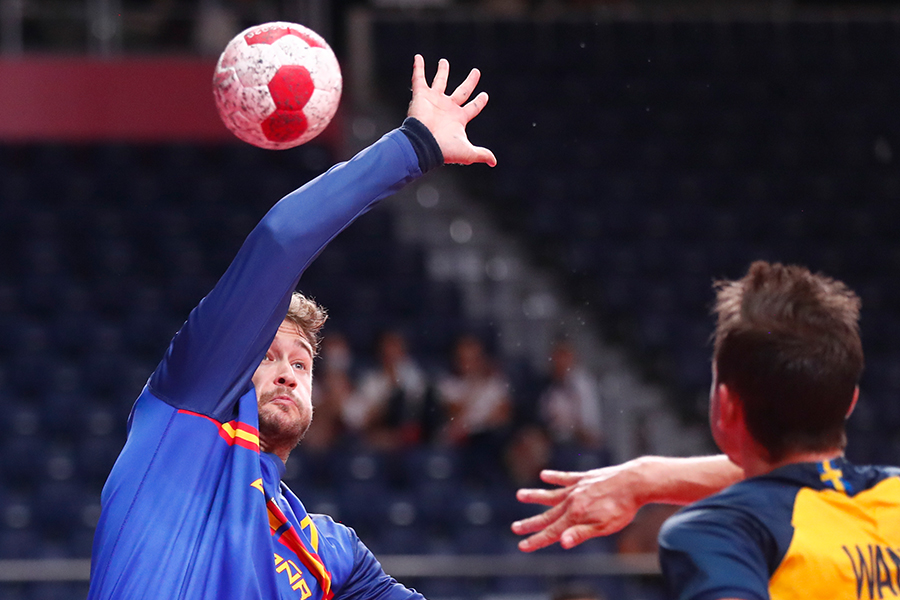 17:12 JST Flawless Sagosen helps Norway stay in contention

Peak handball once again, between two of the top European sides right now. Denmark enjoyed a bright start and they were looking to frustrate the Norwegian side in defence, especially blocking O'Sullivan and Rod, who are nursing injuries. On the other side of the ball, Denmark were superb and had key contributions from Mathias Gidsel and Mikkel Hansen to go up 5:1. But then there was Sagosen. He converted both his penalties and has four goals out of four shots, to help Norway get back in contention, 6:6, after 10 minutes.
But a foul on Gidsel sees Sagosen concede a penalty. It will be interesting to see how Norway truly manages without their talisman in attack. But this has, again, all the makings of a classic. It may sound like a cliché already, but the standard has been otherworldly at this Olympic Games.
 
17:00 JST Hansen or Sagosen?

Mikkel Hansen vs Sander Sagosen? What more would you want from a handball game than two transitional players, who have been dominating the sport in the past few years. Sagosen has scored 35 goals for Norway at Tokyo 2020, while Hansen has 32 goals to his name in the tournament. Historically, Hansen has been better against Norway than Sagosen against Denmark, but everything can happen in an elimination game like today.
It looks like Sagosen will have some help from Christian O'Sullivan and Magnus Abelvik Rod, who both were questionable, but will start the game today. O'Sullivan is suffering from a thumb injury, but will play through the pain threshold to be on the court against Denmark. 10 minutes and counting down for the throw off of this superb game.
 
16:45 JST Scandinavian battle on the horizon

Now that the dust is settling after Spain's win, it is time to see who's going to face 'Los Hispanos' in the semi-finals at Tokyo 2020. It will be either Denmark or Norway, another superb clash, an all-Scandinavian derby, that has been one of the most-tenured rivalries in the history of handball. It looks like these are two teams who are heading in opposite directions. After securing silver medals at the IHF Men's World Championship in 2017 and 2019, Norway have taken a step back, underlined by their quarter-final elimination at Egypt 2021 and their fourth-place in the group phase at Tokyo 2020.
Yet nothing is set in stone and Denmark, the reigning Olympic and world champions, proved that they could lose, after a streak of 15 wins in a row at major tournaments was snapped two days ago by Sweden. Well, it won't be a rematch against Sweden if Denmark win, but they surely want to retain the Olympic title. Back Lasse Andersson will be back in the fold, after recovering after an injury, while Norway have suffered a scare, when Christian O'Sullivan suffered a thumb injury against France. It looked serious, the X-rays were conclusive with a fracture that needed to be operated on, but will O'Sullivan risk it all in the first Olympic Games for Norway since 1972?
We'll find all of that out at 17:00 JST, when Denmark take on Norway for a semi-finals berth at Tokyo 2020.
 
15:35 JST Dujshebaev stars under pressure

Once again, it cannot be understated how important and how clutch Alex Dujshebaev is for this Spanish national team. He might have scored only 19 goals, being Spain's second top scorer behind Aleix Gomez Abello (32 goals), but a breakdown of his stats really underlines what he brings to the table. In fact, Dujshebaev scored 12 of his 19 goals in the second half throughout the tournament, six of which came in the last seven minutes of the games he played in. He scored twice in the last 100 seconds in the win against Germany, 28:27, and three times in the last 10 minutes against Sweden, helping his team to seal the 34:33 win that brought Spain to the semi-finals.
He is truly an exceptional player to have in difficult situations and, usually, it is not by design, but by sheer grit and courage that he takes on the most crucial shots, when the pressure boils. Great to see such a player perform and be back at his best, despite a series of injuries that hampered his progress.
 
15:10 JST Wanne leads the top scorer standings – but for how long?

It was a superb game for Spain, who made a comeback and sealed the semi-final berth, despite Sweden giving it their all to proceed further in the tournament. It will be dubbed an instant classic, especially for the last 15 minutes, with the win sealed by a goal from Alex Dujshebaev.
The biggest disappointment will probably be for Hampus Wanne, who signed another superb game for Sweden, scoring nine goals, which propel him to first place in the top scorer standings with 41 goals, six more than Sander Sagosen, who will take the court next, against Denmark. With his eight goals, Aleix Gomez Abello also tied Mikkel Hansen in the third place, with 32 goals, with Hansen having a good chance to seal his first individual award in this category at the Olympic Games. He has already been named the MVP at Rio 2016.
With their fourth semi-final berth at the Olympic Games, Spain tied Romania, Croatia and Sweden. Only Germany (10 appearances – including West Germany and East Germany), France (6 appearances) and Hungary (5 appearances) have more.
 
14:48 JST FINAL WHISTLE Sweden vs Spain 33:34

This is why you never give up in handball! No matter who your opponents are, no matter how deep the hole you are in! You. Do. Not. Give. Up! It has been an amazing game, that could turn into an Olympic classic, with a superb Swedish performance in the first 45 minutes, only to be left totally dumbfounded by Spain's excellent comeback. It is truly hard to grasp how a team that scored 29 goals in 45 minutes only puts four past the opponent goalkeeper in the next 15, but there are questions who sometimes remain unanswered.
Huge credit to Spain, who were down by four in the second half and never thought about waving the white flag. Their experience surely played a part, also their depth and the fact that many of the players have been in this scenario before. This might sound terrible, considering the fact that they conceded 33 goals, but they actually played very good defence throughout the game, limiting Sweden's attack and hampering the Scandinavian side just enough to remain close. But it was Alex Dujshebaev, one of the most clutch players in handball, who helped Spain seal the deal. He scored three times in the last 10 minutes, including the game-clinching goal with 41 seconds to go, when Spain was already signaled for passive play. "I am going to shoot," said Dujshebaev in the previous time-out and he just did that. Amazing courage for him.
Unfortunately for Sweden, their curse against Spain continues, with 'Los Hispanos' taking the win in the last seven games, as their last win came in 2009. It's all tears for Sweden, who are breaking up on the court, but their passivity in the last 15 minutes was punished by the side who believed more in themselves. Spain make the semi-finals for the fourth time in six tries, having always won the bronze medal before. Will it be better this time?
As Sweden bounce out of the competition, Spain are qualified for the semi-finals, where they will meet the winner of the Norway vs Denmark quarter-final. They have already beaten Norway at Tokyo 2020, 28:27 in the group phase, but they lost against Denmark at the IHF Men's World Championship in Egypt in January, 33:35, also in the semi-finals.
 

14:35 JST Outstanding comeback for Spain sets up scene for the last five minutes

In the most Spanish way possible, Jordi Ribera calls for his players to have balls in the last minutes of the game, during a time-out called by Sweden, called by a Spanish resurgence, who cut the lead to one goal, 29:28. It's been a total collapse for Sweden, as Spain use a 5:0 run to take back the lead, 30:29, as Sweden did not score for nearly eight minutes. Good to see that the Spanish players respected their coach's instructions, but also for the sake of this game, from a neutral perspective.
Coincidentally, this run was just spurred by Gonzalo Perez de Vargas, who saved four shots, including a one-on-one with Wanne, where he stopped the fast break by acting as a defender, then coming back inside his goal area to save the shot. Amazing comeback for Spain, who are leading, 32:30, with five minutes to go and could be heading to their fourth semi-final in the last six Olympic Games editions.
 
14:24 JST Sweden see the light with 15 minutes to go

Sweden are looking increasingly closer to snatch this semi-final berth away from Spain in what could be their first win against 'Los Hispanos' since 2009. And it is also because Spain's goalkeepers have not improved, saving only two shots for a meagre 7% efficiency. Sweden's attack was impossible to stop today, yet Spain are still close and could effectively mount a comeback if they improved their defensive performance.
But Sweden have constantly pushed Spain to react by passing to the wings, who have been immense. Wanne (9 goals) and Ekberg (2 goals) were flawless with their shots today and the scoreboard now points to a Swedish win, 29:25 with 15 minutes to go. It's do or die now for Spain, who can see the zenith of this generation close. Jordi Ribera calls a time-out to instill new life into his team. But can they really do this?
 
14:15 JST Spain drop the tempo to stay in the hunt

Sweden had never scored 20 goals in the first half of a knock-out match at the Olympic Games before and had only reached that milestone in 59 matches in the competition once, when they scored 24 against Great Britain at London 2012. This game has also tied the record for the largest number of goals scored in a half in a knock-out match at the Olympic Games, set at Rio 2016, when Denmark and Slovenia combined for 38 goals.
The pace dropped a bit in the start of the second half, with both teams trying to slow the tempo down, a decision which, at first sight, suits Spain. But they turned the ball over once again, enabling Sweden to create a three-goal lead, 22:19, once again. Also, the absence of Viran Morros in Spain's defence is there to be seen, with the former Barça and PSG player an influential figure for 'Los Hispanos' on that side of the ball. Yet, Spain are undeterred and despite a suspension for Jorge Maqueda, they boast a 2:0 run to bring the game to a coin's toss, 22:23, in the 39th minute.
 
13:54 JST HALF-TIME Sweden vs Spain 20:18

Sweden are slowly pulling away here and it could be the last hurrah for Spain's golden generation. Entrerrios is 40 years old and will retire after this tournament, Aguinagalde is 38, Garcia Robledo and Sarmiento are 37 and Spain have the highest average age in the competition, at 33 years old. Can they really keep up with this pace, which is on par to break the record set earlier by France and Bahrain? Difficult to get an answer, but if Sweden continue like this, and they were one of the teams with a slower pace in the group phase, it will be hard to stop them.
Sweden really did adapt to Spain's 5+1 defence, with their backs combining for seven goals, yet opened the game to the wings and the line player with superb results. Hampus Wanne, their top scorer, has been instrumental with five goals without missing a shot. Frederic Pettersson, who entered the game in the second part of the first half, also scored four times from four shots to frustrate the Spanish defence. In fact, Sweden's shooting efficiency has been out of this world, 83% in a quarter-final at the Olympic Games.
Last time Sweden shot so well in the first half, they won the 2021 IHF Men's World Championship semi-final against France. They could repeat that success again. But Spain are not a team to back down easily. And they will surely improve their goalkeeping standards, with one of the best pairs in the competition, Gonzalo Perez de Vargas and Rodrigo Coralles combining for one save and a meagre 5% saving efficiency. Before the game, they were the third-best goalkeeping pair, with an efficiency of 30%. It's still neck and neck here, with Sweden leading Spain 20:18 and another crucial half to come.
 
13:38 JST Superb Sweden mount comeback

Sweden missed the chance to go in front, after Albin Lagergren hit the post in a one-on-one with Rodrigo Coralles, but Andreas Palicka scored an empty-goal shot, his second of the tournament, to finally put Sweden ahead, 11:10. This tournament has heavily featured Sweden's antics and they could still be in the contention for a medal come the end of this game. In fact, with 11 minutes still to go in the half, Sweden force a 4:1 run to take a 13:11 lead and prompt a time-out from Spanish coach, Jordi Ribera.
Ribera has always been revered as one of the great minds of handball, having led his team to two gold medals at the EHF EURO in 2018 and 2020, but his penchant of stubbornly rotating goalkeepers can have a boomerang-like effect on his team. Despite being one of the most talented goalkeepers around, Rodrigo Coralles has not saved any shot in the first 19 minutes. Finally, after the time-out, Ribera substitutes him with Gonzalo Perez de Vargas, who is not luckier, though. Sweden are leading 15:12 and it is also thanks to left wing Hampus Wanne, who scored five goals until this point.
 
13:25 JST Spain jump the gun in the start

Sure enough, Spain deploy the 5+1 defence Sweden were waiting for and the results are good in the first minutes, causing two turnovers from the Scandiniavian side. But where Spain really excelled was in attack, constantly bringing their back players behind the Swedish defenders to cause open shots. It is clearly a play designed by coach Jordi Ribera and, up until this point, Sweden found no answer for it.
It is working like a charm in the start of the game, with the Spanish side looking up to the challenge, after a slip in the group phase against France. Yes, Sweden are able to mount superb comebacks, they are not a team to be counted out. But Spain's start has been superb, forcing Sweden's mistakes in defence, that prompted two suspensions for Max Darj and Albin Lagergren. Yet, somehow, Sweden are still close, trailing 4:6 after 10 minutes.
 
13:05 JST No Sole for Spain

With only 14 players on the match sheet, coaches are usually forced to take tough decisions. Ditto for Jordi Ribera today, as prolific right wing Ferran Sole was left outside the roster, with Aleix Gomez Abello being the only right wing for Spain. Sole, a player who is tied at club level with PSG Handball, has scored 17 goals for Spain in this tournament. Sweden will not be able to rely on Oscar Sunnefeldt this time, the young back who is touted to be one of the best players in Sweden's roster for the years to come.
 
12:45 JST Sweden vs Spain: A balanced game on paper

The schedule has changed from the group phase, with more time allotted between games to adapt to any eventual extra-time halves or penalty shoot-outs to decide the team that progresses to the next phase of the competition. It was not the case for the previous game, between France and Bahrain, which saw the most lopsided win in history in a knock-out game at the Olympic Games. However, things could change for the second semi-final, which pits Sweden against Spain.
Both teams conceded a loss in the group phase, but Sweden finished third, in a three-way tie with Denmark and Egypt, while Spain was second, just behind France. Yet, Sweden are coming on the back of a superb display, which handed them a 33:30 win against reigning Olympic champions Denmark in the last game of the group phase.
Spain won the last six games between the two sides, with Sweden failing to win a competitive game against 'Los Hispanos' since January 2009. But Sweden are confident, especially after training specifically against the aggressive 5+1 defence deployed by Spain many times on the court. It is hard to name a favourite in this game, as Spain have the superior experience, while Sweden can count on their hunger for medals, having not secured one since London 2012, when they won their fourth silver medal. The game is set to start at 13:15 JST.
 
11:30 JST Amazing display of consistency for France

France are now boasting the second-best attack in the competition, with an average of 34 goals scored per game, just behind Denmark's 34.7 goals scored per game. Yet, no French player is currently featuring in the top 5 of the best scorers in the competition at Tokyo 2020, with the first coming at number 9, left wing Hugo Descat, who has been out of this game due to a muscular injury.
Descat (24 goals), Nedim Remili (23 goals) and Dika Mem (21 goals) are France's top scorers in the tournament, with Denmark's Mikkel Hansen leading the standings with 35 goals. However, things are different in the assist standings, with Nikola Karabatic tying Denmark's Mathias Gidsel on the top, with 25 assists. Gidsel has a game in hand, though, against Norway in the third quarter-final today.
 
11:25 JST Quotes after France's win

Kentin Mahe, France centre back
On the match against Bahrain going as France planned and hoped: "We respected our opponent. We did the job before to face a more suitable opponent. It's nice to see those countries who emerge and get better on the international stage, like Bahrain. For example Japan missed it by a few goals. So it's very pleasant and it's also a pleasure to have respect for this team and to have qualified for the semi-final."
On what France can work on before the semi-final: "I think a new competition starts from now, let's put it like this. It's been a dream. It's been a big aim; a goal for this team to qualify for the half-final. Now we have to learn from the mistakes we've made in the past. We had some troubles a little bit in the half-time and now we need to prepare maybe a little bit more intense, a little bit harder, a little bit more focused. I don't know how to put it in words but for sure we will give everything."
On whether they will watch the other quarter-finals: "For sure, we will put the focus on resting, everything that is attached to the rest. For sure we will follow it."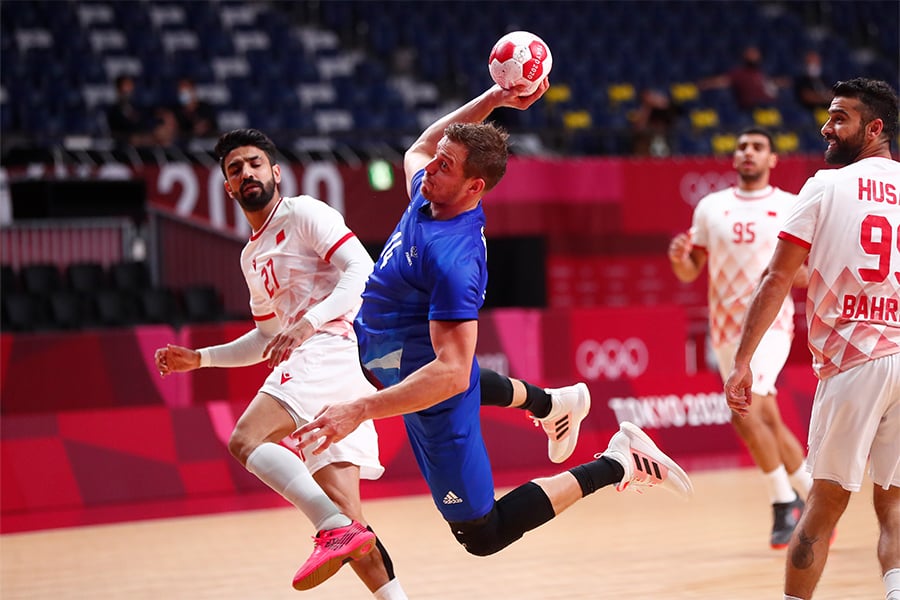 11:05 JST Scoring proficiency takes France's win into history

France also set the fourth-best performance in terms of number of goals scored in a game at the Olympic Games. The record fell in the first round of the group phase, when Denmark smashed Japan, 47:30. Besides Denmark, the 2012 France team (44:15 against Great Britain at London 2012), Sweden (44:23 against Australia at Sydney 2000) and Yugoslavia (44:10 against Kuwait at Moscow 1980) were only the four teams to post a larger number of goals scored in a game in the Olympic men's handball tournament in history than the France team this morning.
It was a dominating performance by France, who also went for the third-biggest scoring game in the history of the Olympic Games. The 77 goals scored between Denmark and Japan at Tokyo 2020 is the record holder, while the previous record was set at Beijing 2008, when Spain took a 36:35 win against Brazil, for a combined 71 goals.
 
10:54 JST FINAL WHISTLE France vs Bahrain 42:28

France have just broken the record for the largest number of goals scored by a team in the quarter-finals of the men's tournament at the Olympic Games. It stood tall since Rio 2016, when Denmark put 37 past Slovenia, but right now France have been taking no prisoners. It is also the biggest-ever difference between two sides in the quarter-finals, obliterating the previous record, set at Rio 2016 in the clash between Germany and Qatar, when the German side took a 34:22 win.
The main thing for France is that they avoided another injury, after losing Timothy N'Guessan for the tournament, with a calf injury, and Hugo Descat for this game with a muscular complaint. Once France took flight, they never looked back and Bahrain packed it in the second half. Yet the Asian side should be celebrating an amazing tournament, in which they won only one game, but finished among the top eight sides at Tokyo 2020, an amazing achievement for a side that qualified for the first time for the IHF Men's World Championship only 10 years ago.
It was the perfect scenario for France, who will have a full two days' rest before their fourth semi-final in a row at the Olympic Games. Credit to Kentin Mahe, who was slotted in the left wing position and scored a game-high nine goals.
 

10:43 JST France set record for consecutive semi-finals at the Olympic Games

We have always said that nothing should be taken for granted in handball, but this is over and France are through to the semi-finals for the fourth time in a row at the Olympic Games. The French side have a 32:20 lead with 11 minutes to go and the only thing they have to worry about is whether they will set the largest-ever difference in the quarter-finals at the Olympic Games or not.
The French side will be facing the winner of the tie featuring Germany and Egypt in the semi-finals, a unique chance for 'Les Experts' to qualify for the fourth final in a row, an otherworldly performance for any team at the Olympic Games in the modern era. Players like Nikola Karabatic, Michael Guigou and Luc Abalo have been there from the start, while the current coach, Guillaume Gille, knows a thing or two about it, having won the gold medal twice, at Beijing 2008 and London 2012, with the golden generation of French handball. However, this new generation of 'Les Experts' is pretty exciting too.
 
10:30 JST Cruise control mode for France

At London 2012, the average of goals scored per game was 51.92. Four years later, it grew to 54.76 goals scored per game, only for Tokyo 2020 to establish a new record, with an average of 58.07 goals scored per match in the group phase. Therefore, it is not surprising that the trend is continuing in the knock-out phases, where, by definition, the teams should be more careful. France's 21-goal outburst in the first half was their best since London 2012, but also tied the all-time record at the Olympic Games for goals scored by a team in the first half, set by Denmark in the quarter-finals at Rio 2016, 21 against Slovenia. This has also been the third-highest scoring first half at Tokyo 2020, after Denmark vs Japan (25:14) and Denmark vs Portugal (20:19).
 
Back to France vs Bahrain now and 'Les Experts' are in cruise mode, trying to keep their opponents at bay. Bahrain had previously cut the gap to only five goals, 18:23, but France are having none of that and do not want to allow the Asian side back in the game. Probably what has been best from France is that they only had one turnover, as opposed to Bahrain's seven, keeping track of their opponents and protecting the ball. With two goals in a row scored by Nikola Karabatic, France are dominating, boasting a 27:19 lead with 20 minutes to go.
 
10:06 JST HALF-TIME France vs Bahrain 21:14

With Hugo Descat absent through a muscular injury in this game, France's coach Guillaume Gille has reverted to use Michael Guigou and Kentin Mahe on the left wing, as the versatile Mahe, who has been playing mostly as a centre back, reverted to the position after some years. This has not hampered France at all, who have been dominant in the last 10 minutes of the first half. They have ended the first half with a 9:3 run, that saw the gap balloon to seven goals, for a 21:14 score line at half-time.
The French side have really upped their game, forcing Bahrain to turnovers in attack and converting the possession to goals via some superb fast breaks. Moreover, they have been superb once again via their right back, with Nedim Remili and Dika Mem combining for nine goals, a template for them at Tokyo 2020, where have been unstoppable at times.
Bahrain need more from their defence and they changed their goalkeeper midway into the first half, with Mohamed Ali only saving two shots, but this has not changed much. France are in control and had their best scoring performance in the first half since the group phase at London 2012, when they put 21 past the hosts in a dominating 44:15 win.
 
09:52 JST Karabatic writes history for France… once again

Nikola Karabatic is back on the court after a devastating knee injury, who nearly shattered his dream to play in his fifth Olympic Games edition. Karabatic, one of the most experienced players in the French squad and the second best all-time scorer in history, is now back and this is his 36th game in the competition, having scored more than 110 goals. Amazing numbers for a player who is still influential, having scored 14 times and dished 23 assists for France at Tokyo 2020.
Karabatic would, of course, like to finish this Olympic Games edition with his fourth medal (gold at Beijing 2008 and London 2012 and silver at Rio 2016) and France look like they could deliver at least one bronze to Karabatic. In this quarter-final, they are leading 11:10 after 20 minutes, with Bahrain doing whatever they can to keep their opponents at bay. Back Hussain Alsayyad has been nothing short of superb, scoring five times, but France have been the better team up until this point. Yet, nothing is set in stone. This could get a bit tricky for 'Les Experts'.
 
09:42 JST France jump to superb start

It has not exactly been a walk in the park, this is still an Olympic Games quarter-final, but France have been dominant in the first 10 minutes, especially through star right back Dika Mem, who scored three goals and dished one assist. His three goals were clocked at 98 km/h, 99 km/h and 107 km/h, making them impossible to stop. That said, France are boasting a 75% shooting efficiency, with flawless performances from Mem – three goals out of three shots – and line player Luka Karabatic – two goals out of two shots.
The French side missed a penalty throw, with Michael Guigou shooting into the post, as Bahrain are still close, 7:4, after 10 minutes of play. But they are clearly overmatched in some areas, with their lack of international experience overwhelming at times. However they must not be underestimated. That could be France's biggest mistake.

09:30 JST France vs Bahrain is underway

Hello, everyone! The quarter-finals of the men's handball tournament at the Olympic Games Tokyo 2020 have just thrown off. France are facing Bahrain in one of the games that are seemingly unbalanced, probably the most unbalanced game on the cards today.
The French side is missing N'Guessan, who got injured and was replaced by Romain Lagarde, while Hugo Descat also got muscular discomfort and is likely to be rested today.
Bahrain have won only one game out of their five played at the Olympic Games, but can they spring a surprise or two? Let's see.

09:15 JST Ready for the quarter-finals to begin?

And there they were eight. Four teams have gone home after the group phase, with the best eight sides still continuing their quest for a medal at the Olympic Games Tokyo 2020.
Out of these eight, only three of them – Denmark, France and Germany – have won the gold medal, with three others – Egypt, Bahrain and Norway – never sealing a medal in the competition.
By far, the headliner of the day will be the 100% Scandinavian clash between Denmark and Norway, a huge rivalry that will conclude in a game which will probably send shockwaves in the handball world.
Denmark had a 15-game winning streak in major international competitions snapped on Sunday, when the reigning Olympic champions were handed a 30:33 loss against Sweden. The result did not impact their tournament other than erasing their unbeaten status, as the Danish side still secured first place in Group B.
Norway dropped games against Germany and Spain, but won against France, Brazil and Argentina to proceed to the quarter-finals in their first participation in the Olympic Games since 1972.
This will also be a battle between the top two goal scorers of the tournament, Norway's Sander Sagosen (35 goals) and Denmark's Mikkel Hansen (32 goals). All of the statistics of the Tokyo 2020 Olympic Games can be found here.
In the first game of the card, France meet Bahrain, being touted as huge favourites, after dropping a single game in this tournament, their last one against Norway. However, France will miss Timothy N'Guessan, who left the court injured, being replaced by Romain Lagarde. N'Guessan is out of the tournament, while left wing Hugo Descat is questionable, with another muscular injury.
The two sides met only once in history, at the 2011 IHF Men's World Championship, when France took a straightforward 41:17 win.
Balance is the key word when Spain and Sweden face off in the second quarter-final. The two sides have both impressed at times, both dropping a game on their way to the knock-out phase of the competition.
However, Sweden hold the head-to-head record, boasting 14 wins to Spain's 10, but the Spanish side won the last six mutual meetings, with Sweden's last win coming in the bronze-medal game at the 2009 IHF Men's World Championship (34:30).
One of the most balanced games of the quarter-finals sees Germany take on Egypt, as the African side aim to become the first team from their continent to progress to the semi-finals at the Olympic Games.
Germany dropped games against France and Spain, both with the slightest of margins, a one-goal difference and will face another tough challenge, as Egypt awaits, who only lost against defending champions Denmark in the group phase. 
Three weeks ago, the two sides played a friendly game in Nuremberg, won by Germany 29:27. In fact, Egypt's last win against the German side came 21 years ago, at Sydney 2000.