Korea

Coach: Roland Freitas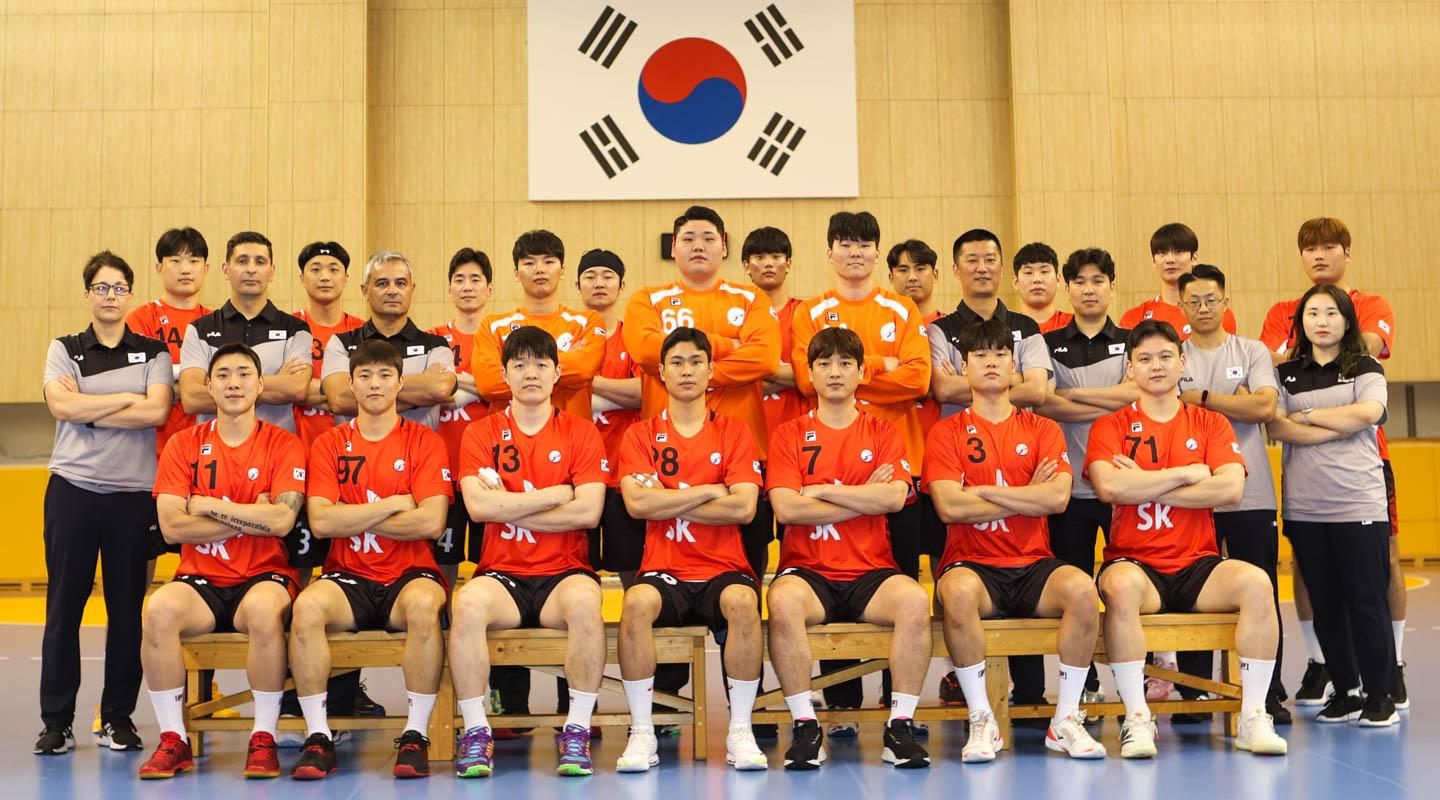 Republic of Korea
Korea
Team Players
Team Info
You have to go back 10 years for the last time Republic of Korea men had an uneventful IHF Men's World Championship campaign. Spain 2013 saw a 21st-place finish, but it would take some time until they returned with full strength to the competition.
After two successive non-qualifications (2015, 2017), 2019 saw an IOC-supported 'Unified Korea' (Republic of Korea and Democratic People's Republic of Korea) team compete while COVID-19 restrictions and a league campaign in Korea in 2021 meant that their team for Egypt 2021 was made up entirely of younger-age category players, with the squad having an average age of 20.3 years. 
Korea's senior men did return for the ultimately unsuccessful Tokyo 2020 Olympic Qualification Tournament campaign in April 2021, but they would be again unsettled at their next competition: the AHF Men's Asian Championship in January 2022.
Due to COVID-19 complications, Korea very nearly missed out on World Championship qualification in Dammam, forfeiting their main round clash against Qatar in the Saudi Arabian city, which saw them out of contention for the semi-finals.
This meant one last chance for Poland/Sweden 2023: a straight play-off against Iraq in the 5/6 placement match.
In the days leading up to the game there was talk about if the COVID-depleted Koreans would even have enough players to fulfil the contest, but after 15 players were cleared to play in the 24-hour period leading up to it, they took to the court and subsequently booked their ticket with a win.
Since then, Portuguese Roland Freitas has become the first non-Korean coach of the men's team. After taking the reins in May 2022, the former national team coach of both Portugal and Israel will be impatient to see his side take to the global stage and show what they can do after working with the team intensely, including summer training in Portugal.
However, as is usually the case with Korea, the lack of international experience at both club and international level for his players could prove to be his Achilles heel, despite the depth of talent in the Korea Handball League.
After the KHL finishes in mid-December, Freitas takes his team to Europe for preparation which includes a late December tournament in Poland and friendly matches in January.
"We have a good preparation plan and hope to get better every day," said Freitas to ihf.info ahead of the championship.
"We don't have stars but our main power is working as a team. The team is young and has shoulders to grow. We will try to make our best at Poland/Sweden 2023, knowing that an improvement of our last rank (at Egypt 2021) is almost mandatory but be conscious that the job in front of us is tough.
"Our group opponents are all top 10 in the world and used to fighting for the top places in each event. Nevertheless, we aim to be closer to the high-level teams and we will be working for that."
Freitas will be relying on experienced key players like right winger Ha Min Ho, who become captain at that Tokyo 2020 Olympic Qualification Tournament, alongside Doosan centre back Jeon-gu Kang and SK Hawks left back, Hyeon Sik Lee.
Key players: Jeon-gu Kang (centre back), Hyeon Sik Lee (left back), Ha Min Ho (right wing)
Qualification for Poland/Sweden 2023: 2022 AHF Men's Asian Championship – 5th place
History in tournament: 1986: 12th, 1990: 12th, 1993: 15th, 1995: 12th, 1997: 8th, 1999: 14th, 2001: 12th, 2007: 15th, 2009: 12th, 2011: 13th, 2013: 21st, 2019: 22nd*, 2021: 31st 
*As Unified Korea
Group at Poland/Sweden 2023: Group D (Iceland, Portugal, Hungary, Korea Republic)