Algeria

Coach: Alain Portes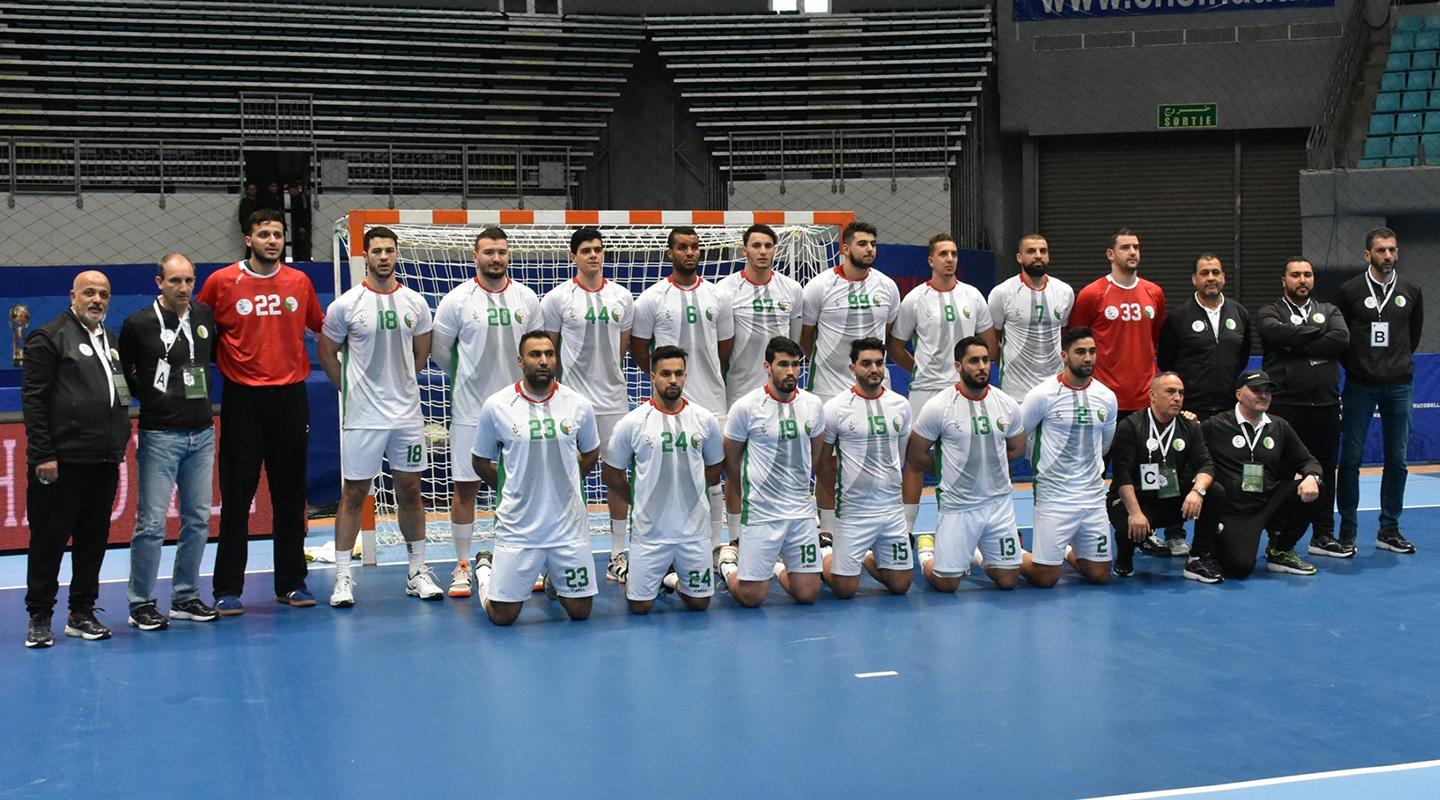 Algeria
Algeria
Team Players
Team Info
Algeria were the second-best African team at the 2021 IHF Men's World Championship in Egypt, progressing to the main round to finish 22nd.
'Les Fennecs' celebrated their only win against another African contender – Morocco – in the opening match of their World Championship campaign. After trailing by seven at half-time, they mounted a miraculous comeback in the second half, securing a 24:23 victory, which saved them the ticket to the main round after losses against Iceland and Portugal.
The team led by head coach Alain Portes, who played for the France men's national team from 1983 to 1992, had a great performance against France in the main round, taking the game into the final minutes but could not get the upset. The two remaining matches were losses against European powerhouse Norway and Switzerland leaving them without a victory against a European team.
In the Tokyo Handball Qualification 2020 Tournament they will face yet again three European teams, World Championship silver medallists Sweden, 2017 IHF Men's World Championship bronze medallists Slovenia and hosts Germany, who won the bronze medal at the Olympic Games in Rio 2016. 
The Algerian team had their golden days in the eighties, when they not only won every CAHB Men's African Championship from 1981 to 1989 but also participated in three consecutive Olympic Games from 1980 to 1988. Their fourth appearance was at Atlanta 1996 where they finished 10th.
After 24 years of absence from the Olympic Games, the task to qualify through to Tokyo 2020 could not be any harder, as the African side are not amongst the favourites to claim one of the two open spots. Yet, their performance at Egypt 2021 has shown that they are able to spring a surprise. 
While most players ply their trade in Algeria, Alain Portes also has some key players in his squad who play for French and Spanish clubs, such as goalkeeper Khalifa Ghedbane, who won the EHF Champions League 2018/19 with his former club Vardar and is now playing for the Spanish club Ademar Leon. 
'Les Fennecs' have a powerful back court with 24-year-old left back Abdi Ayoub, who is playing for the French club Fenix Toulouse and was top scorer for his team at Egypt 21 with 36 goals as well as 18 assists. 
Captain Messaoud Berkous, who will experience his first adventure abroad soon, as the 31-year-old left back will join French club Istres this summer, showed his qualities as well, scoring 24 goals throughout the tournament. Together with centre back Moustapha Hadj Sadok and left back Daoud Hichem, the four players combined scored more than half of their team's goals in Egypt.
"I think that our players showed their worth in this competition, they showed their best performance," concluded Portes after the IHF Men's World Championship in January.
They will need to put up their best performance once again, if they want to stand a chance in their group. Their last encounters against Germany (2009), Sweden (2015) and Slovenia (2003) have all been in favour for their opponents.

Key players: Messaoud Berkous (left back), Abdi Ayoub (left back), Mustapha Hadj Sadok (centre back)
 
Qualification for Tokyo Handball Qualification 2020: 2020 CAHB Men's African Championship – 3rd place 
 
History in Olympic Games: 1980: 10th, 1984: 11th, 1988: 10th, 1996: 10th
 
Tokyo Handball Qualification 2020 – Tournament 3: Germany (GER), Sweden (SWE), Slovenia (SLO), Algeria (ALG)