Republic of Korea

Coach: Il-Koo Kang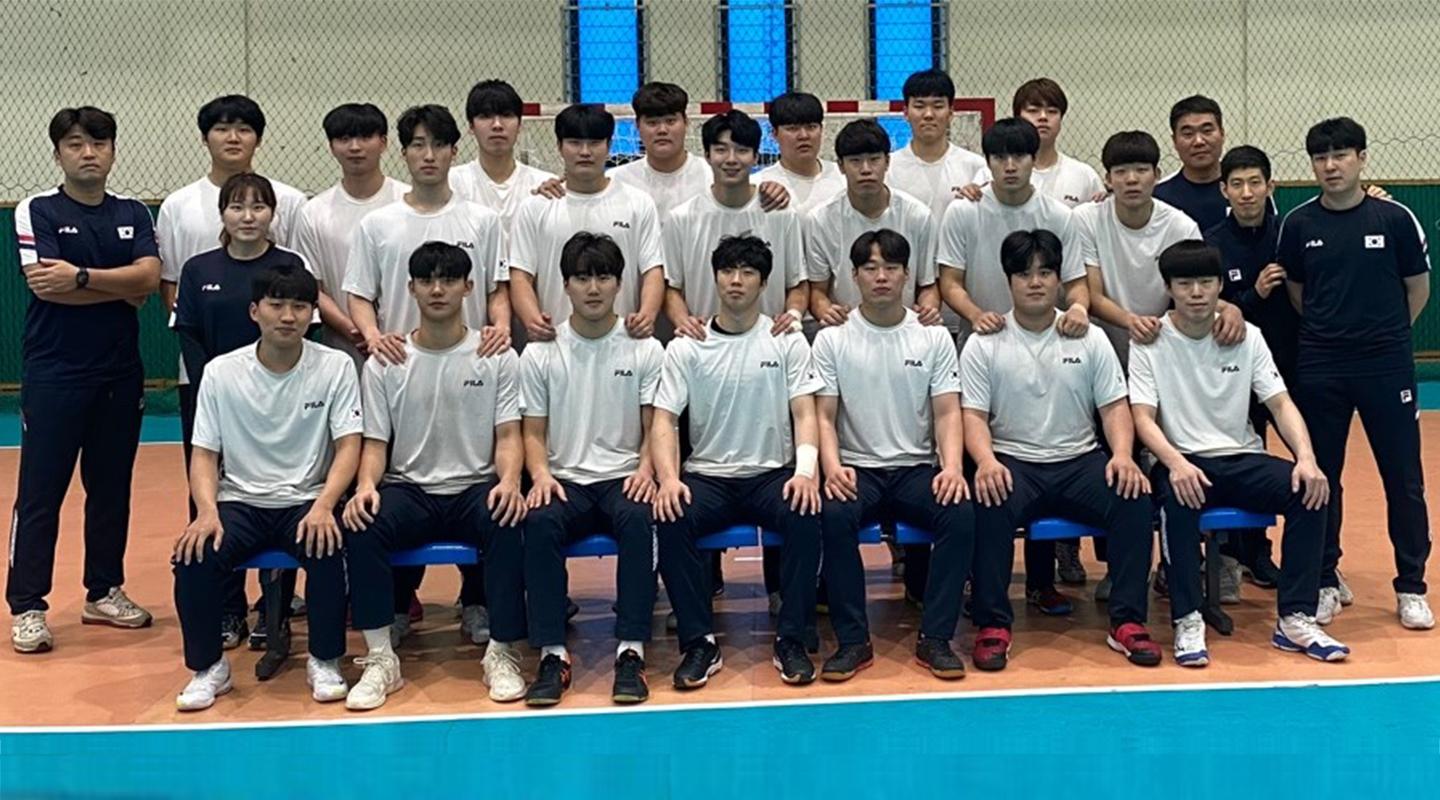 Republic of Korea
Republic of Korea
Team Players
Team Info
It is hard to look at any recent competitive action on the global stage for Republic of Korea ahead of their appearance at the Tokyo Handball Qualification 2020 Tournament 1 in Montenegro, where they will face Brazil, Norway and Chile.
A place at the Tokyo 2020 Olympic Games awaits the top two teams, but despite appearing – in some form at least – at the last two IHF Men's World Championships in 2019 and 2021 after missing the previous two editions, little has been seen of the Korean team which will appear in Podgorica. 
Back in 2019, the already-qualified Republic of Korea took the unique step of unifying their team with the Democratic People's Republic of Korea to form 'Team Korea'.
Just six of the players named in Kang's squad for Podgorica played in that 2019 team (who lost 26:35 to Montenegro rivals Brazil in the preliminary round); goalkeeper Park Jaeyong, left wing Choi Beom-Mun, right back Jo Tae Hun, line players Kim Dongmyung and Ku Changeun and left back Park Kwang Soon.
Park finished as top scorer for the third consecutive season in the Korean men's handball league and also took the regular league MVP title. The 24-year-old is one of the talented next generation of Korean players and his powerful play will be important not only for his nation to succeed in Montenegro but maybe to help put him in the shop window for a potential European club move.
For the 2021 IHF Men's World Championship in Egypt last January Korea named essentially an U23 team due to difficulties surrounding COVID-19, especially with a mandatory 14-day quarantine upon return from Egypt, as well as difficulties adjusting the domestic Korean league schedule.
According to the Korean Handball Federation (KHF) they were also keen for the young players to gain experience at world championship level, with the squad having an average age of 20.3 years, the youngest just 17 and oldest 22.
At Egypt 2021, the young Koreans lost 33:44 against fellow Montenegro rivals Chile but the result is almost irrelevant when thinking about Tokyo 2020 qualification with none of the players from Egypt in the squad due to scheduling conflicts with the now-cancelled AHF Men's Asian Junior Championship.
In fact, the only constant from Egypt 2021 in the provisional 18-name, entirely Korean-based squad announced for Montenegro, is head coach Kang Il Koo and his assistants, Kim Mingoo and Kim Tae Young.
But qualification tournaments for Olympic Games are not unknown to Korea. For Athens 2004, Beijing 2008 and London 2012, they secured their place through the respective AHF Men's Asian Olympic Qualification Tournament but missed out in the same tournament for Rio 2016, and again for Tokyo 2020, where they lost to Bahrain in the final despite leading at the break, 29:34 (15:13).
Despite this defeat, their runners-up spot saw them through to Montenegro for a second bite of the cherry, and former player-turned-coach Kang will be desperate to experience another Olympic Games, having played for his country at the 2000 and 2008 editions during his 10-year (2000-2010) national team playing career as a goalkeeper.
Kang had been goalkeeping coach for Team Korea at Germany/Denmark 2019 but took over the Korea national team head coach reins later on that year after head coach Cho Young Shin resigned.
In addition to coach Kang, two further members of the Korea squad this time around have Olympic Games experience, with former player, now assistant coach, Park Kyung Suk part of the team which finished 11th at London 2012 a tournament which centre back – and team leader – Jeong Yi Kyeong, who is expected to play a crucial role in Montenegro, also played at.
Coach Kang has had the benefit of watching his players in the jam-packed Korean men's league which has just finished, and with the global restrictions in place on international travel due to COVID-19, he has focussed on domestic training and tactics.
Alongside Yi Kyeong, left wing Kim Gimin and right back Jo Taehyun were voted into the All-star Team this season, with left back Park Kwang Soon's 113 goals securing him the top-scorer title and right back Shin Jaeseop being voted 'Rookie of the Year'. Goalkeeper Park Jaeyong finished top of the saving charts, with 252 stops.
"There are no star players in the Korean side and no players who can be greater than the team – we are a team," said Kang to ihf.info at Egypt 2021. "In attack, we always want to play fast, dazzling handball. Unfortunately, defence has always been our main issue, especially when facing strong and powerful players. This is the big challenge, to find answers, yet this is not easy," 
Despite these comments from coach, right back Ha Taehyun, who plays for SK Hawks, is another one to look out for, and was recognised for his talent at the 2020 AHF Men's Asian Championship when he was named in the All-star Team.
"Their back court players are strong," said coach Kang to ihf.info about the threat posed by Brazil. "Their centre back and line players have excellent skill, and they won't be easy. 
"We faced Chile at the world championship in January, but I don't think they showed everything they could - they are a team with fast speed," he added. "As for Norway, they are a great team of top class in world handball, a representative team of European handball, but we will do our best because there is no place to back down."
 
Nine years is a long wait for Korean men's handball to not be present at an Olympic Games and with an extra Asian place, Qatar out of contention and such a short distance to neighbouring Japan, it can almost be touched.

Key players: Ha Taehyun (right back), Jeong Yi Kyeong (centre back), Park Kwang Soon (left back), Park Jaeyong (goalkeeper)
Qualification for Tokyo Handball Qualification 2020: AHF Men's Asian Olympic Qualification Tournament – 2nd place
History in Olympic Games: 1984: 11th, 1988: 2nd, 1992: 6th, 2000: 9th, 2004: 8th, 2008: 8th, 2012: 11th
Tokyo Handball Qualification 2020 – Tournament 1: Norway (NOR), Brazil (BRA), Chile (CHI), Republic of Korea (KOR)