Plain sailing for the "Heroes of the Sea"
15 Mar. 2021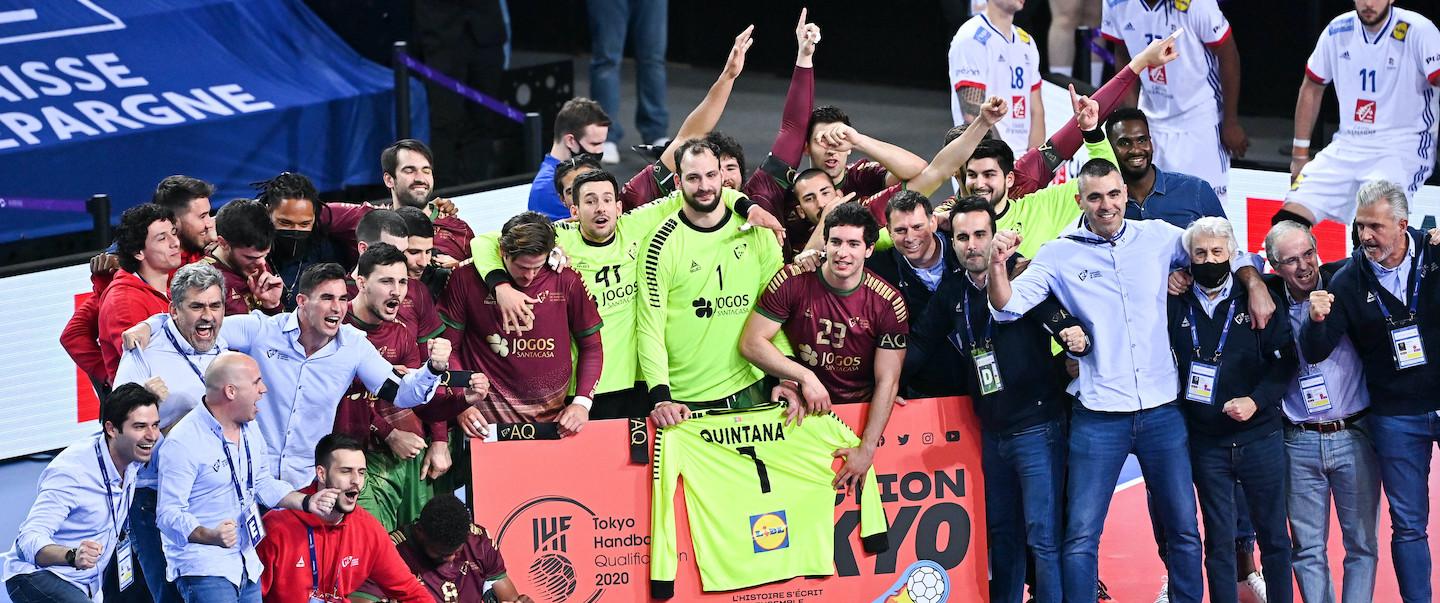 This is the story of one of the greatest turnarounds ever in world handball. Six years ago, Portugal was in disarray, losing games against lesser opponents in the IHF Men's World Championship Qualification Phase.
Since the appointment of Paulo Pereira in May 2016, the sailors have become heroes. It was a gruelling, yet beautiful journey, peppered with highs and lows, a roller-coaster journey that brought amazing wins, but also tears in their eyes.
Now, they are in the big leagues. The "Heroes of the Sea", as they like to be called, have earned their first Olympic Games berth, after one of the all-time great comebacks in the history of handball, wiping out a three-goal deficit with five minutes to go against France to seal a 29:28 win.
But when Rui Silva scored with two seconds to spare, everything was forgotten. Every draining training session, every disappointment along the way, every loss endured culminated in one great moment, as players flocked to the court after this particular win.
It meant that Portugal finished second in Tournament 2 of the Tokyo Handball Qualification 2020, taking a ticket to the Olympic Games and fulfilling a life-long dream. A few years back, they hoped to take part at the IHF Men's World Championship. Now they are here.
"I felt complete"
"It is a team full of heroes. I feel like the greatest coach on the planet having these guys near me. It is a superb feeling and when we won, well… I felt complete," said Paulo Pereira, immediately after the win against France.
France, of course, qualified, but Portugal leapfrogged Croatia, as the two-time Olympic champions were denied access to Tokyo, after a three-way tie saw Portugal beat them by the nature of a better goal difference, 0 to -3.
"I think this was the right way to finish the tournament, we deserved this Olympic Games ticket. We were not supposed to lose against Croatia, so there is a bit of justice in this result," added Pereira.
The charismatic coach is an integral part of why Portugal became a powerhouse in world handball and he duly anticipated the sheer enormity of his task in January, when he sat down with IHF.info during the IHF Men's World Championship in Egypt.
"The development has been big, but here it is not only about handball. It is about thinking and working as a team. From my point of view, the psychological aspect of this game is the most important. Everyone can play well. But you must tap those buttons, to wire the players in a way that speaks volumes to them. This is also my job," said the Portuguese coach back then.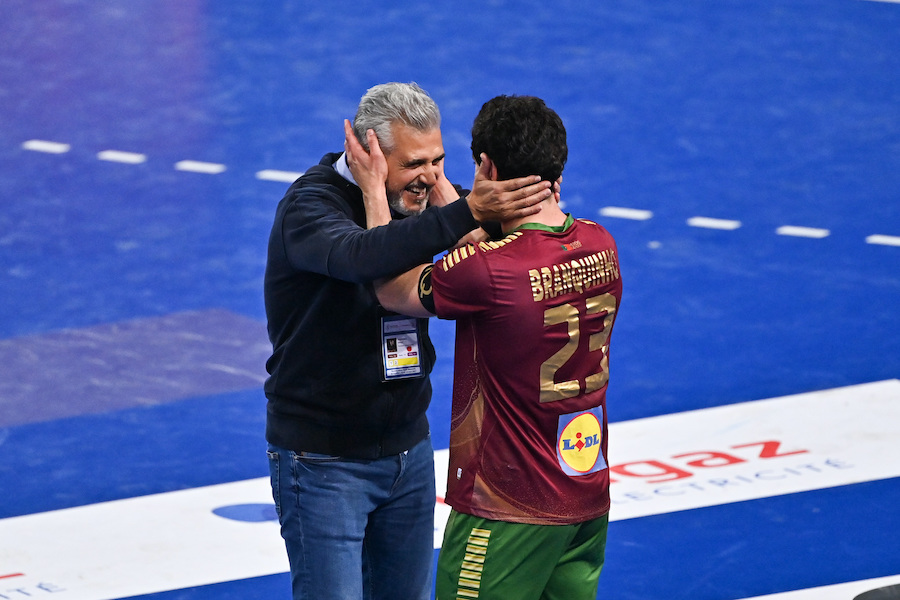 The game against France was not about handball. Fresh from a painful loss against Croatia, 24:25, and with their hopes for Tokyo dimming, Pereira needed to tap into his players' minds. It did not help that Portugal lost influential centre back Miguel Martins due to an injury in the last attack of the game and the back line shapeshifted with various left backs in the right back position.
A dream truly came true
Of course, Pereira knows his team better than anyone. And he rarely panics. If Portugal boast a six-goal lead, he will be calm. If his team is down by six, as they were in the game against France, he will have the same feeling.
It was not something Portugal were going to give up easy. 
"I have constantly said that my dream in handball is to represent Portugal at the Olympic Games. We all had that in our minds and put it into our game. It is an amazing feeling," said left back Fabio Magalhaes, who donned the national team shirt for the 150th time in his career.
But what about Tokyo?
"To succeed, you have to set yourself crazy goals. Call it crazy, but I want a medal at the Olympic Games. For you, it may sound crazy. It probably is. But you cannot progress if you are not ambitious. Therefore, my goal is to go there and win a medal. We will be playing the best of the best, but why not," said Pereira.
It might sound farfetched, but Pereira is the coach who transformed this team from a laughingstock to a team that beat Sweden on their home court by ten goals at the EHF EURO 2020, 35:25, and won games against Hungary, Iceland or France, losing by a single goal against Norway and Croatia in the last year.
"We did not manage this alone"
But the true story behind Portugal's success is their resilience. With only two weeks to go before the Tokyo Handball Qualification 2020 in Montpellier, the Portuguese side lost goalkeeper Alfredo Quintana, who passed away due to a cardiac arrest.
It might have been simple to pack it in and back down from the challenge. Instead, the true "heroes", the Portuguese warriors decided to honour his memory as Quintana would have probably wanted. By winning.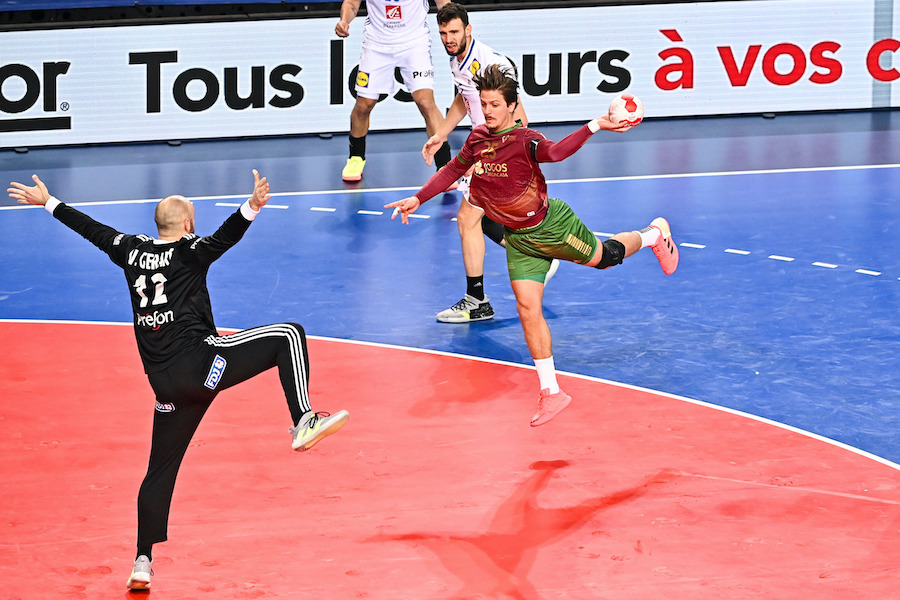 "We all felt his presence in this game, and I thought we cannot miss the last fast break. Rui converted the shot and it was an amazing feeling," said Magalhaes.
Pereira agreed.
"We did not manage this alone. I want to thank Alfredo Quintana for everything he did for us and for this win. These guys are all warriors, heroes," said the Portuguese coach.
Tears of joy, but also of sorrow were flowing down from the Portuguese players' eyes, as Quintana's number 1 shirt was left on a chair on the team's bench in the game against France.
In a symbolic gesture, line player Victor Iturriza, who scored four goals in the win against France and was also born in Cuba, like Quintana, put the shirt on. 
In a way, Alfredo was there, but not in the way the Portuguese team wanted. Instead, everybody thought about him after Silva's shot went in. 
Photo: FFHandball / Icon Sport