One step from a medal in Alabama
14 Jul. 2022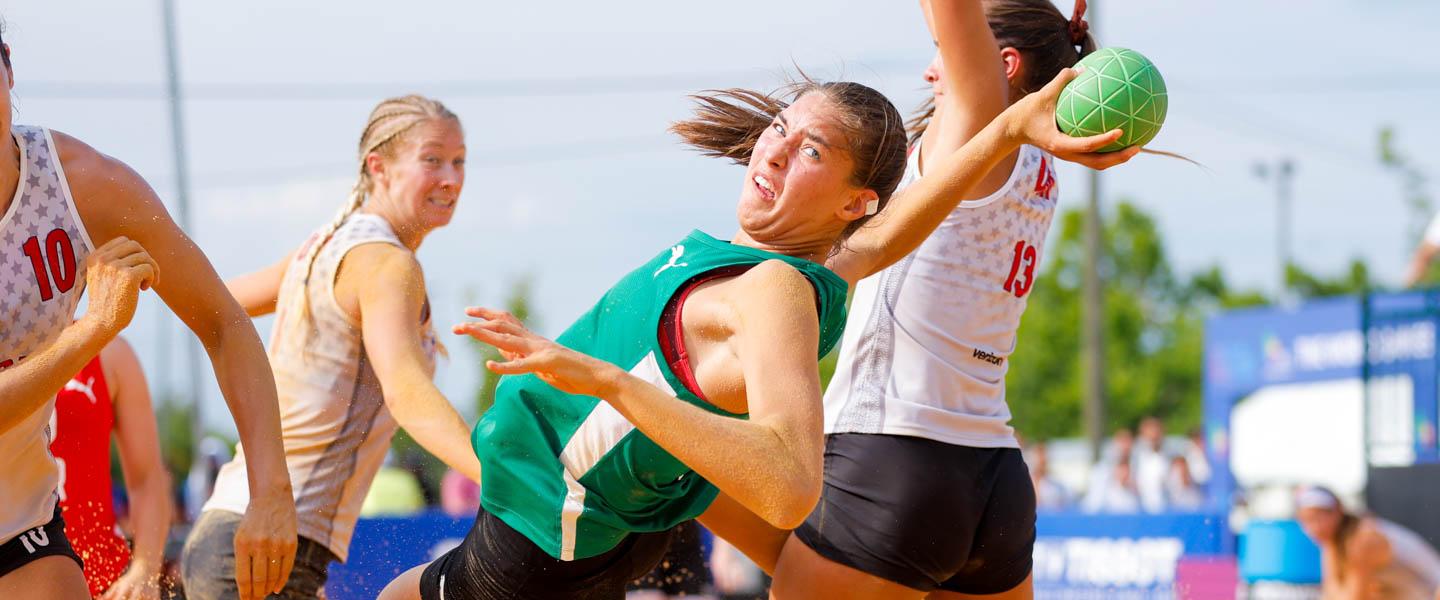 Two games, two chances to podium in Birmingham.
That is the simple fact on Thursday as the semi-finals of the women's beach handball competition are played at The World Games 2022 in Alabama, USA.
Norway will play Argentina first (15:30), followed by Germany taking on the USA at 16:20. 
With a round-robin format having been played in the preliminary stage due to Denmark and Vietnam being unable to compete, both games on Thursday are repeats of those already played this week.
Both games are copies of matches played just the day before which saw Norway beat Argentina 2-1 via a shoot-out (16:23, 25:20, SO 7:4) and, in what will be exactly 24 hours before their semi-final clash, Germany easing past the hosts, 2-0 (21:10, 20:12).
Last month, Argentina defeated the Norwegians at the 2022 IHF Women's Beach Handball World Championship in Greece, winning 8:4 in a main round shoot-out (28:24, 20:22, SO 8:4).
At the last The World Games, in 2017, Argentina won silver, but since then their core team has been reinforced with 2018 Youth Olympic Games gold medallists, which include Gisella Bonomi.
"We are enjoying every minute and that's our objective besides the technical matters," said Bonomi to ihf.info about her experience in Alabama so far.
"We are developing set by set and we are also meeting new athletes from this sport and other sports. We got the opportunity to join some of our country athletes in their competitions and they in ours, it feels great to support each other at this level."
For Maren Sjaamo, who scored Norway's final shoot-out point against Argentina on Wednesday, she is hoping that recent knowledge can propel the team to exceed their 2017 fourth place.
"Since we play the semi-finals the day after we met them in the group we will remember a lot from them, likewise as they know us well," she said to ihf.info.
"We have to bring all our confidence to what we are good at. From our match on Wednesday and earlier matches, we have experienced that they have very good in-flights and a smart playmaker/specialist in the middle, so we are a little bit more prepared."
Lisa Dunn, coach of debutants USA, is also relishing the chance to take on the team her side lost to 24 hours previously.
"It's always a great learning experience to play against a team you have never played before," she said about her side taking on the world and European champions on Wednesday. 
"Germany are a very strong team but we, for sure, underperformed. We will spend a lot of time going over their tendencies and try to give our offence and defence more tools to use and apply when facing them again."
Her thoughts were echoed by her leading scorer, Christine Mansour.
"It's never easy competing against the reigning world champs, but we learned so much from the game that we will build on for our rematch," said the Greece 2022 top scorer.
"Germany are tough - their defence is big, their offence is fast. But we will try our best to come out of the gates with high energy and apply the pressure. We owe it to our home crowd to put on a show."