Crunch day for Mexico, USA and Australia as preliminary round concludes
13 Jul. 2022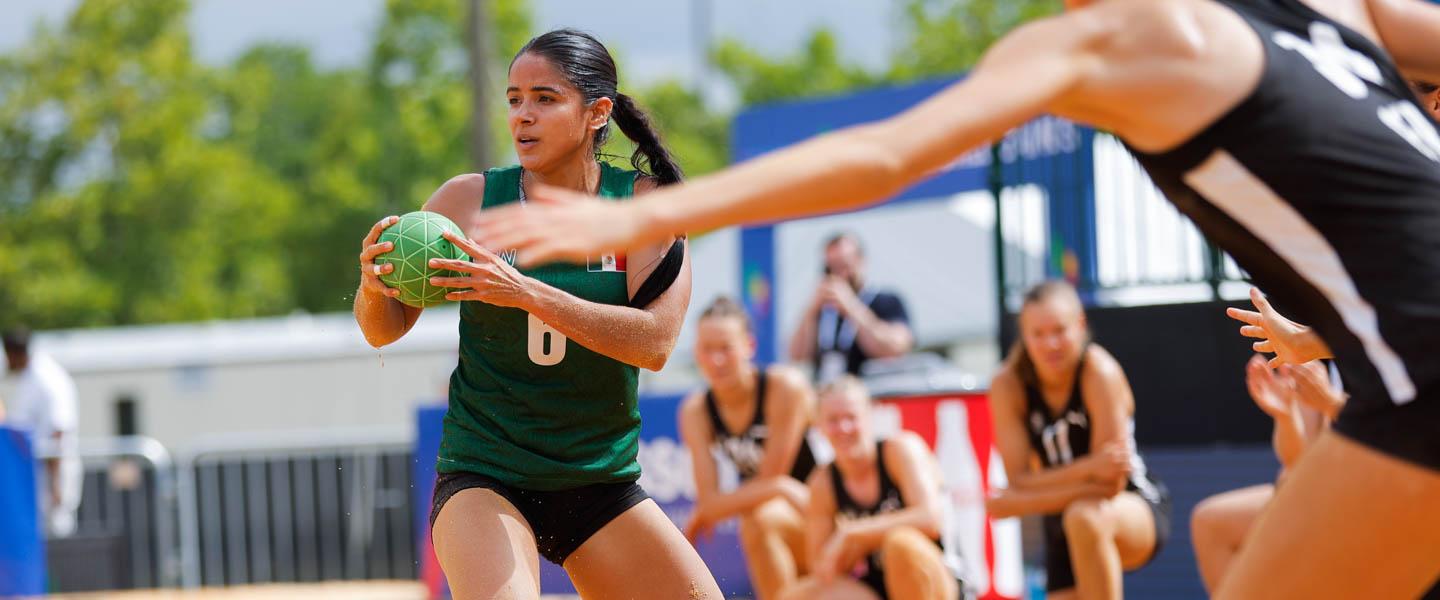 The final day of preliminary group action in the women's beach handball competition of The World Games 2022 features six matches on Wednesday in Birmingham, Alabama.
Once those six matches have been completed, the top four teams in the round-robin group will be known and will receive direct tickets through to the semi-finals.
Sitting comfortably on top of the group on six points and through to the last four no matter what happens today are World and European champions Germany.
With three wins from three, their matches against Australia and the USA today open and close the women's competition.
After not dropping a period on their way to the world title in Greece last month, Alexander Novakovic's side have conceded two in their last two games, against Argentina and Norway. Both games were won via shoot-out with Lucie-Marie Kretzschmar delivering the knockout single point in both.
In the US, she would be called a "clutch" player, one who can be called on in crucial moments to perform, and Novakovic agreed fully with ihf.info when that was put to him.
"She is a clutch player and very important for the team," he said. "She takes responsibility at just 22 years old and that's awesome. [But we also] played both shoot-outs with Isabel Kattner (in goal). She is our specialist for these moments and she [always saves] one or two balls."
Kattner did indeed save one of Norway's shots yesterday as the 2013 The World Games bronze medallists severely tested the German defence – and record, but came away empty-handed.
"We tried to win both games (against Norway and Argentina) and develop our play in the right way," added the German coach. "We can play a little more effective and in some ways smarter, but until now we enjoy that feeling of three more wins and the great self-confidence of every player and the team [itself]."
With four places in the group of six available, there is a scenario where Argentina or Norway, plus Mexico, USA and Australia all end on four points across the 3rd-6th spot in the group.
The key match will be at 10:20 (local time) between Mexico and USA. Both are on two points and, on paper at least, face stronger teams in their final preliminary round games, against Argentina and Germany respectively. So their morning clash could prove to be a direct play-off for that final four spot.
Despite losing all three games so far, Australia will know if they beat Germany and then Norway they will confirm a semi-final spot too.
However, they would have to put in a performance of a lifetime, twice. One win will not be enough for the Oceania champions as they are on the wrong side of the head-to-head record against both the USA and Mexico who are just above them in the table.
In the remaining match of the six on Wednesday, Norway and Argentina complete the morning session in what is likely to decide second place.