Favourites on the way to the semi-finals
13 Jul. 2022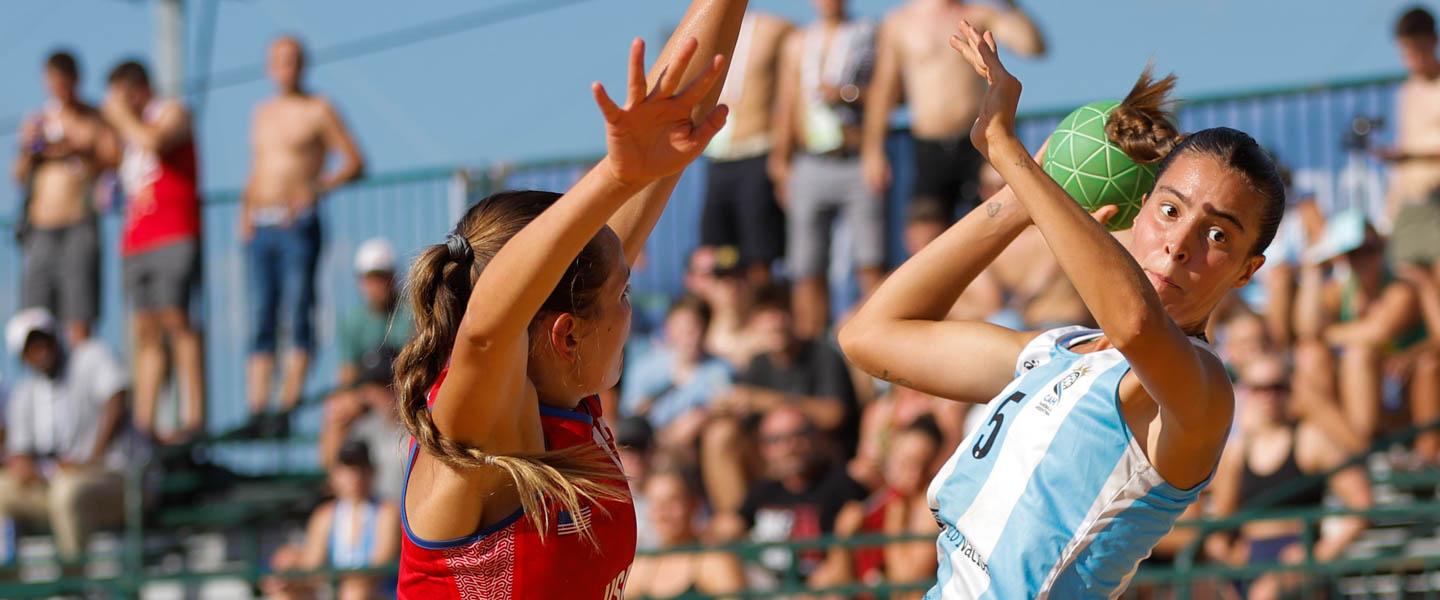 World and European champions Germany recorded their third win in three games at the 2022 World Games in Birmingham, USA with a nail-biting 2-1 shoot-out defeat of Norway on Tuesday.
The first-period lead went back and forth with Germany ahead by as much as four late in the eighth minute, but Norway came back and sunk home a last-second two-pointer from Maren Sjaamo to take a 16:14 victory.
Germany then led again by four in the eighth minute of the second, but this time they kept their noses in front to confirm a comfortable 23:16 victory.
So, for the second game running for the Germans, it went to shots again. In goal, Isabel Kattner was decisive for them, opening the scoring for her side and then saving Norway's third to help her side to a 6:2 lead.  Lucie-Marie Kretzschmar then scored the decisive single point – just like she had done against Argentina yesterday, to secure a 7:6 victory.
It was also the second match running Germany had conceded a period, following their 2-0 run of nine straight wins on their way to the 2022 IHF Women's Beach Handball World Championship in Greece last month.
"Yes and no. The results are the right way, but in some phases, we are not yet in our good way of play," said Germany coach Alexander Novakovic to ihf.info in response to whether their three wins out of three in Alabama were indicative of a job well done for his side.
"The circumstances are tough and the girls have now had four weeks of non-stop beach handball; we can't even process our world title [win] because of the lack of [free] time."
"We are proud that in both matches we came back in the second halves," he added. "This symbolises a lot about the perfect character of this team to come back, even in tough moments."
"Both first halves (against Argentina and Norway) we could have played a little bit smarter, but that's what we like to develop here in Birmingham in the next games, [we are going] step-by-step."
"But in consideration of all aspects it is absolutely amazing what we did in the past 14 months and that is what we have to remember in every situation."
Those three wins mean Germany can look towards the semifinals, despite two more preliminary round-robin group games to come on Wednesday.
Almost there are Argentina, who won their second game at Birmingham, defeating the host nation comfortably, 2-0 (22:12, 26:12). 
The South Americans were only behind for three minutes in the second period but shot up shot for nearly all of it, preventing any US points for almost six minutes between the 6-8th minute. Gisella Bonomi top-scored for Argentina, and in the match, with 16 points.
In the last game of the day, Mexico secured the first-ever beach handball World Games win for the country, with a 2-0 (24:9, 28:15) defeat of Australia. 21-year-old Itzel Vargas had one of the games of her career, scoring 20 points in a comprehensive victory.
At the end of day, two Germany topped the round-robin group with three wins from their three games and six points to show for it.
Argentina and Norway were second and third respectively on four points each, followed by Mexico and the USA on two. Australia are bottom with three losses and zero points.
The competition continues on Wednesday with the third and final day of preliminary round-robin group action. The top four teams go through to the semi-finals.