Four continents, three games as World Games heats up in Alabama
12 Jul. 2022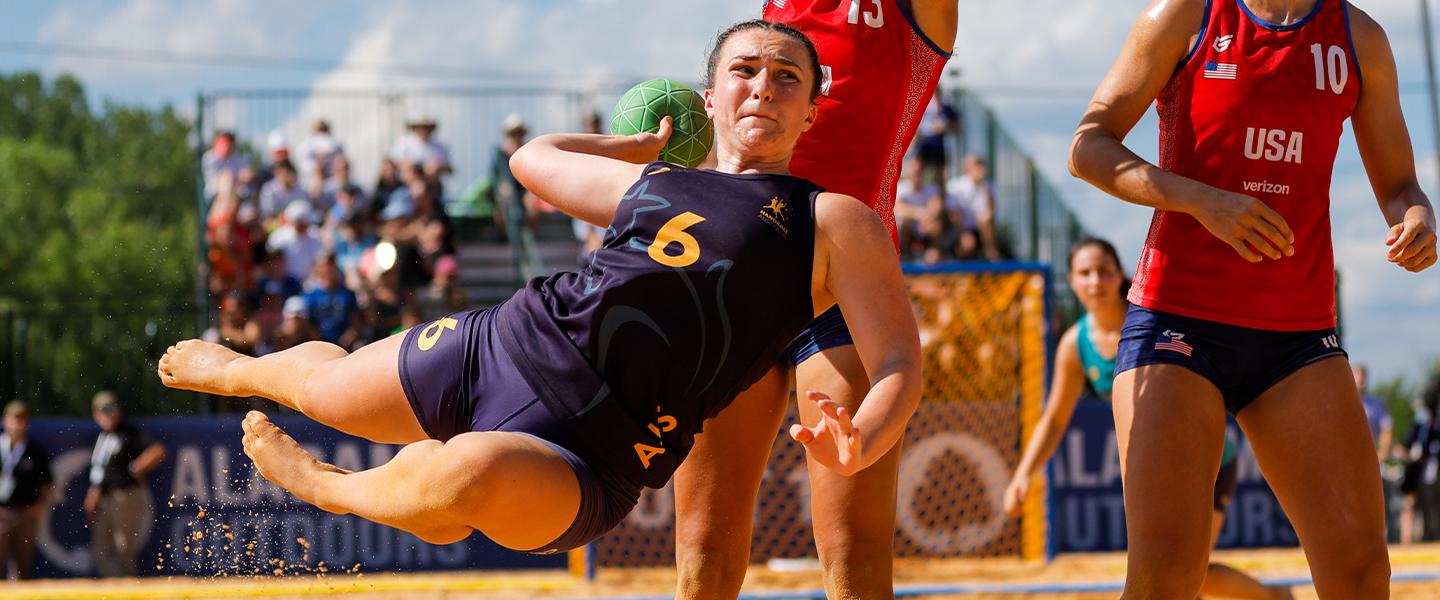 Three afternoon games will see all six teams in the women's beach handball competition at the 2022 World Games do battle in Birmingham, Alabama today.
The second day of matches do not start until 16:30 (local time), allowing for a long rest for the teams in the round-robin preliminary stage after their exertions in humid conditions on the opening day on Monday. 
First up are the world and European champions Germany taking on Norway. Yesterday, both got two wins each, with Norway the slightly better record – they won against Mexico and the USA 2-0, while Germany defeated the Mexicans by the same score, but were taken to a shoot-out by South American side Argentina.
The first period loss against the South Americans was Germany's first in major competition for nearly a year. They won all nine of their games 2-0 at the 2022 IHF Women's Beach Handball World Championship last month in Greece and won their previous nine at the EHF Beach Handball EURO 2021 with two going to shoot-outs.
That level is something unprecedented in the sport as Germany became the first-ever team in any IHF Beach Handball World Championship to have a perfect record on their way to gold.
However, that means nothing on the sand in the US. Norway, with half their squad changed from Greece (where they lost 0-2 14:19, 20:27 against Germany in the preliminary round), will be a tough test for the world champions.
The Norwegians finished fourth at The World Games 2013 and took bronze at the last edition, Wroclaw 2017.
"We will watch video later today and we watched them for one game yesterday," said Norway's Martine Welfler to ihf.info ahead of that Germany clash today.
"We'll try to play our game, just do what we are good at and try to take advantage of their weaknesses."
Those German weaknesses are few and Welfer was quick to explain just how difficult it can be to continue those perfect wins.
"It's hard to keep winning games 2-0," said the Norwegian centre back. "You need to be really sharp to do that. If you do a few mistakes, the other team can score easy goals and then you have lost the game. You need to be really prepared."
Welfer is one of those changes from Greece having missed the world championship due to her commitments of being best woman for her best friend's marriage.
But she has now returned to the sand and is in blistering form, scoring 37 points in Norway's two matches yesterday, including 25 against Mexico.
"I have never scored that many goals before in a game," she said. "But I cannot score them without my team passing to me. It was a lot of fun. After being out from beach handball for a year it was a lot of fun to score that many points. It was awesome.
"It's just a lot of fun being back with the team. I was sad that I couldn't go to Greece, but I'm really happy that we got a spot at the World Games.
"I hope to get a medal of course, to make the finals, but we'll see today how the game goes," she added. "There are some good teams here so we need to beat them to get there. We'll just do our best and see if that's enough."
The second clash of the day sees Argentina take on The World Games debutants USA. Both sides have one win and one loss each. Both beat Australia 2-0 – the first-ever women's The World Games win for the US – to ensure they are off the mark.
Argentina will fancy their chances against the host nation after running the world champions so close, and with their silver medal finish from The World Games 2017 in their minds, they will be super-motivated to repeat their podium finish last time out.
The final game of the day features Australia going up against Mexico. Mexico lost both their matches on the opening day 0-2, against Germany and Norway but they will be confident of defeating the Oceania continental champions – they beat them twice in Greece 2-0. First, in the consolation round 20:9, 15:12 and then in the 15/16 placement game, 17:13, 14:12.
However, like Norway, Australia have made significant changes to their squad from the Heraklion sand.
Coach Andrew Kelso has brought in six debutants to his squad of 10, joining right wing Kaycee Clark, pivot Allira Hudson-Gofers, defender Abby Mills and left wing Aline Viana who had competed in Greece and who will have been away from home for upwards of six weeks once Alabama concludes.