German comeback ensures favourite status retained
12 Jul. 2022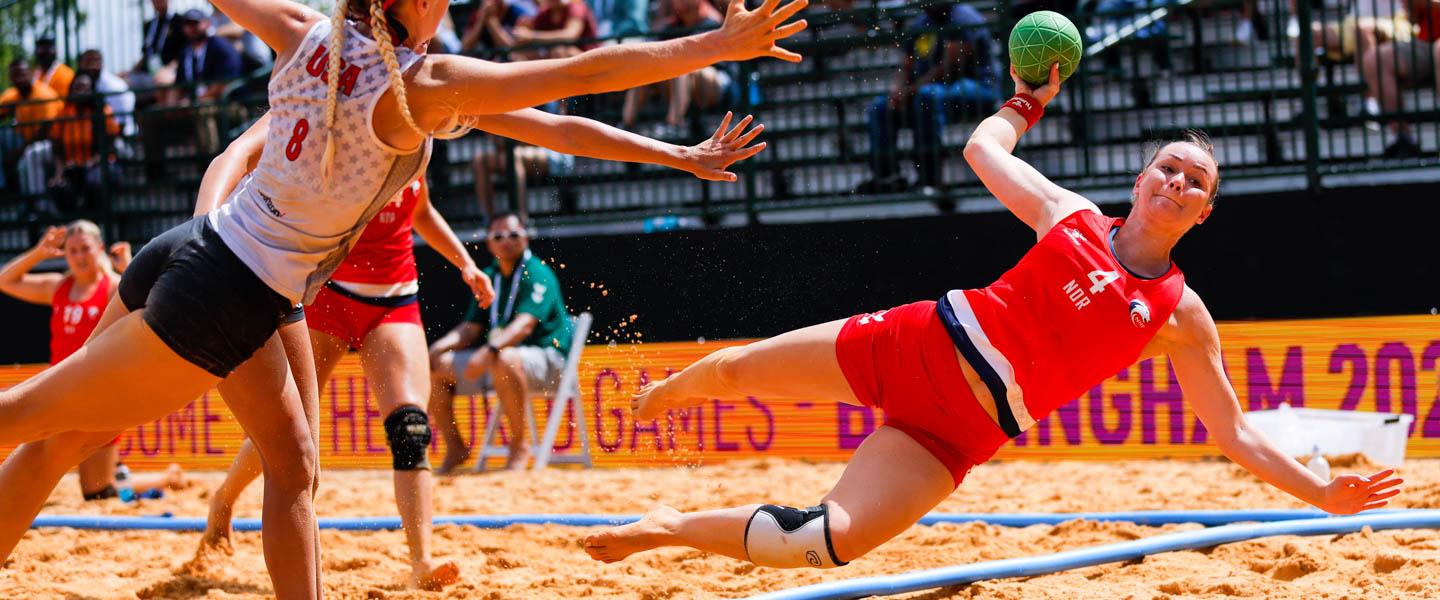 World and European champions Germany threw off their The World Games 2022 women's beach handball campaign with wins over Mexico and Argentina on Monday.
But it was not easy going for the nation which won the 2022 IHF Women's Beach Handball World Championship last month in Greece without losing a period in their nine games and who took continental gold last year after dropping just two periods in another nine straight wins.
Isabel Kattner's 22 points got the Germans off to a 34:17, 28:18 opening win over Mexico which pleased their coach Alexander Novakovic.
"We had a lot of respect for Mexico, they put a decent pace on the sand," said Novakovic to DHB.de after their opening clash.
"We were often challenged in defence, but we also played a very confident game and made almost no mistake. The game was incredibly fast and attractive to watch."
But it all changed in the evening as they were taken to a shoot-out against Argentina.
It was almost a year to the day (17 July 2021) since they had lost their last competitive period, against Spain in the European semi-final in Bulgaria, but the South Americans, who are appearing in their second-ever World Games gave them a tough fight.
The South and Central America champions who defeated Brazil to qualify for The World Games, showed their calibre, leading the entire first period and securing a 19:14 victory.
But the Germans came back and edged ahead inside the last minute of the second to win (19:16) and take it to a shoot-out. Argentina started but could only score a single point, however, after the first German attempt was blocked the Argentineans stretched their lead to 3:0. 
A rare loss for the Germans was a possibility but they showed their champion spirit, scoring their next two to go 4:3 ahead after an Argentina miss. A turnover from their opponents then handed the chance to Germany to seal it with their fifth, which they did, through Lucie Kretzschmar. 
Fiorella Corimberto ended with 19 points for Argentina and Greece 2022 All-star Team member Amelie Mollman grabbed 16 points to top score for Germany. Katharina Filter, who was called up to the German national team for Spain 2021, made seven saves.
Argentina had beaten Australia 2-0 (27:4, 25:7) in their opener, with the Aussies also losing to the USA 0-2 (13:18, 7:20) who got their first win thanks to 18 points from Christine Mansour, top-scorer at Greece 2022.
The host nation had lost their opener 0-2 (16:20, 12:20) against the invigorated Norway, who made several squad changes from their disappointing campaign in Greece. 
One of those returning to the side was Martine Welfler and she scored an incredible 25 points in Norway's 2-0 (23:18, 19:16) victory over Mexico.
"She was very good and has come across almost everything. It was very fun to watch," said Norway coach Eskil Berg Andreassen about Welfer's performance against Mexico to Handball.no.
"We got off to a very good start, and had full control throughout and we got a decent run-through against a team we are better than."
The competition continues with women's preliminary round-robin games on Tuesday.
For full results and schedule visit the IHF mini-site.