Republic of Korea

Coach: Jae Won Kang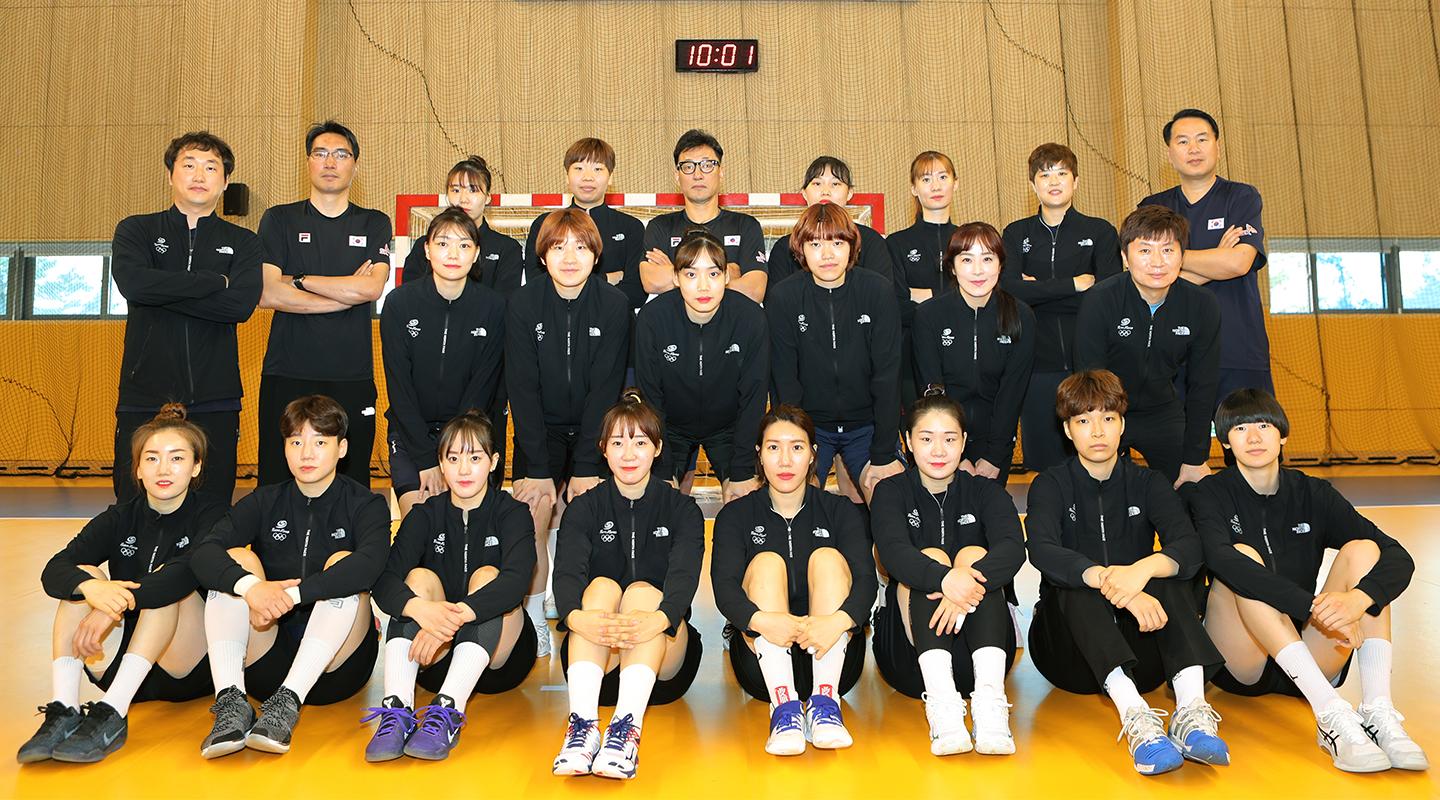 Republic of Korea
Republic of Korea
Team Players
Team Info
In terms of total medals, and the rank of those won, Republic of Korea are the most successful team in the history of Olympic handball in either gender.
Though Denmark's women have won three gold medals (but no silver or bronze) and therefore top the top medal tally from the time women's handball was introduced to the Games in 1976, Korea's six medals – two gold (1988, 1992), three silver (1984, 1996, 2004) and one bronze (2008) – is better than Norway's six (two gold, two silver, two bronze).
Before Rio 2016, Korea had never finished outside of the top four since qualifying for every Games since 1984, but South America proved to be a disaster by their standards as Lim Young-chul's side could only beat Argentina in five preliminary group games to crash out and eventually finish in 10th place.
They had led at half-time against eventual gold medallists Russia in their very first match and were all-square against France, who would move on to claim silver, at half-time in their clash, but both resulted in losses, meaning their 32:32 draw with eventual fourth-placed Netherlands meant the Dutch took their place in the quarter-finals. Korea have a chance to avenge that Dutch defeat as they face them in their second game at Tokyo 2020.
Following Rio 2016, Korea reflected on, maybe how far they had fallen in the global game – subsequent 13th and 11th place ranks at the 2017 and 2019 IHF Women's World Championships, respectively, highlighted this and further shone a light on their lack of competition in Asia, a continent they have almost completely dominated at all levels in the women's game, winning 14 out of the 17 editions of the AHF Women's Asian Championship, including the last four and 23 of the combined 23 editions of the continental youth and junior championships.
While their history is impressive, it could weigh heavily on Korea, forever known in the women's game as the team that broke the European hold on the world title, when they became the first nation from another continent to raise the trophy at the 1995 IHF Women's World Championship in Austria and Hungary under Chung Hyung-kyun.
However, Tokyo 2020 is the chance to showcase the current, the future and the real quality Korea have and which has been proved on the global level already – at the most recent IHF Women's Youth and Junior World Championships, back in 2018, where both Korea teams won bronze in Poland and Hungary, respectively.
Coach Kang Jae-won has already named his final squad of 14, plus one injury replacement for Tokyo 2020 and a pair of 2018 IHF Junior World Championship medallists are in it; goalkeeper Jin-Hee Jeong and the exciting right back, Jung Ji-in, who was just 17 in Hungary.
The youth is blended with experience too in Jae-won's side too, with Korea's captain and leader Ryu Eun-hee one of many in the squad with games under their belt, most recently at Japan 2019, and the AHF Women's Asian Olympic Qualification Tournament which saw Korea win all five of their games to qualify for Tokyo 2020 and which will be Ryu's third Olympic Games in a row, along with national teammates Shim Hae-in and Jeong Yu-ra.
Ryu returned to Korea last season after playing in Paris and will again depart the Asian nation following the Olympics, when she moves to Hungary to join Győri Audi ETO KC. Centre back Lee Mi-kyung is the only other player in the 15 who will be playing outside of Korea next season, having joined Japanese side Omron in March, following the conclusion of the Korean league where she was named league MVP.
Fellow centre back Kang Kyung-min, who plays for Gwangju City Corporation, herself winner of league MVP titles was also top scorer for the past two consecutive seasons and has been selected for the senior national team for the first time.
For Ryu, she is not only aware of the Olympic history of Korea, but of the individual history of the players too which saw Kim Hyun-Mee (1989) and Lim O-Kyeong (1996) win the Women's IHF World Handball Player of the Year Award and her national team coach Jae-Won (1989) and Yoon Kyung-Shin (2001) win the men's equivalent. 
"My dream ever since I was young was to be a player in Europe and win an Olympic medal," said Ryu, who was part of the Korea team who lost out on bronze to Spain after extra time at London 2012. 
"Now I want an Olympic medal and will do my best to get it. When I was a middle school student, I watched the 2004 Olympic Games in Athens and there was a part of that, watching the Korea players and team, which motivated me, and I want to continue the achievements of my seniors.
"All the teams participating in the Olympics are strong, so it is impossible to judge which group is better. We met Norway and the Netherlands at the 2019 IHF Women's World Championship in Japan. There are no easy games, but we will do our best based on our good experience from Kumamoto."
Ryu was the clear top scorer for her side in Kumamoto, with 69 strikes, three best player awards and the most minutes (just under seven hours in eight games) but the reliance on her abilities will need to be diversified if Korea want to progress as their opponents look to limit the impact of the player affectionately nicknamed 'The Queen' in Korea. 
As coach of Korean league team Busan Facilities Corporation, Jae-won, who won silver at the 1988 Olympic Games as a player, selected one third of the 15 from his own club, including Ryu but will be without his injured number one choice goalkeeper, Park Sae-young, who played nearly seven hours at Japan 2019.
"Every match will be tough in the Olympics," said the coach. "Therefore, our first goal is to pass through the preliminary round. I think we will meet strong teams in group A. Our first game against Norway is the most important, but if we win one of the two matches, against Norway or Netherlands, we will be able to advance to the quarter-final stage.
"If we advance to the quarter-finals it will be difficult no matter which team we face, still, if we go through to the quarter-finals I think there is hope for a medal. We will play every match thinking it is the final."
Jae-won and the Korea Handball Federation were severely hampered in their preparations for Tokyo 2020 due to COVID-19 restrictions in their country, so they adapted and trained on home soil intensely, playing against men's university teams and the Korea men's youth team.
 
Key players: Ryu Eun-hee (right back), Lee Mi-kyung (centre back), Kang Kyung-min (centre back)
Qualification for Tokyo 2020: 2019 AHF Women's Asian Olympic Qualification Tournament – 1st place  
History in Olympic Games: 1984: 2nd, 1988: 1st, 1992: 1st, 1996: 2nd, 2000: 4th, 2004: 2nd, 2008: 3rd, 2012: 4th, 2016: 10th
Group at Tokyo 2020: Group A (Angola, Republic of Korea, Norway, Montenegro, Netherlands, Japan)