European powerhouses set to clash for a place in the final
05 Aug. 2021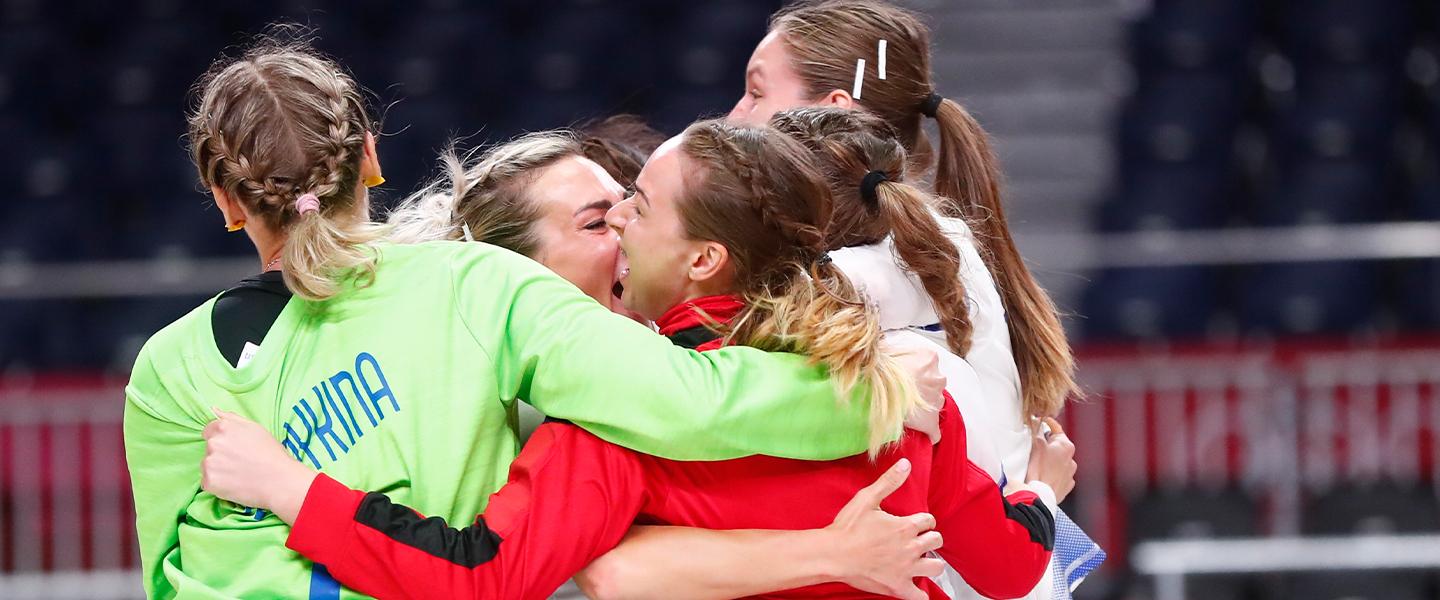 Running updates of the Tokyo 2020 women's semi-finals – follow the action of the Olympic handball tournament live and stay always up-to-date. France and ROC will play a rematch of the Rio 2016 final, just as the men's final will be a repeat of 2016. Sweden will play Norway in the women's bronze-medal match. 

The semi-finals of the Olympic Games Tokyo 2020 women's handball tournament have arrived and today, we will find out who will play the finals of Tokyo 2020. Four teams are still left in the competition, but only two can continue on the road to Olympic gold. 
Today's matches:
17:00 JST: France vs Sweden (29:27)
21:00 JST: Norway vs ROC (26:27)
 
Summary of the day
 
France took a 29:27 win against Sweden, while Norway conceded a 26:27 loss against the ROC in the two semi-finals of the women's tournament at Tokyo 2020
For the second time in a row, the Olympic Games final will be disputed by France and the ROC. At Rio 2016, ROC won the gold medal
Tokyo 2020 writes history as the first-ever Olympic tournament to have the finals in both the men's and the women's tournament repeated from the previous edition: Denmark vs France in the men's tournament and France vs ROC in the women's
Nora Mork scored 10 times in Norway's loss against the ROC and is close to securing the top scorer award for the second time in a row
 
23:05 JST Mork eyes second top scorer award at the Olympics

From the looks of it, Nora Mork will be ready to seal her second top scorer title at the Olympic Games, after the one from Rio 2016. The Norwegian right back might not have scored 62 goals like she did five years ago, but she is on the verge of sealing the individual trophy at Tokyo 2020. She is now on 44 goals and needs only three goals to leapfrog Jovanka Radicevic, after scoring 10 times against the ROC team.
However, Mork still has a hefty challenger in ROC's right back, Anna Vyakhireva, who scored nine times today, taking her tally to 39 goals. Sweden's Jamina Roberts is on fourth, with 36 goals. Mork, Vyakhireva and Roberts still have a game to play.
 
22:55 JST How it went wrong for Norway

Norway will always be one of the greatest teams ever to play the sport, but they only have themselves to blame in this game against the ROC. They led in the first half, only to finish it on a 0:4 run, including a last-second goal scored by ROC's right back, Anna Vyakhireva, that helped the Russian side build a three-goal lead for the first time.
Things unraveled in the second half, as ROC had a six-goal lead, after costly misses in one-on-one situation by Norway's wings, Stine Skogrand and Sanna Solberg Isaksen, who combined for seven goals out of 14 shots, a 50% efficiency that is simply untenable at this point of the tournament. Basically, all that Norway did was rely on Nora Mork, who scored 10 goals, but ran out of steam in the end.
It's Norway first defeat after a six-game winning run at Tokyo 2020 and it will be painful for Thorir Hergeirsson and his side to come back after this. Yet they still have a bronze-medal game scheduled for Sunday, where they will face Sweden, who are still eyeing the chance to win their first medal ever in the competition.
Therefore, Denmark will still lead the all-time medal table, despite not taking part in Tokyo 2020, with their three gold medals won at Atlanta 1996, Sydney 2000 and Athens 2004 making the difference. With a bronze, Norway can leapfrog the Republic of Korea, as the two teams are tied on six medals each, two of which are gold.
 
22:50 JST History is written at Tokyo 2020

This is unprecedented, but it finally happened. For the first time ever at the Olympic Games, the two finals – in the men's and women's tournaments – will be played between the same sides. After Denmark and France won their clashes in the men's tournament in yesterday's semi-finals, today's semi-finals in the women's tournaments were sealed by France and the ROC team to set up the same clashes we had at Rio 2016.
For the women's tournament, it is the first time ever that the final is played twice in a row with the same teams. The Republic of Korea and Norway won the gold and the silver medals two times in a row, but at Seoul 1988, the tournament was still played in a round robin format.
In the men's tournament, Sweden played three finals in a row – all lost – between 1992 and 2000. Also, France won two consecutive finals at Beijing 2008 and London 2012, winning both against Iceland and Sweden.
 
22:32 JST FINAL WHISTLE Norway vs ROC 26:27

The dreams of retaining the gold medal won at Rio 2016 looked over for the ROC after their first two games at Tokyo 2020. A draw against Brazil, 24:24, and a tough loss against Sweden, 24:36, might have downed a team, with players concerned of their level and questioning themselves. Instead, the ROC put their heads down, did what they know best and started to up their game. Wins against France, Spain and Hungary were mandatory in the last matches of the group phase, with the quarter-finals win against Montenegro setting up the ROC for a showdown against Norway.
For 20 minutes, Norway looked like they could avenge their Rio 2016 semi-final loss, but their attack has simply not been up to par for this game. And the ROC, with their powerful backs, amazing depth, and great handball IQ did exactly what was needed of them to stand a chance in this game. Plus, boasting an in-form goalkeeper in Anna Sedoykina (11 saves for a 39% efficiency) was crucial in helping them secure the fifth win in a row at Tokyo 2020.
Norway might have attempted a late comeback, but it was too little too late. In crunch moments, they looked like daydreaming, including conceding a late goal from Anna Vyakhireva, as the ROC side was in passive play. Misses from Reistad, Solberg or Skogrand were decisive, so that the reigning European champions did not have a chance to tie the game in the last 90 seconds. Crucially, the ROC stayed calm and secured a 27:26 win. And they have just qualified for the third time for an Olympic final. They lost against Norway at Beijing 2008 and won against France at Rio 2016.
Now it's time again for a match against France on Sunday, with the gold medal being the prize for the winner.
 

22:17 JST ROC with one foot in the final

Three goals from Nora Mork and a superb one-on-one save from Katrine Lunde are close to bringing Norway back, only for Stine Skogrand to miss a crucial shot against Anna Sedoykina. Instead of Norway cutting the gap to 20:22, the ROC are up 23:19. These are very fine margins, with an attack being able to change the outcome of the game dramatically. Right now, it looks like it's Mork vs the ROC team, with the skillful right back scoring nine times already. But the ROC team are constantly relying on the force of their backs, with Vyakhireva, Dmitrieva or Ilina breaking through six times to score between the Norwegian lines. It has been a penchant of the ROC side at Tokyo 2020 and they are delivering time and time again with this tactic.
On the other hand, Norway found some new energy, only for Skogrand to miss another shot. It's difficult, but the Scandinavian side do not have other right wing in their roster, a caveat of the 14-player squads available at the Olympic Games. There are only 10 minutes left and Norway are down 20:24. The focus is simply not there.
 
22:10 JST Second 4:0 run help ROC take compelling lead

Norway needed to step up their pace and bring their A-game against the ROC, after having already been in trouble in the quarter-finals against Hungary. It is more of the same now, with the Norwegian attack clearly struggling, having only converted 53% of their shots throughout the game. Nora Mork has scored six goals, but apart from that, Norway have been missing the edge, the grit and the creativity to do more. Coach Thorir Hergeirsson calls a time-out now, but it's looking like we will have a rematch of the Rio 2016 final between the ROC and France once again.
Norway's dream of gold is on pace to stay just that, a distant dream, as turnovers have been piling. ROC have just opened another 4:0 run, after the one which concluded the first half, and it looks safe to say that these moments will be key in the end, when the game is over. With 17 minutes to go, the ROC are leading 22:16 and Norway need to pull an all-time great comeback to be back in contention.
 
22:03 JST ROC continue to drive the pace

Norway started the half with a 2:0 run and Lunde got into her groove, saving three more shots, including an Ekaterina Ilina penalty. But the ROC rely once again on Anna Vyakhireva, who has now scored six goals. And Norway are really starting to struggle in attack, with their fast-paced game disappearing and their fast breaks stopped in their tracks by an amazing effort from the ROC side. It does not look like Sen's absence is a factor, with Ksenia Makeeva pulling in huge shifts both in attack and in defence. Vyakhireva now must be taken off the court, after an apparent bleeding, but the ROC side still hold the advantage, 19:16.
With 20 minutes to go in the game, Henny Reistad is zero for three, while Camilla Herrem and Sanna Solberg, the two left wings, have not yet tried a shot. It is too little for Norway in this game, at this stage!
 
21:37 JST HALF-TIME Norway vs ROC 11:14

Five years ago, at Rio 2016, the ROC team was leading against Norway, 18:16, in a very fast-paced game. This time around, it is Norway who are trying to take the game in their hands, yet their turnovers are getting the better of them. And after a long period of time in which they were trying to stop Norway, the ROC team got back in front, 12:11, after a mistake from Sanna Solberg, who failed to steal a fast break pass from goalkeeper Anna Sedoykina, only for the ball to fall into Iuliia Managarova's hands, who converted the shot.
It prompted a time-out from Norway, who are once again struggling to get a firm grip on the game, after their botched quarter-final game against Hungary. They needed some magic from Katrine Lunde then and they also need it now, as their attack is simply not on par with what they have shown in the group phase.
Lunde has saved eight shots, three more than the Russian goalkeepers, therefore the issue is with Norway's turnovers, who have really hampered their attack. Like five years ago, the ROC are in advantage at the break, but the last goal, from Vyakhireva, who scored with one second to go before the buzzer, opened a three-goal gap (14:11), the biggest in the half. It could prove crucial, as it gives Norway a bigger gap to chase, but also infuses the ROC team with morale. Big task for Norway to bring back the game into their hands, as Sen is still in the stands crying after being sent off in the 15th minute.
 
21:28 JST Norway fail to open gap

Norway continue to distribute the ball well in attack and look to be in the driver's seat in this game. They just need that touch in defence or some saves from Lunde to create the gap. The Norwegian goalkeeper delivers, but on the other side of the ball, Reistad just missed a nine-metre shot. It's a bit of a cat and mouse game, with Norway trying to steal the show, only for the ROC to cling to them. We have seen this scenario time and time again, with one team just staying alive only to bounce back and lead the game. ROC are no pushovers and will likely look to do just that.
Yet, Norway are too experienced to let the chance pass when they feel they can grasp it. But their discipline in defence is lacking, with Henny Reistad and Kari Dale conceding two suspensions in quick succession. Their attack has been hampered by this, yet they are still leading, 10:9, after 24 minutes.
 
21:21 JST Sen sees red, ROC could be in trouble

Anna Vyakhireva has been key at Rio 2016, but the right back has been on-and-off at Tokyo 2020. However, in the first minutes of the game against Norway, she has picked up the pace once again and scored three of her team's first four goals. Amazing show put on by Vyakhireva, but the momentum is about to shift. During a Norwegian attack, Anna Sen sees a red card for a hard foul. She was key for the Russian defence, who is now down a crucial defender.
Norway have a chance to breathe and are starting to get better and better in attack. Mork and Skogrand, the right back and right wing score two goals each and Norway are in front, 7:6, after 16 minutes. But will the ROC team still be as strong without Sen? A player dropped means a shorter rotation, which could be key.
 
21:12 JST ROC test Norway with superb defence

Great start of the game! And it is Norwegian goalkeeper Katrine Lunde who is stealing the show, continuing her superb form from the previous game against Hungary. She has stopped three shots from the six she faced, including two one-on-one shots to keep Norway in the game. The Scandinavian side is slowing down in attack, despite scoring two fine goals, with impressive pace.
It's now 3:3 and this is exactly what we have been waiting for. A do-or-die clash between two top sides, who are eyeing the gold medal.
 
20: 40 JST Mork to repeat as top goal scorer?

Five years ago, Nora Mork went on and won the goal scoring standings, putting 62 goals past the opposing goalkeepers. The mark will probably not be hit this time around, but do not overlook the Norwegian right back, who can be superb when she enters the zone. Right now, Jovanka Radicevic (46 goals) is leading the standings, but she is out of the competition, after Montenegro lost in the quarter-finals against the ROC. The second place is Jamina Roberts', as the Swedish back scored 36 goals in seven games and will still feature in the semi-final. Mork (34 goals) is third, with fellow right back Anna Vyakhireva (30 goals) back in the eighth place. It will be a battle until the end, so watch closely!
 
20:30 JST Norway look for fifth semi-final win, ROC for their third

Norway have played in the semi-finals in each of the seven Olympic Games tournaments they featured in before, winning four and losing three. They are coming in hot at Tokyo 2020, winning all six games up until this point, a feature they have also managed at Sydney 2000 and at Beijing 2008. In 2000, they have lost the semi-final against Hungary, while going undefeated at Beijing to seal a 29:28 win against the Republic of Korea and also winning the gold medal, with a 34:27 win against Russia in the final.
History could repeat itself at Tokyo. Or will it be the second time lucky for the ROC team, who beat Norway in the Rio 2016 semi-final? ROC are for the third time in an Olympic semi-final, winning the previous two. At Beijing 2008, they beat Hungary 22:20, while at Rio 2016, they won against Norway 38:37, after extra-time. Whose record will take a blip today?
 
20:00 JST Norway and ROC go neck and neck

The ROC team did not win any of their first two games at Tokyo 2020, drawing against Brazil 24:24 and conceding a painful loss against Sweden, 24:36. Since then, the Russian side went on a four-game winning streak and can either progress to the final against France or play for the bronze medal against Sweden. These are both sides which the ROC team faced in the group phase, but those game are long forgotten now and the focus is on the task at hand.
Norway are topping the table of the top scoring teams, with 196 goals in six games, while the ROC side scored 180 goals. They are neck and neck in goals scored from the back line (27 to 27), Norway had more goals scored via fast breaks, 30 to ROC's 24, while the Russian side must continue to score via their breakthroughs, with their backs, especially Anna Vyakhireva scoring 31 goals, as opposed to Norway's 18.
 
19:45 JST France, on the verge of writing history

Only six teams – Denmark (three titles), the Republic of Korea, Norway, the Soviet Union (two titles each), Russia and Yugoslavia (one title) have won the competition over its history, therefore we could still have a new winner at the Olympic Games. France have a checkered record in the competition, having never placed lower than sixth, but have only won one medal, silver at Rio 2016.
Right now, they will surely get their second, but would it be the gold, becoming the seventh team to seal the Olympic title, or once again the silver, propelling them to seventh place in the all-time standings, led by Denmark's three gold medals?
 
19:07 JST Can France be the second team to sweep the Olympic handball tournaments?

The last country to win both the men's and women's handball at the Olympic Games was Yugoslavia at Los Angeles 1984. France had the chance to repeat that achievement at Rio 2016, but their teams lost both the finals they played five years ago. They will have another shot at it this weekend, when the men's team will be taking on Denmark, while the women's side will face either Norway or the ROC team in the last act at Tokyo 2020.
While they may be underdogs in the men's tournament, with Denmark winning the last two IHF Men's World Championship finals and the last Olympic Games final, in the women's tournament it could be anybody's game. If Norway qualify, then the two sides will meet in a final for the second time in eight months, after the Scandinavian side clinched the EHF EURO title in December 2020. If the ROC make it through, then the Rio 2016 final will be repeated at Tokyo 2020.
 
18:35 JST History in the making at Tokyo 2020

For the first time ever at the Olympic Games, both the men's and the women's handball tournaments could have the same final for two editions in a row. The first part was completed yesterday, when France and Denmark sealed their berths in the men's tournament, with wins against Egypt and Spain. For the women's tournament, France completed their part when they sealed the fourth win in seven games at Tokyo 2020 to proceed to the final, after beating Sweden 29:27.
Now it's the ROC's turn, with a crunch semi-final against Norway set to start at 21:00 JST. Five years ago, at Rio 2016, the ROC team took a vintage 38:37 extra-time win against the Norwegian side to progress to the final, which they won, completing an eight-game sweep against their opponents. But now, Norway look stronger and hungrier and are on a seven-game winning streak at the Olympic Games. Will history be not only be made, but also repeated?
 
18:28 JST FINAL WHISTLE France vs Sweden 29:27

Defence is first, the rest after. Coming back to the basics really helped France and they will be now celebrating their second consecutive Olympic Games final, after finally downing Sweden, 29:27. It has been a benchmark for France in the last decade, but it was also a recipe only this side could master: get anything they could in the group phase, only to peak in the knock-out phases of the competitions they played in, duly delivering their best performances in elimination games.
France conceded 28 goals per game in the first six matches, that average went down a bit in the semi-final against Sweden, but their defensive effort has been superb, while the French goalkeeper, either Amandine Leynaud or Cleopatre Darleux (in this game) turned up when they were needed. While it might not have on display in the number of goals conceded, how France exerted pressure on defence when Sweden were closing in or trying to open gaps, was superb.
In attack, France might not have impressed, they do not have the shine or the pace displayed by Norway, for example, but they are doing a superb job every time they take on the court. Therefore, it was no surprise that this team are the first finalist at Tokyo 2020, joining the men's team who secured their berth yesterday for the superb match against Denmark, to be played tomorrow in the Yoyogi National Stadium.
The experience won once again in a semi-final, with Sweden's backs failing to show up when they were needed the most. Carin Strömberg, the player who combined for the most goals and assists in this competition prior to the semi-final was rendered a non-factor today, scoring only once from five shots and dishing two assists, having little to no time to play in the second half. On the other hand, France rode a strong start from Grace Zaadi (seven goals) and a flawless second half from Pauletta Foppa (five goals) to seal the win.
France proved once again why they are one of the best teams in women's handball now and will now wait for the second semi-final between Norway and the ROC team to find out who will they face in the grand final.
 

18:15 JST Penalty master Ryde keeps Sweden in the game

Trading goals, trading turnovers, trading everything in this game. These two sides are matching up well and nothing is decided yet, with everything on the line and a final berth ready for the taking. It might have looked like France will be running away with the game, but Sweden have really turned up on defence in this second half to hamper France's efforts in attack. There have been six lead changes in this game, four of which came in the second half, highlighting the highs and lows of both teams. Blohm's red card did not exert much pressure on the Swedish defence, who have been getting better and better, motivated by the fact that they are still in with a huge chance to seal this win.
Almost everything is tied in this game, including the number of saves by the two pair of goalkeepers, seven each, but right now France found a gap which they are exploiting. Line player Pauletta Foppa might have scored only four goals, but they could really be the difference for this game. However, when France was ready to take a three-goal advantage, their penalty woes come back to bite them. Jessica Ryde, the best goalkeeper of the tournament at penalties, who saved 10 of the 18 she faced, blocks Grace Zaadi in a crucial moment. France have missed all three penalties they had, but right now they are leading 24:22, with nine minutes to go.
 
18:07 JST Another draw between France and Sweden?

Sweden's line player, Linn Blohm, has racked up two suspensions in the first half and conceded the third in the 39th minute. A red card for Blohm, which could help France seal the win in this game. Blohm has been the Swedish Female Player of the Year in 2020 and was crucial to Axner's defensive system, while also being a key cog in attack, despite failing to score in this game. France take back the lead, 19:18, have a chance to open a two-goal gap, but left wing Coralie Lasssource misses an one-on-one shot with Johanna Bundsen, hitting the post. This type of mistakes help the other team stay in the game, exactly what was happening throughout the whole game.
This will be a battle of nerves, a battle of which team is the freshest. Remember, the two sides also met in the group phase, in a game that ended in a stalemate, 28:28. In that match, neither of the two teams opened a gap larger than two goals, so such a well-balanced game was expected here too. Will we have the first game decided in extra-time in the men's and women's handball tournaments at Tokyo 2020? Could be possible, right now the game is tied, 20:20, after Jamina Roberts, Johanna Westberg and Jenny Carlsson each scored four goals for Sweden.
 
18:00 JST Sweden amp up their defence to come back into the game

The two sides continue to trade blows in the start of the second half, as Sweden are still in this. France deliver another surprise, switching Amandine Leynaud with Cleopatre Darleux between the goalposts and Darleux makes her mark on the game, saving the second shot she faces in a one-on-one against Jenny Carlsson. But the Scandinavian side up their game on defence, block France, who miss five consecutive attacks and the flow of the game has changed.
Sweden have all the momentum now, take back the lead, 18:17, only to squander a pass which is intercepted by Beatrice Edwige. If France win this game, they will do it the old way, with a defence-first approach, by taking out their opponents there. However, there is still a long way to go and the two teams have started turning the ball over more frequently than in the first half. It's nip and tuck, 18:18, with 21 minutes to go in the game.
 
17:36 JST HALF-TIME France vs Sweden 15:14

Sweden's main issues have been coming on their left hand side of the defence, where France had a field day with their backs, plenty of goals coming from there. And finally, the French side took the lead, 11:10, after a fast break created by a stop in defence. This is how France can seal this game and this looks like the game plan for Olivier Krumbholz right now. Sure, they are surprised time and time again by Jamina Roberts, but Sweden will need more from Carin Strömberg, who started the game brightly, but faltered, finishing the half with one goal from five shots. Roberts is the player who is tasked with the most in attack, but it looks like she is in dire need of help.
It might come in the second half, after Strömberg gets some much-needed rest, but the last minutes of the first part of the game have been all France. "The main thing is the defence, we have to take care there," said Krumbholz during a time-out, but it sounds like his players are up to date, having blocked three shots and causing five turnovers in the first half. And France are all smiles after the first half, in which they were on the back step in the start, but duly delivered a masterpiece in the last 10 minutes.
How will the game unfold in the second half? Sweden need to stay calm and find solutions for unlocking the France defence. More passes to the line players and wings? Some creativity to take the French side at least one metre behind? Tomas Axner will have his hands full in the next 15 minutes, during the break, but his decisions and Sweden's motivation will make or break this game. Right now, Sweden produced a great comeback in the last 90 seconds, with two goals from Jenny Carlsson, only for France to score in the last second of the first half via Laura Flippes to take a 15:14 lead at the break.
 
17:26 JST France's discipline causes problems

Experience is key at this stage of the competition, knowing how to navigate the highs and lows of the games, with everything in play and such balanced squads. It's a part of the game where France have plenty of experience and it could really be the difference in such a balanced game. But Sweden are replying steadily with calm and confidence, taking advantage of every mistake in France's defence, especially when the space opens up as the French side are racking up suspensions. The last one came for Meline Nocandy, but Olivier Krumbholz's side have really amped up their game, tying the game at 8:8 after 20 minutes.
Now France have two players out with a suspension, Nocandy and fellow back Oceane Sercien Ugolin, with Westberg racking up the goals after boasting a 100% record in penalties. Yet France have been superb in attack in the last minutes, with Laura Flippes breaking through to tie the game once again. Will Amandine Leynaud be a factor in this game? Or the French goalkeepers as a whole?
 
17:19 JST Zaadi runs the show for France

Sweden missed a huge chance to open a 6:2 gap and France duly took advantage of this miss, cutting the gap to only one goal, 5:4, after 13 minutes. It has been a testament to their aggressive defence, who shifted from a traditional 6-0 to a more complex 3+2+1 that is clearly hampering Sweden's attack. However, a suspension for defensive lynchpin Estelle Nze Minko disrupted France's rhythm and Sweden scored twice during their advantage, including an empty-goal shot after a fast throw.
The pace is picking up now and the two sides are trading goals, with France constantly trying to stay close and even tie the game. For the first 15 minutes, French centre back Grace Zaadi has been superb, converting four of her six shots to help her side stay in the hunt. This is a cracking game, it could be anybody's match. It also helps that the two sides took an early advantage in the quarter-finals and could rest key players.
 
17:11 JST Sweden prove their mettle in the start of the game

It's crucial to start the game well in an Olympic Games semi-final and Sweden did just that, despite not boasting the vast experience France have in these situations. In the first eight minutes, only Grace Zaadi scored for France, while Sweden have been superb in attack, rendering French goalkeeper Amandine Leynaud to a meagre 17% saving efficiency, with only one save.
Sweden are leading 5:2, with two penalties converted by Johanna Westberg and with two goals from Carin Strömberg, as the French defence are struggling to contain the Swedish attack.
 
16:45 JST Attacking prowess soars at Tokyo 2020

Tokyo 2020 has been a superb showcase for women's handball, with the 16 teams having scored 1,903 goals already in the tournament, only 75 less than at Rio 2016, with four games still to go. The average number of goals scored per game has ballooned to 57.67 per game, 5.5 goals more than at the previous tournament, where the 12 teams scored an average of 52.05 goals per game. It's all down to many of the teams being more proactive in attack and deploying the seven-on-six tactic, which has, in turn, created many opportunities for empty-goal shots. Whether the number of goals will go down in the semi-finals, like in the men's tournament, where the last two games had 50 goals scored in each, it remains to be seen. What's sure is that the clashes set for Friday are exactly what we needed to see.
 
16:35 JST Strong backs deliver the goods for Sweden

Sweden have been superb in attack and this is mainly due to a superb pair of backs in Carin Strömberg and Jamina Roberts. Long-touted to be the next best thing in Swedish handball, Roberts did not live up to the expectations of being a star, rather complementing other players in the Swedish team. But this is arguably her best performance in a major tournament, scoring 31 goals and dishing 25 assists for Sweden at the Olympic Games. Strömberg has also been superb, also saving her best for Tokyo 2020.
Prior to this edition of the Olympic Games, she had only scored 157 goals in 109 games, but has entered herself into the discussion for the All-star Team with some key performances, being the top passer in this tournament, with 32 assists, while also chiming in with 30 goals. This duo has been at the core of Sweden's top performances at Tokyo 2020, yet Sweden have another great weapon on their hands. Their superb defence contributed plenty to the fast breaks they are creating, being the second-best team in scoring in this situation, having converted 27 of their 33 fast breaks. Only Norway have scored more, 30 goals.

 
16:15 JST High-flying underdogs trying to cap off Tokyo 2020 with a final berth

What a tournament this has been for Sweden. Five months ago, they did not have even the Tokyo tickets booked, but qualified via a three-team tournament in Spain. They drew against the home side and beat Argentina, but they were serious underdogs, with several new players being ushered in after others, including influential centre back Isabelle Gullden, met an end to their international careers. Flying under the radar, Sweden have been superb at times in Tokyo, with eyes not firmly on them, after finishing seventh at the IHF Women's World Championship in 2019 and 11th, their worst result since 2004, at the EHF EURO 2020.
This has arguably been a tournament to remember for the young Swedish side, the team with the third-lowest average age at Tokyo 2020, 26.7 years. By comparison, France are in the top half in this ranking, with an average age of 28.8 years. In only his second tournament as coach, Tomas Axner, a former player and a coach who has performed at club level at men's clubs, has found the right balance, helping Sweden to build the third-best defence in terms of goals conceded and the second-best attack in terms of goals scored, for an average of 31.8 goals scored per game, twice breaking their record of most goals scored in one game at the Olympic Games, 36 against the ROC in the group phase, and 39 scored against the Republic of Korea in the quarter-finals.
 

15:45 JST Sixth Olympic Games edition for Olivier Krumbholz

It has been a change of paradigm for France, who usually had an old-school, defence-first approach instilled by coach Olivier Krumbholz. The team needed to adapt, therefore Krumbholz created a more attacking team this time around, who had an average of 28.5 goals per game scored during this competition in six games. France are nowhere near Norway (32.6 goals per game), who scored 25 goals more throughout Tokyo 2020, but have since known a big leap from the previous tournaments. At the EHF EURO 2020, France scored at a pace of 26.1 goals per game, while at the 2019 IHF Women's World Championship in Japan, the French side had an average of 27.2 goals per game scored. However, compare the numbers to Rio 2016 and the development is obvious, with the average output from the French side growing by exactly five goals per game.
France have always been a team to watch at the Olympic Games, never finishing lower than sixth place in their six participations, a streak dating back to Athens 2004. Players have come and gone, but they always adapted to Krumbholz's system, who is now leading his team for the sixth time at the Olympic Games. The gold medal always eluded them, but can they really go for it all the way here? Yes, their start was shaky, they lost two games, exactly the same amount as at Rio 2016, but there are still two matches to play with everything at stake now. 
 
15:30 JST It's time to determine the finalists
 
60 minutes separate four hopefuls from the biggest prize of all at the Olympic Games: a place in the final, where one team is going down in history and seal the coveted gold medal reserved for the winners.
However, until that point, which will take place on Sunday for the women's tournament, the semi-finals are a big hurdle to overcome for each and every side to have reached this phase of the competition. All the preparation and the hard work put in are going to be exposed by the opponents, which will be vying to hamper the efforts of every attack.
In the first semi-final, France will face Sweden, who are in their first-ever Olympic Games semi-final. The Scandinavian side had a superb tournament, dropping only one game on their way to this point, and have won the quarter-final against the Republic of Korea easily, 39:30.
France could reach their fourth final in the last seven major tournaments, winning gold at the 2017 IHF Women's World Championship and the EHF EURO 2018 and the silver medals at Rio 2016 and at the EHF EURO 2020.
There are many new faces in both squads, especially in Sweden's. Previous meetings sway to France's side, with Sweden's last win coming at the EHF EURO 2014 (29:26). However, the two sides have met at Tokyo 2020 already and the 28:28 draw in the preliminary round promises a thrilling semi-final. 
The two sides know each other well, but there is only one Swedish player who plies her trade in the French League, Nathalie Hagman at Nantes Atlantique Handball, with Carin Strömberg, one of the most exciting players at Tokyo 2020, signing for the French side this summer.
In the second semi-final, Norway will face the ROC team in a rematch of the Rio 2016 semi-final, which the Russian side won 38:37 after extra-time.
The rivalry between Norway and the ROC has always produced great matches in recent memory, usually with two different styles clashing, resulting in exciting games. The Russian side, however, morphed into an attacking juggernaut, dazzling with speed and creativity after Anna Vyakhireva's breakthrough a few years ago.
In the past 17 years, the two sides met 13 times, with Norway taking seven wins, as opposed to ROC's six wins. The last mutual match was played at the 2019 IHF Women's World Championship, when the ROC sealed the bronze medal with a 33:29 win.
All the latest info regarding statistics and standings can be found on our page dedicated to the women's handball tournament at the Olympic Games Tokyo 2020.