Four teams fight for two remaining quarter-final berths in Group A
31 Jul. 2021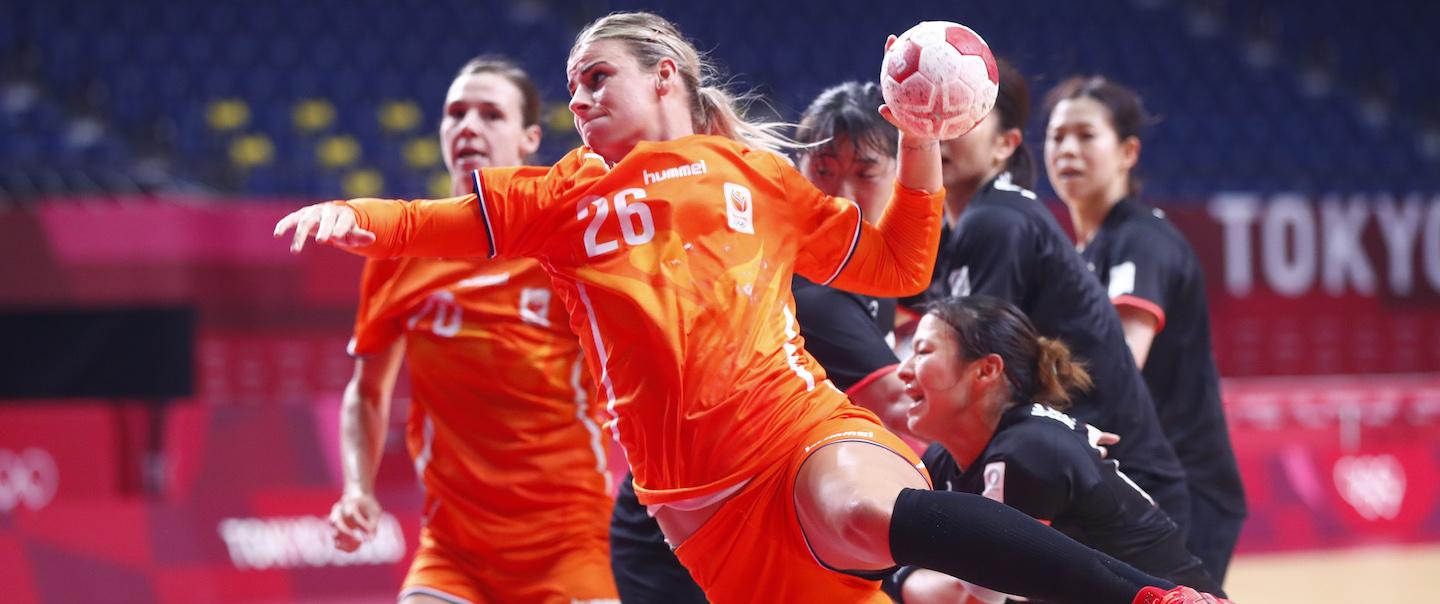 Running updates of Tokyo 2020 women's Group A – follow the action of the Olympic handball tournament live and stay always up-to-date. Angola beat hosts Japan in the first game of the day, while Montenegro made a big step towards the quarter-finals by beating Republic of Korea. Norway beat the Netherlands in the final match of the day to win Group A

Women's Group A has entered round 4 at the Olympic handball tournament, with crucial matches ahead of us, determing the fate of the teams at Tokyo 2020. With Norway and the Netherlands having sealed their quarter-finals berths, three teams are fighting for the other two places, with Angola still with an outside chance to progress to the knock-out phase
Today's matches:
09:00 JST: Angola vs Japan (28:25)
11:00 JST: Montenegro vs Republic of Korea (28:26)
21:30 JST: Norway vs Netherlands (29:27)

23:50 JST Round 4 concludes, Norway win group

Norway keep their perfect record and secure first place in Group A after beating the Netherlands 29:27 in the closing game of today's games at Tokyo 2020.
Earlier on, Montenegro claimed their second victory in the competition versus Korea (28:26) and Angola clinched their first two points versus the hosts Japan (28:25).
With two spots already clinched to the quart-finals from Group A (Norway, Netherlands), the last day in the preliminary round on 2 August will be must-watch to see who else will advance. We'll see you then!

23:00 JST FINAL WHISTLE Norway 29:27 Netherlands

The Dutch crowned their momentum when they took the lead in the 47th minute, after Inger Smits scored from 9 metres.  However, Norway never lost control of their nerves. Silje Solberg made three saves in those decisive moments and proved once again why she's one the top goalkeepers at the Olympics — she totaled 13 saves at a 33% rate.
The highest scorer of the game was Nora Mork, with nine goals. The back missed only one shot tonight. What can we add about her? She's at her best and Norway and handball fans in the world should be happy about that.
Norway claim first place in Group A no matter what happens in the last round of the group phase.

22:35 JST Netherlands level the game!

Line player Merel Freriks ends a successful fast break and the Netherlands equal the score at 20:20 in the 41st minute. The Dutch come back from a four-goal deficit at the beginning of this period is complete.
All chances are now open as the individual level of some of the Netherlands athletes evolves with every minute. Left back Inger Smits is playing a remarkable second half with four goals and one assist.

22:05 JST Norway vs Netherlands 16:13

Norway hold the upper hand as we reach the half-time break. Nora Mork is playing the quality handball that is expected from her — she has netted four times with an efficiency of 100% and has delivered three assists.
The Netherlands continue to insist with their pivots and all their attacks are coming through the centre. They haven't even tried from the wings yet. There's still ground for the Dutch to make a comeback and dispute the points in the closing game of the day.

21:50 JST Norway lead Netherlands by two goals

It's a tight game but Norway are the ones playing the best handball so far. Into the 18th minute, they lead 11:9 with four goals from their star right back Nora Mork.
Line player Danick Snelder is the leading scorer for the Netherlands with three goals.

21:20 JST Unbeaten Netherlands and Norway play for top place in the group

The Netherlands and Norway rekindle their rivalry of meeting in big matches. They played each other in the 2015 World Championship and Women's EHF EURO 2016 finals, and the 2017 World Championship semi-final, among other clashes. In the Rio 2016 bronze-medal match, Norway won 36:26.
Both sides are unbeaten and on six points after three rounds at these Olympic Games. The winner will secure first place in Group A.
12:40 JST Radicevic leads the pack once again

Jovanka Radicevic might have had a quiet game for the first 45 minutes, but she finished the game on six goals, which sees her top the goal scorer standings once again, with 28 goals in four games. Korea's Ryu Eun Hee (25 goals) and Migyeong Lee (25 goals) are tied on second place, with Lois Abbingh (19 goals) and Carin Strömberg (18 goals) in the next places.
Abbingh and Strömberg will play later today and could close the gap opened by Radicevic, in what will surely be an interesting statistics to watch.
 
12:32 JST FINAL WHISTLE Montenegro vs Republic of Korea 28:26

It's done and dusted, Montenegro won their second game in four matches at Tokyo 2020 and are make a big step to the quarter-finals, but are not yet assured of a place in the next round. The Korean 4:0 run to finish the game prevented Montenegro to celebrate the qualification, as there is a scenario which could see them out of contention.
The Korean side took the lead in the first half, cut Montenegro's lead to only one goal in the start of the second half, but two unanswered 4:0 runs for the European side, one in the first half and the other one in the second, proved crucial in sealing the win, 28:26. It was a team effort, rather than an individual performance for Bojana Popovic's side, with the same usual suspects, wings Majda Mehmedovic and Jovanka Radicevic, combining for 11 goals, while line players Tatjana Brnovic and Ema Ramusovic added six goals, five of which came in the first half.
But the real star was Montenegro's defence, who hampered Korea's efforts, despite goalkeeper Ljubica Nenezic recorded only nine saves (27% efficiency). The sheer height and physicality blocked the Asian side to create their usual game and it was game over as soon as Korea started to struggle. While Ryu scored only two goals, Japanese-born player Minyeong Lee scored nine times.
With the win, Montenegro inched closer to securing a quarter-finals berth, but they could still be out in a three-way tie with the Republic of Korea and Japan. Therefore, if Montenegro lose against the Netherlands, Korea win against Angola and Japan win against Norway, the two Asian sides would qualify, courtesy of their better goal difference in the three-way tie: Korea (53:52), Japan (53:53) and Montenegro (54:55). If Montenegro would have won by three goals or more, they would have been through.
 
12:12 JST Korean attack really slows down for the first time at Tokyo 2020

After a very slow start, Jaukovic just scored three goals in a row to help Montenegro build a 19:14 lead. It's by no means unassailable, but it is the backbone of what could prove a pivotal win for the European side, who is aiming for their second quarter-final berth in history at the Olympic Games. Korea might have won their last game against Japan, but when facing towering opposing players, their defence wilts. But the biggest surprise has been their attack, which has provided only 17 goals until the 49th minute, with Montenegro leading 22:17.
They will not tie their worst scoring outing ever at the Olympic Games – 17 goals against France at Atlanta 1996, but this could be one of their worst attacking performances in history, with Korea scoring less than 21 goals only five times. But a shift in the history of the competition could still happen, as Norway could leapfrog the Republic of Korea as the team with the most wins in the history of the competition – 37 – if they win later against the Netherlands.
 
12:00 JST This is not the game of the backs
 
Korea are constantly trying to up the pace of the game, yet they concede too many turnovers, three of which came in the start of the second half. On the other hand, Montenegro's woes from the back line are real and could bite them on the long run in this game. Djurdjina Jaukovic and Itana Grbic have scored only one goal combined from 11 shots, as Korean goalkeeper Ju Hui has already saved three shots in a row. Overall, Korea's shot stoppers have a 36% saving efficiency.
With 20 minutes to go, the game is still on a knife's edge, with Montenegro boasting a three-goal lead, 17:14. It's not a lot and Korea could still make them pay, if they just find the rhythm of their attack. The Asian team scored 90 goals in the first three games – the fourth best attack in the competition – but they have been left frustrated by the sturdy Montenegrin defence up until this point. Of course, with their star player, Ryu Eun Hee, scoring only one goal, it has been hard for them.
 
11:37 JST HALF-TIME Montenegro vs Republic of Korea 13:11

Montenegro's backs have been quiet today, scoring only two goals, both by Andrea Klikovac, with a flurry of misses from Itana Grbic, Jelena Despotovic or Djurdjina Jaukovic. But Montenegro's wings and, in this game, the line players, have been superb. The Republic of Korea go through their own rough patch and Montenegro duly punish them, after three goals from Majda Mehmedovic and one from Jovanka Radicevic, with a 4:0 run, opening a 12:8 gap for Montenegro.
To create more dynamism in attack, Popovic inserts Matea Pletikosic into the centre back position, only for her to send a pass directly into the stands. The Korean side tried to cut the gap with seconds to spare and Ryu converted a penalty to send her team with a two-goal deficit only into the break, 13:11. The top two goal scorers in the competition have scored only one goal after 30 minutes, being expertly blocked by the opposing defences.
What do Korea need in the second half? A bit more from Ryu, who missed her first five shots before converting a penalty late in the first part.
As for Montenegro, their backs scored only twice from 11 shots, a percentage which would have surely disappointed Popovic, herself one of the best-ever left backs in handball.
 
11:22 JST Montenegro live through their line players

Three consecutive saves from Korean goalkeeper, Jinhui Jeong, have helped the Asian side bounce back. Still no goals from Ryu, but Korea's second-best goal scorer, Migyeong Lee, has already put three past Montenegro's goalkeeper, Ljubica Nenezic. It's hard to grasp what exactly is going on with the Montenegrin attack, but they have been plagued by dips in form throughout the whole tournament. In the previous game, against Norway, Montenegro were leading 13:11 after 28 minutes, only to concede the game in awkward fashion, 23:35.
The only thing that seem to work is passing to the line player, as Korea are constantly surprised too close to the backs in that moments. Brnovic scored three and missed one, while Ema Ramusovic added one goal before the 20th minute. However, Montenegro only scored two times in the last 15 minutes. And the line players have scored more than half of the European side's goals until now, as the score is still tied, 7:7.
 
11:12 JST Lively start for Montenegro followed by another dip

Could this game be over before it even started properly? Montenegro scored five goals in the first five minutes, as they shock the Republic of Korea by insisting on passing the ball to their line player, Tatiana Brnovic, who scored three times. But that outburst is quickly followed by another scoreless period, as is the norm with Montenegro at this edition of the Olympic Games. In the first 10 minutes, neither Jovanka Radicevic nor Ryu Eun Hee have scored a goal. Therefore, the top goal scorers in the competition remain… goalless.
It should not take plenty of time before they break their duck here, but it's Andrea Klikovac, the defensive expert, who scores her second goal to break Montenegro's drought after five minutes and 20 seconds. After 11 minutes, the European side are leading 6:4, but this will probably be another tight game.
 
10:40 JST Guialo tie Radicevic and Ryu at the top of the goal scorer standings

Isabel Guialo just tied Jovanka Radicevic and Ryu Eun Hee on the first place of the top scorer standings, with 22 goals, after her five-goal outing today. The caveat is that Guialo needed four games to take her tally to this milestone, while the other two players have managed it in three matches. However, Guialo proves she is still Angola's mastermind in attack, after finishing 10th in the top scorer standings at Rio 2016, with 35 goals.
We'll see Radicevic in 30 minutes, with Montenegro eyeing a quarter-final berth against the Republic of Korea. A win would let the European side make a big step towards that goal – however, Bojana Popovic's side is fresh off two losses, against Japan and Norway.
 
10:26 JST FINAL WHISTLE Angola vs Japan 28:25

"We have to use our head. We have been running and running and losing balls. It cannot go on like this," says Filipe Cruz, after he takes a time-out to calm his side, after Japan scored as many goals between the 47th and 50th minute as they had scored between the 31st minute and the 46th. It's now time for Japan's coach, Ulrik Kirkely, to risk it all and deploy a seventh outfield player on the court. Predictably, it does not work, as Japan's attack skipped a beat throughout the whole game today.
When the Japanese side does not produce a turnover, it's time for Angolan goalkeeper Helena Sousa to take over the game. She only had 13 saves in the first three games, but racked up 12 today, for an efficiency of 38%, constantly frustrating the Japanese attack, especially in one-on-one situations, where she saved seven shots. It was just enough for Angola's first ever win against Japan, 28:25.
Angola are all dancing now, while Japan look dejected. The African side's physicality could not be countered by Japan, who looked too tired after giving it their all two days ago in the win against Montenegro. It could have been a diamond out of the rough for the hosts, who could have sealed a quarter-finals berth with a win. Instead, they are still at two points and face reigning European champions Norway in two days' time, in the last game of the group phase.
Meanwhile, Angola, who won their first game ever at the Olympic Games against an Asian side, have suddenly started hoping to progress to the quarter-finals at Tokyo 2020. They are now at two points, as many as Montenegro, Republic of Korea and Japan, with the two sides facing off in 30 minutes in the Yoyogi National Stadium in Tokyo. This could end in a three-way tie for two automatic places in the knock-out phase. What a final round is shaping up in Group A!
 
10:11 JST Four-goal deficit to erase for Japan

Angola took part in seven editions of the Olympic Games and only won five games prior to this one, with two of them coming at Rio 2016. The African side looked like they were done and dusted after the first three losses in the competition, but they are throwing a gem here, against hosts Japan. A pair of saves from goalkeeper Helena Souza in the same action lift the Angolan side in attack, with two consecutive goals from line player Liliana Venancio sealing Japan's side.
Japan's efficiency dropped immensely in the second half, from 62% at the break to 50% in the 47th minute and this was their main issue here, trying to break the Angolan defence, being stopped in their tracks by tall, strong players like Venancio and Kassoma. Basically, we had the answer from our question from the first half: will Angola's physicality triumph or can Japan dazzle their way to the win?
Angola had a 22:15 lead in the 44th minute, but right now, when there are less than 11 minutes to go in the game, Japan have cut it to only four goals, 23:19, after a pair of goals from Mana Horikawa. In retrospect, Angolan coach Filipe Cruz risked too much, when he continued to substitute his goalkeeper to create a seven-on-six attack even with a six-goal lead.
 
10:00 JST Japan only score twice in the first 10 minutes of the second half

There have been plenty of mistakes from the Japanese side, who simply look under pressure and cannot properly execute the game plan. Two days ago, they won a superb game against Montenegro, 29:26, but were then huge underdogs to beat the European side. Now, when they could have made a huge step towards the quarter-finals, they simply look afraid to take advantage of their shots. Any team needs a player taking responsibility and Japan are simply not having any of it.
In fact, the hosts failed to score in any of the first four minutes and 17 seconds of the second half, but at least stood their ground in defence. The goalkeeper who saved the largest number of shots in the first three games, Sakura Kametani, added another seven to her previous 40-save tally, to keep her team in the game. It's not Angola game to lose, it's Japan's game to win. But right now, the African side are leading 19:15, with 21 minutes to go.
 
09:39 JST HALF-TIME Angola vs Japan 15:13

It would have been shrewd to predict such a score line at the break after only six minutes, as Angola were getting pummeled by Japan on both sides of the court. But the African champions' defence improved seriously, they stopped the Japanese attack, with their efficiency dipping to 62%. Japan's underlying statistics are not bad, they had players scoring great goals, but they should feel let down by the defence, especially on that 6:0 Angolan run, that turned the game on its head.
Angola are leading 15:13 at the break, thanks to superb efforts from Albertina Kassoma and Isabel Guialo, who combined for eight goals. Guialo got a really good injury scare near the end of the half, but stood up and will probably play a part in the second part of the game. The real issue is that Angola took a nosedive in their second halves in this tournament. Can they put up with Japan's fast-paced style in the dying minutes of the game? If the answer is yes, they will win their first game at Tokyo 2020.
 
09:26 JST Plenty of lead changes, with Japan bouncing back

At one point, Japan were leading 6:2 and looked in total control. However, they do not seem to have the experience to manage situations like this and fail to score for eight minutes and 52 seconds, prompting a straightforward response from Angola. A 6:0 run, buoyed by Isabel Guialo and Albertina  Kassoma, sees the African side take back the lead. Not even a time-out by coach Ulrik Kirkely, who gave specific instructions for his team, could save Japan, who are now trying to mount a comeback.
They do just that with 10 minutes to go in the first half, as Shio Fujii converts a penalty to score her second straight goal and tie the game, 10:10. Kirkely asked his players to try and play smarter and make better transitions in defence. They improved a bit and even took back the lead (11:10) after two goals in a row from Nozomi Hara. Great game so far, especially on attack.
 
09:13 JST Bright start for the hosts

Each side is trying to impose their will on the game, but right now, the hosts are looking more impressive. Japan did not misplace a shot, did not commit a turnover and has been very bright in attack to take a 6:4 lead after only nine minutes in. Backs Yui Sunami and Shio Fujii scored two goals each, as the Angolan goalkeepers did not save a shot up until this point of the game.
The game is crucial for Japan, who can see their chances of progressing in the quarter-finals soaring if they win this game. But Angola will be eliminated and this could be their worst result at the Olympic Games since Atlanta 1996. Not even a time-out by their coach Filipe Cruz managed to weather the storm, but Angola found a way to score easily via line player Albertina Kassoma, who powered her way through the Japanese defence.
 
09:00 JST Angola look to upset Japan

These are two teams with very different styles: Japan like to throw a fast-paced game, with plenty of passes and dazzling creative players, while Angola rely on force and try to outperform opponents with powerful shots. Who's going to come out on top? Well, Japan look to be the favourites, but count Angola out at your own peril.
They have won two games back at Rio 2016 and this is their last chance of survival in this tournament. Can they upset Japan and hamper their chances of progression?

08:45 JST Ready for round 4 to begin?

Norway and the Netherlands stole the show in the first three games of the group, establishing three-game winning streaks and will be fighting for the first place in the group. The winner will take the first seed and Norway seem to be the favourites against the reigning world champions, winning eight of the last nine game between the two sides.
There will be no shortage of drama, as Japan, the Republic of Korea and Montenegro are fighting for the last two berths for the quarter-finals, with Angola still holding an outside chance, despite failing to win any of the first three matches.
After losing against Japan and Norway, Montenegro will look to bounce back against the Republic of Korea, fresh off a win against hosts Japan.
Meanwhile, Japan will open the day against Angola, with a win firmly putting the hosts in the conversation for the qualification.
You can find out more about Group A by clicking here. 
All the latest info regarding statistics and standings can be found on our page dedicated  to the women's tournament at the Olympic Games Tokyo 2020.