GRE

Coach: Maria Karantoni, Sofia Dimitrou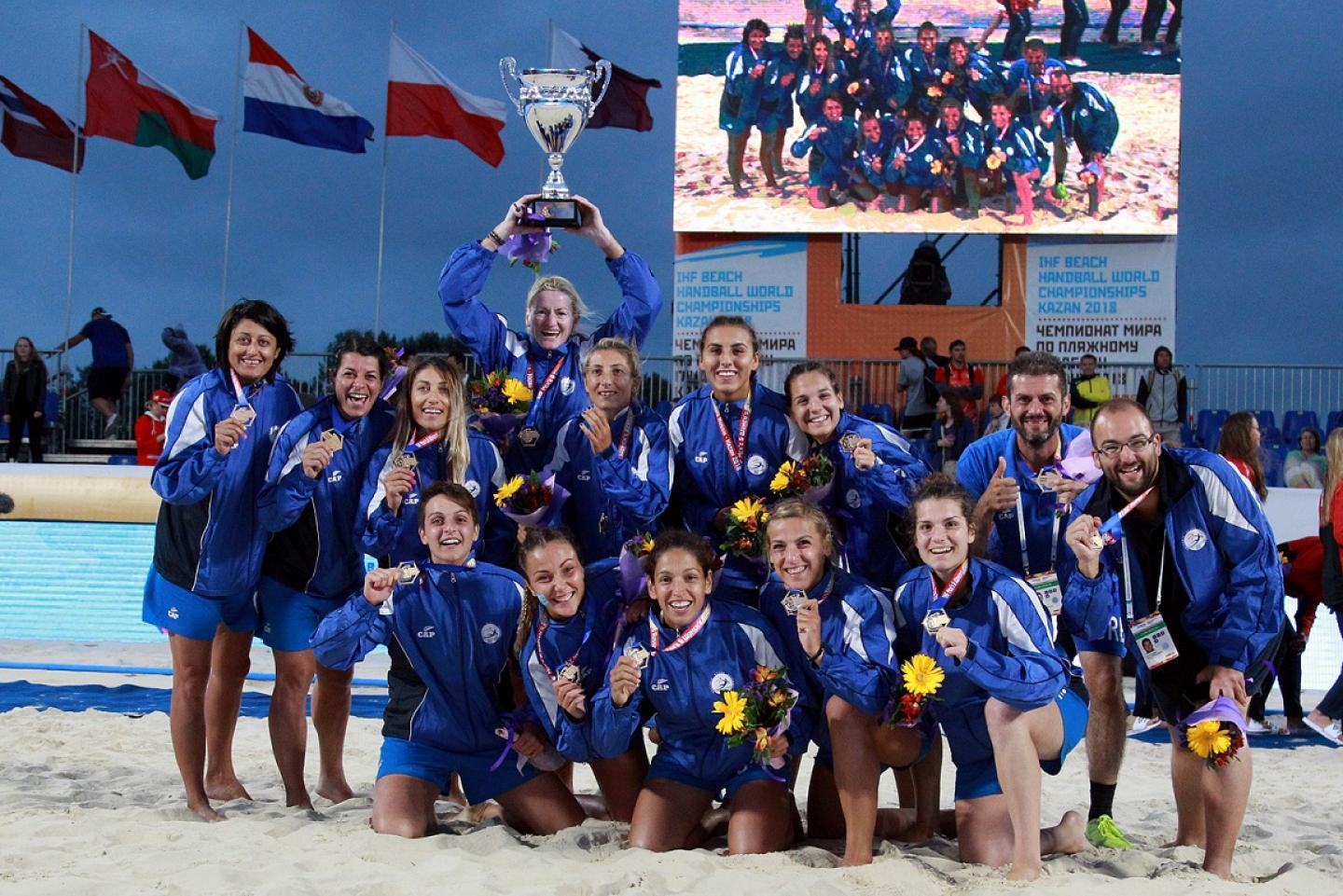 Greece
GRE
Team Info
As current world champions, Greece know they have a target on their back on the beaches of Qatar as their opponents will be looking to test their skills against the number one team in the world.
That global title came at the 2018 IHF Women's Beach Handball World Championship, held in Kazan, Russia, in what was a Greek fairy-tale. In their debut appearance on the world stage, they lost their opening match against the defending champions Spain on a shoot-out, but went on to win against Australia, Paraguay, Chinese Taipei and Uruguay, losing only against Poland in the main round.
They then beat the host nation Russia in the quarter-final, before getting their revenge on Spain in the semi-final and then defeating Norway in the final.
All of their wins, with the exception of the Chinese Taipei victory, were gained through shoot-outs of which the Greek team became highly-skilled, not least thanks to their enigmatic goalkeeper Magdalini Kepesidou who was named in the tournament's All-star Team as the best goalkeeper after ending top of the statistics with most saves (70 out of 220 shots faced).
However, during this summer's European championships, Kepesidou got badly injured and three months later is still unable to walk without crutches, so will not participate in Qatar and will be sorely missed by Greece, who eventually finished seventh in the continental championship held in Poland.
Her side did go on to claim a medal though this summer, easily winning the women's beach handball competition of the 2nd Mediterranean Beach Games, held on home sand in Patras, as they defeated Italy, Portugal, Tunisia and Cyprus across the group and knockout stages.
In Qatar they will face Spain, Poland, P.R. of China, Australia and Vietnam in the group phase.
"There are 12 of the best teams in the world at this event and they certainly haven't got there by accident," said Greece's Elisavet Mastaka to IHF.info ahead of the tournament. "I can't easily describe our group as we need to see each game individually and intelligently as a team in order to reach a victory.
"What is clear though is that our team wants to stay in top positions globally and that is one of our goals as we are a 'new' team in the world and want to keep ourselves in with the best," added Mastaka, who is also part of the Greece indoor national team, currently competing in the EHF EURO 2020 qualification phase. 
"The potential of our team is great, as there are players in all positions capable of doing whatever they are asked to do – there is a lot of desire and appetite for work from players and coaches and this was proved last year in Kazan.
"It is very important that we are at the World Beach Games which is a very big event and we are very happy and proud to have done this because it was not easy at all and was one of the goals we had before going to the World Championships."
Teammate Anna Kaloidi also stressed the toughness of the tournament and added that the experience will be crucial for her team.
"We expect to finish in the top four of our group to move to the next phase, but all the teams are remarkable," she said. "Our goal is to play nice beach handball and finish as high as possible.
"We have participated in all the major events in recent years and as a result we have become more experienced and capable. Therefore, it is very important that we participate in World Beach Games because the teams involved are of a very high quality and we will play very strong games."

Coaches Maria Karantoni and Sofia Dimitrou have held their final preparation camp in Thessaloniki before flying to Qatar a few days before the start of the tournament.

Key Players: Skara Vasiliki (captain, specialist), Ntafina Dmitri (left wing)
Qualification for Qatar 2019: 2018 IHF Women's Beach Handball World Championship – Winners 
Group at Qatar 2019: Group B (Greece, Spain, Poland, P.R. of China, Australia, Vietnam)