HUN

Coach: Botond Bako, Andrea Farkas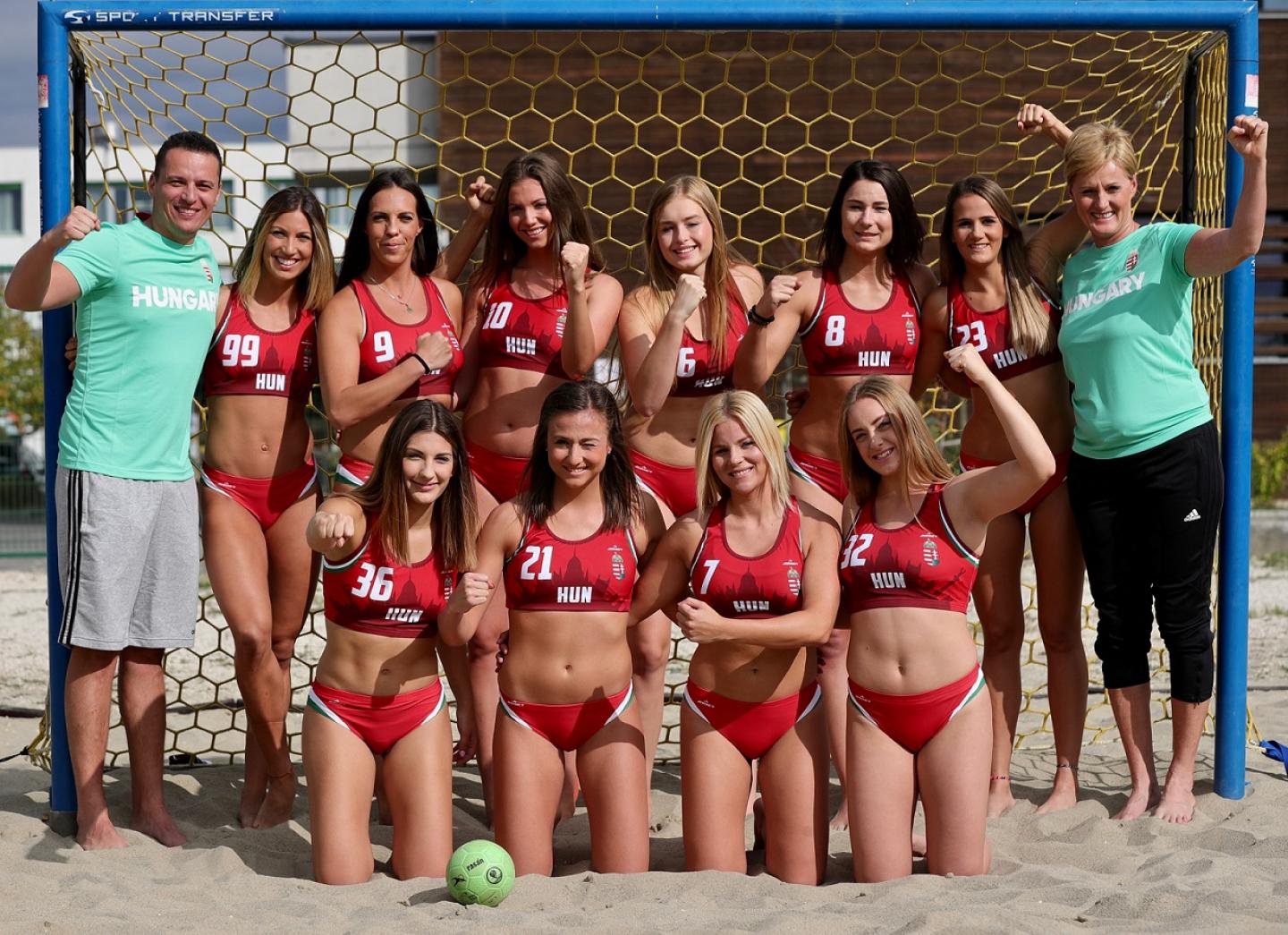 Hungary
HUN
Team Info
The runners-up at the 2019 EHF Women's European Beach Handball Championship will be one of the favourites for the title in Qatar as they look to use a mixture of youth and experience to grab the inaugural World Beach Games title.
They claimed silver in their continental championship in Poland after losing to Denmark in the final, but with the result, confirmed their participation at Qatar 2019 after Denmark's fifth place at the 2018 IHF Women's Beach Handball Championship had already seen them book their ticket to Doha.
Hungary appear to have a perfect mix of youth and experience with goalkeeper Agnes Gyori working as an assistant coach for the Hungarian youth side who won bronze at the 2018 Youth Olympic Games in Buenos Aires, Argentina, a competition in which Reka Kiraly (right wing), and Gabriella Landi (defence) played. All three were also in the same positions for the 2017 U17 IHF Beach Handball World Championship in Mauritius and now find themselves on court together in Qatar after being named in the squad for Doha.
Alongside Gyori, specialist Renata Csiki is also a key player and was named in the All-star Team at the 2016 IHF Women's Beach Handball World Championship held in Budapest, Hungary where her side finished a heartbreaking fourth after losing their bronze medal match in a shoot-out. Defensive specialist Emese Toth, who is also captain, is one to watch, while left wing Fanni Friebesz poses another threat in attack.
In Qatar Hungary find themselves in group A alongside Brazil, Denmark, Argentina, USA and Tunisia – a group of continental champions with the South and Central American champions, European champions, North American and Caribbean Champions and African champions all competing.
"There are almost three or four teams of equal strength against whom anything can happen," said Tamas Neukum, a representative of the Hungarian Handball Federation. 
"Our aim is to achieve the best results, although this tournament does not put a great pressure on us, because it does not qualify for other tournaments. 
"After 1-2 years of decline, our women's team have returned to the top, so we would like to return home with a medal and the backbone of the team has been playing beach handball for a long time, so the players are very experienced and we're a very good community."
"Team unit and youth," said player Renata Csiki to IHF.info when asked what she thought the strengths of her team were. "The goal for everyone is to get more people acquainted with this great sport, so it is imperative that competitions like the World Beach Games feature beach handball.
"In order for more people to become aware of us, to recognise this sport, I think it is very important that we take part in this large-scale competition, so it is absolutely necessary to provide an extra performance."

Key Players: Renata Csiki (specialist), Agnes Gyori (goalkeeper), Emese Toth (defence), Fanni Friebesz (left wing)
Qualification for Qatar 2019: 2019 EHF Women's Beach Handball European Championship – Runners-up
Group at Qatar 2019: Group A (Brazil, Denmark, Hungary, Argentina, United States of America, Tunisia)